Looking for your next martech read but not sure where to turn? Well, lucky for you, you've ended up in the capable hands of the proud founders of the Marketing & Tech Book Club. That's right. You've struck solid gold, my friend.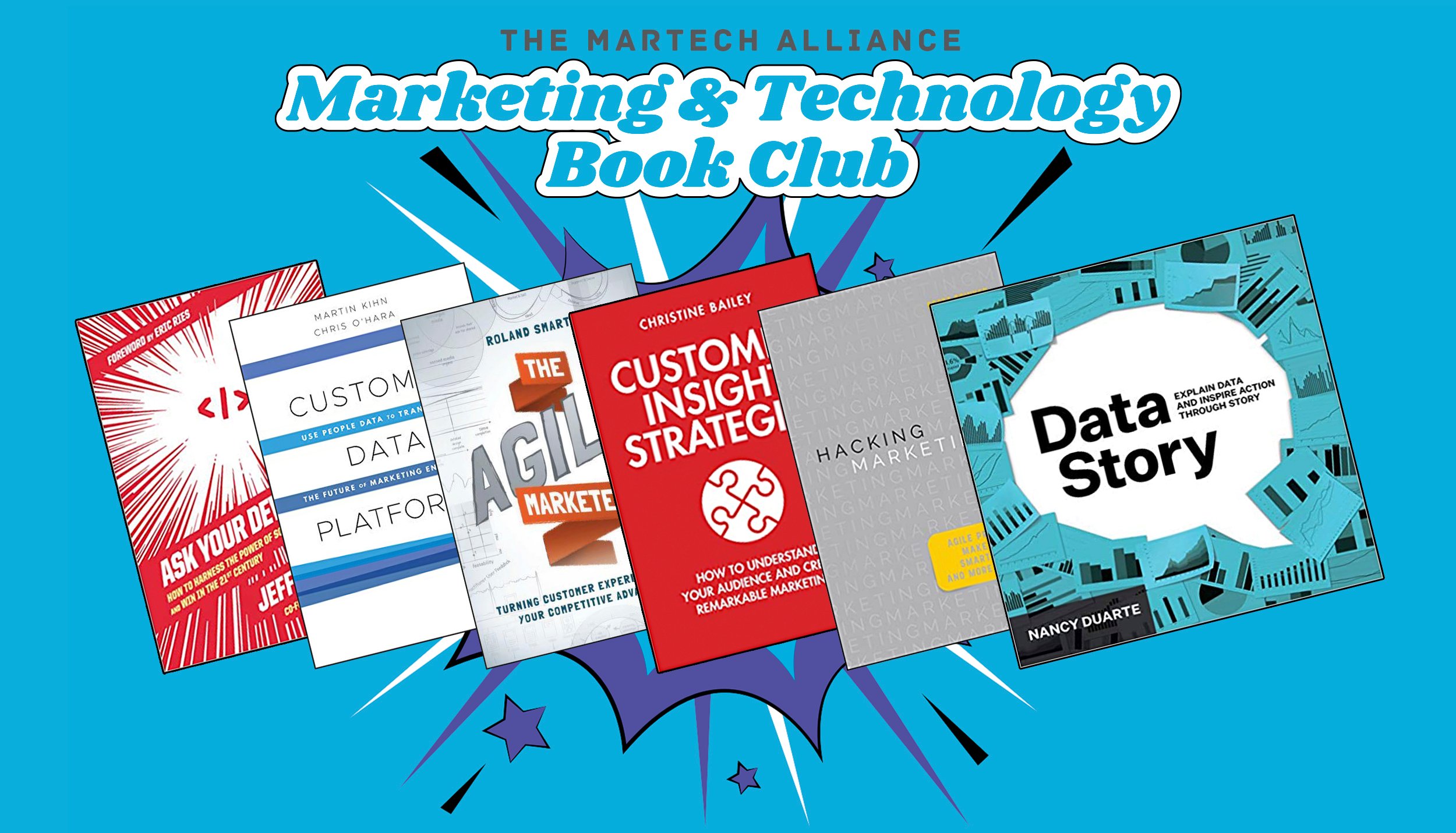 Marketing technology, or martech, is a rapidly evolving field that blends the worlds of marketing and technology to help businesses connect with their target audience and improve their bottom line.
With new tools and technologies emerging all the time, it can be challenging to keep up with the latest trends and best practices in this field. That's where the top martech books come in, offering valuable insights and guidance from experts in the field.
Whether you're a marketing professional looking to stay ahead of the curve, an entrepreneur seeking to grow your business, or a tech enthusiast curious about the intersection of marketing and technology, these books are sure to provide valuable knowledge and inspiration.
In this list, we've compiled some of the most influential and informative books on martech, covering topics ranging from digital marketing strategies to data analytics to customer experience optimization. So grab a cup of coffee, settle into your favourite reading nook, and dive into the world of martech with these top books.
So without further ado, we proudly present our 6 hottest martech reads right now…
Work/Life Flywheel

by Ollie Henderson
The Work/Life Flywheel by Ollie Henderson is an insightful and inspiring book that debunks the myth of work-life balance. Instead, Henderson promotes an integrated approach where work and personal life work in harmony to create momentum and progress.
The book is based on interviews with hundreds of successful people from various fields and explores the patterns of behaviour and characteristics that have led them to navigate career transitions and achieve success.
The book emphasises the importance of creating a positive and complementary relationship between work and personal life to keep one foot in the present and one in the future.
The author suggests reframing the work/life conversation and ensuring that career and personal life work together in harmony rather than being seen as two separate entities. Overall, The Work/Life Flywheel is an excellent guide for anyone who wants to achieve success in both their personal and professional lives by creating a positive and sustainable relationship between them.
Customer Data Platforms by Chris O'Hara and Martin Kihn
CDPs are the hottest marketing technology around today, but are they worthy of the hype? Spoiler: Yes.
'Customer Data Platforms' dives into the problems of managing customer data, and understanding what CDPs do (and don't do) in order to organise and harmonise your customer data and drive compliant, first-party, personalised marketing campaigns.
Many of us in martech get caught up in building complex stacks made up of various solutions while chasing the dream of delivering the "right person, right message, right time" experience. But more often than not, this leads to siloed systems and disconnected data.
Chris and Martin reveal how CDPs could be the answer to a simplified stack by delivering a balanced and engaging customer experience.
Eager to find out more? Check out our latest episode of Marketing & Tech Book Club, where we caught up with Chris and Martin on their latest release and chatted all about, you guessed it, CDPs.
P.S. If you're looking to learn more about the CDP space, check out our Fundamentals of Customer Data Platforms Course.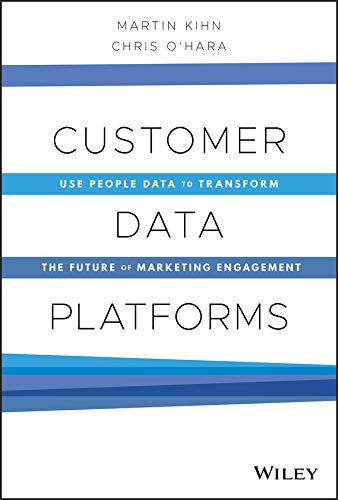 One Plus One Equals Three

by Dave Trott
"If you avoid the rejection, you avoid the opportunity," said Dave Trott.
So, in his book "One Plus One Equals Three", Dave details examples of how this phenomenon has happened to real people, in real life, and produced real results.
The book is less of a structured "how-to" guide and more of a selection of inspiring short stories which present the reader with extreme, encouraging, and uplifting tales on how people shook up the status quo under difficult circumstances.
Dave Trott's book, One Plus One Equals Three: A Masterclass in Creative Thinking is a must-read for anyone looking to break away from the mundane and predictable. This book is full of useful advice on how to be more creative and think outside the box.
Drawing on his extensive experience as an award-winning creative guru, Trott examines the creative process and provides a range of useful tools for improving one's own creativity.
One Plus One Equals Three encourages its readers to think beyond the obvious, break through conventional boundaries and come up with fresh ideas. It explains how creativity can be applied in different situations, such as problem-solving or advertising campaigns, and how these techniques can be used to gain an advantage in business.
The book contains several case studies, showing how Trott has used creative thinking over the course of his career and how it has enabled him to succeed. He also shares a range of practical tips and advice on topics such as brainstorming, problem-solving and working with teams.
It ends with a chapter devoted entirely to helping readers become more creative and gain an advantage in their chosen fields. It includes topics such as developing new ideas, breaking rules, creating opportunities, managing teams better and working smarter when faced with a challenge.
Agile Marketer: Turning Customer Experience Into Your Competitive Advantage by Roland Smart
Agile Marketer is a marketer's guide to modernising platforms and practices. To compete in the game of great customer experience, marketers are turning to methodologies from the world of software development. The Agile methodologies that once revolutionised software development are now revolutionising marketing.
Agile provides the foundation for alignment between marketing and product management. It can unleash the potential of new marketing opportunities for growth hacking as well as for "baking" marketing directly into your products or services.
And if that's not enough, it can serve as a bridge to strategic alignment, positioning the chief marketing officer alongside the chief product officer as the two primary drivers of the business with one common goal.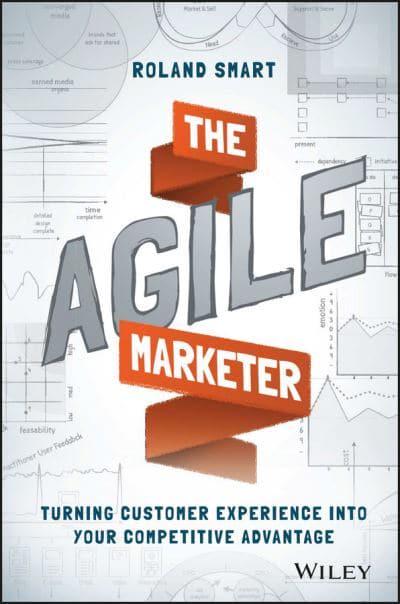 They Ask You Answer

by Marcus Sheridan
They Ask You Answer: A Revolutionary Approach to Inbound Sales, Content Marketing, and Today′s Digital Consumer is quite the mouthful. But it does what it says on the tin.
This book is all about setting aside the "old school" techniques of sales, content, and consumers, and looking towards the future. Sounds pretty sci-fi right?
"They Ask You Answer" by Marcus Sheridan is a must-read for any modern marketer looking to stay relevant in today's digital age. The book provides a comprehensive guide to content marketing and how to use it effectively to attract, engage, and convert potential customers.
The book's central message is simple: answer the questions that your customers are asking. By doing so, you will not only establish yourself as an authority in your industry, but you will also build trust with your audience and ultimately increase your sales.
Sheridan's approach to content marketing is based on his own experience as the owner of a swimming pool company. He was able to turn his struggling business around by creating a blog that answered his customers' questions about swimming pools. By providing valuable information and establishing himself as a trusted source of knowledge, he was able to turn his blog into a powerful marketing tool that generated millions of dollars in sales.
The book covers a wide range of topics, including SEO, social media, email marketing, and more. It provides practical advice on how to create content that resonates with your audience and drives conversions.
Overall, "They Ask You Answer" is an essential resource for any marketer looking to stay ahead of the curve in today's fast-paced digital landscape.
DataStory: Explain Data and Inspire Action Through Story by Nancy Duarte
Most organisations rely on data to identify problems or opportunities. The actions others may need to take today from your insights in data could reverse or improve the trajectory of your future data. That's why communicating data well, drives very important outcomes.
Nancy reveals the importance of marrying our analytical and storytelling skills together in order to thrive in our data-driven industries.
But presenting it well, she reveals, is about more than just the numbers. Nancy takes us through understanding our audience and writing the data story to become the storyteller.
We were lucky enough to bag a chat with Nancy on her latest release last year, as she revealed her top tips on how to become our own storyteller.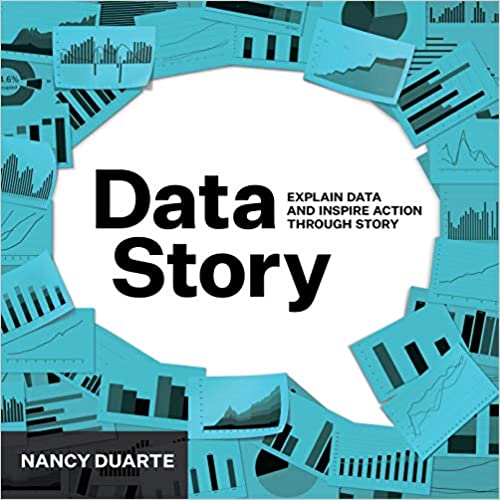 Looking to start your next chapter with some more modern marketing reads? Go back to the distant year of 2021 and check out our list of Best Marketing Books for 2021.