As time inevitably draws on and technology and life seems to evolve constantly with no end in sight, the world around us changes and reshapes itself to almost unrecognisable forms.
Previously, a business would consist of an owner, a manager, and tens and hundreds of underlings who got the work done. Today, there's more C-level roles than there are letters in the alphabet, and each one appears to do a slightly different version of the same thing.
The way a business operates has also changed exponentially, with technology taking hold of tasks and management in ways that take communication, idea formation and output to whole new levels.
Unfortunately, incorporating technology into your business isn't as simple as clicking a button, and, with marketing at least, steps need to be taken to make sure that everything is running as smoothly and holistically as possible.
This is where martech (marketing technology), and more specifically, one's martech, or marketing stack, comes into play. You'll probably have heard the term 'stack' or 'martech stack' thrown around if you're on this article, and what I'm going to do here is explain to you what that means, as well as various other queries surrounding it.
Looking for the down low from a download? Want to be overly-informed on marketing stack management? Well, check out our Marketing Stack Management Guide, here!
What is a Martech Stack?
First and foremost, don't confuse a martech stack with a tech stack, which is the series of technologies and softwares a company employs to deal with things such as engineering, DevOps, product, IT & security, HR, or finance tech stack solutions.
A Martech Stack is essentially the name for a group of technologies and solutions used by a company for their marketing operations; all in a bid to conduct and improve their marketing activities.
Why do you need a Martech Stack?
One of the key areas of a stack's purpose is to automate certain tasks, make general operations easier, and subsequently measure the impact, efficiency and ROI from these operations.
The point is for all of these tools to work together and run together in a stack-like way, meaning they all support each other and work off each other.
A martech stack will consist of various technologies and softwares that incorporate the running of marketing, sales, customer success and the internal teams business operations.
The marketing operations that a stack will power include advertising and promotion, commerce and sales, content and customer experience, data management, and social and relationships. This could be anything from email marketing, search, measurability, multi-channel automation, personalisation, sales enablement and much more.
How do you create a Martech Stack?
Naturally, technology is in constant flux, and the fact that your mobile phone feels obsolete after a year or two of use is proof of that. The world of marketing technology is no different, and because things in that area are constantly progressing and changing, it's not so easy to create a martech stack that you will be content with for the foreseeable future.
The chaos of the range of martech solutions is regularly understated, and as of last year in 2020, there were over 8,000 different solutions on Scott Brinker's famous Martech Supergraphic.
Another understatement would be to imply that it's a simple task to undertake when putting together a martech stack, because it definitely isn't.
Generally speaking, a martech stack isn't created all at once,, and it's more of a process of starting off with one or two solutions (say for example HubSpot for all of your CRM needs, teamed with Asana for managing your team and inner workings of the company), and then adding new things on as and when you need them.
Stack management is imperative when putting yours together, and it's important that you don't get drawn into purchasing a new piece of software just because you can and it's new. Shiny New Object Syndrome is no joke and can waste silly amounts of money.
To put your stack together, you need to ask what it is you do, and what it is you want to achieve.
There's a five-step process you'll want to follow to know this:
As a < type of user >

I want to < some goal >

So that < some reason >

Solutions(s) - The martech categories that match the above

Short list of tech providers – An understanding of the category alone is not sufficient, there will be plenty of providers to pick from. We will need to create a short list of providers matching our more detailed use cases.
Put into context, and purely hypothetically, that would be:
As a CMO

I want to integrate my stack and the data that pushes and pulls through it

So that I can provide a seamless CX

iPass, Cloud/Data integration
What will be in my stack?
As mentioned earlier, there are more than 8,000 martech solutions and that number is divided up into 49 different categories. Each category obviously does a different thing, but there's actually quite a lot of crossover, with vendors moving into different areas to create solutions which meet a wider variety of marketing needs.
Now don't worry, you're absolutely not expected to have 49 different tools in your stack, and nor should you. That would be ridiculous, complicated and expensive. If anything, it would be much more of a hindrance.
In fact, these 49 categories are often broken down into six bigger categories, which are as follows:
Advertising & Promotion

Content & Experience

Social & Relationships

Commerce & Sales

Data

Management
What should my Marketing Stack look like?
There's really no right or wrong answer to this, and more than anything, it depends on what type of business you have, who your customers are, how big your customer base is, which geographical area you're marketing to, and what marketing goals you're trying to achieve.
Handily, there's a few examples of martech stacks from big companies out there...
As you might have expected, the martech stack belonging to San Francisco-based networking technology company Cisco, is very different to that of London-based luxury beauty retailer Space NK, which uses social platforms for much of its marketing.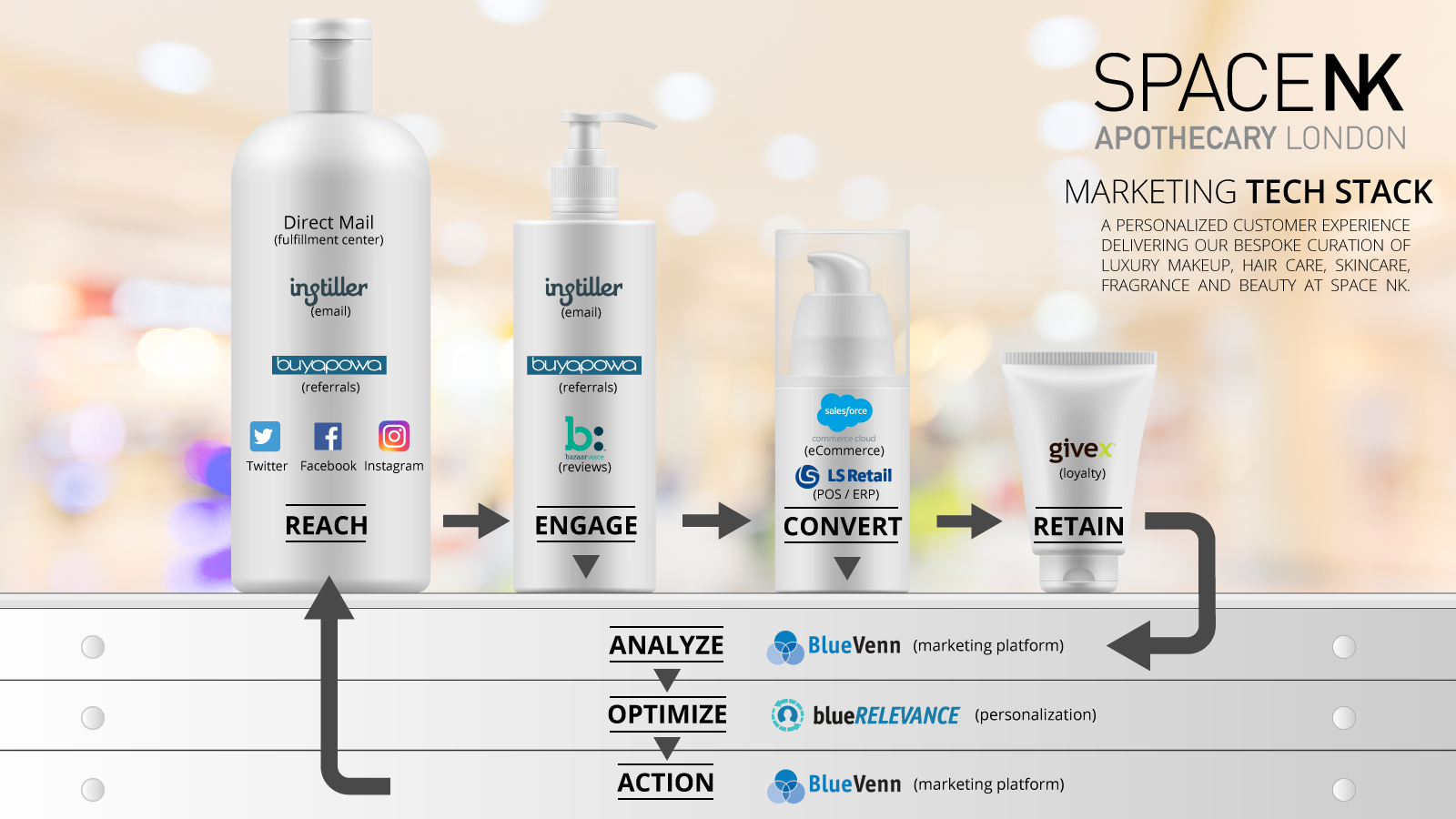 If you're a tiny little one-man online magazine writing about football boots then the chances are, for the beginning at least, you'll be fine with Wordpress and a few social media platforms for outreach. On the other hand, if you're a multinational corporation with a good few employees, offering marketing services or, I don't know, telecommunications alongside a blog, then you'll want HubSpot, Salesforce, Asana, Adobe Experience Manager, and a whole host of other platforms.
When picking the solutions in your stack, you need to do your research, and you need to make sure that anything you purchase either works with what you already have, or can replace it entirely.
It's important that you do regular audits on your stack to make sure that money isn't being wasted, things are as efficient as possible, and you're not inadvertently creating any annoying sticking points by having certain softwares or tools acting as the blocker for certain processes.
Nothing will come immediately and in certain cases, you may have to kiss a lot of frogs to find your martech stack prince. Generally though, if you do the necessary research and make sure you know exactly what you want to achieve and what steps to take, you should find yourself on top of a cohesive and efficient stack that you can manage easily.
Our Marketing Stack Management ebook is a practical, step by step guide for anyone looking to build and maintain a powerful martech stack.
Hey there, martech fans. Want to expand your knowledge on the space to the nth degree? Well, have we got a treat for you. Be the best martech-er you can be, and continue your learning journey, with our 4Ps ebook here!