The 4Ps of Marketing Technology©.
The what, why, who, how of martech.
TLDR; A quick definition - martech, or marketing technology, is the intersection of marketing and technology, which can be simplified using the 4Ps.

The current martech landscape contains 11,000+ solutions, due to the explosion of the industry. In fact, MarTech growth has seen 7,258% growth in just the last twelve years. That's an 11% increase from the 9,932 charted last year.
[For our updated and extensive overview of the 4Ps of Marketing Technology framework you should checkout our Essentials of Marketing Technology digital learning course here]
Technology - as we all know – moves at a rapid pace. In fact, there has been more growth in the last 5 years than over the whole of the 25 before that. The relatively young martech sector is no exception. As Scott Brinker told us recently, there are now more than 10,000 martech tools available to marketers.
It's understandable that with the abundance of platforms and the complexity of the technology, it can be challenging to analyse and evaluate different solutions.
However, martech is becoming a central component of all marketing activity. This means that businesses need to embrace it to remain competitive. To draw a comparison. Blockbuster famously declined to buy Netflix for $50m in the early days because it was 'too niche'. Now Netflix is worth billions and Blockbuster is no more.
It's our goal at LXA to help marketers understand and deploy marketing technology. Our 4Ps of MarTech & Marketing Operations guide will provide you with a practical framework for doing exactly that.
This framework comes from chatting to loads of marketers, nerdy debates with technologists, reading and researching all things martech – not to mention delivering countless marketing tech projects. The net result is a blueprint that will help you build and manage your marketing tech strategy and roadmap – or optimise what you already have in place.

Beyond this write up/eBook you might also be interested in checking out our digital marketing technology training course which walks this framework in even more detail. Check out our top 5 martech courses to take, here!

What exactly is martech or marketing technology?
The words martech and marketing technology get thrown around a lot. In fact, our research shows they're used some 678.7k times a year across social and the web – but how often they're used correctly is another story all together.
In its simplest definition, martech is the intersection of marketing and technology.
Any technology a company uses to plan, deliver or optimise marketing, is marketing technology. When bundled together, this collection of tools is referred to as your marketing or martech stack.
This tech stack contains the software and tools that marketers use to achieve their objectives. These tools help marketers to manage and learn from customer data, automate processes, optimise campaigns, and personalise interactions with customers. Martech is about much more than the deployment of technology platforms. It's about understanding what happens at the intersection between tech and marketing. This requires strategic consideration as it can impact your marketing plan, ways of working, the skills marketers require, and ultimately the customer experience.
Martech covers solutions across multiple marketing disciples including customer insight, advertising and social media. Scott Brinker, the 'godfather of martech' has created an annual Marketing Technology Landscape Supergraphic, which seeks to help marketers navigate the different types of tools by visualising solutions from Adobe to Zoom.
The most recent landscape, published in 2023, contains over 11,000 solutions.
Scott categorises these martech solutions into six distinct groups:
Advertising & Promotion
Content & Experience
Social & Relationships
Commerce & Sales
Data
Management
The importance of marketing technology
In a digital first world, it's hard to imagine marketing without technology. It's now central to marketing strategy which means that marketers need to become technologically fluent.

To put that into context, 61% of respondents surveyed for our Martech Report 2022 agreed that martech sits at the heart of marketing strategy and is critical to meeting customer expectations.

The overall market for marketing technology is estimated to be worth $344.8bn in 2021, a figure which underlines the huge role that martech now plays in almost every organisation.

Spending on martech now accounts for 23% of organisations' marketing budgets, with budgets set to increase.

The majority of respondents (61%) plan to increase marketing technology budgets in 2022.

M&A activity, and investment in the martech sector, is growing rapidly. Luma's 2021 Market Report found that martech deal activity grew by 95% year on year. There were 166 major deals in 2021, compared to 85 in 2020.

There was also a large rise in deals of $100m or more, with 37 in 2021 compared with 18 in the previous year, a rise of 105%. Notable deals in the martech sector in 2021 included

Salesforce's acquisition

of Slack and Intuit's purchase of Mailchimp.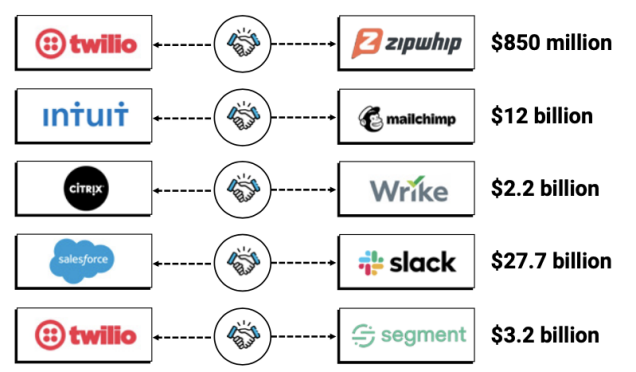 Source: The Martech Report 2022
There was significant investment in the sector in 2021, with digital experience platform Sitecore taking record funding (for the martech sector) of $1.2bn to fuel its growth, One Trust receiving funding worth $510m during 2021, and MessageBird receiving $1bn.
The opportunity...and the challenge
Scott Brinker's 'Martec's Law' shows the challenge and the opportunity in this explosion of tech.
While technology changes quickly, organisations commonly do not. Martech can bridge a part of this gap though, helping organisations keep pace with customers' expectations by empowering marketers to 'get $hit done'. Marketing technology tools give marketers the access and speed to make change happen now.
Martech can bring with it chaos and wastage – but it's not the platforms that create the issues – it's the failure to plan effectively. It's all about the processes which enable organisations to make best use of technology.

Marketers have been guilty of over-optimistic martech platform purchases, or of being distracted by the latest shiny marketing object, but they need to do their due diligence.
Knowing where to start and what's the 'right' approach is the challenge. This is where our 4Ps of Marketing Technology framework can help.
Enter the 4Ps of Marketing Technology.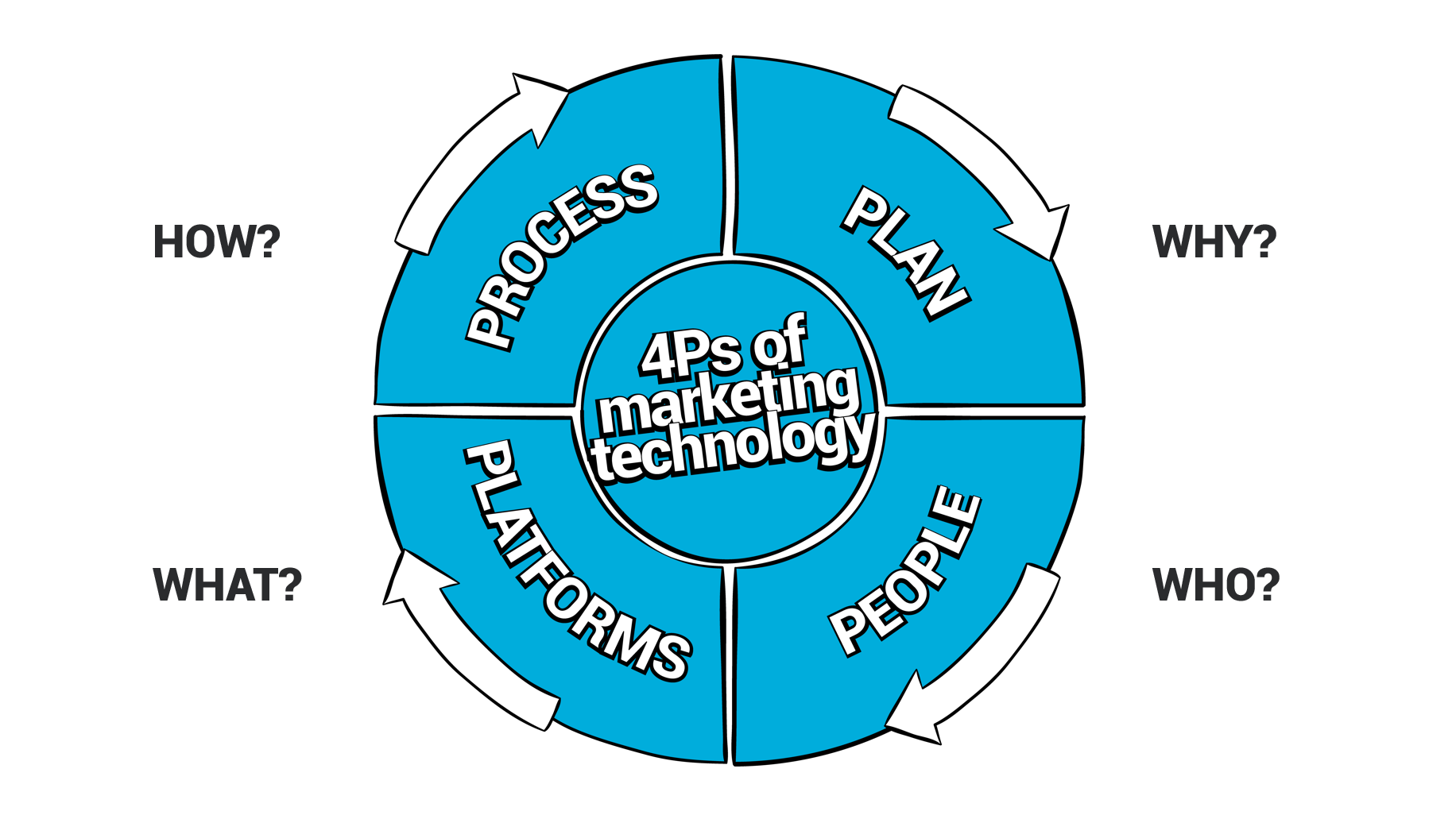 The 4Ps of Marketing Technology
There's no denying, navigating the marketing technology space can be incredibly challenging. The 4Ps of Marketing Technology is our way of breaking it down, giving you a guide to simplify the approach.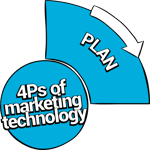 Plan: The why
This is a cornerstone of your marketing strategy. Why do you need new technology? What will it help you to achieve? Do you have the plans in place to make it work?
Your martech plan and roadmap should wrap around the customer journey, power your channel marketing, deliver richer insight and accelerate your marketing strategy through to the business goals and customer experience.
Research for the Martech Report 2021/22 found room for improvement in terms of planning & strategy.
55% of respondents to our survey rate themselves as 'standard' or below in terms of alignment of martech strategy, which suggests that tech is often acquired without the underlying goals in place.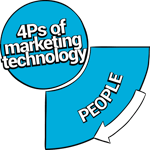 People: The who
This is the skills and training for teams, the people, partners and team structure needed to deliver your martech strategy.
Marketing technologists or marketing ops, platform partners, marketing automation managers, digital marketing operations managers, data scientists, growth hackers and more, all the way to emerging and disruptive tech that redefines roles as we know them today.
More than 65% of respondents in our Martech Report rated their company or clients as standard or less in terms of people and teams, and their ability to deliver martech initiatives.
This highlights a lack of people skilled in data, technology and analytics, something which can be addressed through an investment in training.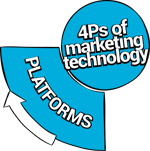 Platforms: The what
From marketing tool selection, to building and integrating your complete marketing stack, this is the technology powering your marketing functions.
This includes advertising and promotion, commerce and sales, content and experience, data management, email marketing, search, measurability, multi-channel automation, personalisation, sales enablement and loads more.
As our survey data suggests, many organisations have the technology in place to deliver on strategy, with the vast majority rating this capability as optimal or advanced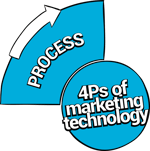 Process: The how
This is a two-parter:
Firstly, it's the implementation of, or the process of setting up your martech solutions.
Secondly, it's the operations, or process of how the marketing runs with martech platforms in place.
In both cases, it's about speed, adaptability, rapid experimentation and optimisation. One key role that is becoming more important, and even essential for the effective use and management of martech projects, is that of marketing operations. Our Martech Report survey found that, while a slight majority of organisations were happy with the processes and governance underpinning their martech activities, there is still room for improvement here
The 4Ps of Marketing Technology is about helping marketers realise the potential of marketing tech in practical terms.
Like any project, investment or marketing initiative, clarity on the business goals has to be the starting point. As obvious as that sounds it often just ain't so. Every single martech project or platform must be helping drive your business aim, its marketing strategy and the customer experience. Every CMO's marketing strategy needs a core pillar dedicated to marketing technology to get it all aligned.
The audit
You can't build a plan without first knowing the state of play. That means auditing. However you want to do it - stakeholder meetings, workshops, circulating audits or crunching data – you've got to know what your current capabilities are.
We recommend adopting methodical approach covering areas like:
Business goals strategic definition & alignment
Marketing objectives & strategy enablement
Martech solution business use case development
Developing a steering committee & define clear responsibilities
Budget allocation
Emerging and disruptive technology opportunities and threats
Marketing stack customer experience journey mapping
Marketing processes & operations
Marketing stack channel activity mapping
Competitor stack benchmarking
Marketing team skills capability assessment relative to the martech stack
Marketing team structure
Cross department collaboration planning
Agency partners and specialisms
Programme management methodology
With this insight you can then move to quantifying that state of play. To help, we created a matrix which combines our 4Ps of Marketing Technology with the core marketing disciplines which are also in line with the classifications used across Scott Brinker's Marketing Technology Landscape.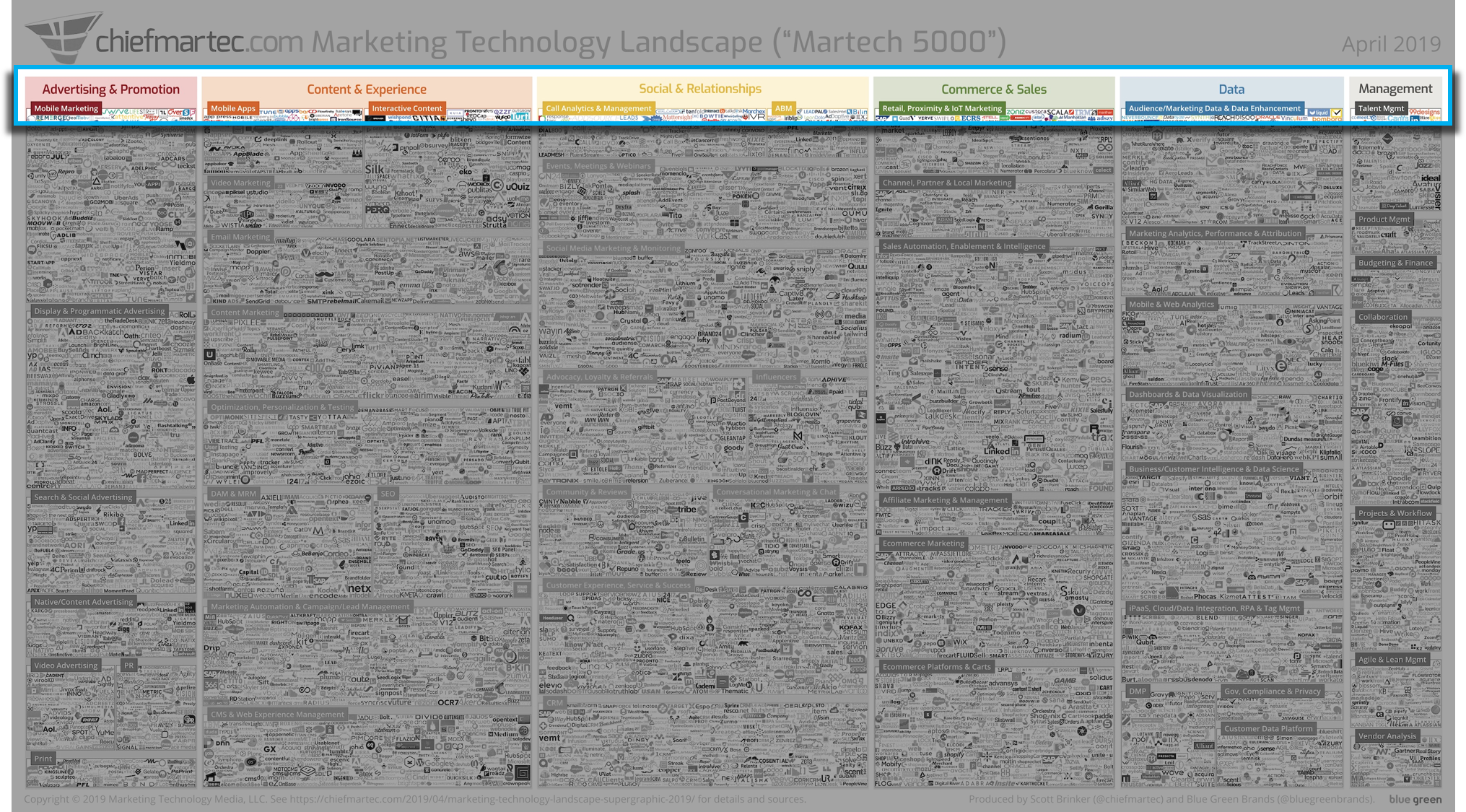 For an at-a-glance assessment of your martech maturity, the matrix comes out as an index scoresheet ranging from 0 to 10 for each marketing domain and 4Ps of Marketing Technology. An example scoring matrix could look like the below. There may also be instances where scoring for a category may be N/A.
The scoring is then visualised based on the average score per area. This provides an overview, helping plot current capabilities and uncovering the greatest opportunity for progression.
The roadmap
Once scored and clear on existing capabilities you have a blueprint of where to focus the development of the martech strategy.
These insights can help identify:
The people needed to make your plan happen
The platforms to retain, optimise or sunset
The process and operations needed to realise these plans
Invariably, you may end up with more plans than time, budget and resource. You therefore need to effectively prioritise your efforts. When we document this for our clients, we have another scoresheet which assigns priority based on areas like strategic impact and ease.


The net result of the Plan & Strategy stage will be a prioritised, marketing tech roadmap. It should give you a list of how, and in what order to tackle areas such as: replacing a platform, introducing additional staff, exploring agile working processes, and investing in marketing tech upskilling. You can then model the budget needed for each part of your roadmap.
With a good idea of your Plan & Strategy you're all set to bounce into the second stage - the People & Teams needed to power this.
Delivering your martech roadmap on budget and on schedule will be defined by the people driving it. Getting the maximum value from any platform needs the right team in place. Yet the thing holding martech back in most organisations is, you guessed it, the people.
An Econsultancy[11] report stated that nearly half of both B2C and B2B companies lacked the skills or people to manage martech properly. This was a far bigger problem for their business than legacy systems, caginess over spend, lack of leadership support or past bad experiences. All the reasons usually given for underperforming martech platforms or projects.
Today's marketing needs people skilled in data, technology and analytics. Sadly, most companies don't have them. Now would be a good time to reveal (shameless plug) that we have created a marketing technology digital learning programme based on the 4Ps that can be used to help upskill staff. But there's a lot more to consider than just marketing and tech skills. Empathy, communication, influence, curiosity, quick learning and adaptability are as important. Calling them 'soft skills' undersells their importance to your business.
The roles and functions outlined in the checklist below all play a part in building a martech and data-driven business. You should look to fill as many as is practical.
Common martech(ish) functions



Program manager

Martech project manager

Marketing technology product owner

Marketing technologist

Digital marketing operations

Marketing automation

Marketing database, architect and integration

Marketing analytics, insights and science

Marketing tech business analyst

Scrum master

Growth hacker
How many – or few – of these roles you need will depend on the size and complexity of your business. An interesting marketing team structure to review is Dun & Bradstreet's org stack. It shows where martech fits in their business, who interacts with it and where it reports to. From that, you can see just how far martech's influence reaches and where it could sit in your business.
The role of a marketing technologist & operations
Successfully integrating martech can require cooperation and collaboration internally across departments and externally with agencies and vendors. To do this effectively requires a point person or team who can lead alignment and take ownership of marketing technology.
This is the marketing technologist or marketing operations professional. They play an important role in evaluating, selecting and integrating marketing technology solutions to align with marketing strategy. This also requires making sure that the data supply chain is set up to facilitate automation and personalisation.
In this sense, the role is part marketing and part technology. This role is increasingly filled by a new breed of marketing professional who can bridge the gap between marketing and technology.
The marketing technologist orchestrates the configuration, integration and management of martech tools. This includes understanding and mapping functional requirements, identifying
and evaluating required technology, platform training of internal partners and coordination of internal and external stakeholders.
Structuring the martech team
Who marketing technologists report to requires clarity. In practice, most marketing technology and operations professionals will sit within the marketing function.
After all, marketing needs to be able to utilise tech in its strategy & tactics so it often makes sense for martech to sit within the marketing function. There might also be a dotted line to IT. Integrating any martech platform requires close cooperation and input from the tech team.
Enlightened companies are taking a collaborative approach that involves marketing and IT working together to bring flexibility & velocity to ways of working. The emergence of the marketing operations and technology function has helped to break down functional silos that can hinder effective collaboration between marketing and IT.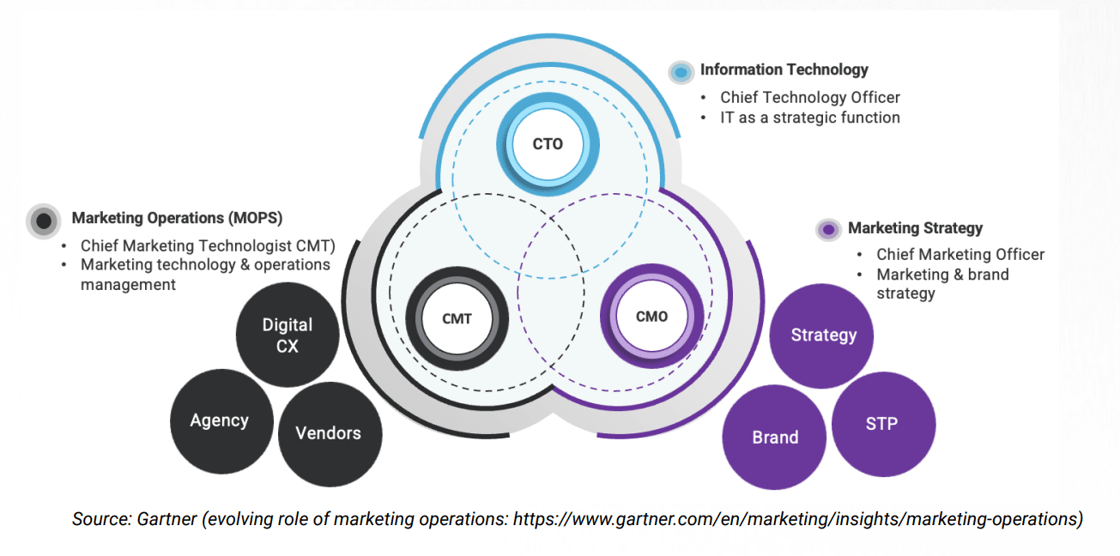 In practice that means that the marketing technologist or operations professional can find themselves answering both marketing questions such as 'How can martech drive acquisition?' and also technology questions such as 'What are the compliance implications of updating our marketing technology infrastructure?'. This is an incredibly important function.
The value of this role should not be underestimated. It requires a thorough understanding of marketing as well as deep knowledge about how technology can be deployed to support marketing strategy. This makes it tough to find good talent for what is a function still in its infancy.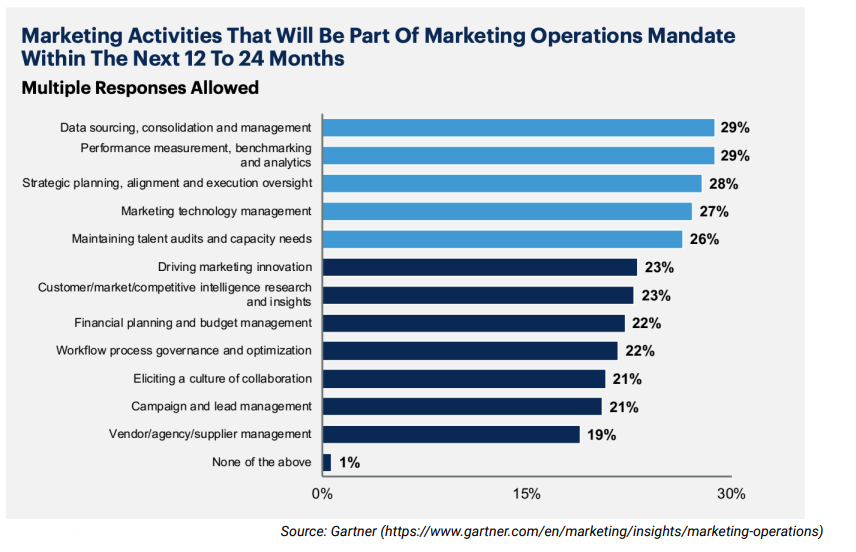 Traditional vs modern marketing team
Today's marketing team requires a mix of marketing expertise and technology to thrive. An important premise of the 4Ps is that marketing and marketing technology management will need to be reconciled in order to remove organisational silos.

Avoiding this may lead to a lack of clarity around roles and responsibilities. This can lead to inefficiency, frustration and a fragmented approach to marketing. Customers demand great experiences delivered with personality. A lack of alignment may lead to a lack of personalisation and poorly timed ads. At best, this is mildly irritating. At worst, this could lead to poor brand sentiment.
This raises an important question about martech competence. With martech investment increasing, marketing leaders need to invest in updating their skills and the skills of their teams. In fact, research indicates that 81% of CMOs indicate that it is important for them to have martech qualifications and/or skills.
For agencies, this growth in spending on martech presents a major opportunity to expand their services into the martech space to better serve their clients.
In recent years we've seen agencies expanding their services into the martech space. For example, Ogilvy created a Martech Centre of Excellence made up of more than 900 employees with expertise in many of the major platforms and martech solutions.
While increased complexity within the martech landscape presents a challenge for brands, it also presents an opportunity for agencies that can demonstrate knowledge and capability in this domain. This is leading to major agencies changing the way they operate to accommodate media, creative and technology skills under one roof.
People means partners too
Consultancy partners are also a vital part of your People & Teams stage. They support your planning development, ensure you can drive the pace of your projects, platform adoption and maturity. Plus, help build internal teams' knowledge and skills.
You may want consultancy partner(s) covering areas such as:
Marketing technology audit & strategy consultancy

Martech program management

Data modelling and architecture advisory and technical implementation

Technical implementation and onboarding specialist platform (e.g. SalesForce, HubSpot, Adobe, Marketo) partner

Platform managed services agency
However, watch out for consultancies who claim to be experts in everything. You'll risk trading depth for breadth, look for those specialising in areas of expertise. Having multiple partners with defined areas of focus will make for a better approach.


Let's get practical
These are the practical steps you should take for building out your marketing tech people.
Audit your marketing team's knowledge, skills sets & structure
Explore what skills you need for the marketing tech stack you have / you're developing
Review

marketing technology training

programmes for upskilling
Define the roles/functions you need that fill your knowledge and skill gaps
Assess the merits of:

In-house vs consultancy services
Project requirements vs ongoing operational needs
Immediate knowledge and skill requirements vs medium and long term

Map out a resourcing plan
The impact of AI on your marketing team
You also need to be aware of the impact of AI on your team. Artificial intelligence and machine learning are revolutionising the way many businesses work, and this is only set to accelerate. AI is going to remove some marketing jobs and reshape others. Gartner predicts 40% of specialised mobile and social jobs will either be absorbed by marketing generalist roles or become absorbed by automation.
It has also forecast that the most likely trend will be the growth of the 'Fat T' – a new generation of marketing generalists with a wide skill set and multiple areas of deep expertise. They're going to be highly sought after so the HR hunt starts now.
Platforms, Apps & Ecosystems
With your mapping in place, and resourcing lined up, it's time to build your stack. We recommend five steps which take you from the initial audit to developing your stack.
[Spoiler alert] It does not start by staring at the landscape of martech solutions, but it is helpful to take a look at just how vast the landscape is. There are a multitude of landscapes from global to regional to country specific.
Late in this book we will move into navigating the complexity of the landscape without getting buried by the number of vendor options.
5 steps to building a martech stack

Classify marketing tool stages from the planning audit

Define & visualise stack framework




Vendor selection process

Maintaining & developing your marketing stack
Classifying your marketing tool stage
You should kick off by classifying your marketing tool set by stage:
Retain – Solution is meeting business needs
Optimise – Solution meeting some of the business needs
Sunset – Solution isn't meeting business needs
Vendor selection needed – No solution existing
This is an especially helpful exercise for clarifying if you have waste. Getting rid of unused tech may even fund some new platforms needed.


Define & visualise your marketing stack framework
You now want to get an overview of your stack. There are a range of ways to think about framing and visualising this: customer journey, marketing channel function, martech solution type and so on. Below is an example framework we developed:
Next, you'll need to map your existing marketing tools through to solutions you may need. You will no doubt find you have more tools than you expected.
Naturally there is no one size fits all, but there are some key platforms most organisations need. We would advise that your core stack includes:
Data warehouse
Customer data platform (CDP)
Marketing automation
Customer relationship management (CRM)
Content management system
social media management
BI, analytics & attribution
eCommerce
In our Marketing Stack Management eBook, we offer some frameworks to help you design your marketing stack.
The framework below demonstrates how you can build your marketing stack around 5 fundamental layers.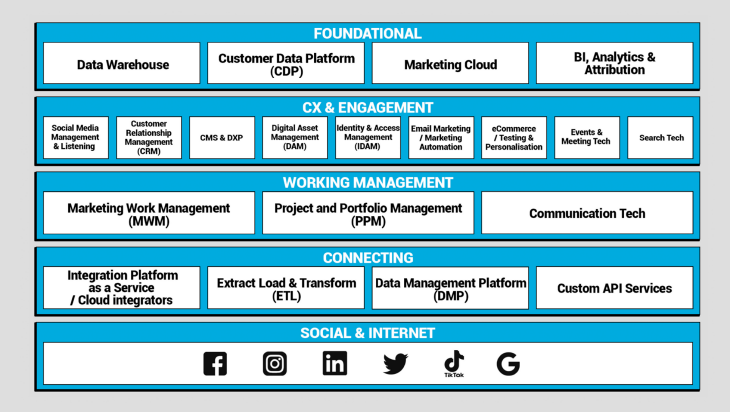 We could argue that the Marketing Technology Category approach is somewhat removed from the customer so, another approach we can take is to cut out the categories and apply them to a marketing and sales funnel.
We can use the marketing and sales funnel to map the stack across the entire customer experience, starting from awareness at the very top, all the way through to conversion and advocacy at the bottom. As we work our way from tip to toe of the funnel, we need to be asking ourselves "What do I need to provide a great CX?"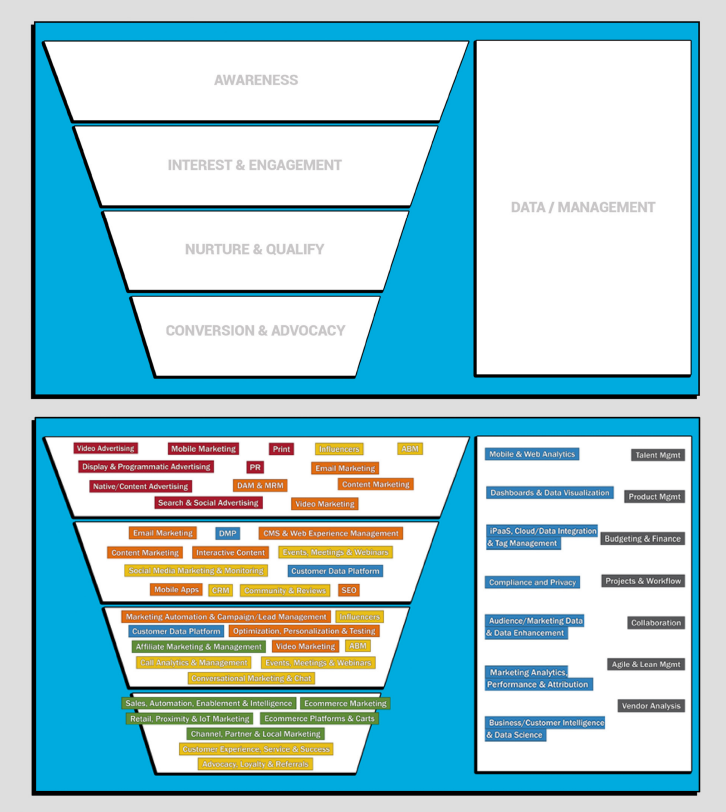 The Jigsaw Stack Design is another blueprint we have created to assist marketing stack design. This takes a micro stack by stack approach to solving each business use case by functional team. Initially isolating each stack by department/function before piecing it
together into a holistic solution.
This approach is intended to take a bottom - up approach, narrowing in from the end users of each department the key requirements before thinking as a collective stack.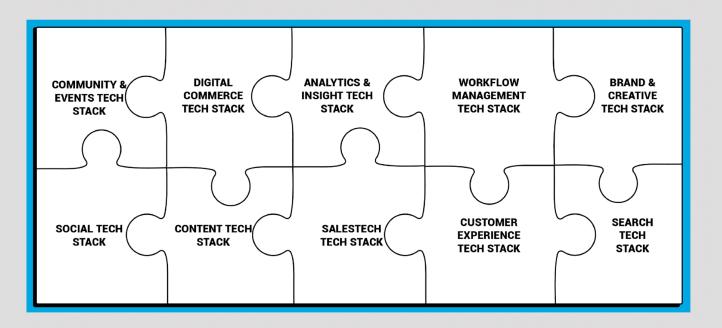 Whatever marketing stack framework you use, we recommend that you produce a current and a target version as a roadmap for developing the stack. Visualising the marketing stack is a fantastic way to communicate the tech you already have in place and the tech you want to introduce.
But this doesn't show any of our data plumbing, where the data is flowing or where they are blockages.
The challenge of mapping your data flow
Now you need to focus on how your data moves across your stack. With more than 17 systems in any average stack and the use of 90+ enterprise cloud systems, plumbing is critical.
Data travels. It's moving in every direction, evolving as it goes. You just can't overstate how important it is to get data under control. In fact, the success or failure of your martech stack will often come down to how well you understand your data modelling and architecture.
You need to control everything from the data you collect, what happens when it's enriched or appended, how it's organised to how it travels across the stack. Getting IT and marketing teams to work collaboratively to map and integrate this is essential.
There are a bunch of solutions that can help simplify this process, such as integration platform-as-a-service (iPaaS), Customer data platforms (CDP), app ecosystems, and many more.
Vendor selection process
With your marketing stack framework clear and your cross-platform stitching outlined, you will likely have found you need new marketing tech. Below is a methodical approach to tackling this.
Internal requirement gathering & RFI
Project steering committee established
Business use cases
Platform use cases
Vendor score card
RFP
Vendor selection
Proof of concept
Implementation & configuration
Stack integration
Training

& onboarding
Support & upgrade
Vendor management
Audit & review
Maintaining & developing your marketing stack
It will be clear by now that there's no such thing as one and done when it comes to keeping up with the pace of change. Most (69%[17]) organisations believe the martech stack is perpetually a work in progress.
There is plenty to keep you busy. Driving your platform adoption, staying up to date with the latest product release, on-boarding new hires, developing platform power users, negotiating renewal terms, changing industry trends in technology – take your pick.
Just a reminder of how important it is to have a marketing technologist in place to own this. And once you do, you're onto the last slice of the 4Ps pie – the 4th P, Process & Operations.
When describing the Process & Operations stage, we mean:
Project management – The process of delivering marketing technology projects.
Marketing operations

– How marketing's operational processes change with marketing tech platforms in place.
In both areas agile management is a good place for you to start. Technology teams can teach marketing a lot about process and operations. They've been tackling it for decades. Agile is at the heart of tech working and the methodology typically looks like this:
Responding to change, rather than a plan
Rapid iteration not large-scale campaign
Testing and data versus following the rules
Small experiments instead of big bets
Individual iterations not one-size-fits-all
Agile working drives productivity, improves communication and prioritisation, and ultimately delivers a better customer experience. Here at LXA…we use it to get $hit done.
We use agile across every part of the business and team and our ops look like this:
Plan our daily tasks in weekly blocks – known as sprints.
For each task we add a projected time to complete and then the actual.
Start each day with the whole team standing (for no more than 15mins), each person saying what they did yesterday, what they we will do today and if they have a blocker – known as a stand up.
Finish each week with a quick review of what we can do better, before planning the week ahead – known as a retrospective.
All weekly and daily tasks are tagged to core pillars of our strategy and business goals. We roll this all up so we get a view of how our strategy is progressing, we then review the overall pace of activity monthly.
If you'd like to really nerd out about how agile methodologies work (there are a few different types), and how to implement it, these two books are excellent reading:
Responsibility assignment matrix RACI
You can't be agile if you don't know who's doing what. People often think they have responsibility defined but most haven't. I would recommend you work with the RACI matrix - Responsible, Accountable, Consulted, and Informed.
R
RESPONSIBLE
Who is assigned to do the work?
A
ACCOUNTABLE
Who makes the final decisions & has the ultimate ownership?
C
CONSULTED
Who must be consulted before a decision or action is taken?
I
INFORMED
Who must be informed that a decision or action has been taken?
Your Process & Operations to-do list is pretty straightforward. Outline your core functions and projects, and work through RACI.
Marketing operations (MOPs), powered by martech
The marketing operations (MOPs) function, is to design, optimise and govern processes that improve performance and remove waste. Put simply, to deliver the marketing strategy.
The role isn't new although the exact title may be less familiar. The explosion of marketing technology is the result of digital everything. Which has resulted in the role evolving significantly.
Marketing ops is important for delivering your martech platform projects and their adoption. But most importantly they help build a data-driven mindset, critical to business today. Having great tech in place won't get you to the finish line, it's marketing-ops-embracing-martech that's key.
Automation, data and analytics are all examples of martech-enabled marketing ops. Through these techniques' marketers can improve productivity, personalise customer experience, gain deeper customer insight and drive performance. But above all, it gets you closer than ever before to predictable, measurable and ROI-based marketing.
Clearly, the marketing ops function is a critical one. It is the modern CMO's right hand. It takes the CMO's plan and brings it to life. It drives the processes that make marketing technology's plans real. Define your marketing operations function to fully capitalise on your tech stack and data underlying it.
Whichever way you form your marketing operations function, it's critical it embraces martech. Circle back to People & Teams to assess the marketing functions, roles and structure you may need to make a success of marketing ops.
4Ps and back again
As our 4Ps of Marketing Technology diagram suggests, this is a constant cycle with each rotation giving the business the chance to drive performance and optimise. From auditing your stack, upskilling your team, hiring new staff, introducing new marketing tools to tuning your marketing operations - your marketing technology strategy is never over.

The 4Ps of Marketing Technology is a 4-step action plan to assess, discover, manage and implement marketing technology across:
Plan & Strategy
People & Teams
Platforms, Apps & Ecosystems
Process & Operations
The Plan & Strategy stage will allow you to audit your marketing activities in a methodical way. Our scoring matrix and prioritisation process will help create a roadmap to drive your business goals. It's the start of making sure your marketing tech wraps around your plan.
The People & Teams stage will then make sure you identify the skills and knowledge you need to deliver your roadmap. From upskilling, restructuring your existing team, hiring new staff to adding consultancy partner(s). You need to invest in people starting with someone to own your marketing technology function.
With a plan and the people in place, your Platforms, Apps & Ecosystems stage becomes the focus. Our 5-step methodology will take you from classifying marketing tool stages from the planning audit, defining and visualising your stack framework, mapping your data process flows, selecting vendors to maintaining and developing your marketing stack. It's not quick or easy and it's never done. Don't underestimate the importance of the need for someone to own your martech function.
The fourth stage Process & Operations is about how you make sure that your martech projects and plan are executed. How the nuts and bolts are configured so you operate efficiently. We recommend your processes centre on adopting agile management working to make sure you operate adaptively and nimbly. Consider the RACI matrix to clearly define areas of responsibility. Your marketing operations function also needs to evolve to fully take advantage of your data and tech stack. Embracing automation, data and analytics are some of the key areas that help move your marketing to a data driven, performance focused and revenue measurable function.
The job is never finished, the 4Ps of Marketing Technology is a perpetual cycle, each spin evolving, learning and improving.
[Please note for our updated and extensive overview of the 4Ps of Marketing Technology framework you should checkout our Fundamentals of martech digital learning course here]
The five pillars of martech
We're currently in the process of creating a new edition of this book, 5Ps of MarTech & Marketing Operations. This new edition will look at the relationship between martech and marketing operations in greater detail.
Our framework has evolved to cover the source from which martech and marketing operations develops: technological change, what we refer to as NextTech.
This new fifth pillar, Pioneer & Pilot, which focuses on emerging and disruptive tech, and the need for marketers to react to changes in the technological landscape, and developments in customer behaviour and expectations.
The Periodic Table of MarTech and Marketing Ops
Our MarTech & Marketing Ops Periodic Table provides a preview of some of the elements to come in the new fifth pillar, and provides a useful visualisation of the fundamental elements of martech strategy.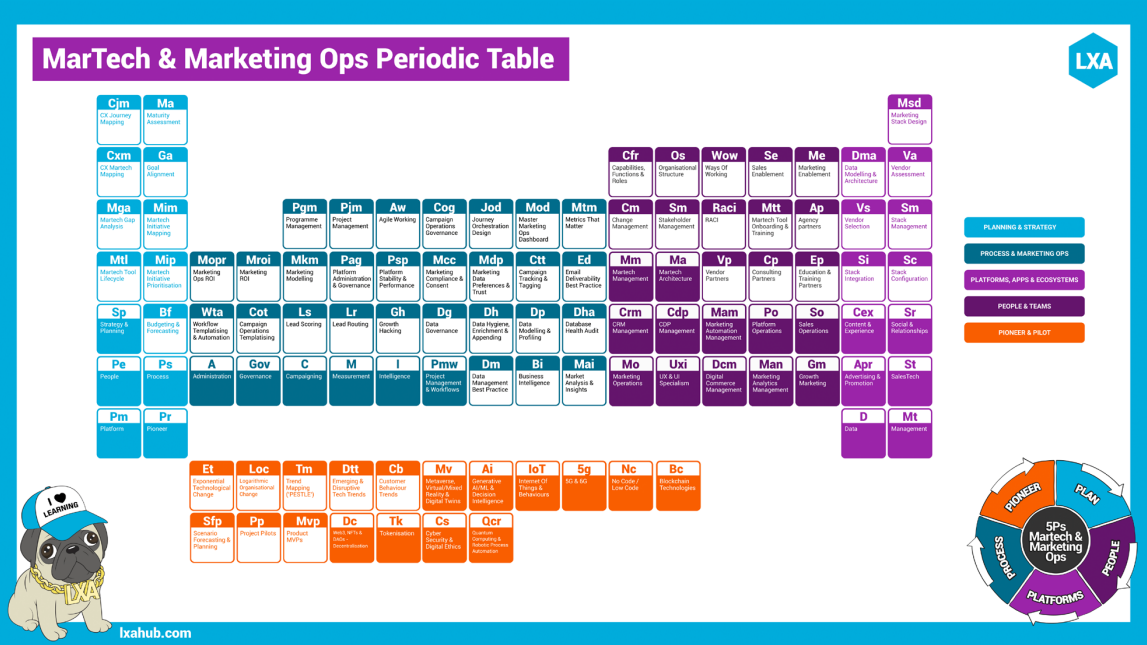 If you're a newcomer to the world of martech and marketing ops, the periodic table provides a handy checklist of topics to research and
add to your learning
. Even if you're an experienced martech professional, you'll find our table is a useful reference, one which helps you to explain the breadth of these topics to colleagues.
You can download a large, high res version of the MarTech & Marketing Ops Periodic Table
here.
References
[11]Econsultancy, Marketing in the Dark 2018
© 2019 MarTech Alliance / 4Ps of marketing technology. All rights reserved.