Marketing Technology Made Simple(r).
[For our updated and extensive overview of the 4Ps of Marketing Technology framework you should checkout our Essentials of Marketing Technology digital learning course here]

Technology - as we all know – moves at a rapid pace. In fact, there has been more growth in the last 5 years than over the whole of the 25 before that. The relatively young martech sector is no exception, boasting a staggering 7k+ platforms and technologies and no signs of stopping.
It's understandable that navigating the space can feel incredibly challenging. But not fully embracing martech because it appears complex is the equivalent of Blockbuster not embracing online video because it seemed too "niche" – the Blockbuster CEO may have famously laughed Netflix and their $50m acquisition offer out of his office back in 2000…but we all know who's laughing now!
It's our goal at the MarTech Alliance to help make marketing technology simple…or at least simpler! Our 4Ps of Marketing Technology guide will provide you with a practical framework for doing exactly that.
This framework comes from chatting to loads of marketers, nerdy debates with technologists, reading and researching all things martech – not to mention delivering countless marketing tech projects. The net result is a blueprint that will help you build and manage your marketing tech strategy and roadmap – or optimise what you already have in place.

Beyond this write up/eBook you might also be interested in checking out our digital marketing technology training course which walks this framework in even more detail.

What exactly is martech or marketing technology?
The words martech and marketing technology get thrown around a lot. In fact, our research shows they're used some 678.7k times a year across social and the web – but how often they're used correctly is another story all together.
In its simplest definition, martech is the intersection of marketing and technology.
Any technology a company uses to deliver its marketing, is marketing technology – bundled together this collection of tech is referred to as your marketing or tech stack. However, martech is much more than just platforms. It's understanding what happens at that critical intersection, the impact this has on your marketing plan, people, process and ultimately the customer.
With an overwhelming 7,034 solutions
[1]
and counting, Scott 'godfather-of-martech' Brinker helps to organise the chaos with his annual Marketing Technology Landscape Supergraphic, providing a visualisation of global solutions from Adobe to Zoom. He categorises them into six distinct groups:
Advertising & Promotion
Content & Experience
Social & Relationships
Commerce & Sales
Data
Management
The importance of marketing technology
Obviously, a team who calls themselves the 'MarTech Alliance' is going to wax lyrical about the significance of marketing technology regardless of whether you sit agency, brand or tech solution side.
But you don't need to take our word for it – there are countless examples of just how much of a market shift we are seeing in the growth of marketing technology:
The opportunity...and the challenge
Scott Brinker's 'Martec's Law' shows the challenge and the opportunity in this explosion of tech.
While technology changes quickly, organisations commonly do not. Martech can bridge a part of this gap though, helping organisations keep pace with customers' expectations by empowering marketers to 'get $hit done'. Marketing technology tools give marketers the access and speed to make change happen now.
Martech can bring with it chaos and wastage – but it's not the platforms that create the issues – it's failure to plan effectively. The power lies with the beholder.
From the over-optimistic martech platform purchases, to the blind faith, or distraction by the latest shiny marketing object, marketers know they've got to do their due diligence. But, knowing where to start and what's the 'right' approach is the challenge.
Enter the 4Ps of Marketing Technology.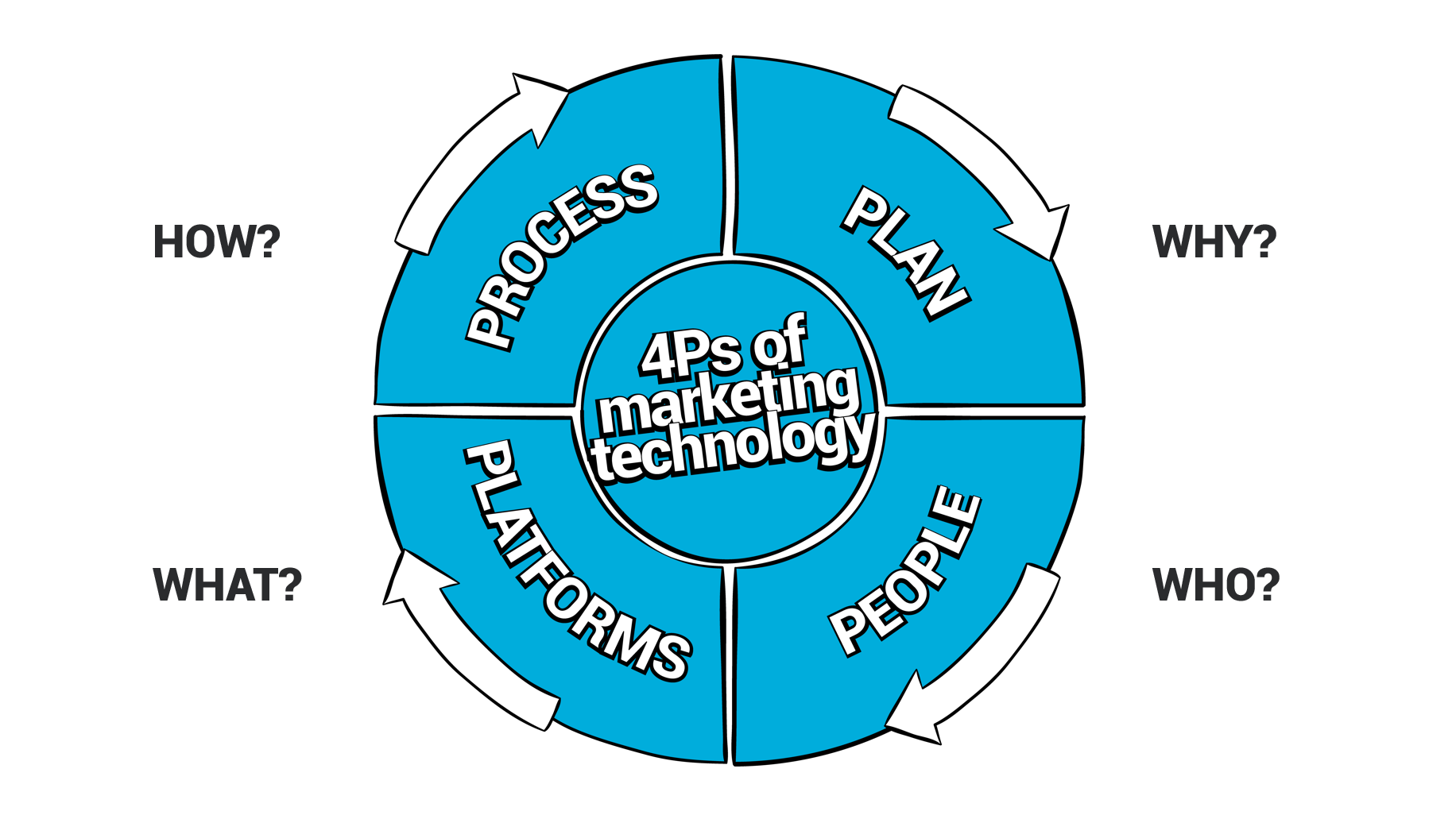 The 4Ps of Marketing Technology
There's no denying, navigating the marketing technology space can be incredibly challenging. The 4Ps of Marketing Technology is our way of breaking it down, giving you a guide to simplify the approach.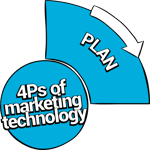 Plan: The why
This is a cornerstone of your marketing strategy. Your martech plan and roadmap wraps around the customer journey, powers your channel marketing, delivers richer insight and accelerates your marketing strategy through to the business goals and customer experience.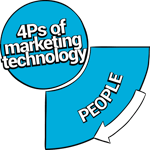 People: The who
The skills/training, people, partners and team structure needed to deliver your martech strategy. Marketing technologists or ops, platform partners, marketing automation managers, digital marketing operations managers, data scientists, growth hackers and more, all the way to emerging and disruptive tech that redefines roles as we know them today.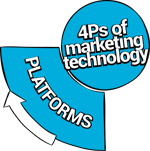 Platforms: The what
From marketing tool selection, to building and integrating your complete marketing stack. This is the technology powering your marketing functions. These include advertising and promotion, commerce and sales, content and experience, data, management plus social and relationships. This could be anything from email marketing, search, measurability, multi-channel automation, personalisation, sales enablement and loads more.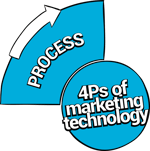 Process: The how
This is a two-parter: Firstly, it's the implementation of, or the process of setting up your martech solution(s). Secondly, it's the operations, or process of how the marketing runs with martech platforms in place. In both cases, it's about speed, adaptability, rapid experimentation and optimisation.
The 4Ps of Marketing Technology is about helping marketers realise the potential of marketing tech in practical terms.
Like any project, investment or marketing initiative, clarity on the business goals has to be the starting point. As obvious as that sounds it often just ain't so. Every single martech project or platform must be helping drive your business aim, its marketing strategy and the customer experience. Every CMO's marketing strategy needs a core pillar dedicated to marketing technology to get it all aligned.
The audit
You can't build a plan without first knowing the state of play. That means auditing. However you want to do it - stakeholder meetings, workshops, circulating audits or crunching data – you've got to know what your current capabilities are.
We recommend adopting methodical approach covering areas like:
Business goals strategic definition & alignment
Marketing objectives & strategy enablement
Martech solution business use case development
Developing a steering committee & define clear responsibilities
Budget allocation
Emerging and disruptive technology opportunities and threats
Marketing stack customer experience journey mapping
Marketing processes & operations
Marketing stack channel activity mapping
Competitor stack benchmarking
Marketing team skills capability assessment relative to the martech stack
Marketing team structure
Cross department collaboration planning
Agency partners and specialisms
Programme management methodology
With this insight you can then move to quantifying that state of play. To help, we created a matrix which combines our 4Ps of Marketing Technology with the core marketing disciplines which are also in line with the classifications used across Scott Brinker's Marketing Technology Landscape.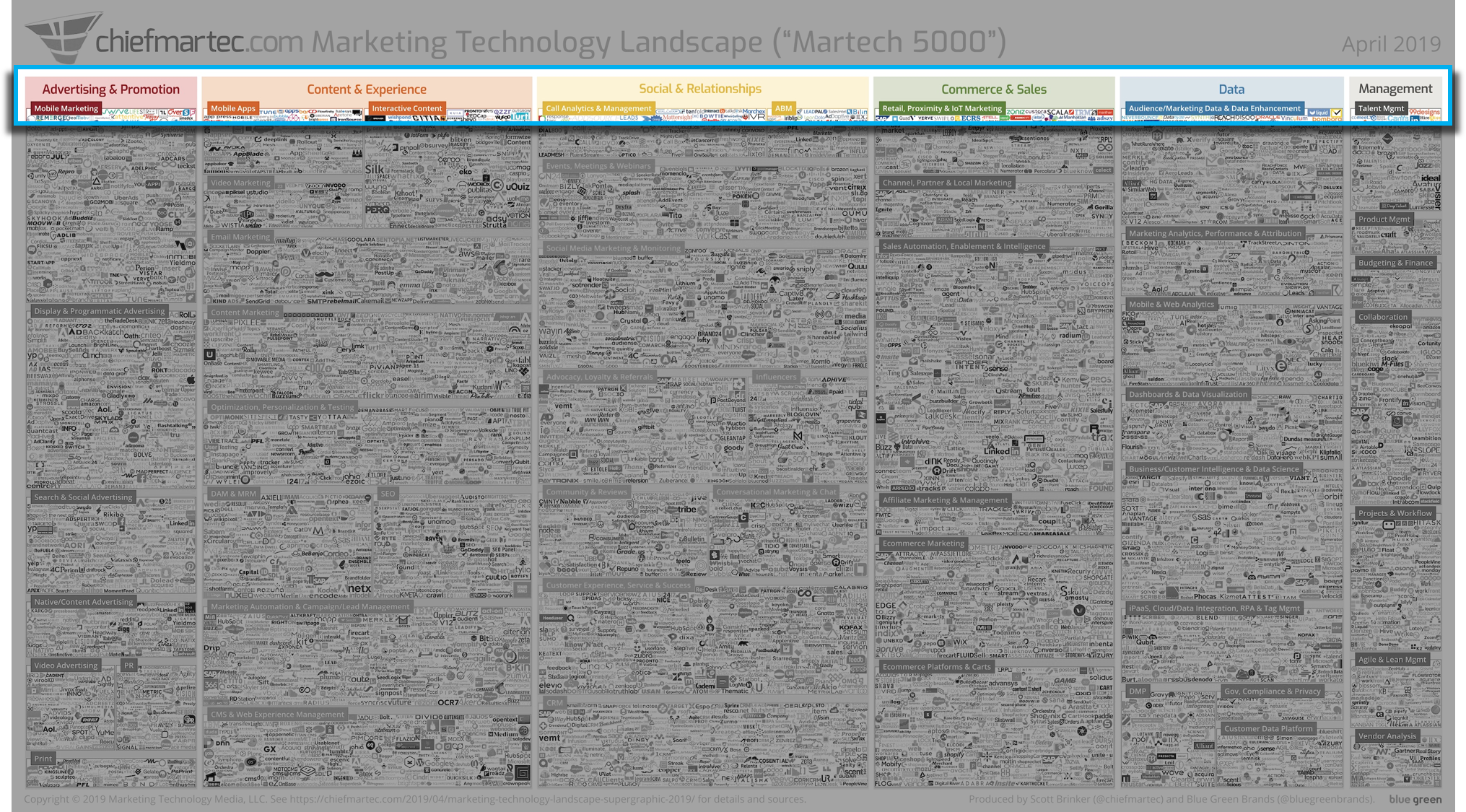 For an at-a-glance assessment of your martech maturity, the matrix comes out as an index scoresheet ranging from 0 to 10 for each marketing domain and 4Ps of Marketing Technology. An example scoring matrix could look like the below. There may also be instances where scoring for a category may be N/A.
The scoring is then visualised based on the average score per area. This provides an overview, helping plot current capabilities and uncovering the greatest opportunity for progression.
The roadmap
Once scored and clear on existing capabilities you have a blueprint of where to focus development of the martech strategy.
These insights can help identify:
The people needed to make your plan happen
The platforms to retain, optimise or sunset
The process and operations needed to realise these plans
Invariably, you may end up with more plans than time, budget and resource. You therefore need to effectively prioritise your efforts. When we document this for our clients, we have another scoresheet which assigns priority based on areas like strategic impact and ease.


The net result of the Plan & Strategy stage will be a prioritised, marketing tech roadmap. It should give you a list of how, and in what order to tackle areas such as: replacing a platform, introducing additional staff, exploring agile working processes, and investing in marketing tech upskilling. You can then model the budget needed for each part of your roadmap.
With a good idea of your Plan & Strategy you're all set to bounce into the second stage - the People & Teams needed to power this.
Delivering your martech roadmap on budget and on schedule will be defined by the people driving it. Getting the maximum value from any platform needs the right team in place. Yet the thing holding martech back in most organisations is, you guessed it, the people.
An Econsultancy[11] report stated that nearly half of both B2C and B2B companies lacked the skills or people to manage martech properly. This was a far bigger problem for their business than legacy systems, caginess over spend, lack of leadership support or past bad experiences. All the reasons usually given for underperforming martech platforms or projects.
Today's marketing needs people skilled in data, technology and analytics. Sadly, most companies don't have them. Now would be a good time to reveal (shameless plug) that we have created a marketing technology digital learning programme based on the 4Ps that can be used to help upskill staff. But there's a lot more to consider than just marketing and tech skills. Empathy, communication, influence, curiosity, quick learning and adaptability are as important. Calling them 'soft skills' undersells their importance to your business.
The roles and functions outlined in the checklist below all play a part in building a martech and data-driven business. You should look to fill as many as is practical.
Common martech(ish) functions



Program manager

Martech project manager

Marketing technology product owner

Marketing technologist

Digital marketing operations

Marketing automation

Marketing database, architect and integration

Marketing analytics, insights and science

Marketing tech business analyst

Scrum master

Growth hacker
How many – or few – of these roles you need will depend on the size and complexity of your business. An interesting marketing team structure to review is Dun & Bradstreet's org stack. It shows where martech fits in their business, who interacts with it and where it reports to. From that, you can see just how far martech's influence reaches and where it could sit in your business.
The role of a marketing technologist & operations
Successfully integrating martech means getting cooperation and collaboration across departments, providers and vendors. To really do this effectively there needs to be someone who owns marketing technology.
The marketing technologist or ops is the orchestrator. They identify the tech and projects needed, platform training and support through to ensuring the complete marketing stack is integrated. Which department the marketing technologist or ops sits in also needs clarity. 74% of the time, it's marketing[12].
But this is where it's important to be careful – particularly with the 'technologist' part. Integrating any martech platform also needs the close cooperation and input from the tech team. A marketing technologist or ops may jump from the marketing department asking questions like 'How can martech drive acquisition?' to tech asking, 'What are the compliance and infrastructure considerations?'. You need to be having both conversations.
Don't underestimate the importance of this role and just how tough it can be to find good talent for what is a function still in its infancy.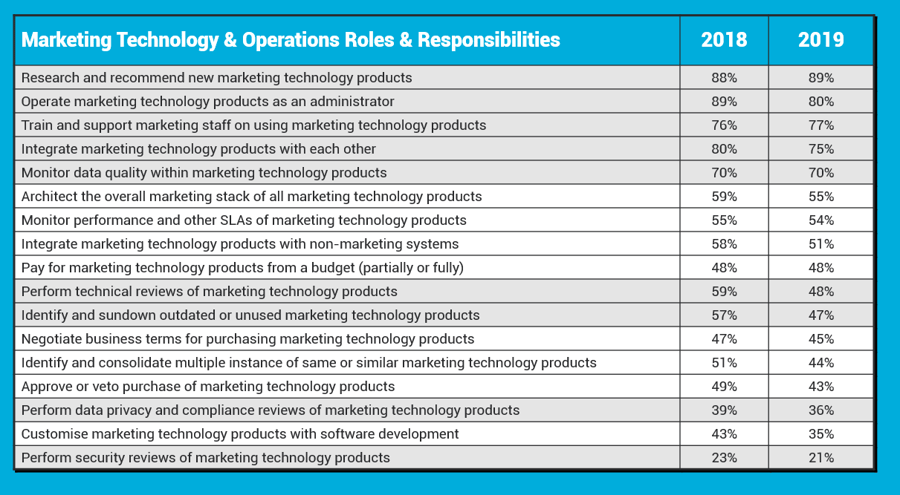 Traditional vs modern marketing team
Today's marketing team needs a mix of creativity and technology to thrive. Balancing traditional marketing teams: branding, communications - creative skills-based, with marketing tech teams: automation, analytics - data and tech-focused skills is key. Customers demand great experiences delivered with personality.
Even major agencies are changing the way they operate to accommodate the new skills under one roof. Creative J. Walter Thompson has buddied up with direct marketing agency to form the brand-new joint shop: Wunderman Thompson.
The same is true a CMO level. CMOs need a solid tech understanding - 81% feel martech skills are important for CMOs[14]. To be expected, as nearly a third of the marketing budgets are spent on martech[15].
People means partners too
Consultancy partners are also a vital part of your People & Teams stage. They support your planning development, ensure you can drive the pace of your projects, platform adoption and maturity. Plus, help build internal teams' knowledge and skills.
You may want consultancy partner(s) covering areas such as:
Marketing technology audit & strategy consultancy

Martech program management

Data modelling and architecture advisory and technical implementation

Technical implementation and onboarding specialist platform (e.g. SalesForce, HubSpot, Adobe, Marketo) partner

Platform managed services agency
However, watch out for consultancies who claim to be experts in everything. You'll risk trading depth for breadth, look for those specialising in areas of expertise. Having multiple partners with defined areas of focus will make for a better approach.


Let's get practical
These are the practical steps you should take for building out your marketing tech people.
Audit your marketing team's knowledge, skills sets & structure
Explore what skills you need for the marketing tech stack you have / you're developing
Review

marketing technology training

programmes for upskilling
Define the roles/functions you need that fill your knowledge and skill gaps
Assess the merits of:

In-house vs consultancy services
Project requirements vs ongoing operational needs
Immediate knowledge and skill requirements vs medium and long term

Map out a resourcing plan
The impact of AI on your marketing team
You also need to be aware of the impact of AI on your team. Artificial intelligence and machine learning are revolutionising the way many businesses work, and this is only set to accelerate. AI is going to remove some marketing jobs and reshape others. Gartner predicts 40% of specialised mobile and social jobs will either be absorbed by marketing generalist roles or become absorbed by automation.
It has also forecast that the most likely trend will be the growth of the 'Fat T' – a new generation of marketing generalists with a wide skill set and multiple areas of deep expertise. They're going to be highly sought after so the HR hunt starts now.
Platforms, Apps & Ecosystems
With your mapping in place, and resourcing lined up, it's time to build your stack. We recommend five steps which take you from the initial audit to developing your stack.
[Spoiler alert] It does not start by staring at the landscape of 7k solutions.
5 steps to building a martech stack

Classify marketing tool stages from the planning audit

Define & visualise stack framework




Vendor selection process

Maintaining & developing your marketing stack
Classifying your marketing tool stage
You should kick off by classifying your marketing tool set by stage:
Retain – Solution is meeting business needs
Optimise – Solution meeting some of the business needs
Sunset – Solution isn't meeting business needs
Vendor selection needed – No solution existing
This is an especially helpful exercise for clarifying if you have waste. Getting rid of unused tech may even fund some new platforms needed.


Define & visualise your marketing stack framework
You now want to get an overview of your stack. There are a range of ways to think about framing and visualising this: customer journey, marketing channel function, martech solution type and so on. Below is an example framework we developed:
Next, you'll need to map your existing marketing tools through to solutions you may need. You will no doubt find you have more tools than you expected.
Naturally there is no one size fits all, but there are some key platforms most organisations need. We would advise that your core stack includes:
Data warehouse
Customer data platform (CDP)
Marketing automation
Customer relationship management (CRM)
Content management system
social media management
BI, analytics & attribution
eCommerce
Keep an eye out over coming months as we build out our martech platform guides across these areas.
The challenge of mapping your data flow
Now you need to focus on how your data moves across your stack. With more than 17 systems in any average stack and the use of 90+ enterprise cloud systems, plumbing is critical.
Data travels. It's moving in every direction, evolving as it goes. You just can't overstate how important it is to get data under control. In fact, the success or failure of your martech stack will often come down to how well you understand your data modelling and architecture. You need to control everything from the data you collect, what happens when its enriched or appended, how it's organised to how it travels across the stack. Getting IT and marketing teams to work collaboratively to map and integrate this is essential.
There are a bunch of solutions that can help simplify this process, such as integration-platform-as-a-service (iPaaS), Customer data platforms (CDP), app ecosystems, and many more.
Stay tuned as we build out our data processing guide across these areas.
Vendor selection process
With your marketing stack framework clear and your cross-platform stitching outlined, you will likely have found you need new marketing tech. Below is a methodical approach to tackling this.
Internal requirement gathering & RFI
Project steering committee established
Business use cases
Platform use cases
Vendor score card
RFP
Vendor selection Too often companies jump straight into their selection and it all goes wrong. Often, they don't spend enough time and money on what follows either.
Proof of concept
Implementation & configuration
Stack integration
Training

& onboarding
Support & upgrade
Vendor management
Audit & review
Maintaining & developing your marketing stack
It will be clear by now that there's no such thing as one and done when it comes to keeping up with the pace of change. Most (69%[17]) organisations believe the martech stack is perpetually a work in progress.
There is plenty to keep you busy. Driving your platform adoption, staying up to date with the latest product release, on-boarding new hires, developing platform power users, negotiating renewal terms, changing industry trends in technology – take your pick.
Just a reminder of how important it is to have a marketing technologist in place to own this. And once you do, you're onto the last slice of the 4Ps pie – the 4th P, Process & Operations.
When describing the Process & Operations stage, we mean:
Project management – The process of delivering marketing technology projects.
Marketing operations

– How marketing's operational processes change with marketing tech platforms in place.
In both areas agile management is a good place for you to start. Technology teams can teach marketing a lot about process and operations. They've been tackling it for decades. Agile is at the heart of tech working and the methodology typically looks like this:
Responding to change, rather than a plan
Rapid iteration not large-scale campaign
Testing and data versus following the rules
Small experiments instead of big bets
Individual iterations not one-size-fits-all
Agile working drives productivity, improves communication and prioritisation, and ultimately delivers a better customer experience. Here at the MarTech Alliance…we use it to get $hit done.
We use agile across every part of the business and team and our ops look like this:
Plan our daily tasks in weekly blocks – known as sprints.
For each task we add a projected time to complete and then the actual.
Start each day with the whole team standing (for no more than 15mins), each person saying what they did yesterday, what they we will do today and if they have a blocker – known as a stand up.
Finish each week with a quick review of what we can do better, before planning the week ahead – known as a retrospective.
All weekly and daily tasks are tagged to core pillars of our strategy and business goals. We roll this all up so we get a view of how our strategy is progressing, we then review the overall pace of activity monthly.
If you'd like to really nerd out about how agile methodologies work (there are a few different types), and how to implement it, these two books are excellent reading:
Responsibility assignment matrix RACI
You can't be agile if you don't know who's doing what. People often think they have responsibility defined but most haven't. I would recommend you work with the RACI matrix - Responsible, Accountable, Consulted, and Informed.
R
RESPONSIBLE
Who is assigned to do the work?
A
ACCOUNTABLE
Who makes the final decisions & has the ultimate ownership?
C
CONSULTED
Who must be consulted before a decision or action is taken?
I
INFORMED
Who must be informed that a decision or action has been taken?
Your Process & Operations to-do list is pretty straightforward. Outline your core functions and projects, and work through RACI.
Marketing operations (MOPs), powered by martech
The marketing operations (MOPs) function, is to design, optimise and govern processes that improve performance and remove waste. Put simply, to deliver the marketing strategy.
The role isn't new although the exact title may be less familiar. The explosion of marketing technology is the result of digital everything. Which has resulted in the role evolving significantly.
Marketing ops is important for delivering your martech platform projects and their adoption. But most importantly they help build a data-driven mindset, critical to business today. Having great tech in place won't get you to the finish line, it's marketing-ops-embracing-martech that's key.
Automation, data and analytics are all examples of martech-enabled marketing ops. Through these techniques' marketers can improve productivity, personalise customer experience, gain deeper customer insight and drive performance. But above all, it gets you closer than ever before to predictable, measurable and ROI-based marketing.
Clearly, the marketing ops function is a critical one. It is the modern CMO's right hand. It takes the CMO's plan and brings it to life. It drives the processes that make marketing technology's plans real. Define your marketing operations function to fully capitalise on your tech stack and data underlying it.
Whichever way you form your marketing operations function, it's critical it embraces martech. Circle back to People & Teams to assess the marketing functions, roles and structure you may need to make a success of marketing ops.
4Ps and back again
As our 4Ps of Marketing Technology diagram suggests, this is a constant cycle with each rotation giving the business the chance to drive performance and optimise. From auditing your stack, upskilling your team, hiring new staff, introducing new marketing tools to tuning your marketing operations - your marketing technology strategy is never over.

The 4Ps of Marketing Technology is a 4-step action plan to assess, discover, manage and implement marketing technology across:
Plan & Strategy
People & Teams
Platforms, Apps & Ecosystems
Process & Operations
The Plan & Strategy stage will allow you to audit your marketing activities in a methodical way. Our scoring matrix and prioritisation process will help create a roadmap to drive your business goals. It's the start of making sure your marketing tech wraps around your plan.
The People & Teams stage will then make sure you identify the skills and knowledge you need to deliver your roadmap. From upskilling, restructuring your existing team, hiring new staff to adding consultancy partner(s). You need to invest in people starting with someone to own your marketing technology function.
With a plan and the people in place, your Platforms, Apps & Ecosystems stage becomes the focus. Our 5-step methodology will take you from classifying marketing tool stages from the planning audit, defining and visualising your stack framework, mapping your data process flows, selecting vendors to maintaining and developing your marketing stack. It's not quick or easy and it's never done. Don't underestimate the importance of the need for someone to own your martech function.
The fourth stage Process & Operations is about how you make sure that your martech projects and plan are executed. How the nuts and bolts are configured so you operate efficiently. We recommend your processes centre on adopting agile management working to make sure you operate adaptively and nimbly. Consider the RACI matrix to clearly define areas of responsibility. Your marketing operations function also needs to evolve to fully take advantage of your data and tech stack. Embracing automation, data and analytics are some of the key areas that help move your marketing to a data driven, performance focused and revenue measurable function.
The job is never finished, the 4Ps of Marketing Technology is a perpetual cycle, each spin evolving, learning and improving.
[Please note for our updated and extensive overview of the 4Ps of Marketing Technology framework you should checkout our Fundamentals of martech digital learning course here]
Not enough good, good marketing content for you? Looking to hear from all the top marketers in the industry today? Well, you're in luck. We've got the biggest and best names, just waiting to give you a run down on the latest innovations and ideas in martech today.
Click here to find out about attending #MarTechFest - completely free! Just for you, the person reading this. Because I like you that much. You're welcome. 😘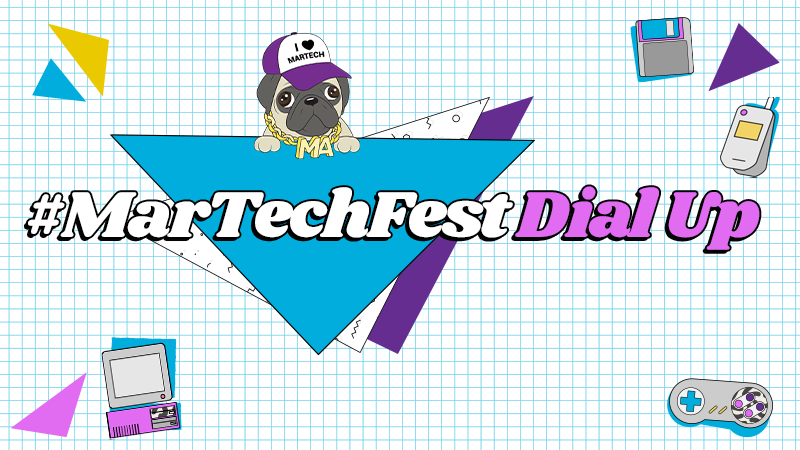 References
[11]Econsultancy, Marketing in the Dark 2018
© 2019 MarTech Alliance / 4Ps of marketing technology. All rights reserved.