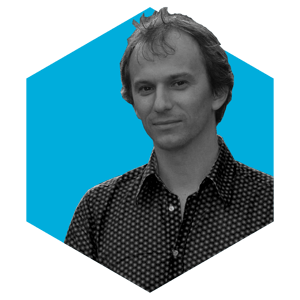 Who is Frans Riemersma? I hear you ask. Well, I'm sure you already know he's the number #1 martech influencer in Europe. But who is the man behind the martech? The dude behind the digital? The influencer behind the...influencing? Let's find out.
Frans has over two decades of experience under his belt. From consulting, to research, to marketing, to authoring, he's dipped his toes plunged right into many parts of the industry. He's even been designing marketing stacks for 10+ years, for companies as wide-ranging as HP, Adidas, Audi, Unilever, IKEA, Volvo, Carlsberg, and more.
It's no surprise, then, that he's become the #10 martech influencer in Europe.
My goal is to make our daily business lives better. As businesses become increasingly digital, we need to humanise Martech.

With so many solutions available user and customer experience are even more important. My experience of the last 20+ year as marketer, developer, consultant, Vice President R&D, researcher and author, gave me vital insights to get the most value out of technology in the shortest time possible for my corporate clients.

- Frans Riemersma
But where did he start? Well, way way way way back in the distant year of 1997, he set up Blikopkunst.nl, in which he launched and managed the third largest Art Database in the world at the time. Described as a "different take on brand management", the company saw Frans design the DAM functionality, onboarding tools, and PR strategy.
His next venture was a co-founding MRMLOGIQ, a business-driven marketing efficiency company, with Marketing Resource Management at the core of the business. Frans was responsible for designing optimised marketing operations environments and applying corresponding optimisation methods and tools.
But the innovation doesn't stop there. Frans leaves a breadcrumb trail of ground-breaking ideas all across the industry, during his decades within it. In his co-authored book "Marketing Resource Management; The noble art of getting things done in marketing. Efficiently", he presents some of his most interesting ideas around stacks.
Romek Jansen and I have developed a method to implement MarTech stacks in a shorter time period and with higher adoption rates (...)

The book presents a MarTech canvas to quickly plot marketing technology stacks in order to optimize the overall MarTech stack, known as the Ten Functional Areas of Marketing.

- Frans Riemersma
If you thought Frans was done with founding groundbreaking companies, you're in for a treat. In 2016 he became the founder of Boardview.io, a visual marketing strategy and management software tool. The company developed an Agile Goal and Strategy methodology for marketing teams and entrepreneurs and ran a blog detailing helping techniques, tips, and tricks.
Now, jumping forward to 2019. This was a heck of a busy year for Frans. He founded one of his most well-known projects Martech Tribe in January. MartechTribe helps support its customers with marketing software audits and selections that drive adoption, in order to get the most value from their martech stacks and tools.
Later in the year, he became a lecturer at the Nyenrode Business University, where he was a contributor to Masterclass Digital Transformation.
This year also saw Frans publish the Martech Benchmark 2019 research in a blog post: 'Unlocking the full potential of the Marketing Technology Supergraphic'.
It was a bumper year for super graphics. In June 2019 six New Country Marketing Technology Landscapes were published, which contained 68% undiscovered tools.
Then, in February 2020, he published the first Martech European Landscape, with 1200 new tools.
This year, 2022, Scott Brinker and Frans rolled out the 2022 marketing technology landscape and the State of Market Report in an industry-shifting 90-minute webinar.
The marketing landscape began in 2011 with 150 companies, expanding to 8,000 companies in the 2020 landscape. Although this rapid growth has made the project challenging to do annually, so the collaboration between the pair means we've managed to get our hands on one this year.
Working together, the dynamic duo have reformatted and envisioned the 2022 Marketing Technology Landscape as a more interactive and user-friendly solution.
This landscape saw 972 vendors removed and 2,904 added, for a total of 9,932 vendors in 49 categories. In the CDP category alone there were a whopping 84 companies.
The landscape itself grew 24% since the previous edition, with the largest increases being in content and experience (34%), commerce and sales (24%) and management (67%).
Most recently, Frans has announced he will be speaking at AntiConLX Global, sharing his expertise with the London audience. Get your tickets here!
"My goal is to make our business lives better. With every business becoming increasingly digital, we need to humanize marketing technology for both end customer and software users.

My changing roles over the last years as a marketer, developer, project manager, consultant, Voce President R&D, researcher and author, support me to help corporate companies.

Through marketing technology audits and software selections I help companies to get the most out of their software solutions."