The demand, and need, for marketing technology has grown steadily over the past few years, with the martech industry now worth $344bn globally.
The Martech Report 2021/22 surveyed marketers and agencies about martech spending and expectations around budgets, finding plenty of room for growth.
Marketers are now spending more of their budgets on tech, with 23% of organisations' overall marketing budgets allocated to martech.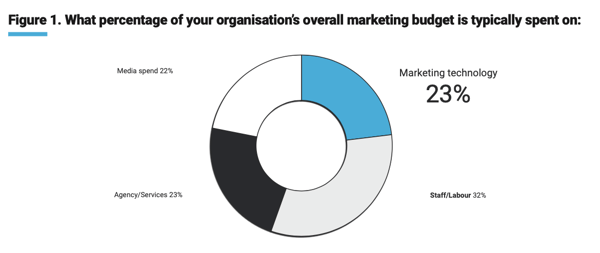 This shows just how important technology has become to marketing strategies, with digital channels now all important, accelerated by the events of the past year or so.
It's a trend which is set to continue, and in next year's report we may find this proportion increasing. Certainly, most of our respondents are expecting martech budgets to grow.
We found that 61% expect their own (or clients' budgets in the case of agencies) martech budgets to increase in the next 12 months. 27% expect budgets to remain the same, and just 12% are expecting cuts.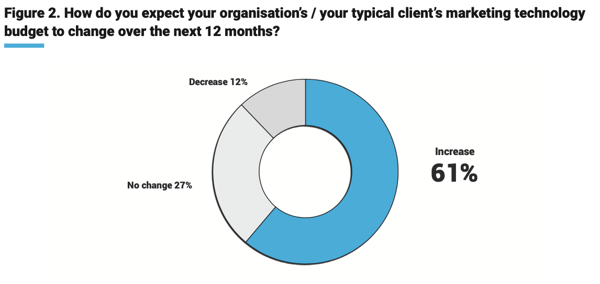 This will be music to the ears of vendors of course. With both brand marketers and agencies increasingly seeing martech as crucial for achieving marketing goals and meeting customer expectations, vendors have an opportunity to sell to both parties.
It's also interesting to look at the reasons for martech budget changes. In this case we asked marketers and agencies about the factors which led to an increase or a decrease in spending on martech.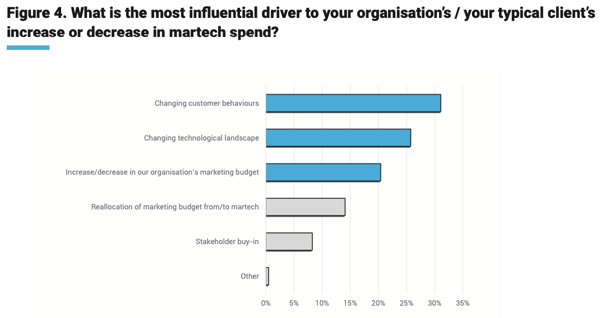 What influences martech budget changes?
It's no surprise to see changing customer behaviours as the number one reason for budget changes, after a period during which digital transformation accelerated to account for almost overnight changes in customer behaviour.
The changing technology landscape, most notably the emergence of new technology, was another key factor.
Elsewhere in our report, we see increased investment in Customer Data Platforms (CDPs) and Digital Experience Platforms (DXPs) as marketers looked to improve customer experience across channels, and use customer data more effectively.
We also see investment (and planned investment) in emerging tech such as AI and no code/low code solutions. I expect next year we'll see a rush towards metatech, in response to recent moves towards the metaverse.
One interesting result here is that, for just over 20% of respondents, increases and decreases in martech spending are driven by changes in marketing budgets, whether they go up or down.
Likewise, stakeholder buy-in can go one way or the other. Successfully making the case for investment in technology can produce budgets increases and vice versa.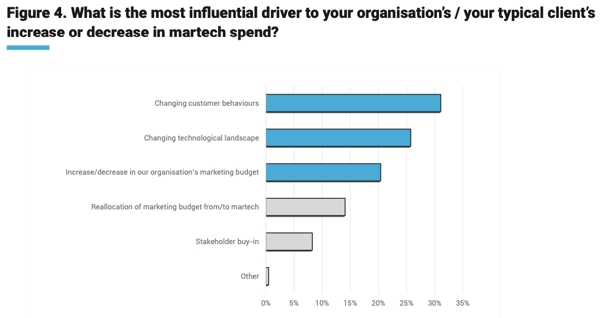 Marketers may see investment in martech as a way to offset declining budgets through increased efficiency and automation, as well as an engine for growth when presented with more generous budgets. In either case, it indicates confidence in the tech they are using.
In Summary
These results show confidence in martech, and a clear indication from the vast majority of respondents that they will continue to invest in tech, and most will be spending much more in the coming year.
The importance of customer experience lies at the heart of this. Our 2021 CX Trends report found that 79% of CMOs see the ability to deliver excellent customer experience as a 'powerful competitive advantage'.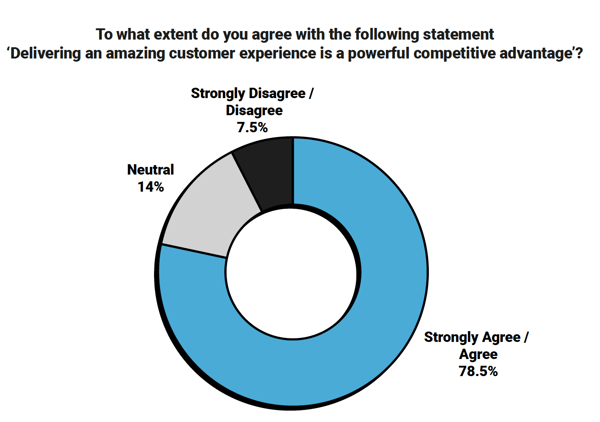 Martech is seen as key to meeting these expectations, in areas such as using data and personalising messaging, or providing great experience across multiple channels.
For these reasons and more, Martech is now central to marketing strategy. This will be the key driver to the budget increases over the next year.