What, why, how of Digital Experience Platforms (DXPs)
Your step by step guide to DXPs
To understand why a Digital Experience Platform (DXP) is important, first we have to define what digital experience is. Clearly, every one of us has experienced an interaction with a brand or another person through a digital platform, but true digital experience goes deeper than this.
On one level, yes, a digital experience is the interactions people and businesses have across digital technologies, from websites and apps to Alexa, smart watches and emerging technologies like connected cars and more.
But digital experience is more than simply taking a physical interaction and replicating it online. It is a new way of delivering added value to customers, it helps companies differentiate in a crowded market, and it creates new customer journeys, needs and expectations. This is why, to be truly relevant, personalised and seamlessly omnichannel, digital experience is also about implementing the tools, technologies, content and data that help employees deliver it.
Digital experience is also challenging. We have more content, data and experiences than ever before. The potential for digital engagement is only going to grow as 5G and the Internet of Things (IoT) increase the number of connected devices and experiences.
People are consuming more and more on-demand content, and the average UK adult spends 59 hours per week online, with almost five of those hours spent on social media platforms.
People are buying online more and more too. Digital commerce has been growing steadily for more than a decade, but the COVID-19 pandemic accelerated this growth as lockdowns restricted physical shopping options. Online accounted for more than 36% of all retail sales in January 2021; a record high.
These changes have affected B2B buyers as well, as many expect the same experience and convenience they get when buying from Amazon. The pandemic has of course played its part too, and McKinsey data shows that B2B buyers prefer digital interactions.
These remote digital interactions offer more convenience for buyers, while also being effective for sellers looking to reach new and existing customers.
Customer expectations have naturally evolved along with the digital universe. More than a quarter of British people (27%) own a smart speaker. Meanwhile, there will be an estimated 76.3m connected cars on US roads by 2023.
Even traditional industries are seeing their digital experiences grow exponentially. Banking is moving to a digital-first money management service, rather than a transactional activity in-branch, and the world of B2B is embracing digital technologies at pace.
The pandemic saw an exponential rise in virtual events, many using dedicated apps to encourage remote audience participation. Virtual event platform, Hopin, is only 17 months old and valued at $5.65bn, growing from 5,000 registered users in 2019 to 3.5m.
Virtual events have grown with the pandemic, as people were unable to attend events in person. In the UK, the percentage of people working from home grew from 27% in 2019 to 37% in 2020. While some may return to office in future, the trend is towards more remote working, or hybrid working patterns, which means virtual events will continue to be relevant.
For these experiences to work in a way that meets customer expectations – seamlessly, intuitively, in real-time and so on – marketers need to rely on intelligent technologies that, themselves, work seamlessly and intuitively together.
The DXP industry is forecast to be worth as much as $16 billion by 2028. The space is growing at a rapid pace and it can be daunting to try and navigate a technology sector that is evolving at the speed the DXP market is, especially as the challenge it is designed to solve is also changing at pace.
The purpose of this guide is to help frame what a DXP is, the range of challenges it can solve, why there is a pressing need to access these technologies and how to start the process of selecting a solution that closely fits your needs.
What is a DXP or Digital Experience Platform, and why would I need one?
Gartner has provided what many consider to be the definitive explanation of what a DXP actually is:
"An integrated set of technologies, based on a common platform, that provides a broad range of audiences with consistent, secure and personalised access to information and applications across many digital touchpoints."
"Organisations use DXPs to build, deploy and continually improve websites, portals, mobile and other digital experiences. DXPs manage the presentation layer based on the role, security privileges and preferences of an individual. They combine and coordinate applications, including content management, search and navigation, personalisation, integration and aggregation, collaboration, workflow, analytics, mobile and multichannel support."
This is quite a complex explanation of an, admittedly, complex product. Let's dig a little deeper into what Gartner means.
An integrated set of technologies, based on a common platform:
Many martech solutions will come from a single vendor – a customer data platform (CDP) from TreasureData, or a digital asset management (DAM) solution from bynder, for example. It is possible to buy a DXP solution from a single provider, called a Closed DXP, but another common way is to select a 'best of breed' suite of products from multiple vendors, called an Open DXP. These will often involve a core set of technologies from a single vendor that then allows the customer to add on extra components according to need from other suppliers, often either subsidiaries or approved partners.
Importantly, DXPs are largely cloud and API-based, making them easier than hosted solutions to customise, update and add to as the business's needs change.
Gartner: Provides a broad range of audiences with consistent, secure and personalised access to information:
A DXP typically includes technologies needed to manage customer data and personalise content. This includes a data center which deals with contact management and customer information, including covering elements such as data protection.
Gartner: Organisations use DXPs to build, deploy and continually improve websites, portals, mobile and other digital experiences. DXPs manage the presentation layer based on the role, security privileges and preferences of an individual:
At the core of the DXP is often a content management system (CMS). This ties together the various elements of content, ecommerce, marketing, communications and, internally, collaboration, analytics and workflows. This integrated activity is how employees can manage the front-facing customer experience – or presentation layer - across that wide range of digital channels mentioned earlier.
Gartner: They combine and coordinate applications, including content management, search and navigation, personalisation, integration and aggregation, collaboration, workflow, analytics, mobile and multichannel support:
This is a very quick way of summing up all the other functionalities that are typically found in a DXP, including:
This includes the typical technologies that an ecommerce business would need to provide a rich shopping experience for its customers. For example, product content management or PCM provides the product 'storefront' with images and features; payments technologies including typical payment gateways (Visa/Mastercard), plus alternative payment options such as Apple Pay, PayPal, Klarna and so on.
Asset management (DAM, web-to-print, etc.)
Asset management goes beyond providing images just for the storefront. A digital asset management (DAM) system centralises all assets including images, video, text and more and can also include workflow management to make sure the right people are working on the right asset at the right time. DAM is usually limited to managing assets for marketing, while its close cousin, PIM – product information management – looks after all the assets attached to a product as it makes its way from manufacturer to retail channel.
The key to successful customer experience today is being able to meet the customer where they are, wherever they are in their journey. So if a customer chooses to interact via mobile, either on mobile web or app, they expect to perform whatever task they need to then and there. Equally, they want to be able to ask questions of the company in a way that suits them, either through a contact centre, chatbot, social media or email, to name but a few.
One of the key benefits of a DXP is the ability to manage all the disparate parts of the customer experience ecosystem, and improve upon it. Elements like business process management (BPM) allow companies to examine how they are completing tasks and help them automate and optimise to make sure they are as efficient and as effective as they can be.
Cognitive (predictive analytics, machine learning, AI automation, etc.)
Companies are increasingly looking to technology to help them make intelligent inferences from data. This is more important since the end of the cookie will mean marketers are more reliant on first party data, or cohort analysis. Equally, as the volume of communications increases, marketers need to send many more messages and answer more queries than is sensible, manually. Intelligent automation can route queries to the correct customer service staff, while predictive analytics can help businesses anticipate demand and make sure they avoid disappointing customers.
While the CMS may link the outputs of these together for the presentation layer, each capability needs its own DXP-contained functionality working in the background.
This list is by no means exhaustive. And there are different flavours of DXPs that cover some, but not all, areas defined – as well as new digital experiences. As new digital experiences emerge, the DXP has to adapt to suit. A perfect example of this is the explosion in virtual events and increased importance of webinars in the B2B space during the pandemic. And it is a trend that looks set to stay critical post-lockdowns.
Webinars and virtual events are increasingly seen as key channels with which to engage an audience. According to a post from G2 Research, while 70% of marketers had never held a virtual event pre-pandemic, by September 2020, a third said it was already a core part of their strategy and into 2021 and beyond, 72% of event planners will be using virtual or hybrid versions as a mainstay of their events strategy.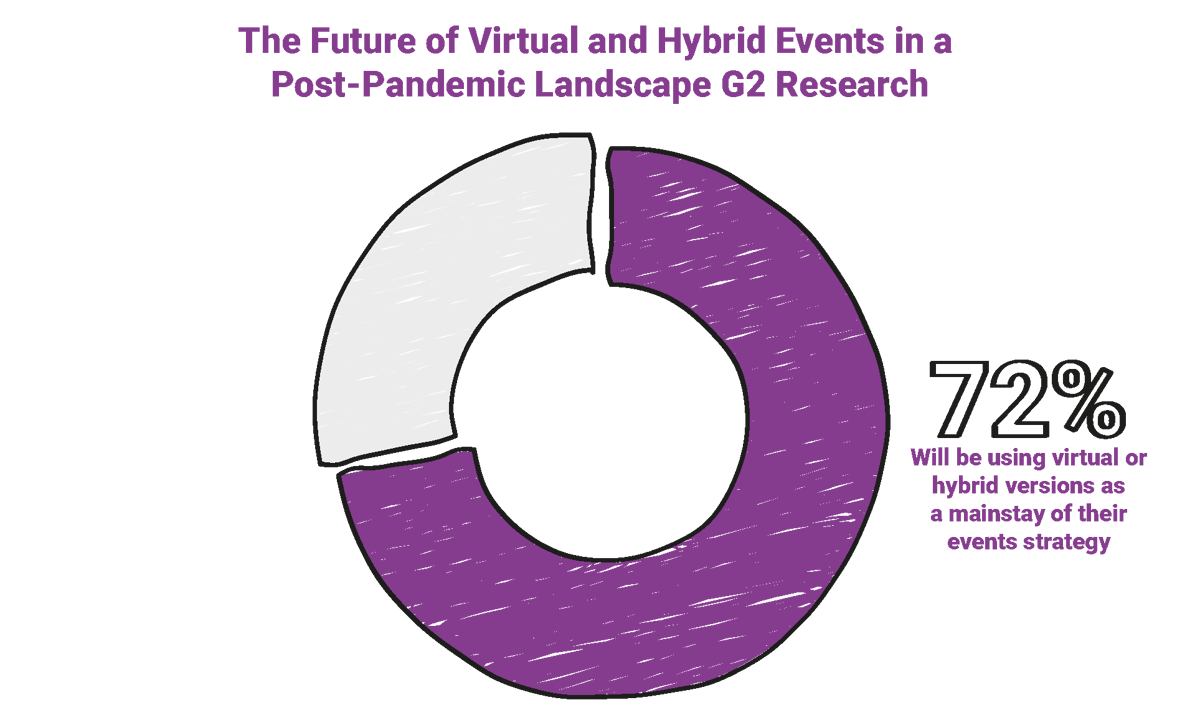 By creating a virtual event via a DXP, B2B marketers can create rich viewing and interactive experiences with multiple screens and content. It can deliver personalised content based on the event via other channels, such as email or social media, and using chat functionality, allow individuals to interact with presenters in real time. For the presenting company, analytics gathered during the event on audience engagement can help inform future events, customer targeting, product development and the next best content to deliver.
CMS vs WEM vs DXP – what's the difference?
Just as customers' needs have evolved, so has the technology to serve them. A DXP hasn't just emerged out of the blue, it is the latest in a series of solutions that have changed and grown in variety and sophistication over time. Nor has that evolution been entirely linear because, as we have seen, the starting point – the CMS – is still a core facet of the DXP.
Let us explain.
As soon as companies had any online presence at all beyond a single page internet 'shop window', they needed a content management system, or CMS. This helped them organise and publish all the content they needed to show on that site. As companies' digital presences have grown, along with the number and variety of channels, the CMS has become more sophisticated. But it is still essentially concerned with the presentation layer – publishing.
The problem with the original CMS was that it tended to operate in silos. Every digital presence had its own CMS, its own workflow, its own teams. This naturally makes building a coherent customer journey across channels difficult to track and serve relevant content for.
Prior to the DXP, the web experience management or WEM tried to solve this challenge. As customers began interacting across a wider variety of channels and websites, collaboration between departments – mobile, ecommerce, web – became important. WEM was a single resource that could manage the customer experience across multiple different digital channels, also collecting customer data to personalise the experience and deliver segmented content.
However, while WEM may have made the customer experience more consistent by creating content that could be repurpose and deployed against different channels, it was still largely a closed content system that couldn't incorporate the activity from a growing range of digital channels such as ecommerce, payments, events, offline channels and automation.
Enter the DXP, which combines the benefits of the CEM with a more open platform that provides the ability to connect with other systems and sources.
The DXP generally has a CMS at its core to manage the front-facing – or presentation layer – part of the digital customer experience, and then applies an ecosystem of technologies to help make that experience personalised, rich and adaptive to customer needs.
Its major benefit is to bring together the back office operations involving ecommerce, digital asset management, customer service via chatbots or even business process management (BPM) which, together, help deliver a seamless customer journey.
The customer can dip in on a website, make a purchase on a portal, interact via a chatbot or even tweet a complaint via social media and the DXP can tie all the interactions together to help serve that customer the digital experience they need, when they need it.
Do I have to replace my tech stack?
The short answer is: No. The slightly longer answer is, no, because DXPs are largely built on API and cloud-based architectures, they can integrate easily with existing systems. That said, you don't want to end up with some kind of 'Frankenstack' and continually bolting on new tech is a tactical, rather than a strategic approach to modernisation.
You don't have to completely reinvent your martech stack, but implementing a DXP can provide the opportunity to replace or refresh several existing systems, such as older CMS or WEM, ecommerce platforms, asset management platforms so you have a leaner operation going forward with less tech debt, fewer systems for your employees to navigate and less infrastructure for your IT teams to maintain.
If existing systems largely work, do I still need a DXP?
It all comes down to the customer. A great customer experience increases revenues. It's a fact. Forrester found that, for mass-market auto manufacturers, improving CX by a single point can add up to $1bn in extra revenue. Everyone seems to agree that if you make it easy for the customer to buy, they buy more. And before you think this is purely a B2C play, B2B and even B2B2C both benefit from DXPs at the heart of the marketing stack. They result in an improved CX, with some solutions designed specifically for these sectors.
But whether it's in business or consumer sectors customers buy in complicated ways and brands need to keep up. Mobile is certainly taking the lead and sales on smartphones soared during the pandemic. Mobile ecommerce rose 169.1%, while omnichannel retailers saw a 99.8% growth in online sales. They're increasingly shopping on mobile while on desktop. Not to mention shopping on mobile but via social media while they're in a physical store and using an interactive display.
So if a CMS puts content out in a way that suits different channels, and a WEM puts out content that suits different customer groups in different channels, a DXP:
Puts out personalised content

Delivers it in a responsive, real-time way

Across any digital touchpoint, from apps to voice platforms, digital out of home and connected vehicles, while also integrating content into virtual events including webinar presentations

Ingests customer interaction data, changing the messaging and content to suit

Automates content brands can reach more customers on a more individual and relevant– and more profitable – level than ever before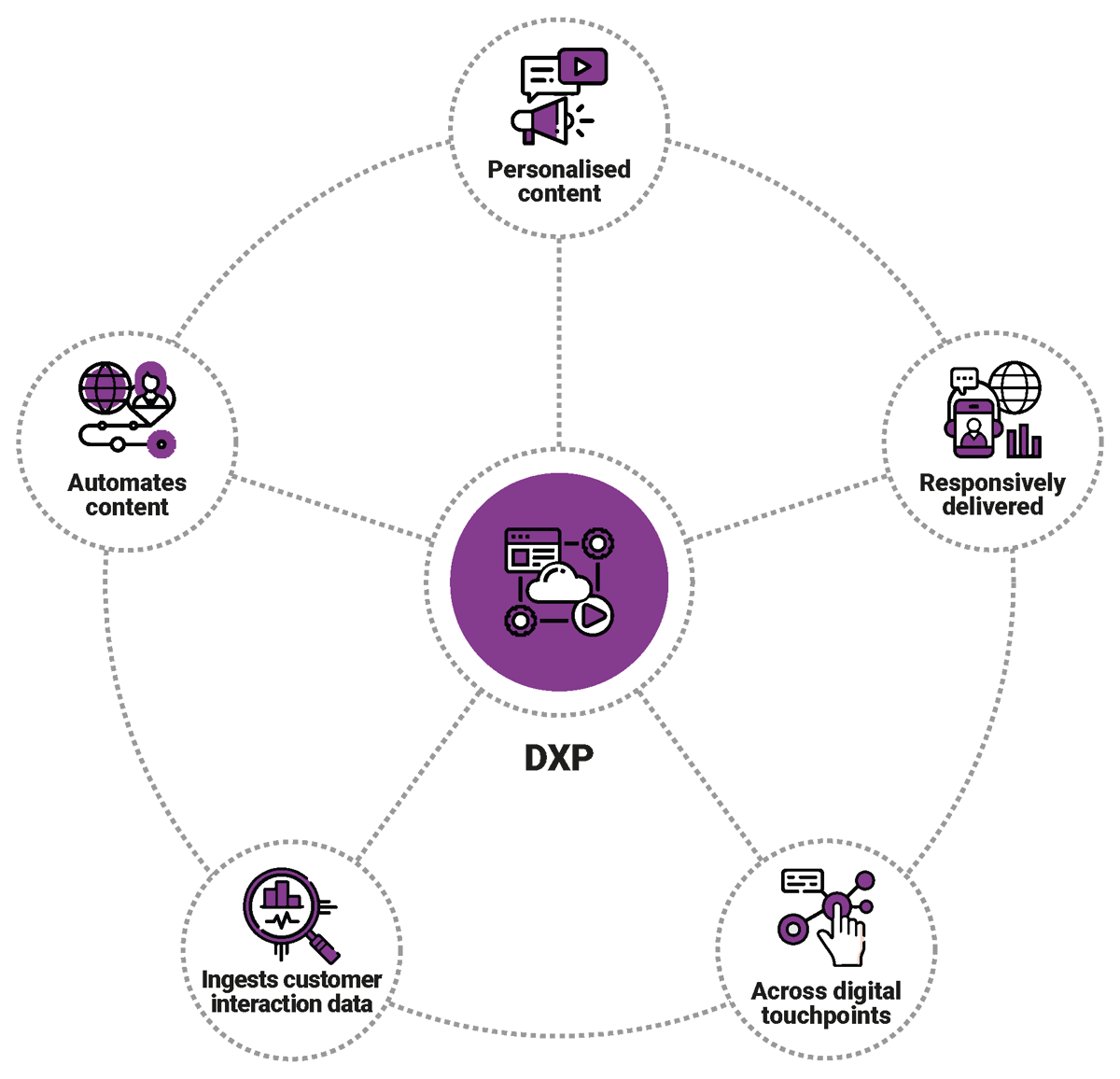 How we got here
It's tempting to think of a DXP as an evolution of the CMS or WEM and while some of its features are arguably along those lines, it's so much more. How it came to be is a function of the demands consumers are making of the businesses that serve them – both B2B and B2C.
Unsurprisingly, DXP leaders have largely come from companies with established content platforms that have evolved to become full DXP vendors. However, we are increasingly seeing dedicated DXP vendors or more atypical providers entering the space as they realise the opportunity in the market and develop their propositions as dedicated, native DXP solutions, rather than evolved versions.
It's certainly an area that is ripe for expansion. In a report published before the pandemic, Grand View Research valued it somewhat higher for 2018 at $7.5bn but with a lower CAGR of 10.9%. It also expected the market to be worth $9.5bn in 2020 and a massive revenue forecast of 15.8bn by 2025.
Acquisition activity continues apace in the wider martech sector, but DXPs have been seeing significant activity over the past 12-24 months[1][2][3][4][5][6][7]. The list is not exhaustive but it does give a flavour of how rapidly the sector is growing and how critical the platform is to its users.
Firstly, Episerver has been on something of a buying spree, having boosted its personalisation capabilities with Idio, and its B2B offering through acquiring Insite Software in 2019. It also entered an agreement in September 2020 to acquire Optimizely, the latter having raised over $200m in funding, having worked with over 1,000 companies. Bloomreach bought Exponea, a CDP and automation specialist, while revealing its value had risen to $900million.
Adobe continues to both invest in acquisitions as well as extend its partner network, developing solution integrations with Microsoft, Drift, Roku and ServiceNow, a tie-in with SAP's Qualtrics and then bringing Workfront into the Adobe fold for $1.5bn. More big names continue to make inroads into the sector with IBM now fuelling the HCL platform after it acquired several products that would allow the company to excel in security, marketing and commerce.
Another leading DXP brand, Sitecore, acquired the Boxever Ltd CDP to improve decisioning and experimentation, Four51 Inc for B2B and B2C experience and Moosend for intelligent marketing automation, all as part of the company's $1.2bn investment plan.
Investors are getting in on the act, with Vista Equity purchasing Acquia in 2019 with a deal valued at $1bn, while OutSystems announced a $150 capital raise round co-led by Abdiel Capital and Tiger Global. This round values the DXP at $9.5bn.
Delivering on digital experience involves a lot of moving parts, technologically-speaking and the rapid growth of the DXP sector indicates just how much marketers value technology that solves their digital experience challenges.
Do I need a DXP?
Now you know what a DXP looks like, and you can see that it really is going to be a next generation way to deliver omnichannel customer experience. The big question is: Does my business need a DXP?
The 'Do I need a DXP?' checklist:
Do your customers want personalised experiences?

Do you have to react to changing customer needs?

Are customers engaging with you through social?

Would being able to use connected devices improve your CX?

Could you do more to differentiate your brand through superior CX

Do you need to sell direct digitally?

Would you like to be able to expand your payment options?

Are customers using several different channels to engage with you?

Is updating your information or product data regularly important?

Would automation help you work more efficiently and cost effectively

Is your legacy tech becoming difficult to integrate and manage?

Would automated workflows help you operate more effectively?
Answer yes to any of these and a DXP could very much be what you are looking for.
How do I choose a DXP?
We'll get into the nuts and bolts of how to choose a particular vendor or selection of vendors for your DXP in a moment. First of all, as with any martech implementation, you have to make sure you take a methodical approach.
In our iconic 4Ps of Marketing Technology, we walk you through the optimal process for onboarding all kinds of marketing technology solutions, but we've narrowed it down here to a few key pointers.
Internal requirement gathering & RFI

Project steering committee established

Business use cases – User/business focussed

Platform use cases – Features/functionality focussed

Vendor score card

RFP

Vendor selection – (Too often companies jump straight into their selection and it all goes wrong. Often, they don't spend enough time and money on what follows either)

Proof of concept

Implementation & configuration

Stack integration

Training & onboarding

Support & upgrade

Vendor management

Audit & review
Let's pick out a couple of those steps, which will help you narrow down exactly which DXP is going to suit your business best.
Business use cases

Platform use cases

Vendor score card



Business use cases
Content creation and distribution
Automated content based on behavioural triggers

Personalised content with real-time delivery across devices

Progressive content sequencing

Contextual content based on device, time of day, platform, point in customer journey

Multilingual variants
eCommerce
Integrating multiple payment types

Real-time inventory management across device

Manage purchase journey across device

Up-to-date digital asset management across product lines

Enable social commerce to expand customer reach and CX
Analytics
Optimising campaigns based on visitor engagement

Predict outcomes of customer targeting and tailored messaging

Explore customer needs

Understand customer sentiment

Grow revenue through ML-driven product recommendations based on past behaviour
Personalisation
Show tailored landing page content based on past behaviours

Pick up interactions where they left off across channels

Tailor offers and loyalty rewards

Respond to social activity with individual messaging



For each of your business use cases, it helps to document exactly what you want the DXP to solve. Below is a framework that might help you lay out your argument succinctly:

Storytime
A framework helps you pin down specific arguments. Expanding on them to outline the scenario in a storytelling format helps formalise your intentions and explain your needs clearly to the rest of the business. For example:
Our customer experience manager, Ines, wants to make sure we are optimising our experience across the customer purchase journey. Her team's analysis of key customer segments suggests many of them are beginning their purchase journey on mobile but more than 80% switch device and platform at least twice. 35% are coming to the ecommerce site via social media and often leave the site mid-purchase. Ines has found customers are 25% more likely to convert if they return to our ecommerce site to find their purchases and preferences have been retained. Improving conversion in an omnichannel customer journey has the potential to reduce our CPA by 12% within this one segment alone.
Outlining your needs in a vivid and specific way doesn't just help you get support internally. It is a vital tool for helping DXP vendors to understand your needs and should form a key part of your RFI/RFP documentation.
Once you have your shortlist of vendors, creating a vendor scorecard to rank each vendor on their relative capabilities is the next step.
You could assess each business use case against:
Key functionality in the scenario demonstrated

Ease of implementation

Alternative approaches demonstrated/explained

Ease of use – the admin experience for managing the use case

Positive impact on end users

Goals are met



Platform use cases
Each business use case will be supported by a series of features and functionality. These form the platform use cases to frame and score vendors from a different perspective. It's helpful if you can create a score covering both areas.
Outlined below are some example features and functionalities by platform:
CMS:
WYSIWIG editor

SEO tools

Analytics

Publishing controls

Content staging

Multi-language content creation

Page expiration

Social media integration

Content personalisation
Contact Management [8]:
Contact management

Interaction tracking

Lead management

Email integration

Document management

Quote management

Reporting & Analytics
DAM:
Centralised asset database

Automated workflows

Rights expiry

Metadata tags

Image search

Contextual data



Commerce:
Payment portal

Loyalty scheme

Address look-up

Delivery options

Trigger emails

Member checkout

Fraud protection

Product information management

Saved invoices

Tax options

Credit limits
Analytics:
Google Analytics integration

Campaign management

Predictive analytics

Engagement scoring

Quantitative insights

Social listening

NLP ingestion of data

Net Promoter Score



Events & Engagement:
Webinars

Polls & surveys

Virtual events

Interactive content widgets



Beyond your business and platform use cases, you will also want to assess your potential vendor's technical architecture. This includes areas such as product roadmap, training and support, and so on. In the DXP world where an Open DXP depends on using solutions from across the martech landscape, partnership network may be an especially vital criterion.
We can't cover every area of a vendor score card in this guide, but you can access our vendor scoring model and vendor demo questions check list by joining the Martech Alliance Membership.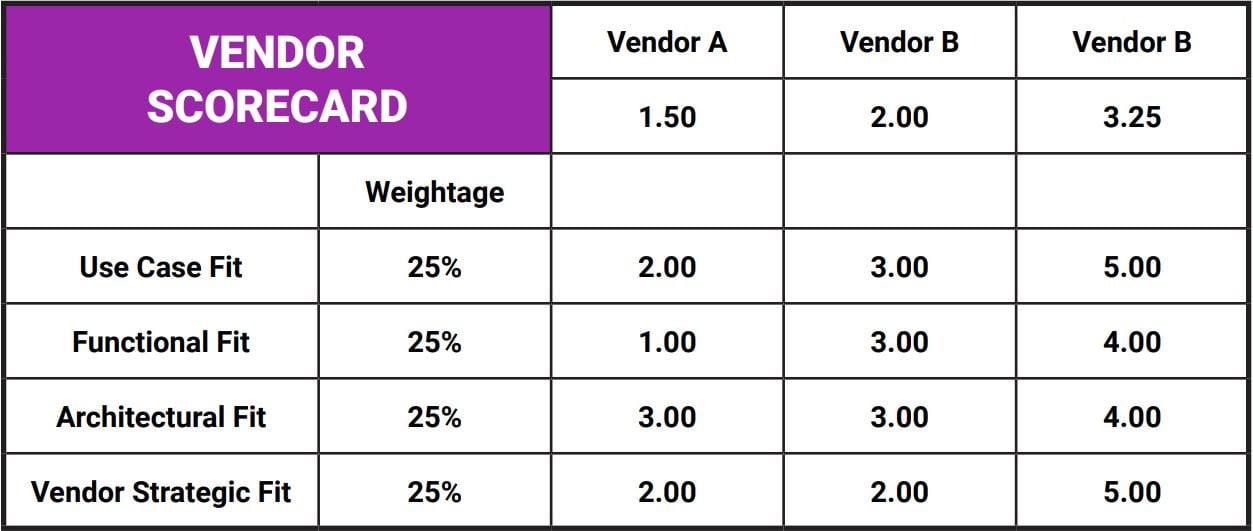 Creating a short list based on your company profile and preference is a good starting point; DXP type (Open vs Closed, for example), B2B or B2C focus, functional specialism, industry and company size match.
As you progress to chatting with vendors, we would recommend you:
Take your time & prepare – Don't rush the process. Make sure you have done your research to better understand the DXP space. Ensure you have details of your data sets available and as well as you documented your vendor score card and questions.

Run a custom demo – Make sure vendors have your business use cases and business background weeks before your demo so they can sufficiently prepare and tailor what they present so you can make a fair assessment.

Get into the detail of your data – Get into the nuts and bolts of your data sets to really assess the ease, speed and cost of getting a DXP in place.

Review vendor case studies – Ask for customer case studies showing key results of their platform.

Get vendor customer references – and ideally direct access to chat with some of their clients.

Assess direct and indirect vendor costs – Ensure you get all costs from vendors from data hygiene and onboarding, custom integrations, consulting, training and any other area beyond the platform licensing itself. If the vendor doesn't cover all areas, ensure you have forecast what additional investment is needed. This could be a consultancy to manage your ecommerce or an internal new hire such as a customer experience expert to be the platform super user.
Sponsored
"Digital experiences will continue to be a priority in marketer's program mixes. The pandemic merely accelerated a trend we had seen towards prioritisation of digital engagement. As b2b sales and marketing continue to increase in complexity based on buyer's journey trends, marketers must increase in their adoption of and sophistication in using digital experiences.
Similarly, marketers will also need to understand how to set up digital experiences to have the appropriate sensors to capture buying signals. The next step will be being able to interpret and act on those buying signals in a way that helps to enable the buyer, rather than distract or annoy them. Similarly, to the transformation that happened with email marketing, marketers can't expect to be dictating the buyer's journey, merely being their sherpa on their journey and providing content and experiences that meet their needs.
With increasing regulations and security criteria in place, marketers must capture as much opt-in, first-party data as possible. It is also so rare to get as much time with a buyer as those that attend virtual events. Making sure you're listening for the appropriate signals and translating those to business actions can become your differentiator and establish brand affinity by being a trusted partner.
While many companies are approaching digital experiences in a siloed fashion, companies that deploy digital experience technology that unite sales and marketing will have the added benefit of a focus on metrics that matter. This will also build alignment and trust, so that the associated plays or motions triggered off of behaviour from within digital experiences will have increased success.
Digital transformation is well underway. Organisations that don't prioritise digital experiences and drive engagement with audiences will fall behind. The good news is that there are proven strategies and tactics to help you improve your digital engagement journey."
Cheri Keith,

Vice President, Research & Evangelism, ON24
Sponsored
"Confronted with economic uncertainty and unexpected changes to basic business practices, brands across the board have recently had to rethink two key activities: customer retention and customer acquisition.
Those concepts are hardly new. What is new is how we contextualise them in today's marketplace. The recent pandemic has radically accelerated customers' move to digital, a move that has been unfolding across industries for years. Unfortunately, too many companies have just now discovered that their ability to deliver a consistent, personalised digital experience is nowhere near where it should be.
What these companies need is a digital experience platform (DXP). But they don't need just any DXP. They need one featuring all the capabilities needed to create and sustain digital experiences that engage new customers and deepen relationships with existing ones.
Creating consistent digital experiences that customers appreciate is the lifeblood of a DXP, and there are a few key features a DXP needs to demonstrate in order to achieve this. For starters, content is at the heart of digital experience, and data is what makes that content relevant to particular customers, so an integrated approach to data and content is required. In today's demanding digital landscape, content is key – as is empowering marketers, so a low-code, easy-to-use method for creating content is highly recommended.
Easier methods for development means developers are also able to move quickly in standing up sites and applications. Similarly, as channels diversify, digital footprints grow, and organisations need a DXP with a built-in, robust governance framework that keeps pace and scales. A DXP also needs an open structure that allows for the easy adoption and integration of new tools. And finally, a DXP should feature the latest technology when it comes to both Customer Data Platform and Personalisation tools to derive actionable insights and customise digital experiences
If done right, the power of a DXP is hard to overstate. They give companies the power to quickly and effectively gain deep knowledge of customers and create engaging, content-rich experiences across multiple channels, while supporting the governance capabilities enterprises need for scalability, security and compliance."
Tom Bianchi,

VP Marketing, EMEA, Acquia
Getting the most from your DXP
Researching and onboarding a DXP vendor is only the start of the process. Whether you've bought into a DXP because you want to begin the process of digital transformation, or you're looking to refine and refresh your omnichannel capabilities, the DXP journey evolves along with your needs and those of your customer.
To get the most from your DXP, you should add the following steps to your omnichannel management process:
Implement a regular review at least quarterly to make sure each element of your DXP is still meeting its success goals and where the potential lies for it to make an even bigger contribution to the business.




Explore possible areas of wastage – are you automating everything you can, are there duplicate services or workflows in the platform that could be slimmed down




Engage regularly with your vendor – not everyone makes the most of their suite of solutions and vendors are ideally placed to demonstrate the full capabilities of their solution. Make sure you're not missing out!
Summing Up
The consumer's demands for a seamless experience across multiple channels, on and offline, are seemingly endless. This means making sure systems are integrated, centralised, intuitive for use across a broad range of departments and levels of expertise, and almost endlessly customisable.
The DXP landscape somewhat mirrors the challenge it was set up to solve – not a single solution or operation, but rather a holistic universe of technologies curated to work together to deliver that seamless experience on the front-end.
As a result, acquiring a DXP is not as simple as plucking a package off the shelf. Understanding how the various closed or open options might suit your needs, what specific elements of a DXP are going to deliver the best returns in terms of customer experience and, ultimately, revenues is going to be key.
And as with anything complex, following a methodical process of investigation, assessment and optimisation is likely to deliver the best results.
To find out more about how you can integrate a DXP into your organisation, or discuss how the wider world of martech can help your business operate at the top of its game, contact us here.
Sponsored
Sage Intacct X ON24
About Sage Intacct
Name: Sage Intacct

Headquarters: San Jose, California

Founded: 1999

Employees: 500+

Funding: Public (acquired by Sage Group PLC in 2017)

Industry: Cloud-based financial applications
Introduction
Sage Intacct is committed to meeting the needs of financial professionals from beginning to end. Its cloud solution, designed to deliver the insights and efficiencies financial professions need, is regularly considered best-in-class.
But what makes Sage Intacct stand apart is its commitment to customer success and support. And that customer success commitment starts at the top of the funnel.
For Nick Ezzo, Vice President of Demand Generation at Sage Intacct, planning and executing customer success tactics meant keeping Sage Intacct's messages ready to go the moment a prospect or customer is receptive to the company's vision.
To prep opportunities, the Sage Intacct team deploys an account-based marketing strategy targeting specific verticals with various easy-to-access and easy-to-consume content.
Critical to this strategy is the use of ON24 webinars. ON24-powered webinars help the company guide audiences from a state of "unaware of Sage Intacct" to "ready to buy from Sage Intacct."
Challenge
To guide audiences from the top to the bottom of the marketing funnel, the Sage Intacct team had to craft a content strategy for each stage of the buyer's journey and well into the customer lifecycle.
Intacct had to regularly collect, analyse, share and act on highly targeted data to capture and convert prospects and keep current clients happy and apprised of trends.
"Our goal is to encircle these people and hit them in a variety of ways, using a variety of content. So, at the end of our ABM program, one of the things that we do is try to book-end a webinar as a call to action for that audience."
Nick Ezzo, Vice President, Demand Generation Sage Intacct.
Solution
Sage Intacct changed its digital marketing by developing a new strategy using videos and ON24 webinars. These new assets would correspond to different stages of the customer journey.
Short, five-minute overview videos provided the company with the spice it needed to capture interest. Then, to keep that interest's momentum, the team deploys educational webinars.
Finally, to clinch the deal, Sage Intacct releases product tours — webinars that guide prospects through product features and benefits unique to its solution.
These last webinars are customised for each industry so audiences can understand how they can use the product in their specific industry.
Being able to touch on these needs, either in-depth or superficially, at scale through webinars provides two advantages. First, prospects get a better understanding of Sage Intacct's abilities. Second, the Sage Intacct team can take attendee information — from noted pain points in a Q&A session to overall engagement and refine vertical messaging.
With this tiered approach, each element pushes a visitor along a linear path through Sage Intacct's strategy. Moreover, the company can even package these elements for targeted verticals with this defined process in place.
"Our goal is to encircle these people and hit them in a variety of ways, using a variety of content," Ezzo said. "So, at the end of our ABM program, one of the things that we do is try to book-end a webinar as a call to action for that audience."
Results
With its daily 30-minute webinar in action, the Sage Intacct team sees anywhere between 20 to 25 attendees for its demo daily. For the company, this daily ON24-powered webinar is the gift that keeps on giving. Alone, the Coffee Break Demo:
Generates as many opportunities as all other ON24 webinars combined

Fosters a 50 per cent registrant-to-attendee rate daily

Produces 50 per cent of Sage Intacct's pipeline opportunities
For Sage Intacct, webinars are a foundational element of its marketing strategy. It promotes its Coffee Break Demo and other webinar events in CTAs, on landing pages, in email content drips, on its website and more. At each contact point, Sage Intacct encircles prospects with the opportunity to engage with a webinar and connect on a human level.
"I'm a huge fan of ON24. I've used ON24 at four different companies, and I've brought them into my last three companies. ON24 is one of the companies that I take with me wherever I go, and it was one of the first things I did when I came to Sage Intacct."
Nick Ezzo, Vice President, Demand Generation Sage Intacct
WaterAid X Acquia
Pumping up donations with a personalised website.
Introduction
WaterAid is an international non-governmental organisation (NGO) based in the United Kingdom that aims to make access to water, toilets and hygiene available worldwide, fulfilling a basic human right which is sadly not enjoyed by millions of people. It was founded in 1981 and now operates in 34 countries around the world.
To fund its activities, it relies on donations collected in part through its website. WaterAid sought to personalise the site for visitors through a better understanding of their interests and needs. With the aggressive spread of COVID-19, WaterAid had an even more urgent need to raise funds for its expanded effort to stop the spread of the virus via safe water, sanitation and hygiene.
Challenge
WaterAid's site couldn't differentiate between users and lacked any method for following up with visitors. WaterAid needed a new platform that would help them better understand their supporters and engage them on a more personal level.
Although WaterAid's on-site strategy focused on the interests and needs of supporters, there was no technical follow-through that adapted website content and digital journeys. The WaterAid team realised that to tackle these challenges, they needed a platform that would help them better understand their supporters and their place in the engagement framework journey toward "brand love."
Solution
Partnering with Acquia (using Acquia Cloud Platform, Acquia Cloud Edge and Acquia Personalisation) and Access, a creative agency, WaterAid swiftly moved from proof of concept to full-blown personalisation.
The WaterAid team adopted a "crawl, walk, run" approach with personalization to transform their website experience from a one-size-fits-all approach to a "segment of one" experience.
WaterAid formed a project team of members from the organisation's digital teams, and brought in partners at Acquia and Access to assist in the transformation.
Together, the teams developed WaterAid's personalisation strategy, aligning it with the organisation's "crawl, walk, run" engagement framework. Specifically:
Crawl - proof of concept.




WaterAid launched simple "targeted personalisation" campaigns to personalise the homepage experience for visitors who had shown an interest in either running, cycling, or trekking events to increase registrations to join Team WaterAid and fundraise for the organisation. WaterAid also developed a streamlined workflow for the creation of personalised content.




Walk - Test and iterate.




WaterAid focused on increasing the donation conversion rate. Based on user journey analysis, the teams saw that people who visited the donation page would often move away from the page without donating, most commonly to the homepage. It hypothesised that a stronger ask on the homepage combined with a call to action to return to the donation page would capture lost donations and increase conversion rate. WaterAid devised numerous A/B test campaigns with different messaging and CTAs to test this.




Run - Integrate.




Personalisation was integrated into marketing planning and processes, with several campaigns launched to support acquisition marketing campaigns, including paid social and PPC. For example, the organization personalised the website for traffic coming from its #BringWater campaign on social media that promoted its COVID-19 emergency appeal and raised awareness of crucial coronavirus-focused hygiene messages.
Results
WaterAid achieved significant results during each phase of its personalisation approach.
Crawl results.


WaterAid's normal clickthrough rate of 3.8% skyrocketed to 14.1% thanks to using the personalised call-to-action.



Walk results.


The organisation's A/B test around abandoned donations yielded some interesting insights. After 77 days, variant 1's clickthrough rate had an uplift of 37.3% with a confidence score of 98.3%, making it clear that this messaging and CTA significantly increased the number of users returning to the donation page.

However, when the team reviewed the actual donation rate, the results were not significant. This insight showed them where to focus their next tests: optimising the next page in the journey — the donation page — for the highest conversion rate.



Run results.




Since beginning to personalise for users, WaterAid has set up 16 targeted personalisations, 57 segments, 9 goals, and 22 custom events giving it insight into its supporters' interaction with its websites. Additionally, it has tracked more than 1,100 donations as completed campaign goals on both its UK and global websites and implemented custom tracking between Acquia Personalisation and Google Analytics.