Hold on to your stacks, Scott Brinker's annual marketing technology landscape infographic has arrived.
Working from home hasn't stopped the godfather of martech and his team from rounding up 8,000 digital marketing tools and squishing their logos into one mammoth graphic for the happy perusal of marketers everywhere.
Without further ado, feast your eyes on the 2020 Martech Landscape Supergraphic: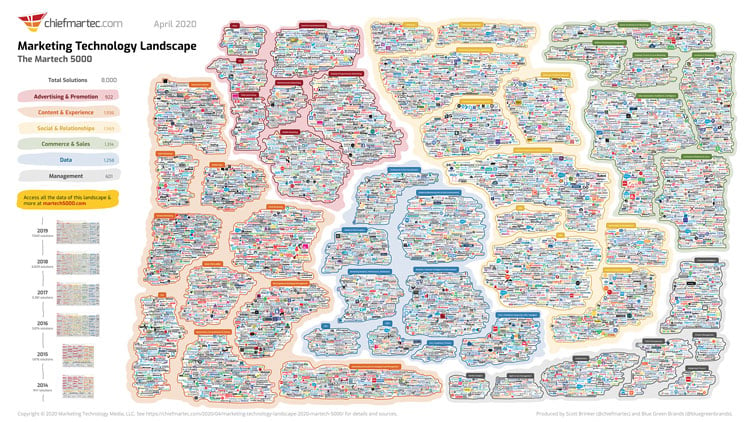 We'd be remiss if we didn't comment first on aesthetics...this year's martech landscape has had a little makeover. Brinker points out however that this this is more functional than physical - it ain't easy to squeeze 8,000 logos in a rigid grid format (we'd know, we have a crack each year at the UK landscape and even 414 logos is trying) and the new look allows some flex on the categories.
Some snapshot stats
This year's landscape features 8,000 marketing solutions
That's 13.6% growth YoY
1 in 5 of the solutions on this year's martech landscape weren't there last year
Data is the fastest growing category, up 25.5%
The growth in the martech space is a whopping 5,233% since 2011
Category growth on 2019:

Advertising & promotion - 922 solutions, 4.1% up
Content & experience - 1,936 solutions, 5.6% up
Social & relationships - 1,969 solutions, 13.7% up
Commerce & sales - 1,314 solutions, 9.0% up
Data - 1,258 solutions, 25.5% up
Management - 15.2% up
Plus in the sub categories 'Conversational marketing & chat' is up a whopping 70% and 'Governance, compliance & Privacy' increased by 68%
Now look we don't want to brag (we do) but MarTech Alliance are actually proud to have contributed to the research for this year's global landscape alongside other brilliant marketing technology aficionados Martechbase and MarTech Tribe.
Key insights
From the moment Scott Brinker introduced the landscape to the world, marketers have been speculating about the impending consolidation of martech companies and for the most part their predictions have missed the mark - the industry continues to grow.
And yet, they're also correct. Brinker points out that martech has a 'long tail' whereby the 'head' is made up of a mere handful of consolidated big players and the 'tail' filled with tens of thousands of citizen apps and ecosystem solutions.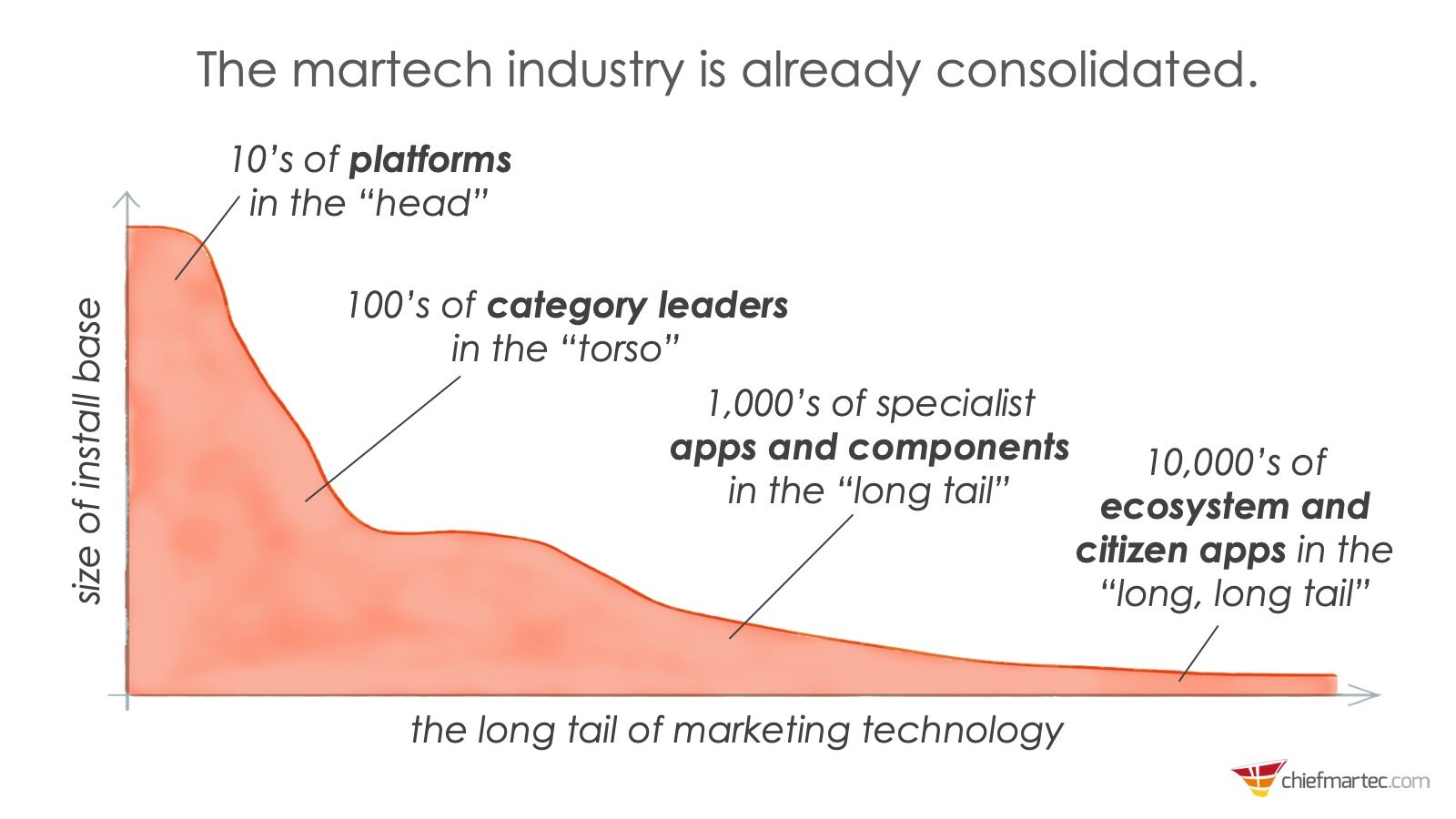 Source: chiefmartec.com
So there you have it, the space is both consolidating, and growing - but with the state of the world right now and the COVID-19 pandemic wreaking havoc across many an industry we can't help but wonder what the landscape will look like in 2021 and how many of these logos we'll see in the new year.
Now of course platform selection for your martech stack is only the tip of the iceberg when it comes to your marketing technology strategy - there are four stages - the 4Ps of Marketing Technology and you can learn more about them here.
---
More martech landscapes?
Below are a range of other localised/category specific marketing technology supergraphics you may also be interested in reviewing.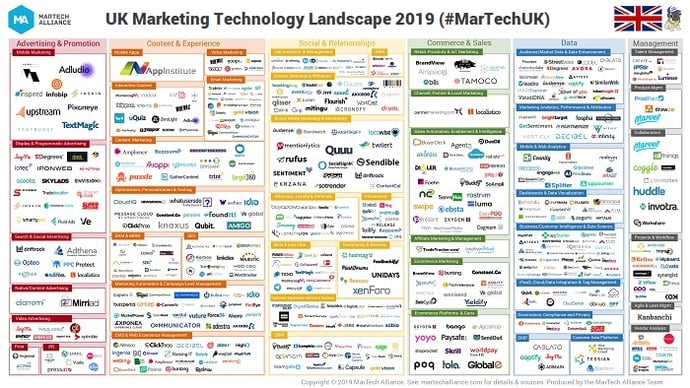 Source: Us!
Europe's Marketing Technology Landscape Supergraphic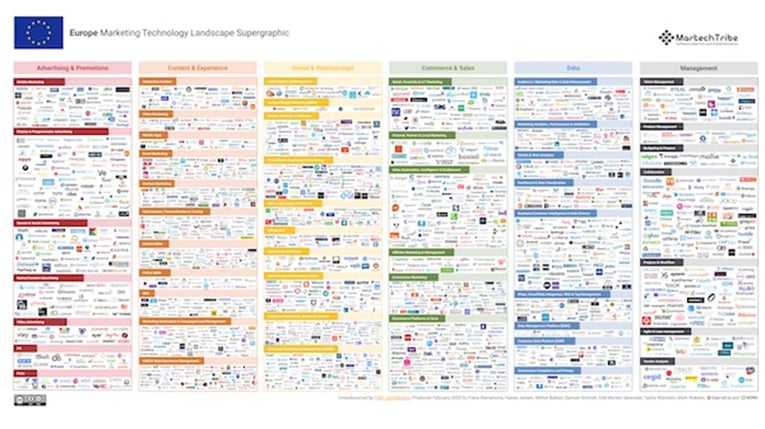 Finland's Marketing Technology Landscape Supergraphic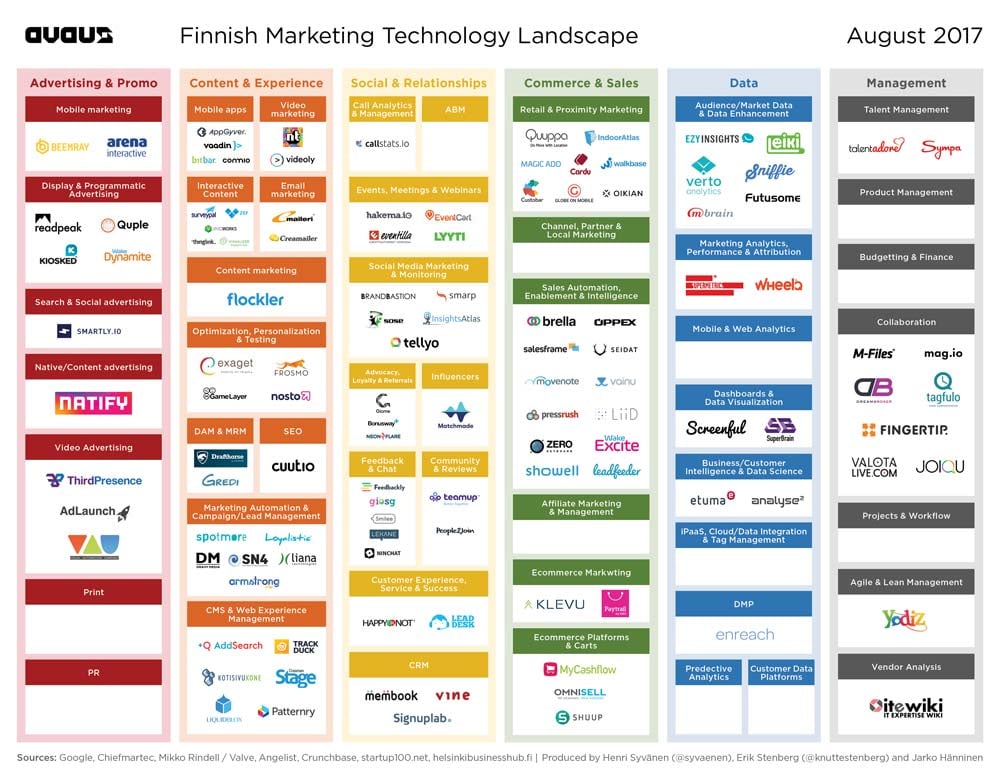 Canada's Marketing Technology Landscape Supergraphic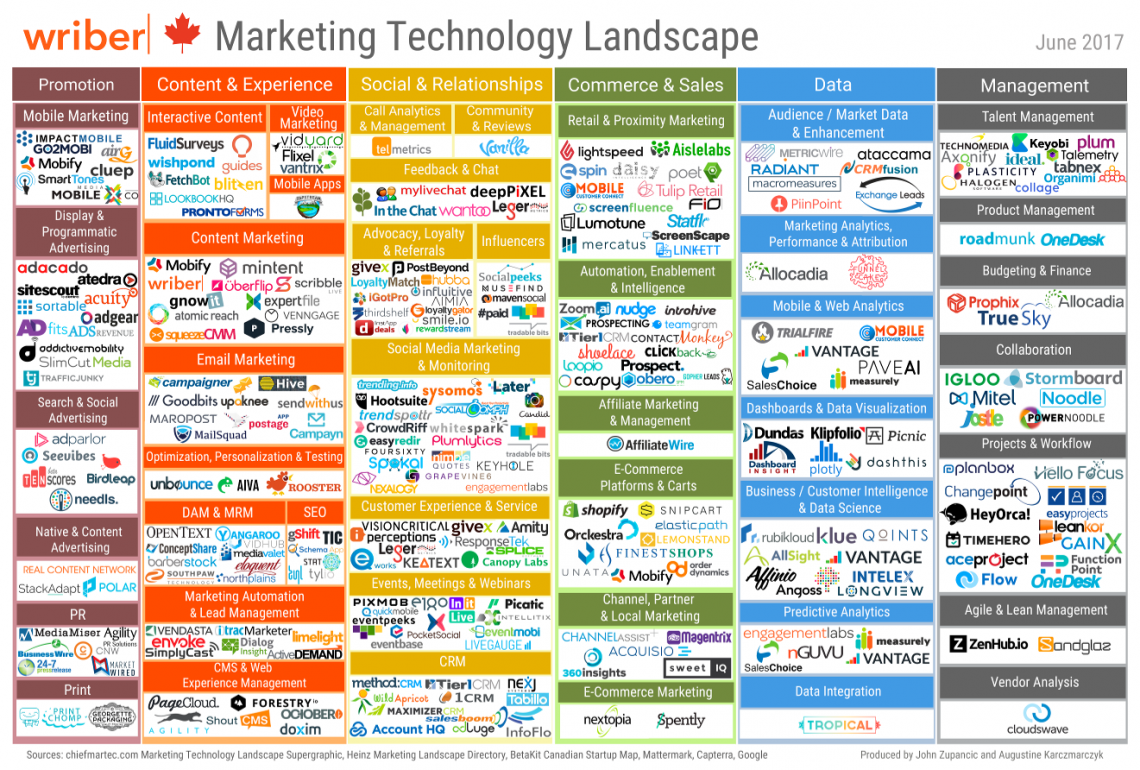 Source: Wriber
China's Marketing Technology Landscape Supergraphic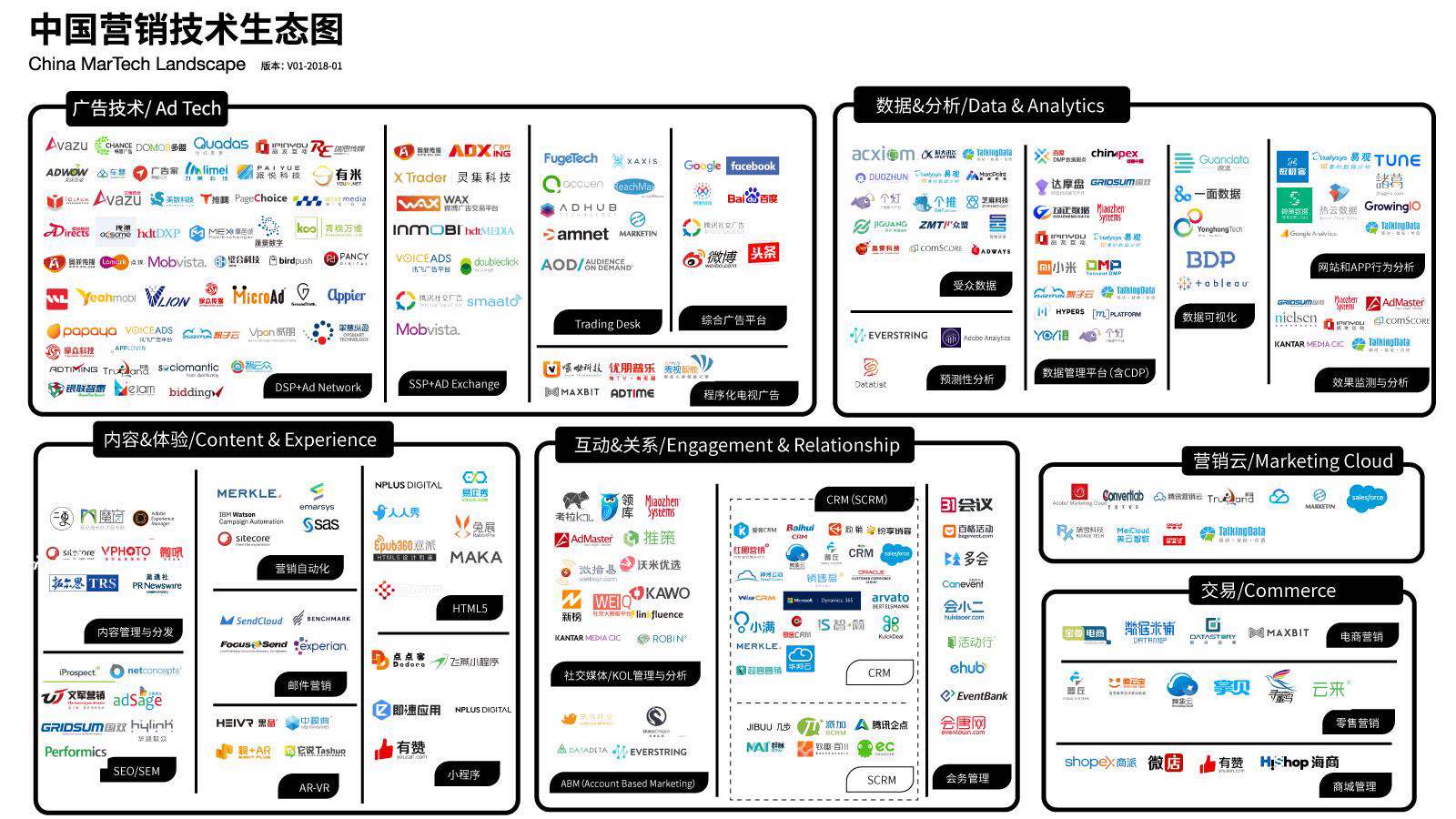 Source: Chiefmartec Twitter post
Blockchain Marketing Technology Landscape Supergraphic
Source: VentureBeat / Never Stop Marketing
German Marketing Technology Landscape Supergraphic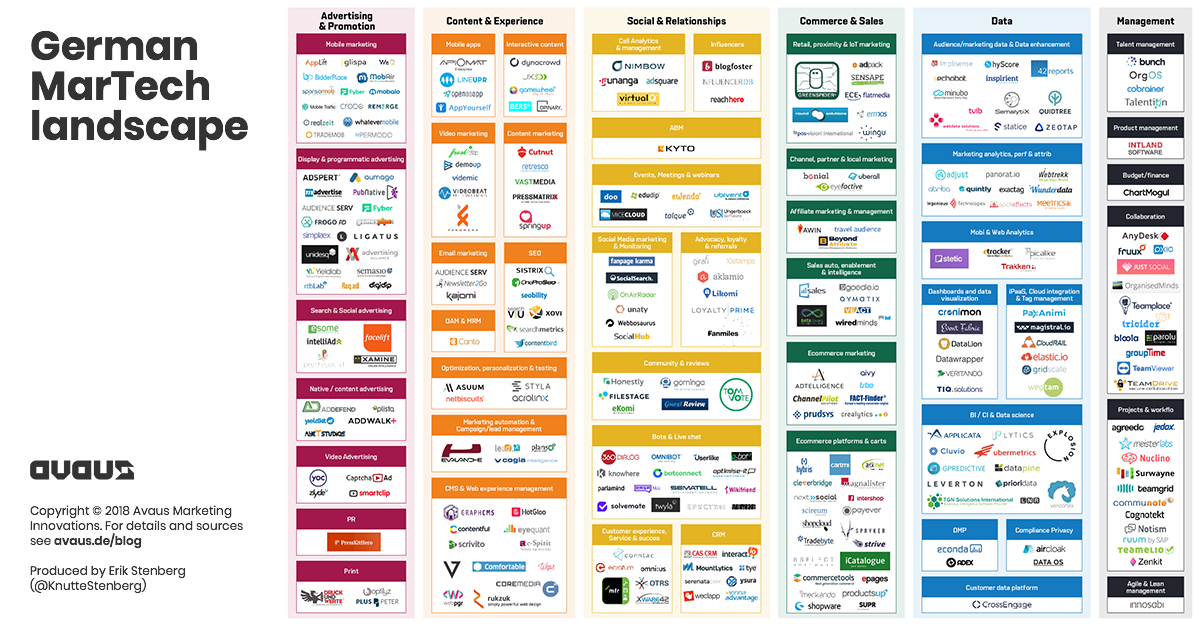 ---
Marketing Technology Landscape Supergraphic (2019 Edition & write up)
Strap in kids Scott Brinker has dropped another martech landscape doozy.
It's that time of the year us marketing technology enthusiasts anticipate with the giddy enthusiasm regular folk reserve for an upcoming Game of Thrones season. To be fair both these monumental occasions have been delighting/distressing/depressing us since 2011.
So without further ado, let's dive in and take a look at what Big Bad Brinks has in store for us with his 2019 Marketing Technology Supergraphic: Martech 5000.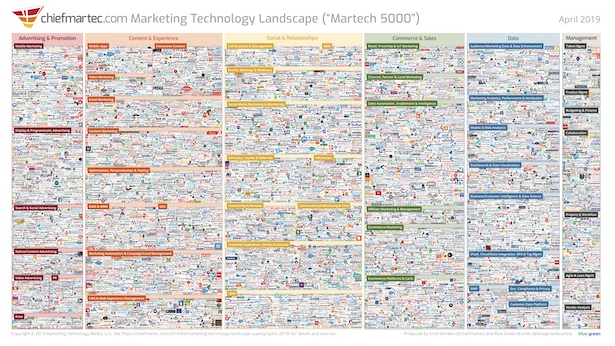 Source: chiefmartec.com
Right…have you taken that all in? Gone cross-eyed trying to identify the literal thousands of logos?
Some snapshot stats
This year's edition contains the logos of 7,040 martech companies
The Content & Experience and Social & Relationships categories account for nearly half (47.78%) of all companies on the landscape with 1,690 and 1,674 inclusions respectively
The Social & Relationships category saw the biggest increase in companies with 64 new additions since 2018
The most represented sub-category is from Commerce & Sales with 457 Sales Automation Enablement & Intelligence solutions.
If I'm honest…I couldn't tell the difference between this latest graphic and it's 2018 predecessor ¯\_(ツ)_/¯. But don't @ me….there are only 211 new martech companies included this year. That 3% growth is the smallest we've seen since we were introduced to the graphic waaayyy back in 2011.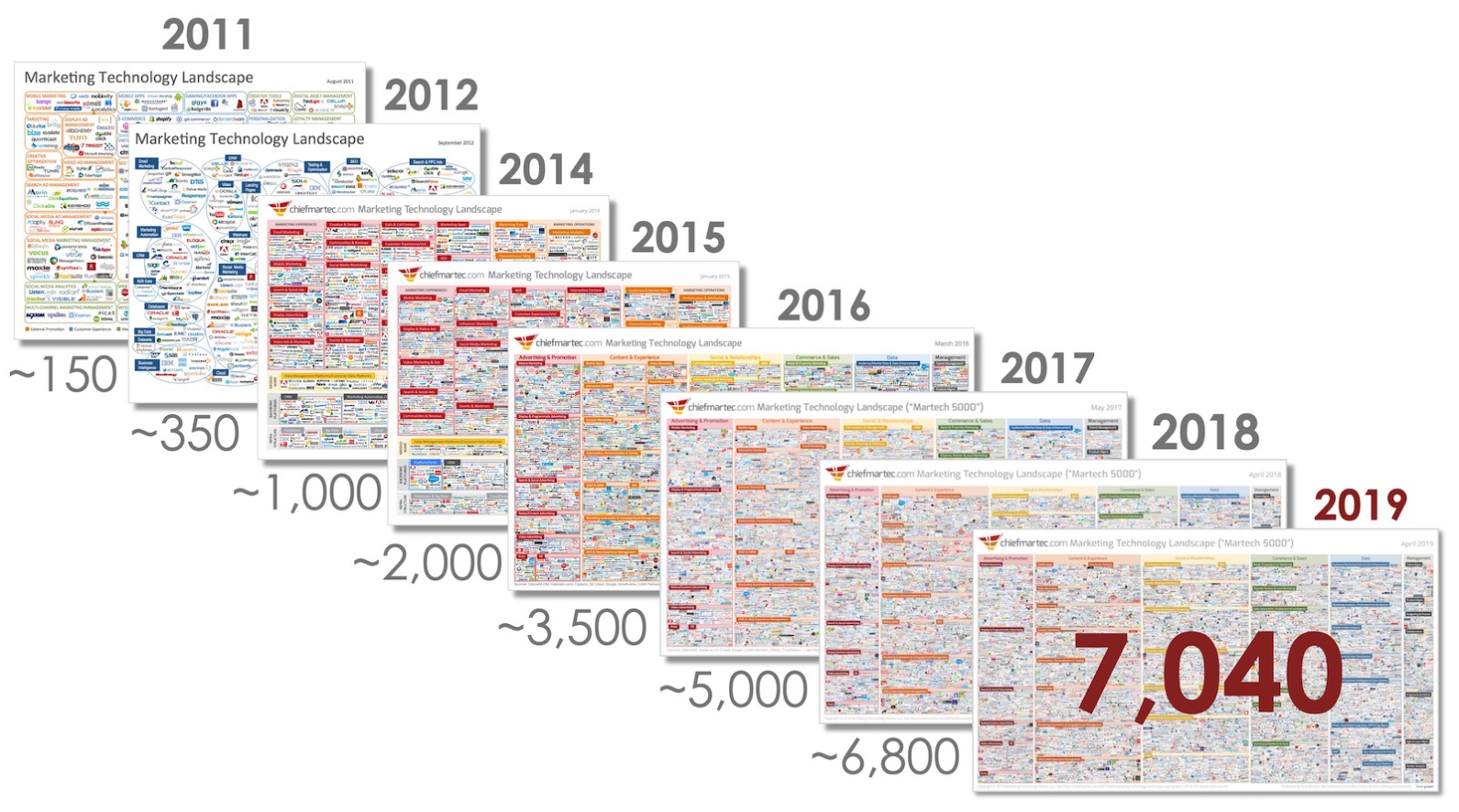 Source: chiefmartec.com
This year's itty-bitty growth doesn't signify martech is slowing down necessarily says Scott Brinker, but rather that it is "flattening out, a plateau".
"At face value, it would seem that indeed, we have achieved 'peak martech'," he says. "Yet 7000 marketing technology solutions isn't exactly a consolidated market. We'd have to compress the industry by an order of magnitude or two – to 700 or even 70 – before that adjective would apply."
Is this the end of the MarTech Landscape Supergraphic as we know it?
Brinker freely admits the limitations of the landscape and acknowledges a number of martech pockets not represented from martech apps built for specific platform ecosystems, open-source and citizen-developed apps, apps built by services or consulting groups and many regional martech apps.
In fact the recent UK version, Finnish, Swedish and German versions combined revealed an additional 563 companies that had not featured on previous versions of the global edition.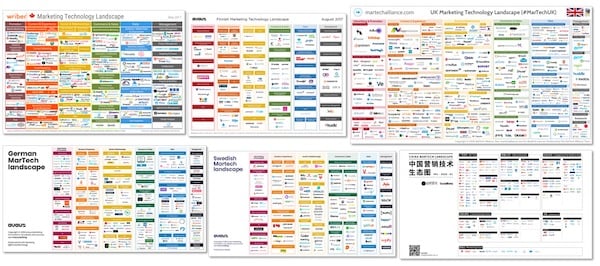 Source: chiefmartec.com
While we might not be peak martech… it seems we could be at peak martech landscape and - as with Game of Thrones *sobs* - witnessing the end of an era?
With platforms such as WordPress offering upwards of 50,000 plugins many of which, if not all could be considered mini martech apps in their own right and the "long, long, loooooong tail of martech" – it seems that we have evolved beyond the reality that the entire landscape can be condensed down to one nicely packaged visual representation.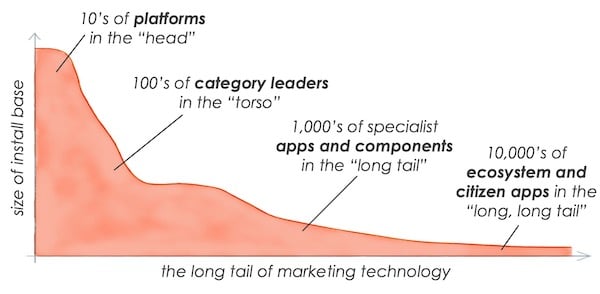 So what can we learn from the landscape?
We turn to the eminent founder of the MarTech Alliance, producer of the UK martech landscape, creator of the #MarTechFest and self-confessed martech obsessive Carlos Doughty to get his thoughts on the landscape and its significance for modern marketers.
The fact that the landscape was as small as 150 solutions just 8 years ago is what marketers need to know if they don't already.
"I think the work that goes into this is amazing (I know first-hand a tiny fraction of what it's like having produced the UK version), but for me the purpose it serves is that of helping drive the awareness of marketing technology as a profession and a cornerstone for any CMO's marketing strategy."
"The landscape," he says "helps drive the martech movement, but the take way of it isn't new for 2019: it's an ever increasingly complex space that requires real planning to tackle it effectively and the job is never done. Whether it had jumped to 9k this year or retracted by 2k makes little difference for most marketers. The fact that the landscape was as small as 150 solutions just 8 years ago is what marketers need to know if they don't already."