Update 13/09/2019: We have just released the 2019 edition! Head over to this page for the 2019 UK Marketing Technology Landscape.
If the recent spate of regional Marketing Technology Landscapes are anything to go by, our old mate Scott Brinker has a hefty task on his hands collating the logos this year of each and every marketing technology platform available to the modern marketer - the numbers of which are somewhere in the vicinity of a gazillion…probs.
With each version, we're often presented with 100s of vendors which didn't make the cut in Brinker's most previous edition – either from accidental oversight, or the platform having been released after the graphic was compiled.
Our own UK version unearthed an additional 100 vendors, Finland 117, Germany a huge addition of 220, and now this most recent effort has presents us with 154 martech vendors, of which 126 were not previously featured in Scott's landscape.
Another day, another Martech Landscape
As we wait with baited breath for Brinker's 2019 Marketing Technology Landscape Supergraphic: Martech 5000 which is traditionally unveiled at the San Jose MarTech Conference (3 – 5 April) the legendary team at Finnish agency Avaus have gifted us a little snack to sate our hunger.
From the team who brought you the Finnish (2017) and German (2018) versions comes the Swedish Marketing Technology Landscape: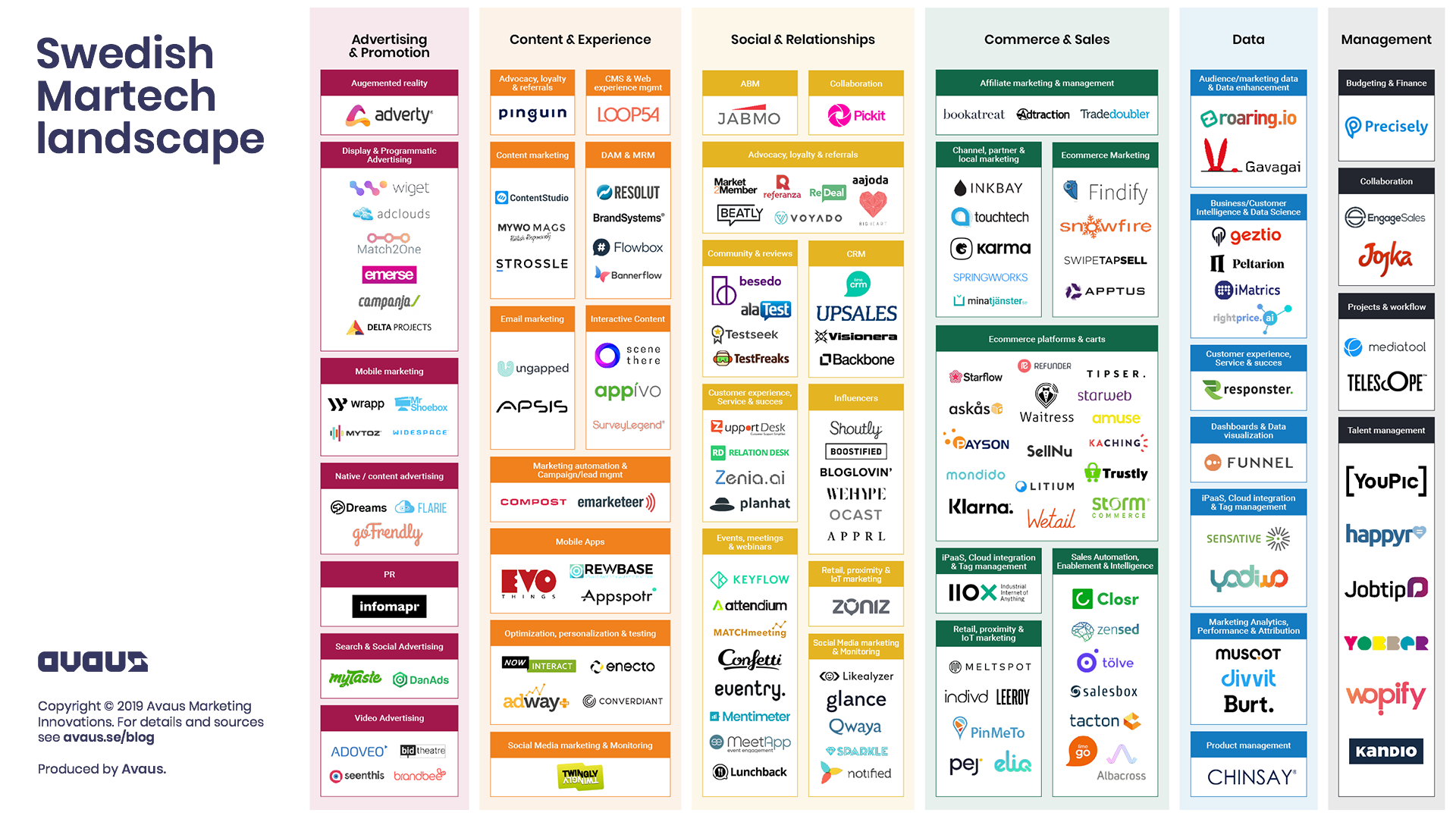 Source: Avaus
"This is the first systematic study of the Swedish landscape, revealing total investments of almost one billion USD in the martech segment" said Mika Bäckman, the Consultant at Avaus who led the study.
Key findings from the Swedish research;
The research discovered 154 Swedish based martech companies
This accounts for 2.2% of the companies on Brinker's Martech 5000 graphic from 2018
Only 28 companies made the cut for the Martech 5000
The two largest categories are Commerce & Sales, and Social & Relationships combined covering 54% of all identified companies.
66% of companies are headquartered in the nation's capital, Stockholm
78% of companies have between 1 – 50 employees
47% of the 154 Swedish companies have acquired investor capital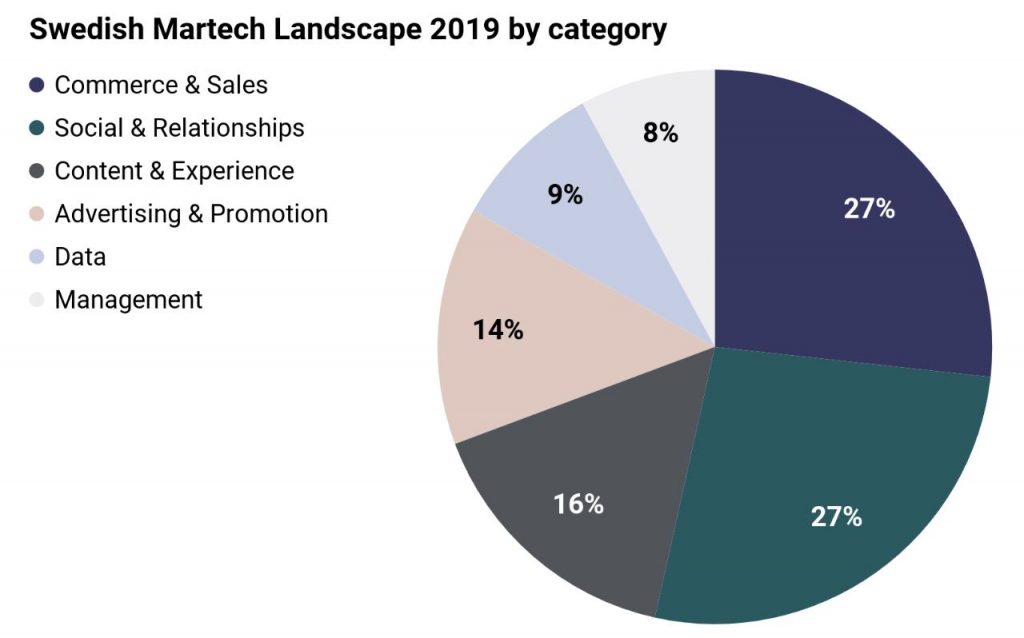 Source: Avaus
Landscapes for days
Quick recap of the regional (plus one for the inception of blockchain and martech) editions we've seen to date…if we've missed any give us a shout in the comments!
The United Kingdom (+ 100)
Finland (+ 117)
Sweden (+ 126)
Germany (+ 220)
France
Canada
China
Blockchain
Ok so as we sit on the Brink-er (#sorrynotsorry) of another monumental Supergraphic we turned to our illustrious founder – the Prince of MarTech (he haaaates it when we call him that) Carlos Doughty for his predictions on the state of the impending Supergraphic.
"Logos. Loads of logos"
You heard it here first folks.

Get your free copy of The 4Ps of Marketing Technology eBook here