The algorithms of the biggest social media platforms are constantly changing. As the priorities of these companies shift, the strategies of content creators will need to as well.
Marketers need to be constantly aware of the changes to remain on the feeds, 'for you' pages and discover pages of their customers. But without being specific about the platforms you chose, this can be a real time-waster.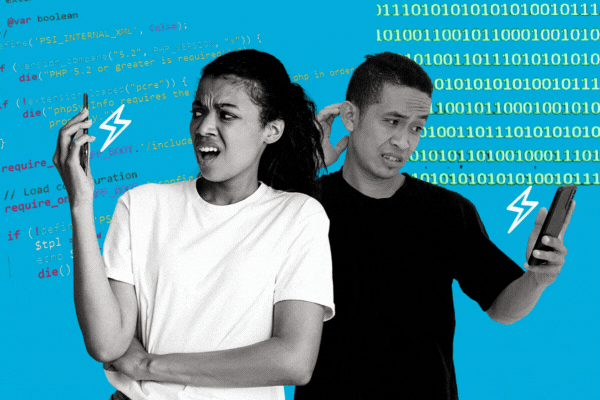 As of January 2022, there are 3.96 billion total social media users across all platforms. And with those nearly 4B people bouncing across 6 social platforms on average, you've got to keep your finger on the algorithmic pulse.
But it's all well and good to say you'll keep on top of the TikTok algorithm, but if you're a decades-old life insurance firm, it might not be the best place for you. Although, I'm sure Gen Z love stuff like that.
So, instead of getting out the Tarot cards and having a good old guess at the algorithms, as marketers have done in the past, I've collated a list of the biggest and baddest algorithms out there. But before you jump in headfirst, consider if this algorithm will ever work for you, or whether you'll be constantly fighting an uphill battle. Let's jump in.
Instagram: Works For Content Creators
Instagram is the perfect place for a marketer with a visual and video-focused strategy. It also is perfect if you rely on influencers for your publicity, from macro to micro.
According to The Gram, there are six factors that influence the algorithm:
Interest

Relationship

Timeliness

Frequency

Following

Usage
Recently Instagram has faced a backlash for its shifting of priorities. When the social network made a series of changes attempting to copy rival TikTok, it was criticised by users and creators alike.
These changes feature an algorithmically focused main feed and a focus on the TikTok-inspired "reels" videos. It also pushes the TikTok-style remix feature, which has led to users having trouble finding content from friends and family, the original appeal behind the app.
"We're hearing a lot of concerns from all of you," Adam Mosseri said in a video posted to Twitter.
"I'm hearing a lot of concerns about photos, and how we're shifting to video. We're going to continue to support photos, but I need to be honest: more and more of Instagram is going to become video over time. We're going to have to lean into that shift while continuing to support photos."
The changes to the Instagram algorithm and platform have been in response to the continued growth of TikTok, which finds its base in younger American users. In the UK, Instagram remains the third most-visited social network, but globally TikTok has the most downloads than any other app.
Unsurprisingly, the Kardashian can got involved. Kylie Jenner posted a widely shared story on Instagram, calling on the service to "make Instagram Instagram again", asking for the return to friend-focused content.
The influence of this family on social platforms can't be understated. In 2018 a single tweet from Kylie asking "does anyone else not open Snapchat anymore" wiped $1.3bn from the market cap of the social network. This suggested that the new redesign the company had rolled out hadn't worked, forcing the company to reverse the changes only a few weeks later.
The Feed
The feed is pretty much a combination of all the Instagram behaviour your followers perform. This includes the accounts they interact with most, the type of posts they interact with, and the people they are tagged in photos with.
That's why it's so important to stay regular with your content. If your followers are tagging people in giveaways, and commenting on regularly posted content, they're more likely to be shown your posts in the future. It's all about sending positive signals, and vibes, to the algorithm. Namaste.
It's important to keep users interacting with your social posts, as we know the algorithm prioritises content with high levels of engagement. But what metrics should you be focusing on? What are the most important metrics for engagement?
Instagram has revealed the most important engagements for feed ranking are exactly what you'd think; likes, re-shares, video views, and comments. So concentrate on these when you plan your content.
The most important 'signals' across the feed and stories are:
Information about the post.

How popular a post is, when it was posted, the length of the video, and where the photo was taken.

Information about the poster.

How interesting this person might be to another user, how many people have interacted with them in the past few weeks

The user's activity.

What they might be interested in, what posts they've liked previously.

The user's history of interaction.

Whose posts are they going to be interested in seeing?
The Explore Page
The most important signals in the case of the explore feature tend to be:
Information about the post

. It's all about how popular a post seems to be. This tends to be seen in how quickly people are liking, commenting and sharing. It's even more important in this case, than with the Feed.

The user's history of interacting with the person who has posted

. This provides an idea of how interested the user will be in their content.

Activity

. Again, a user's likes, comments, and saves.

Information on the person who has posted.

Who has interacted with them, how many times they've been interacted with, etc.
Other ranking signals
Organic reach can be impacted by a few other things, but this tends to have to do with user behaviour over yours.
Though, by understanding this, you can predict what your personas can do, and build your campaigns from there. So, keep a watchful eye on your users':
Frequency of use.

Are your followers frequent users of the app? People who open their feeds 100 times a day are more likely to see your post - and everyone else's for that matter - than less frequent users. People who don't open the app will rely more heavily on the algorithm for curation of their feed.




Number of followed accounts

. People who follow more accounts will be more likely to miss posts. Use the above tricks to do your best in being seen, if this is the case for your target audience.




Session time.

Similar to frequency of use - if your followers spend a long time with their feed, they're likely to see every post. This means you might change up your posting frequency, based on how your audience uses the app.



Tiktok: Works For Brand Awareness
For marketers with a young-skewing audience, TikTok might be the way to go. The platform is shaping the way other companies approach their algorithms and features, so worth understanding.
The enviable 'For You' page developed by the platform is perfect for brand awareness and creates a natural and relaxed way of appearing before customers. It allows brands to utilise the benefits of influencer familiarity and relatability while cutting out the middle man.
TikTok's influence is being felt within a bunch of social media platforms' updates. And it's because of this: TikTok is the fastest-growing social network with a staggering 105% user growth rate in the US over the past two years.
So, other social media platforms are rushing to uncover and utilise the secret power of the short-form video site. That's what has led to the recent changes in Instagram's algorithm, and the more recent announcement of Facebook's algorithm update.
The TikTok 'For You' page is unique to each and every user, making it perfect for personalisation and targeting. In fact, because it is reactive to a user's behaviour, the videos they see will change over time based on their viewing preferences and even their state of mind.
This is how they describe their algorithm:
"A stream of videos curated to your interests, making it easy to find content and creators you love … powered by a recommendation system that delivers content to each user that is likely to be of interest to that particular user."
So, they key ranking signals for the TikTok algorithm include:
Number one: user interactions. The TikTok algorithm bases recommendations on a user's interactions with content on the site. This can include accounts they follow, creators they've hidden, comments posted, videos shared on the app, and content they've created themselves.
Number two: video information. While user interaction signals are based on how they interact with other users, video information signals are based on the content they seek out on the Discover tab.
Number three: device and account settings. These are the settings the platform uses to optimise performance. They're based on one-time setting choices rather than real-time engagements, so they tend not to have much influence on what users see. These can include language preference, type of mobile device, and country setting.
LinkedIn: Works For Thought Leadership and Community
The TLDR; for the LinkedIn Algorithm is this: consistency, regularity, and consistency. And consistency. So, content creators and social media managers should consider LinkedIn if they're willing to put the time and effort in to post and build a loyal community.
You can have a limited number of posts, a low level of engagement, but if you post regularly, with no holidays, the LinkedIn algorithm will favour this 'natural' posting schedule. Posts can sometimes even be penalised for appearing at the exact same time every day.
This might mean posting high-quality content frequently, at irregular intervals, including the weekend.
Most of all, content is ranked and displayed based on your account's reputation, how users have engaged before, and what else is being posted.
How Does The LinkedIn Algorithm Work?
Filter number one. The basics. The algorithm sifts through the feed, and determines what's good stuff, what's bad stuff, and what's straight up spam.
Filter number two. The engagement. Now, your post appears in the feed temporarily. The bots will keep a cyber-eye on how your audience is interacting with the content. If they like, comment, and share, you'll move onto the next round. If they hide it from their feed, or report it as spam, no.1 ouch, no.2 you'll be filtered out.
Filter number three. The frequency. At this step, the algorithm looks beyond the content, looking at your profile and network to decide whether your post is spam. If things go wrong at this stage, LinkedIn can remove your content from the feed, or at least will display it less frequently.
Filter number four. The Learning. Editors will now review your post to determine if it should keep showing, or if they could include it somewhere else on the network, They will also use the case to derive any takeaways, so the algorithm can be smarter in the future.
So, if your content keeps getting engagement, it can stay on people's feed for weeks, something unheard of on Twitter or Facebook.
So, What Type of Content Does the Algorithm Prioritise?
Content from users who you've engaged with in the past

Users who post consistently

Users who get large amounts of engagement

Lengthy comments, over a high volume of reactions

Native content, such as text posts, images with text, videos with text

Users you're connected with

Comments, over reactions, over shares

Posts with hashtags with more than three hashtags, but less than 10.

Short, succinct video clips, over long ones.
And does not prioritise:
Content from business pages

Videos are no longer prioritised over text-only or photo-based posts. This is a newer change - videos used to go straight to the top, but this is no longer true.
Facebook: Works For Social Commerce and Customer Service
Facebook is almost old school nowadays. But if you have a base there, it's important to understand the algorithm changes. Where the algorithm and platform work best is as an advertising, social commerce, and customer service platform, over community building.
So, consumers turn to Facebook for brand information and quick communication. Instead of contacting a customer service email or hotline, they might turn to direct messages.
According to Facebook, customers say that being able to message a business makes them feel more confident about the brand. This is a timely and personal way to connect with a business and aligns the brand with a more 'social' world over a business one.
But how do you make the algorithm work for you?
First,

Facebook takes every post and scores it on predetermined ranking signals.

Secondly,

it discards posts a user is unlikely to interact with.

Thirdly

, it runs a "more powerful neural network" over the remaining posts, to score them in a personalised way.

Fourthly,

it arranges a good mix of media types and sources so a user has a variety of content to look through.
In order to compete with TikTok, as we've said, Meta has realised it needs to replicate the experience of TikTok's main "For You" page.
Considering the news feed pioneered the social feed which learns based on user cues, such as friending someone, or liking a page, it's not a surprise Facebook is taking the next step. TikTok's "For You" is a bit of a successor to this, adding more advanced techniques, such as guessing user preference based on passive viewing habits. This leads to a never-ending stream of short videos on users' phones.
Facebook is also attempting a similar re-birth. Recently, Mark Zuckerberg announced a revival of the "chronological feed" in the main Facebook app, alongside a newly algorithmic "home" tab, in an attempt to copy TikTok's popular "For You" page.
"Our discovery engine will recommend the content we think you'll care most about," Zuckerberg said in a post announcing the change.
But these changes often have the feeling of a middle-aged dad wearing a Billie Eilish t-shirt to keep up with the kids. It might be identifying the elements of TikTok which work, but directly picking them up and sticking them onto Facebook, and onto Facebook's audience, isn't a guaranteed success.
"TikTok's got one fundamental thing that Facebook doesn't have," said Matt Navarra, a social media consultant and analyst.
"TikTok is cool. And it's very hard to recreate cool."
The New Social Frontier
So, moving towards using your social platforms in a hyper-specific way will help you navigate the new social landscape. It is a potential that the way consumers interact with platforms will change, and brands have to keep up. For example, Dragon Den's Steven Bartlett suggests that we will move away from big social platforms, and head towards dedicated, monetised, small communities.
All this stems from Steven's ability to understand community. He acknowledges and analyses existing groups, where they live online, and how they interact and grow. And community has never been more important than now.
When he started, it was all about building public communities, building followers. The big shift over the last ten years has now moved from the building of public followers on Facebook, to dark social private communities. Brands that understand this, and try to capture this opportunity today, will own the future of social media, according to Steven.
But what does this mean?
"Reddit," says Steven. "You've seen what's happening on Reddit at the moment in terms of communities. Discord. Discord wasn't a thing two years ago, now all of my companies that are in this building today are moving communications over to discord."
"I've got a telegram group where almost 10M people follow me, that I can text everyday. There's no middleman deciding how much reach I get there".
People are choosing privacy, people are choosing anonymity. That's a macro shift, he says. There's a move from the days where every message between friends was posted on their wall, for the world to see. Brands need to understand this shift, and develop strategies that keep this development in mind, of private, close communities.
He continues on the move away from 'old' social media. When he launches his new business this week, he doesn't plan on a Facebook page, nor an Instagram page. Instead, he wants to focus on these bespoke, inward-facing communities, utilised so efficiently by Web 3.0 and Blockchain spaces.
"We're launching on Discord. We're launching on Telegram. We're going to do a load of things on LinkedIn. The Twitter page will be a bit of an afterthought. That's the future."
But Steven isn't just looking forward, he's looking backwards.
"Email still works. Which is pretty phenomenal"
Email has gotten more important in the last three or four years, than it was 4-10 years ago. When social reach was reduced, marketers took communications into their own hands. A link between the more decentralised social approach of Discord and Telegram, possibly.
"Having a million followers doesn't mean you can reach a million people."