We're bringing you the best insights written in the world of marketing today, thanks to our sponsors at Integrate.
"At Integrate, we are championing a new approach to marketing called Precision Demand Marketing (PDM) that addresses how to do marketing amidst these critical business shifts," authors Deb Wolf and Jeremy Bloom said on the release of their new book.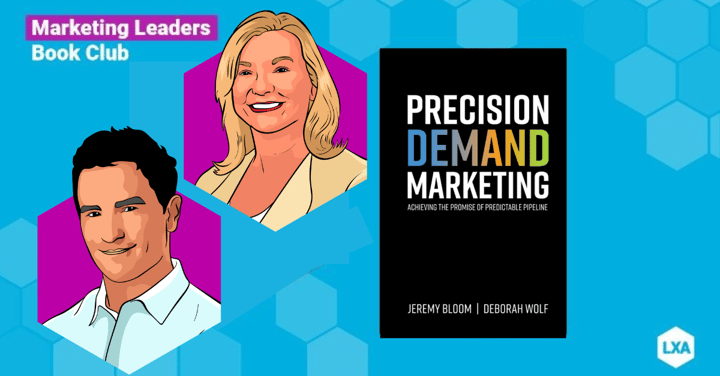 "It combines an always-on approach with an account-based focus, and offers a buyer-driven, omnichannel strategy that is more agile, precise, and personalised to our buyers."
So, their new work "Precision Demand Marketing" the authors aim to detail this new marketing approach, in the shifting digital age.
The B2B market has shifted, even pre-covid, but has since been accelerated during the pandemic by the buyer. B2BN buyers are far more like B2C buyers nowadays. They might be buying for their company, but their expectations for personalisation and content quality are the same.
"This shift to what we call a very buyer-centric world has happened. We saw it happening digitally pre-pandemic and then it accelerated," said Deb in our recent interview.
"I mean, we don't even have sellers sitting in front of, or meeting their customers anymore."
Why Precision Demand Marketing is Vital for PDM Any Modern Marketer
"[The Buyers'] expectations are that you're going to know who I am, you're going to give me the right kind of content that I want to consume. It doesn't really matter where I find you if I find you in social media, or if I find you in a webinar or if I find you in content syndication or I see you in a display ad."

- Deb Wolf
The pandemic has pushed buying behaviour to be more self-serve, online, and rep-free, giving the customer the B2C buying experience, which they then come to expect. They have higher expectations of being heard, known, and understood. They're also consuming content across multiple channels, like social media, digital ads, content syndication, and in-person and virtual events.
"Add to that the inevitability of budget cuts in an uncertain economic climate, and B2B marketers are facing the perfect storm of complexity," says Jeremy Bloom.
So, the book provides a practical hands-on approach to adopting a buyer-driven, omnichannel Precision Demand Marketing strategy that enables marketers to find and attract ideal buyers, wherever they are, right when they're ready to buy.
"We wrote the book and we wanted to write a very practical book. We did not want to write a high-level, top-down book and we broke it into five areas," commented Deb Wolf.
But what are these five areas? Well, Deb and Jeremy liken these areas to five buying jobs for marketers. They need to:
Target their customers.

Activate those customers and campaigns, whatever channels they may be in.

Govern the data that comes back so that when the relationship starts they're having a relationship with someone they actually know and understand, rather than 'dear first name. '

Connect the technology that runs all of that, and then they need to measure the results of those campaigns so they know how things are performing, and ultimately how to defend that spend with the rest of their organisation.
About the Authors
Deb Wolf is a marketing executive, leader, and advisor with experience building, scaling and operationalising early-stage companies through rapid growth and successful exits.
Significant depth in enterprise and cloud-based software. Proven track record of designing and dominating categories and executing marketing programs that consistently accelerate revenue growth throughout the customer lifecycle (acquisition, up-sell, cross-sell, renewal). Hired, developed, and retained high-performing teams responsible for building the marketing strategy, campaigns, infrastructure and processes to support high-growth organisations.
Jeremy Bloom is the only athlete ever to ski in the Olympics and play in the NFL. He is a co-founder and CEO of Integrate, a marketing software and media services provider. He is a member of the United States Skiing Hall of Fame, a two-time Olympian and 11-time World Cup gold medallist, as well as a former football player for the Philadelphia Eagles and the Pittsburgh Steelers. He is the author of Fueled by Failure: Using Detours and Defeats to Power Progress.
Top Takeaways
"Today's B2B world has become infinitely more complex and competitive as our buyers become digital-first and do their research independently and across multiple channels," said Jeremy Bloom, co-founder and CEO of Integrate. "Add to that today's current economic uncertainty, and it's clear that B2B marketers cannot afford to be anything less than precise when it comes to connecting with their buyers and reaching their goals."
The book discusses the five principles of Precision Demand Marketing to grow a buyer-driven organisation: Target, activate, govern, connect, measure and govern.
Target buyers, not just accounts, from a holistic perspective, not simply where they are in the buying process.

Activate an omnichannel experience, meeting buyers wherever they are in their sometimes-disjointed journeys.

Govern to get all the available data right––a marketable database––to orchestrate marketing.

Connect the dots, creating a tech ecosystem that works for the buyer's experience, not the marketer's experience.

Measure to improve the buyer experience and tie those metrics to business objectives and drivers.
PDM requires a reorientation of thinking for sellers looking to reach today's B2B buyers. The book discusses:
The history of modern marketing and how modern concepts have very old precepts

Why modern buyer habits are not going to revert to the old ways

How to use intent data to find the right target before the competition and sometimes before they even know they're looking for a solution

Connecting with those buyers in whichever channel they use

How to activate buyers no matter which stage of their journey they're in

How to measure the efficacy of your work and present it to executives

Ensuring governance is up-to-scratch.
"Precision Demand Marketing empowers marketers to operate with an agile, always-on mindset and a focused, account-based approach so they can deliver maximum ROI," said Deb. Wolf, CMO of Integrate.
"Our clients include some of the most sophisticated marketing leaders from the world's largest B2B technology organizations, and we're excited to present their insights and advice as they take a precision on-demand marketing approach so that their marketing efforts are successful. the market today.
Link to purchase page
Purchase Precision Demand Marketing on Amazon and Audible
Other Books You May Be Interested In
We're bringing you the best insights written in the world of marketing today, thanks to our sponsors at Integrate.

Stay tuned for more! 📖📚