In increasingly competitive markets, customer experience (CX) can be the key differentiator between businesses, which is why companies are working so hard to improve in this area.
Customer experience is something that evolves with the way consumers interact with brands, the technology and channels they use, and the expectations they have around CX.
Behavioural changes brought about by digital technology, and accelerated by the Covid-19 pandemic have increased the necessity of providing a great experience, while also making it even more of a challenge for brands.
In this guide, we'll look at what customer service is, the difference it can make, and how businesses can improve the experiences their users have.
What is customer experience (CX)?
Let's start with a definition.
Wikipedia describes it like this:
"Customer experience is a totality of cognitive, affective, sensory, and behavioural consumer responses during all stages of the consumption process including pre-purchase, consumption, and post-purchase stages."
Or, in plain English, customer experience is the sum total of a customer's interactions with a few and how they feel about the brand as a result.
This takes in everything - marketing communications, website and app visits, the purchase and delivery process, and any contacts with customer services.
It shouldn't be confused with user experience (UX), which mainly looks at how people interact with websites and apps, and looks to make things as easy to use as possible.
User experience does contribute towards the customer experience though, along with customer service, marketing, and sales.
Why does customer experience matter?
A good CX is likely to mean that the customer achieved everything they wanted to do easily, the site was easy to use, delivery was smooth, and so on.
Good customer experience has a number of positive impacts:
Acquisition. New visitors are more likely to make a purchase, or to become potential leads.
Conversion. Leads are more likely to become customers if they enjoy the experience, are impressed with content etc.
Loyalty. Customer retention rates improve.
Reputation. Customers are more likely to recommend your company to friends, family and colleagues, or to leave positive reviews.
While there are many factors that contribute to customer experience, just one part of the chain can turn good CX into bad - a checkout that annoys the customer, a failed or late delivery, or poor after sales service.
A negative customer experience can have several effects, all of which are bad for business:
Lost sales opportunities.
Losing customers to competitors.
Negative reviews and word of mouth.
Barriers to providing a great customer experience
The 2021 Customer Experience Trends & Insights report, produced by Martech Alliance with Treasure Data, looks at the attitudes towards CX among marketers, and the challenges which come with keeping up with customer expectations. (more customer experience stats here)
It underlined the importance of great CX, with 78.5% of CMOs surveyed stating that an amazing customer experience provides a powerful competitive advantage. Just 7.5% disagreed.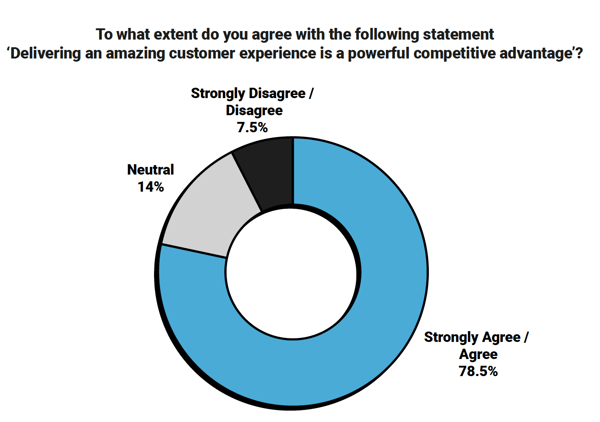 However, many companies don't feel they're providing the experience that customers expect. While 49% felt they were meeting or exceeding customer expectations, 48% thought their CX had room for improvement.

This underlines the challenges that exist when looking to provide great customer experience. There are a number of issues which contribute to this:
Increased customer expectations
Often, expectations around customer experience are set by the brands who have innovated or excelled in this area.
If you are shopping on some sites, and can't have purchases delivered the next day, or have to pay extra for delivery, then this is because brands like Amazon have raised the bar in terms of cost and convenience. Now, delivery within three days seems slow.
Likewise, challenger banks like Starling or Revolut have forced the established players to up their game. Easier account set up, great apps for convenience, and faster customer service have enabled newer fintech brands to force their way into the market.
Details matter when it comes to customer experience. For example, this UX study found that it was generally quicker and easier to open an account with a challenger bank.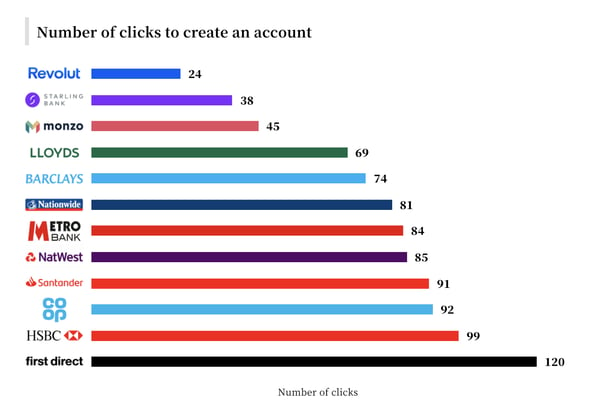 In practice, this means some of the more established banks are losing customers, and need to respond by working hard on their own customer experience, rather than relying on their brand, and the inertia of current users.
This is true across the board. If customers demand better experiences from brands, those that provide them gain a key advantage.
The complexity of customer journeys
There's no longer such a thing as a normal customer journey. The route to a purchase can follow a number of paths, and can take a lot of time.
Maintaining a great customer experience in this situation is a challenge, as there are so many areas where it can fail, and potential customers go elsewhere.
Skills, knowledge and tech
A great customer experience, especially in a larger organisation requires a lot of work, cooperation between teams, and having the right skills and tech in place to manage it.
Our CX trends report identified what CMOs see as the biggest barriers to great customer experience.
Number one was a lack of skills, and knowledge of tech and data management, cited by 53% of respondents. This was followed by a lack of the right marketing technology for the job.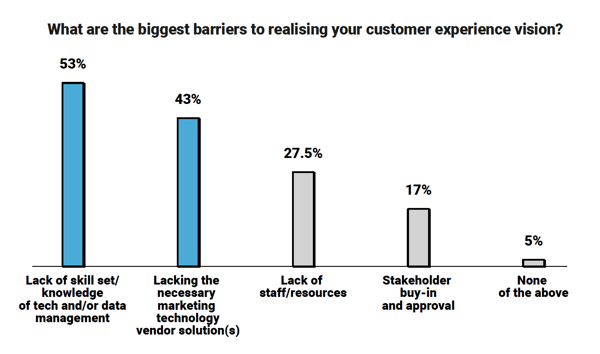 The two go hand in hand, as CX is increasingly reliant on using the right tech to provide the experience that customers want - everything from the right ecommerce or content platform, to having the tools to manage customer data and personalise at scale.
Resources and buy-in
Providing a great customer experience is a collaborative process, and it has to come from the top.
Boards and senior management need to recognise that CX is crucial in terms of business performance, and to ensure that this is central to strategy.
Clearly, some of the CMOs in our study don't feel that this is always the case, with 17% citing lack of stakeholder buy-in as a barrier to CX.
Meanwhile, 27.5% see lack of staff and resources as the issue, which is related to buy-in - if management understands the importance of CX, they will also recognise the need to invest in it.
The role of CX in digital transformation
The digital transformation that's been taking place in organisations since the growth of online is based around a reaction to changing customer behaviour. It's about improving the customer experience.
Basically, as more people find it convenient to interact with businesses online, the more businesses need to adapt to digital, providing services across the channels that customers prefer, or as they move between channels.
The Covid-19 pandemic has accelerated digital transformation programmes (by up to seven years according to some estimates) by highlighting their performance when only digital channels are available.
Data from McKinsey shows how digital interactions with customers increased during 2020. In July 2020, the majority of all customer interactions were conducted via digital channels, compared to 36% just a few months before.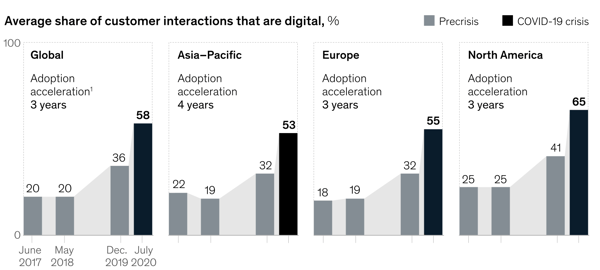 In the light of this customer behaviour, those organisations which were slow to digital, or even dismissed the online channel, were shown just how important it is.
It's also important to note that this shift in customer behaviour was the forced acceleration of an existing trend, so it's a new reality rather than a passing phase.
This is where customer experience matters. Great CX helps those companies to be more resilient, and to recover from difficult periods.
McKinsey's analysis of the 2008 financial crisis found that customer experience leaders rode the downturn more effectively and rebounded more quickly.
Likewise, the companies that have already put the customer at the heart of their strategy and adopted digital were more able to weather the challenges during the pandemic.
For example, Primark's reluctance to sell online saw it lose more than £1bn in sales during 2020, while LVMH, which was in the process of digital transformation when the pandemic struck, saw its revenues fall by 17%.
How to measure customer experience
It's important to be aware of how customers view their experience with your brand, and this can be measured in a number of ways:
Satisfaction surveys
Satisfaction surveys enable you to track how customers feel about your brand, and can also help identify the areas where their experience wasn't so good.
It enables you to gain some direct feedback, and can be used to track performance across all areas of the business. The key is often to ask the right questions at the right time, and to make it easy for customers to respond.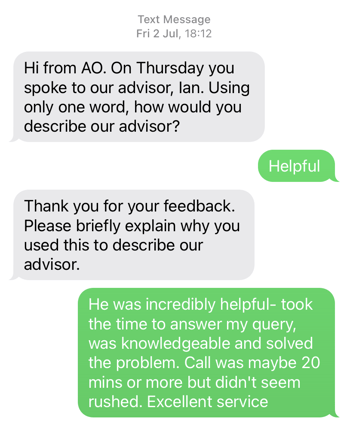 NPS scores can also be a useful benchmark against which to track CX. It's a simple metric, asking customers how likely it is that they would recommend your company, but it's simplicity and consistency can be useful.
It's a good idea to track NPS across several touch points - customer services, sales etc - to gain a more detailed picture.
Retention metrics
If customers remain loyal, and keep coming back, you must be doing something right. Metrics like repeat orders, return rates, average order values and purchase frequency should be tracked as a measure of CX success.
Equally, a regular analysis of churn rates can help you to identify any issues by tracking trends.
Customer journey analytics
Using analytics, you can track the customer journey, see the channels used by customers, and identify points of friction which affect CX.
For example, using Journey Orchestration Engines (JOE) enables you to learn how customers move through channels, analysing journeys and optimising them for specific use cases.
UX metrics
The user experience of your website and digital channels play a part in the overall customer experience. If apps and sites are smooth, and the process of finding products and information is easy, then you're more likely to convert and retain customers.
Factors such as site speed, page loading time affect the experience, and can be measured and improved using tools like Google's Page Speed Insights.
UX can be measured through user testing, which can help you to drill down into the customer journey, gaining detailed feedback from users. This feedback can pinpoint issues which may affect the customer experience, and enable you to make the required improvements.
Advocacy
Good customer experience means customers feel more positive about your brand. This can also turn customers into advocates.
It can be useful to measure customer sentiment - this can be shown in review scores on your site, reviews on third party sites, and through social listening.
Employee engagement
Happy and engaged employees are more likely to care about the customer, and therefore contribute positively to the customer experience.
According to Gartner, 86% of organisations rank employee engagement as having a significant impact on the customer experience.
How Martech can help you to improve customer experience
Improving customer experience requires an understanding of how customers use your channels, and how they feel about this experience.
Technology can help a lot here. In fact, it's pretty much essential for larger organisations handling customer data, and interacting with customers across many channels.
A useful first step is to assess your current CX. Look at the customer experience from different angles, and across all of your channels and internal teams to understand the full picture.
Use customer satisfaction surveys, feedback from customer facing staff, testing and analytics to see where you are, and identify the areas for improvement.
Data
The use of data is essential for providing an outstanding customer experience. Data allows you to understand customers, to make messaging more relevant, while the effective handling of personal data is absolutely essential to build and maintain customer trust.
Personalisation
An experience which is personalised is a better one for the customer. It makes processes and tasks easier for them, as it understands their needs and preferences, and it increases the effectiveness of communications by making them more relevant.
For example, personalised emails can deliver six times the transaction rate of 'normal' emails because the content and product recommendations provided are highly relevant to the customer.
Netflix has hours and hours of content, but keeps people watching by learning from their viewing habits and preferences and pushing relevant content at them.
The result is that people don't waste time deciding what to watch, and this keeps users engaged and reduces churn.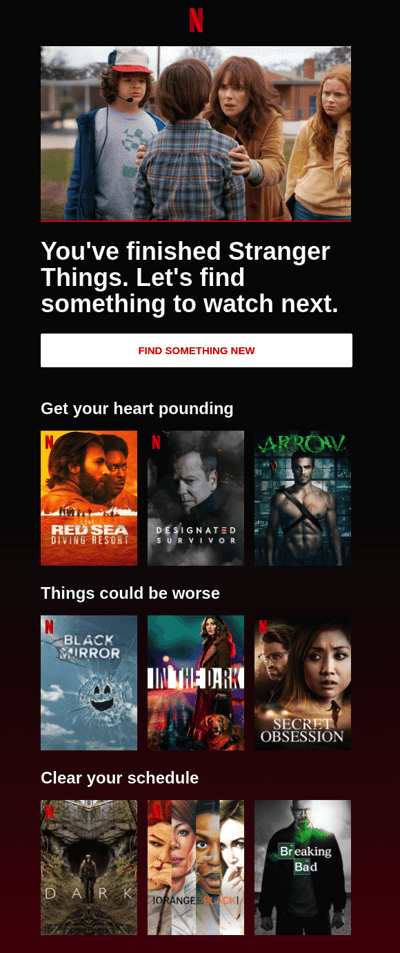 For the effective use of data, and to carry out personalisation at scale, you need the right technology, or the right combination of tech that helps you to create a great experience.
This is just a few examples
Customer Data Platforms

allow you to collect and unify customer data, segment audiences and analyse engagement to understand what works to

improve future communications.

Data Management Platforms

help businesses to identify audience segments, which can be used to target users more effectively.

Digital Experience Platforms.

Companies can use DXPs to build, deploy and continually improve websites, portals, mobile and other digital experiences, and personalise experiences.

Journey Orchestration Engines are designed to help you analyse, improve and personalise customer journeys.
UX tools can help you to identify areas of friction in the online journey where customers might abandon, allowing you to make the purchase process smoother.
Performance tools can identify areas where site performance can be improved, perhaps speeding up page loads and ensuring a consistent experience from a technical perspective, as well as ensuring sites are accessible to all users.
In Summary
In today's market, with more and more customers moving online, and moving between physical and digital channels, the all round customer experience is more important than ever.
It's a challenge to create a seamless experience, but using the right blend of employee engagement, skills, knowledge and technology, you can create better experiences for your users and help your brand stand out from the competition.