ABM Platforms Best Practice Guide
An introduction to ABM
Account-Based Marketing (ABM) is a tactic that has existed for some years, providing a focused alternative to other marketing approaches.
In this guide we'll outline what ABM is. We'll discuss how ABM platforms can help marketers to run campaigns at scale. We'll also help you to identify the key features to analyse and we'll describe the process for evaluating ABM platforms based on your requirements.
We'll also examine ABM trends and tactics that marketers need to be aware of in 2022.
What is ABM?
ABM is a marketing approach which targets key customers and accounts for maximum return and most efficient use of marketing resources.
Instead of more generic marketing approaches which target hundreds or thousands of potential leads, ABM is about focusing on just a few, sometimes just a single target customer. These may be the most valuable leads, or those most likely to turn into customers.
ABM involves the coordination of resources to create highly personalised campaigns focused on a targeted set of accounts that matter most for the business, thereby increasing the likelihood of converting prospects to sales when compared to using lead-focused models alone.
To use a fishing analogy, while many marketing tactics are casting as wide a net as possible, ABM is more like spear fishing - it may mean you'll catch fewer fish, but you'll be focusing on the ones you really want.
With ABM:
Potential high value clients are identified and directly targeted as units of one.
Tailored marketing tactics are deployed through appropriate channels to reach the target and/or target personas.
Key business accounts are also directly targeted as units of one to increase chances of retention and upsell
There's a forced alignment between sales and marketing. Personalisation at the account level requires the two departments to synchronise tactics for account-specific messaging.
ABM essentially flips the traditional marketing funnel. Traditionally, marketing looks at the total addressable market and starts segmenting audiences and targets from there. With ABM, rather than casting a wide net before filtering out the less promising leads and ending with a smaller selection of target clients, ABM starts by identifying the biggest opportunities, before tailoring the approach towards these (potential) clients.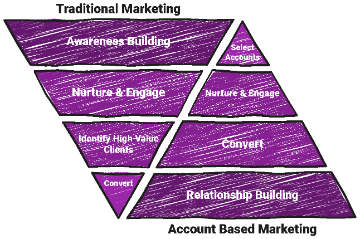 A simplified ABM process looks something like this:
Identify the most important leads and accounts and the influencers and decision makers (VIPs) within those accounts.
Learn who these VIPs are, what they like, and gather as much insight as possible.
Use this insight to craft your pitch and proposition to their interests and pain points.
Create content that addresses these pain points.
Work closely with sales colleagues to align tactics and convert accounts..
Nurture customer relationships post transaction to facilitate retention and account growth.
It's an approach which can demand more time and resources than standard marketing methods, so it's often best used for marketing high value products and targeting leads which can deliver higher customer lifetime value.
ABM and 80/20 Thinking
ABM works along the lines of the Pareto principle, the 80/20 rule. In the case of ABM, you're looking for the 20% of accounts that can drive 80% of revenues. With limited time and budgets, it's about spending as much effort as possible chasing that 20% of high value leads.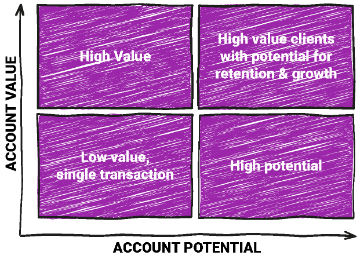 Using the Pareto Principle allows you to segment based on value & potential to transact which helps prioritise the most valuable accounts to target.
Different types of ABM
Typically, there are three separate approaches to ABM: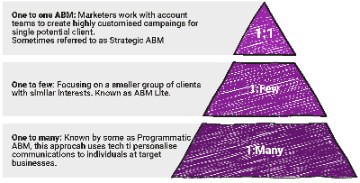 Many companies also use a blended approach, using two or three of these approaches, depending on the target accounts.
Indeed, ITSMA's 2020 ABM Benchmark Study found that 24% of firms were using two of the three approaches, while 12% employed all three. (1)
Recent trends in ABM
ABM is not a new approach, but it has grown in usage over recent years, as it is well suited to a digital first world.
Digital technologies – such as marketing automation, analytics and programmatic marketing – have made ABM more scalable.
With traditional lead generation approaches delivering diminishing returns for some businesses, ABM is an alternative which can deliver results more efficiently.
The importance of a multichannel approach to ABM
ABM marketers have been forced to adapt to new digital approaches, as the buyer journey changes. Indeed, Gartner found that B2B buyers spend just 17% of the buying process talking to suppliers, with lots of time spent on independent research (2)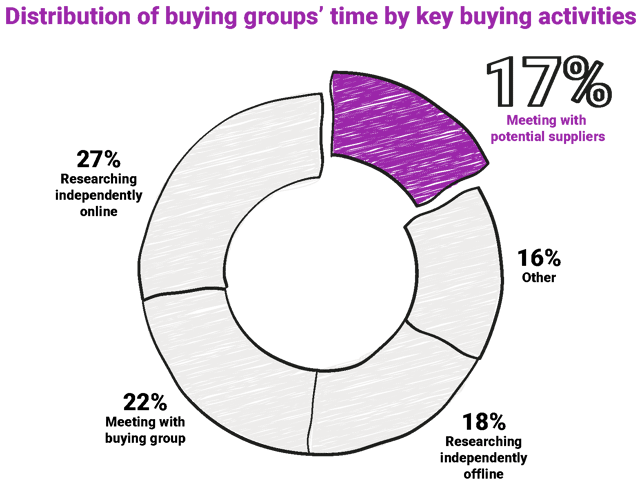 This buying journey is by no means linear, and buyers switch between devices and channels, viewing vendor websites, social media posts, review sites across different devices. This means a multichannel approach to ABM is now required.
Key learning
It is important to map customer journeys. This is useful to identify and rank the most appropriate channels to communicate with potential clients. It can also expose gaps between customer experience and brand promise.
Journey mapping is also useful for seeing how internal resources are aligned to support acquisition and retention. So you can engage with them where they are, rather than expecting them to come to you.
Analysing and mapping customer journeys across channels can involve input from multiple stakeholders and more importantly, access to data and insight from marketing technology tools which can track and segment data in real-time to identify and address issues as they arise.
ABM and digital transformation
We've been moving towards a digital-first future for some time, and the Covid-19 pandemic helped to accelerate this trend. ABM strategy had to adapt to the challenges presented, which included the lack of physical events and face to face meetings.
This meant ABM marketers were forced to focus on purely digital channels, which in practice often meant more webinars and other virtual events, paid social ads, and personalised content.
Key learning
When customer journeys are mapped, it can often expose workflow gaps which are the manifestations of siloed departments. A successful ABM is closely linked with the organisational change which comes with digital transformation. ABM is less likely to be less effective when departments are siloed.
ABM is a comprehensive strategy that is only effective if all stakeholders work together toward an agreed-upon goal. This includes aligning the activities of sales, marketing and client servicing.
ABM accounts for significant marketing budget
ABM now plays a key role in B2B marketing strategy. This is reflected in marketing budgets. Indeed, ITSMA's 2020 ABM Benchmark Study found that ABM now accounts for 27% of marketing budgets.
The ITSMA study also found that smaller businesses dedicate a greater proportion of budgets to ABM than larger companies - 32% for those with less then $100m in annual revenue, compared with 21% for companies with more than $1 bn annual revenue. (1)
Key learning
There is often a link between the size of the ABM budget and the relative maturity of companies. It also implies that ABM programs have been successful in proving ROI and gaining greater investment internally.
One emerging trend is the requirement to produce content tailored towards prospects or target groups.
ABM requires collaboration between campaign managers and content colleagues to produce customised or personalised content to support ABM campaigns. This approach can achieve stronger engagement and potential to convert but it also requires appropriate resource allocation.
ABM requires access to up to date, quality data
Insight is a core tenet of ABM. Some of the most effective programmes invest more in all types of insight, including direct account insight, intent, predictive data, engagement data, and management of data.
Key learning
While accounts are standard entities within CRM systems, this doesn't mean they are ready to support account-based marketing out of the box. Ensure that your CRM and automation tools contain the right fields to enable you to segment and target your efforts accordingly.
In addition, you will need to make sure the right rules and flows are in place so that there are smooth handovers between marketing, sales and customer success.
The importance of customer experience in ABM
It's easy to think about ABM simply in terms of marketing, but it's important to think about the whole experience for the target account, from marketing, through sales, and all the way to customer success teams.
This is often referred to as ABX (account-based experience) or ABE (account-based everything), and recognises the importance of that end to end experience. In essence, it's an evolution from 'traditional' ABM.
The key point here is that Account-based marketing shouldn't just be about marketing, but it requires greater coordination within the business to achieve the best results in terms of targeting accounts, but also for improving the buying and post-sale experience for clients.
For a successful strategy, every department must work together, and this includes marketing, sales, sales development and customer success teams.
Customer experience can be the factor that makes the difference, both in terms of success in generating leads, but also in terms of continued relationships with accounts and retention rates.
Personalised experiences can make the difference, and this matters to customers. Indeed, a Salesforce study found that 85% of business buyers believe that the experience a company delivers is just as important as quality of product. (1)
ABX or ABE is the next level of ABM, an acknowledgement that it isn't just marketing or sales that is important for the experience at account level, but the journey as a whole which also includes customer success teams and even customer services.
Key characteristics of an experience-based approach include:
Buyer experience is a key driver of revenue and customer retention. ABX applies the principles of customer experience to account based marketing to achieve better results.


ABM sells to the account rather than the lead. It's about targeting and engaging the whole account, targeting different roles at key points of the buying process.


It brings customer-focused teams together. All these teams - marketing, sales, customer success - work together to deliver a cohesive experience.


Engaging with target accounts on their terms. It's a recognition that much of the buying process is self-serve, and being ready to reach clients at the right time.


Campaigns driven by data and intelligence. Accurate insight into key target accounts allows for greater personalization, and this account intelligence needs to be shared across departments for effective campaigns.
What does an ABM platform do?
An ABM platform is designed to help marketing, sales, and customer success teams work together. An effective platform can run everything from identifying, targeting and tracking accounts and prospects, to developing content and updating sales and marketing teams.
ABM solutions are designed to be integrated with existing CRM and/or Marketing Automation platforms (MAP) for maximum effectiveness and efficiency. This integration helps you to identify the specific decision-makers within your key target accounts.
While marketers can plan and manage ABM campaigns without the help of a platform, technology enables them to run and personalise campaigns at scale.
The 2020 ABM Benchmark Study from B2B research firm ITSMA asked respondents about the technology they were using to support ABM campaigns. Most were using a mixture of email, website, CRM and social media to run ABM, rather than a dedicated platform. (1)
Technology currently being used by B2B firms for ABM: (1)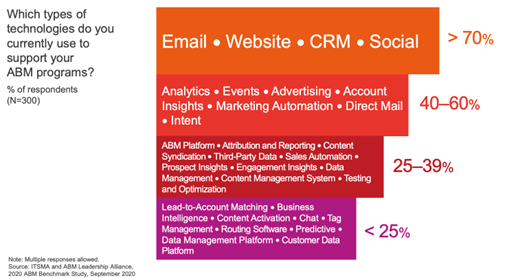 Indeed, less than half of the respondents were using ABM tech to run and manage campaigns. But what can an ABM platform do? Why should you think about using one?
Do I need an ABM platform?
To decide whether or not ABM software or a platform is the right solution for your business, first consider how it could enhance your organization's current competencies.
This means assessing your organization's business needs, and capabilities in terms of staff and financial resources, as well as management support.
Here are some questions to ask:
Do you have the organizational structure and training in place? Successful ABM programs are built on a platform of organisational maturity and expertise. Close collaboration between departments is needed, as well as the technology solutions to deliver ABM.


Have you identified your ABM goals? The first step is to think about what you want to achieve through ABM. Companies that are targeting new accounts and doing so at scale may prioritise different platform capabilities than those looking to retain or expand existing accounts.


Do you have buy-in from key stakeholders? For the best chance of success, account based marketing should have support from management teams. A detailed forecast of costs and projected return on investment helps to win backing from senior management. Delivering results through ABM will guarantee continued support.


Are sales and marketing on the same page with target accounts? The processes must be in place for close cooperation between sales and marketing, which means agreement on definitions of high priority targets, and choosing when to add and remove accounts from ABM programmes.


How will existing technology work with an ABM platform? Perform an audit of current tech solutions to identify capability gaps and alignment with business goals


Have you assessed total costs and resources required? The costs of the tech required needs to be considered alongside the staff cost and resources needed for ABM. Consider the cost of hiring new team members or retraining current staff.


Have you agreed on metrics for success? Measurement and reporting of results from ABM should be agreed in advance. Reporting needs to be consistent to inform and maintain backing from senior stakeholders.
How do I choose an ABM Platform?
There are now many specialist all in one ABM platforms on the market, which are designed to handle all aspects of account based marketing.
While many features are common across different ABM platforms, some have specific specialisations. Examples include:
Data: Platforms such as Bombora, 6Sense, LeanData are designed to provide insights into target accounts and use this to provide personalization at scale. .
Media and Ads: Platforms including N.Rich, Terminus, Triblio have expertise in account based advertising alongside ABM capabilities.
Engagement: Demandbase (Engagio), Marketo ABM, Drift, Outreach are all ABM platforms with conversational ABM capabilities.
Content: Folloze, Uberflip, Turtl are some of the platforms specialising in content creation for the buyer journey.
What features and capabilities should you look for in an ABM platform?
Integrations with current marketing and sales tech. Does your ABM platform integrate with the tech already in your stack, such as CRM systems and marketing automation platforms?
Intent data. Intent data helps marketers to select, score and prioritise accounts. It's important that platforms support the keywords and topics that are relevant for your industry and target markets.
ABM platforms need to be able to gather engagement data from different channels, and provide key insights into campaign performance. Platforms should offer detailed account journey analytics and attribution.
AI recommendations. AI can use intent and behavioural data to select accounts for marketers to target, as well as identifying opportunities for marketing and sales to interact with target accounts during the purchase journey.
Ease of use. How long will your team need to get an ABM platform up and running? Do you have people in-house who will own the implementation and day to day management of the platform?
Multichannel campaign activation. ABM platforms add value to campaign management by enabling marketers to create cross-channel campaigns. This requires the ability to integrate with other tools such as marketing automation platforms.
Lead matching. Can your platform link engagement from anonymous and known individuals to target companies in your database?
Partnership and support. Is the ABM vendor one who will provide support and help you towards key business goals? Look for real-time support and strategic consultation with a customer success manager.
ROI. How does the ABM platform fit into your budget, and what kind of return on investment do you expect to see?
Sales alerts. Can the platform provide alerts to inform sales teams about important account activity, delivering insights which can feed into further engagements. These alerts may be email bases, or delivered through integrations with other systems, Slack for example..
It's important to ensure you adopt a methodical approach to any Martech tech selection and implementation. We would recommend the following sequence of events when looking to select an ABM solution::
Internal requirement gathering & RFI
Project steering committee established
Business use cases – User/business focussed
Platform use cases – Features/functionality focussed
Create a vendor scorecard (see below)
RFP
Vendor selection – (Too often companies jump straight into their selection, and it all goes wrong. Often, they don't spend enough time and money on what follows either)
Proof of concept
Implementation & configuration
Stack integration
Training & onboarding
Support & upgrade
Vendor management
Audit & review
Create a vendor scorecard
Creating a vendor scorecard to evaluate each vendor is the next step. That way you can take a systematic approach to evaluating products.
Creating a scorecard involves being clear on your use cases so that you can evaluate whether there is functional fit between your requirements and the vendor product. You might also need to evaluate architectural fit to understand what technical support is required to manage integration with existing tools. Beyond business use cases and technical architecture, you also need to assess what kind of training and support the vendor will provide.
We've created this basic scorecard with suggested weightings to get you started. It doesn't cover everything but our Essentials of Marketing Technology contains a comprehensive guide to support your vendor selection process.
Course participants will also receive a much more detailed worksheet to help you evaluate vendors.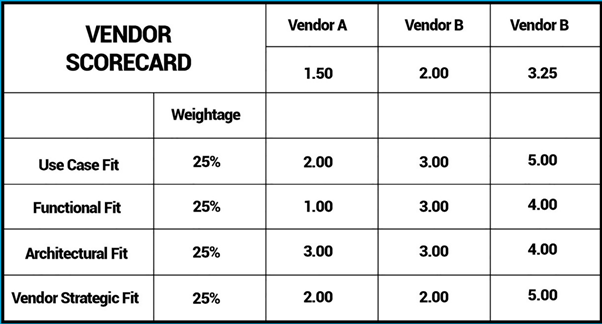 With your use cases documented, vendor scorecard defined, and RFI/RFP created, it's time to start connecting with vendors.
Creating a short list based on your company profile and preference is a good starting point; events tech capabilities and ratings, focus, functional specialism, industry and company size match.
As you progress to chatting with vendors, we would recommend you:
Take your time & prepare. Don't rush the process. Make sure you have done your research to better understand the space. Ensure you have details of your event planning needs available and your vendor scorecard and questions.
Run a custom demo. Make sure vendors have your business use cases and business background weeks before your demo so they can sufficiently prepare and tailor what they present so you can make a fair assessment.
Get into the details of your expectations around the technology. Get into the nuts and bolts of your needs/goals to really assess the ease, speed and cost of tech.
Review vendor case studies. Ask for customer case studies showing key results of their platform.
Get vendor customer references. and ideally direct access to chat with some of their clients.
Making Your ABM Platform Work For You
Researching and onboarding an ABM platform is only the start of the process. It's important to assess and review performance of the platform on a regular basis to ensure you're achieving the expected return on your investment.
ABM platforms also need to evolve with your business needs, and allow you to make the most of new tech capabilities and features introduced by the vendor.
So, to get the most of your ABM platform, you should add the following steps to the process:
Update workflows and skills. A common issue with the adoption of any new technology is that companies don't update workflow and team structure to get the most out of the tools. Another common issue is that sometimes marketers need to be equipped with the skills they need to make effective use of the tool.


Carry out regular reviews. Make sure you're reviewing your tech quarterly to make sure it still fits within your tech stack and works within the context of your event. This can help outline whether it's meeting its full potential.


Explore wastage. This might be a case of automating aspects of a process or keeping an eye out for overlapping technologies. Strip back to avoid complication and confusion.


Engage with your vendor. Vendors are available to demonstrate the full capabilities of their solution. Based on experience with other clients, they can advise on workflows, team structure and how the tech should be integrated into the context of your stack.
Summing Up
Part of the appeal of ABM is the efficiency and potential return on investment by focusing efforts on key target clients. With the help of technology, ABM programs can be scaled, and key accounts can be engaged throughout the buying journey across multiple channels.
ABM platforms can help to automate key processes, understand buyer intent, identify opportunities for engagement, and gather and enable analysis of key data.
With the right ABM platform for your business, you can create better, more personalised experiences for buyers, and build stronger relationships with key accounts.
Buying Guide: 5 Steps to Selecting an Account-Based Platform
You know you want to transition to an account-based approach, but how do you make the jump as an organisation? It's a continual process – but it starts with the right tech. Here are five key steps to delivering a successful account-based program at scale, and how the right revenue platform helps you unlock them.
Step 1: Select the Best Accounts
Before diving into campaigns and reaching out to prospects, your sales and marketing teams need to know the best accounts to pursue.
Your platform should guide you to select the best accounts based on: ICP fit, current buying stage, intent topics or keywords, engagement data, and account firmographics and technographics.
There's a lot riding on this first step. But with an AI-based platform, your teams can confidently target the right prospects based on data, not guesswork.
Step 2: Know About Them
After selecting the best accounts, it's time to analyse your audiences to get the insights you need to engage them.
For this, you need more than basic account firmographics. Check if a platform can show you an account's buying committee, data about their tech stack, the keywords or topics they're researching, the locations showing the most activity, plus the current stage of the buying journey.
This information will empower your teams to build revenue programs that not only engage target accounts, but move them through the buying journey.
Step 3: Engage the Right Way
Engagement is everything. Buyers expect meaningful experiences at every touch point. You need a revenue platform that can use your buyer personas and ICP to create compelling, personalised content, delivered over the right channel, at the right time.
From display to direct mail, to BDR cadence to website experience – it all needs to be personalised by account, persona, and most importantly – timely.
Step 4: Collaborate with Sales
Account-based revenue programs are a team sport. Sales and marketing need to align on the best accounts to pursue – and when to do it. Not a hand-off, or a lead "thrown over the wall" but a real partnership. The key is to give sales the right context and insights to help them know why, how, and when to engage.
Comprehensive revenue AI platforms provide meaningful data that allows sales and marketing to work together to warm accounts, move them through the funnel, and conduct relevant outreach at exactly the right time.
Step 5: Track Real Stuff
Metrics like MQLs, SQLs, and lead attribution are losing their lustre. Revenue teams today are more interested in measuring the real impact of account-based programs on the business.
This means finding a platform that can show how effectively accounts are being engaged, which strategies and tactics are working, and – most vitally – the impact on pipeline and revenue. Again, sales and marketing alignment around the relevance of a platform's metrics will be important to get buy-in and scale on your account-based revenue programs.
Bonus Step: Apply AI
The new breed of account-based revenue platform applies the power of AI across the entire buyers' journey. This removes the guesswork that plagues revenue teams, provides a better customer experience, and produces high-quality pipeline that is ultimately more likely to convert to revenue.
CASE STUDY
Showpad Crushes Prioritisation and Pipeline Challenges with 6sense
Showpad is a global leader in revenue enablement technology, providing teams with modern selling solutions to maximise hybrid sales. The company was named a Strong Performer by Forrester's Wave for Sales Content Solutions, recognized as a Top 10 software company by G2, and listed in Deloitte's Fast 50 and Inc. magazine's 2019 Best Workplaces.
Showpad partnered with 6sense to help its sales teams identify and target the right accounts with the right information at the right time.
The strategy worked: 6sense helped Showpad's close rates increase by 289%.
The Challenge
Company leaders determined that Showpad's sales team spent too much of its valuable time finding and prioritising the right accounts to work. Showpad wanted a more impactful and efficient approach that could:
Increase prioritisation of accounts so reps would know where to focus their efforts
Drive accountability so accounts would stop getting stuck along the way
Increase pipeline with the help of account intelligence and prioritisation
Prevent churn by knowing when renewing customers are checking out competitors
The Solution
6sense helped Showpad accomplish its goals by using intent data to surface accounts showing signals of buyer readiness. Each salesperson now had a dashboard that revealed 6sense Qualified Accounts (6QAs) — in other words, ICP accounts that were ready to engage right now.
As Dustin Deno, Showpad's SVP of Global Sales, explains: "The beauty of 6sense is that it looks back at where you perform well and then surfaces other accounts that are doing the same behaviours those other accounts were doing when they bought. We leverage 6sense to bubble up who we should be focused on."
In addition to targeting the right people, salespeople can now offer value to renewing and new customers by focusing their outreach with hyper-relevant information. These actions all hail from the insights 6sense surfaces on how accounts are engaging and what they're researching.
Showpad sales people start their day with priorities laid out for them, based on solid intent data and proven predictive models from 6sense. Managers also have a dashboard that rolls up their reps' priorities into a quickly digestible format.
Everyone on the sales team is on the same page, each with an at-a-glance understanding of how high-priority accounts are being worked.
Key Results
"Here's how I see account prioritisation," Deno says. "There are a million stones on the ground. As a seller, you're turning them over one by one, looking for the best accounts. 6sense tells you, 'Go look in that corner. That's where the opportunities are.'"
Clearly, the metrics support this approach:
Close rates increased 289%
76% of qualified opportunities are 6QAs
Showpad was so impressed by 6sense's impact that it's taking the approach to its international markets. "We fundamentally believe in this approach and have made it the pillar of our outbound strategy," Deno says.
About 6sense
6sense reinvents the way organisations create, manage, and convert pipeline to revenue. The 6sense B2B platform captures anonymous buying signals, predicts the right accounts to target at the ideal time, and recommends the channels and messages to boost revenue performance.
Removing guesswork, friction, and wasted sales effort, 6sense empowers sales, marketing, and customer success teams to significantly improve pipeline quality, accelerate sales velocity, increase conversion rates, and grow revenue predictably.
6sense has been recognized for its market-defining technology by Forbes Cloud 100, G2, TrustRadius, Gartner, and Forrester, and for its strong culture by Glassdoor, Inc. magazine, and Comparably. Learn more at 6sense.com.
6Sense Senior Management Commentary
My Breakthrough Moment
My first attempt at ABM was a colossal failure. But I had some big breakthroughs from this ABM flop. First was that it's impossible to do ABM without the right technology. My team had told me at the start that we needed to up our tech game. They even did research and brought me a bunch of recommendations for what we needed. But I thought we could start without it and prove out the ABM theory first before diving into the technology piece.
I was wrong. The fact is, the success or failure of account-based sales and marketing hinges on selecting the best accounts. And it's impossible to do that without the right technology. My second breakthrough was this: In order to be cost-effective, ABM must be scalable and repeatable. Again, that's impossible without the right technology.
Without clear definitions of what ABM entails, the technical capabilities it requires and how to successfully scale an ABM program, many companies will stay on the ABM struggle bus.
In order for ABM to be successful — and in order to achieve predictable revenue growth — it needs to uncover a complete picture of customer demand, provide rich account insights and meaningful metrics to sales and marketing, and have comprehensive orchestration capabilities that meaningfully engage buyers. It also requires sales and marketing to align on the full funnel rather than operating in silos. In short, successfully implementing ABM comes back to the 5-step process we've outlined in this guide: select the best accounts, know them, engage the right way, collaborate with sales, and track real stuff. Good luck on your account-based journey!
Latane Conant, 6sense CMO
Read Latane's book, No Forms. No Spam. No Cold Calls. here
Citations
1 Source: Salesforce, 'State of the Connected Customer', Salesforce, 2020. (https://www.salesforce.com/resources/research-reports/state-of-the-connected-customer)
2 Source: ITSMA, '2020 ABM Benchmark Study', ITSMA, 2020. (https://www.abmleadershipalliance.com/wp-content/uploads/2020_abm_benchmark_study_final.pdf)
3 Source: Gartner, 'New B2B Buying Journey & its Implication for Sales', Gartner, 2021. (https://www.gartner.com/en/sales/insights/b2b-buying-journey)