Were you just scrolling through LinkedIn, passing all the faux-inspirational quotes and exaggerated stories of philanthropy, only to stumble across the strange acronym "CMO"?
Did you think about it for days on end, only to wake up in a cold sweat thinking "What does it mean? What does it all mean?!"

Well, calm down. We've got all the answers. Starting with the basics:
What is a Chief Marketing Officer?
Put simply and boringly: a CMO is a C-Level corporate executive responsible for creating, communicating, and delivering marketing within a business. They have the primary responsibility of producing revenue through increasing leads and sales. And, if they perform well, the CMO provides value for customers, clients, and business partners.
So, these professionals are in charge of running the marketing department, liaising with the marketing project managers, and reporting with the CEO. A CMO will report to their CEO on the marketing activity their team is undertaking, and demonstrate how they are contributing to increase revenue.
A number of senior vice presidents, vice presidents, directors, and other senior managers might report to the CMO.
A CMO's primary goal is to facilitate growth and increase sales. This is often done through the development of a comprehensive marketing plan, which will allow the company to gain an advantage over their customers.
On top of this, they also lead areas such as marketing communications, brand management, market research, and customer success.
To be a CMO, an individual needs to have a strong and comprehensive set of skills in both the areas of marketing and business. Communication and leadership skills are also vital. More on this later.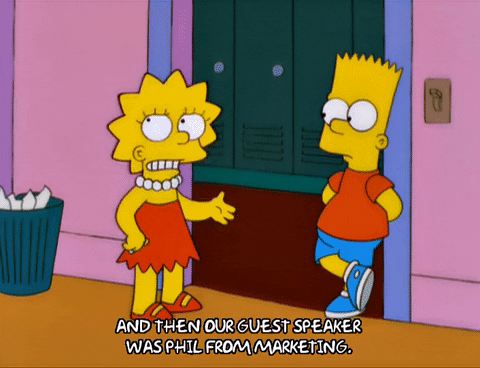 Historically, the CMO role has been an in-house position. However, the role has changed with the times: recent years have seen the growth of the part-time CMO, or fractional CMO. As a full-time CMO salary can be more than $200,000 a year, a business may choose to bring in a fractional CMO instead.
A fractional CMO performs the role of a CMO, focusing on leading marketing strategy, sales development, and growth opportunities, but on a part-time basis.
So, instead of hiring a full-time role, a CMO will be brought in as a contractor or consultant. This individual might work for several different companies at one time, much like a freelancer.
The digitisation and rise of consumer-centric marketing has also changed the face of the CMO role. Often, the role requires the CMO to handle customer-facing technology implementations. In fact, it has been predicted that CMOs will begin to spend more on IT than even the CIO.
And some think the changes won't stop there. McKinsey believes that no senior-executive position will face as much change over the next few years as the CMO.
What are the CMOs Roles and Responsibilities?
We've established that a CMO must be a quick-thinking, quick-reacting individual, who is able to communicate and be involved in a number of different departments. The CMO must be able to respond to the changing market conditions and reshape the company's strategy accordingly. But this is not a one-team task.
So, the CMO must be involved in, and have knowledge of, a number of different departments, including IT, PR, HR, finance, and corporate communications.
Day-to-day, the CMO will complete a number of tasks, from a number of different categories. These might include analytical tasks, creative tasks, and interpersonal tasks.
This means a CMO will wear a number of different hats, and be able to jump from pricing and market research, to graphic design and product, to strategy and execution plans.
But let's look more specifically at the roles of the CMO:
Understanding the company's position in the marketplace, using traditional marketing, and newer methods such as data analytics
Overseeing the development and placement of the creative elements that position the company in the marketplace
Determining where the company should be in the future
Developing the strategy used to reach this goal
Executing this strategy
Collaborating with sales to utilise marketing insights
Directing the company's public relations efforts
Working with internal and external PR teams to create a coordinated message
So, what skills does a CMO need in order to complete these tasks? Individuals in this position often have:
Strong leadership skills
Communication skills, written and verbal
An understanding of data analysis tools
Awareness of a constantly evolving environment
The ability to lead in this environment
Experience working with various marketing tools, relating to market research, data analytics, website development, product branding etc.
The ability to design and coordinate marketing campaigns on traditional and new channels
Proven skills in digital and social media marketing
Want to get the CMO skill set? Well, then. You need a certificate in Marketing Technology. Level up your game, right here!
Why is the CMO a Vital Role?
One word: technology.
The technological advancements of the last few decades have meant the CMO has become more relevant, and important to a company's success, than ever.
The internet, mobile computing, IoT, analytics, AI, and social media platforms have all created issues and opportunities that have to be tackled. Customers have the ability to share their thoughts on brands, and brands now have access to reach customers in a number of different ways.
So, CMOs need to be able to tap into these technologies, and utilise the potential to connect with, and influence, customers. A successful CMO will also have the ability to position their products within the competitive environment, whilst also challenging competitors at the same speed and scale as the customers.
In order to do this well, a CMO will collaborate extensively with their executive peers, in order to stay relevant and competitive. So, this individual must be capable of adapting and innovating as tech and markets evolve.
The role is constantly evolving in a similar way and is continuing to grow in complexity. The CMO now has to delve into fields such as sustainable growth, highly personalised customer experiences, and advanced marketing innovation.
What Will the CMO Look Like in the Future?
The CMO role is a complex one. And it looks to be getting more complex with every year, just like that TV show you used to like. Yeah, that one.
This might end up being due to the constant need to connect up shifting audiences with shifting opportunities, inspiring and influencing people to action (both in the business and outside), and connecting the creative with the commercial.
So, shaping a business is difficult, without the market, customers, and intentions of this business shifting constantly and rapidly. The CMO decides how a brand pivots and evolves, and must learn to do the same.
According to Sophie Devonshire, "The great CMOs of tomorrow are influencers, but they're also the innovators; it is the marketing function that can truly help "invent the things of tomorrow".
The current face of the CMO has changed rapidly within the last few years alone. In 2020, individuals in the role found themselves in the midst of an unrecognisable landscape, where they had to build resilience into their organisations. This wasn't just about surviving the short-term storm, but keeping up with the rapid forced growth every company was experiencing.
"COVID has accelerated trends already out there," said one head of marketing at a CPG company. "We've had a plan to attack this, and now we have to accelerate how we go about it."
COVID-19 "has accelerated shopping online, digital shopping, etc.," said the CMO of an auto brand. "It has also accelerated the focus on the importance of a robust analytics team that can help sort through all the data and turn it into actionable insights that drive the organization forward."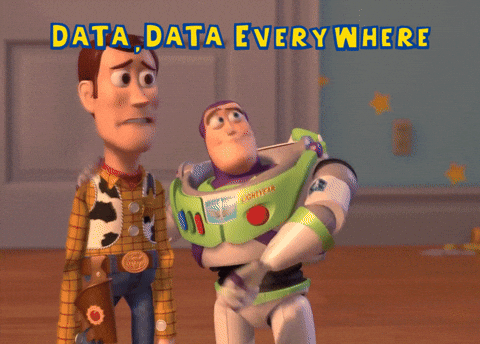 These insights show the necessity of the role to adapt to changing circumstances. But CMOs must remember to keep the expectations of their company realistic and goal-focused; with these shifting environments and heightened stakes, CMOs need to manage the expectations of their boards.
According to Deloitte, there are five CMO archetypes - focusing on these as individual strengths and role will allow CMOs to focus on fetheir CEO and board's expectations.
Understanding where the CEO and board perceive value to be, where their priorities lie, and enlisting them as sounding boards, can allow a direct focus on which archetype(s) work for the business.
So, what are the archetypes?
The Customer Champion: This is a leader who leans in to provide customers with data, insights, and analytics that enable business growth
The Growth Driver: This CMO is focused on delivering sustainable growth for the organisation

The Innovation Catalyst: The innovation catalyst is focused on building breakthrough customer offerings, experimenting with tech, data, and techniques

The Capability Builder: Individuals who are able to develop robust marketing capabilities, and hire teams with expertise in data and analytics
The Chief Storyteller: A CMO who can create narratives that promote the brand, and relate the company's position and relevance through compelling content.
Forbes have also predicted the 'new face' of the CMO.
Since marketers have continued to move away from campaigns that turn off and on, and into agile content and always active consumers, there is a need to move away from purely traditional methods.
However, Forbes notes that this can cause issues. Though high-quality data is key to marketing success, some marketers find themselves overly invested in the analytics of marketing. This can lead to the neglect of traditional marketing skills, which are still vital to success.
But on the other hand, other marketers are still stuck in the past. So, what's a savvy CMO to do? Well, the answer is compromise, of course. It's about combining traditional marketing functions and the role of a data analyst.
"While the traditional job description of a CMO as the keeper of long-term brand-building growth within an organisation is still significant, without a generous helping of "data analyst" mixed in, what we'll have are marketers lacking foundational skills for success," says Kristin Hambelton, Chief Marketing Officer at Marketing Evolution.
What Challenges Does the CMO Role Face?
The market is unpredictable. This means the role of the CMO is also similarly unpredictable, and must be constantly agile.
The CMO often must work towards objectives such as revenue generation, cost reduction, and risk mitigation, in this inconsistent environment. This uncertainty of success, and revenue growth, plus the necessity to drive profits can often lead to extremely short tenures for CMOs.
In fact, Forbes has reported that the average tenure was just over 28 months.
As we can see below, 22% of CMOs have been in their current role for just a year. 57% of those surveyed had been in their position for just three years or less.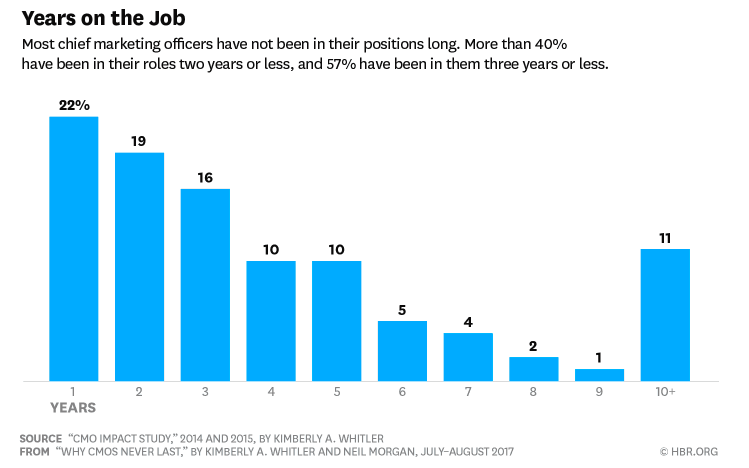 The CMO role is the shortest-tenured member of the C-suite on average. This can often be due to the expectations of the board, which expect a huge range of roles to be completed by a single position. However, only 26% of CMOs are invited to attend board meetings regularly. So, expectations are high, but access to information and influence are low.
So, companies must ask themselves: am I providing my CMO with the support they need to succeed, especially in such a changing and challenging environment?
What do CMOs Think of Their Own Role?
Heather Malenshek, SVP/CMO, Land O'Lakes - "a good marketer is a great storyteller."
I had a candidate applying for a senior role on my team. It was the final interview and I had met with the candidate at the beginning of the process and they had then met with the team.

This last interview was a wrap-up of those discussions. What impressed me the most was how the candidate had very clearly used one of the most underleveraged skills – active listening.

He had paid close attention to what the interviewers had said, asked smart questions to delve deeper, and was then able to give me a perspective on what he felt the team needed and where he could add value."
Ana Villegas, CMO, NI - "Know your audience"
Know your audience and target your message. Bring new ideas/recommendations, study the company beforehand, be transparent on your values and what is important for you when selecting a company."
Daniel Incandela, CMO, Terminus - "CMOs either produce the numbers or we find another job."
CMOs either produce the numbers or we find another job. That's because the chief marketing officer's role is increasingly complex.

Qualifications require broad, strategic thinking while also maintaining tactical acumen across several functions. There's a big disparity in what companies expect from CMOs. Some want a strategist with an eye for go-to-market planning, while others want a focus on close alignment with sales in addition to brand awareness, content strategy and lead generation.

Still other companies want their CMO to emphasise product marketing and management. Ask 10 CMOs how they define their role and you'll get 10 different answers."
Sara Bennison, CMO, Nationwide - "Insight[s] into propositions"
Businesses need people who can transfer insight into propositions and put great communication at the heart of the business, and that's marketing,"
Drew Neisser, Founder, Renegade, CMO, Huddles - "Artful as leaders...bring a scientific approach"
The most successful CMOs are what I call "cool CATS," which is short for "Courageous, Artful, Thoughtful and Scientific."

They have the courage to seek a unique if not distinctive position for the brand, and push to fix any shortcomings before relaunching. They are artful as leaders, building internal consensus around the strategy while giving credit to others.

The thoughtfulness comes in how they communicate to employees, customers, and prospects—delivering value, not messages. And, finally, none of the above matters if they don't bring a scientific approach to measurement, building a solid foundation of data for a new initiative, testing options, and identifying/tracking the metrics that matter."
Neil St. Clair, Chief Growth Officer, Vestorly - "The modern marketer must be accretive, and not destructive, to the bottom line"
Indeed there is no acronym so dangerous in the English language as C-M-O.

What I'm advocating is not merely a departure from CMO or similar titles, but rather a re-examination and expansion of the functional role itself. In short, the title, whatever it may be, should always encompass the dual mandate of any modern marketer: pure marketing on the one hand, and hard-won business development on the other.

As for the title itself, I'd suggest, though a bit of a mouthful, Chief Marketing & Business Development Officer (CMBDO). This is to serve as a constant reminder that marketers simply cannot be one-dimensional any more. And while there are those that advocate technical expertise in niche areas, I remain an adherent of the Riesian school of lean methodology, which means that marketers must wear many hats to be elementally helpful to any organisation."
Peter Horst, founder of CMO Inc., former CMO of the Hershey Co., Capital One - "The role is already going in a lot of directions all at once"
So there's one vector of movement, which is the role becoming more and more about data and analytics and technology, and you see that there's a whole breed of CMOs that grew up not through the brand and business path but more through the data, quant, and even digital technology path.

There's also a way in which the CMO role is morphing, often in title, to being chief growth officer. And if not in title, then in spirit, where more and more of the things that are involved in driving top-line growth start to come under the fold of the CMO. So it might involve sales, it might involve strategy. There's also the realm of customer experience, where, by definition, customer experience is a totally multi-functional all-enterprise undertaking.

The question is: Who's the champion of that, who's the ringleader? No one will own all aspects of it, but who's going to be the one carrying the flag and leading the troops over the hill? That's often the marketer, and that calls for a whole other set of activities, skills, focus areas,

I don't think there's another function in a company that has gotten so amorphous and varied in its descriptions and accountabilities."
MaryLee Sachs, Cofounder of BrandPie - "More room for people from different subject areas"
"You still have a lot of the traditionally trained CMOs, but I also think there is more room for people coming from different subject areas. I feel that organisations are starting to think outside the sector for the first time, which is good."
Kim Whitler, Assistant Professor, Darden School of Business at University, former CMO, David's Bridal - "more of a conductor than ever before,"
"CMOs are more of a conductor than ever before, [They're] more ambidextrous. A CMO has to be the person who stands at the top of the org chart and gets everyone to work together in concert with the rest of the firm,"
This post is part of our "What is a..." series, which compiles the top job roles in the martech industry today. Others include:
Hey there, martech fans. Want to expand your knowledge on the space to the nth degree? Well, have we got a treat for you. Be the best martech-er you can be, and continue your learning journey, with our 4Ps ebook here!