Chief Growth Officer (CGO) is a role that's becoming more prevalent in organisations. In this article, we'll look at the responsibilities of a CGO, and the skills required.
What is a Chief Growth Officer?
So, what's in the Chief Growth Officer job description?
A chief growth officer CGO is responsible for managing a company's growth, whether measured in terms of revenue or perhaps audience growth.
A CGO's role is to collaborate, measure, and provide support for growth initiatives, to reshape the organisation they work in, in order to stay ahead of buyer needs.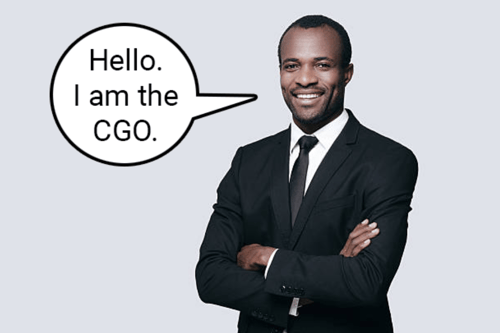 A CGO works across teams and departments, fostering internal alignment and also focusing heavily on external marketing dynamics, customer needs and general buyer behaviour.
The role is basically disrupting the way companies approach their brand vision. In this world of increasing customer focus and centricity, it's important to have a role that can support this development.
CGOs are also considered leaders who can help and reshape their company and team, in order to stay ahead and engage with potential buyers wherever they are in the purchase cycle.
CEO Irene Rosenfeld shows the thinking behind the need for this new role. Her company Mondelez was spun off from Kraft Foods, with an investor mission to maximise revenue growth and profitability for the company's fastest-growing and profitable business lines. So growth became the big focus. And who focuses on growth specifically?
"The creation of the chief growth officer role ensures that growth remains at the forefront of our company strategy," Rosenfeld said in a statement about the promotion of 18-year company veteran Mark Clouse to the role.
"It will bring the same focus and discipline to driving sustained, profitable growth that we have brought to improving our cost structure and expanding margins."
In terms of how a CGO benefits your teams individually, it's pretty good news. Each of the teams will get some benefit from the guiding hand of the CGO:
Marketing: The CGO makes sure all marketing activities come from a specific value proposition, which can be analysed and measured as customers encounter the campaigns. Then, these insights are given to sales, in order to give them the context they need to improve nurturing and conversion.


Sales: The CGO makes sure all sales activities maintain value proposition, too. But this is continued throughout the entire sales process, as well as allowing for detailed measurements. Then, insights are relayed back to the marketing team, and to the product team, to influence future campaigns and features.


Product: The CGO keeps an eye on all product development activities, ensuring that they are priorities to deliver value to the customer. Then, once again, insights are relayed to the other teams to optimise acquisition, activation, revenue, retention and referral.
Are you seeing a theme? This is all part of the chief growth officer job description.
Basically, a CGO makes sure all the teams are aligned, making sure the good practices and insights are communicated to the other teams.
This way, work and information isn't siloed and instead is utilised to its fullest potential. It's a great communication loop, which means everything can be streamlined and transparent. Thanks CGO!
What skills does a Chief Growth Officer need?
Typically speaking, C-level employees don't really have cross-functional roles. They work in their respective fields and very rarely branch out. CGOs, however, will often work across the likes of marketing, sales, product and finance, all to ensure growth.
Naturally a CGO will mostly work in marketing, but the lines are definitely more blurred than they would be for a normal CMO. Because of this, a CGO needs to be experienced with and capable of dealing with the likes of sales, product, and finance.
Tom West, Chief Growth Officer of Affinipay, said of his role:
"It's about eliminating organizational silos to create a unified, longer-term growth plan. It's not about quarter to quarter, it's about thinking ahead to the next three, five, 10 years".
As the CGO needs to focus on growing the business, they need to have their fingers in many marketing-flavoured pies. So, they blur the traditional separation of sales, marketing, and IT functions.
The CGO breaks down these departmental silos and aligns teams, so they can work together towards a singular goal. The CGO's direct line to the CEO and the rest of the C-suit really supports this vision, where they can provide insights, strategy, and a overview, with a specific focus and eye on growth.
In summary, a CGO understands four key areas of activity, and how they intersect in business to create profitability. These being; marketing, sales, product, and finance. If these teams aren't working together, there will be friction.
So, a data and strategy focused individual with a clear overview of process guiding them towards a single goal means the difference between growth and stagnation.
So, a CGO needs to be a data-focused individual, with transferrable skills in leadership, and digital experience development.
This might look like hiring for a new role, or upskilling the CMO. That's the potential conflict; if the CMO doesn't upskill, they're likely to be replaced by the CGO in the near future.
Think of a CGO as the human version of growth-hacking: growth hacking is focused on rapid growth. Yes, it's true that all marketing is focused on growth, but growth hacking is laser focused on specific KPIs—users, customers, sales, subscribers. And a CGO is no different.
These metrics are important to the viability of a company or platform, but they don't always look to (or consider) the future. A CGO offers a perspective and monitoring of these metrics, whilst keeping an eye on all the elements of the teams that can work towards this goal.
Do I need to hire someone new?
The way that the likes of Gartner, and McKinsey & Company see it, CGO is very much the future - or evolution - of your classic CMO. Not that CMO's are a thing of the past, but it's likely that CMOs will reposition in their current companies.
CGOs will have to redefine the way a business conducts its marketing activities, alongside the usual CMO jobs or carving out the voice of the customer and responding to changes in the marketplace.
So, instead of having your CFO, COO, CEO etc. working separately on profitability and growth, without the cross-functional skill-set needed, you just need one role.
A CGO has the ability to work across a number of key activity areas that drive growth, and can be a catalyst used by execs to align and optimise their own team's activities.
All in all, you don't need to hire someone new for the CGO role in your company; it's more of a slow restructuring of the operations of where you work.
Will CMOs become CGOs?
Gartner has predicted that CMOs will have increasing IT budgets, in order to capture customer data, develop a greater overview and understanding of the customer, and act on the insights that this analysis provides.
So, this new role, as an extension of a CMO, will mean the redefinition of the way the marketing function performs its critical tasks. It'll also mean the CMO can take their current skills, upgrade them with the CGO role, and assume the position as the voice of the customer across the company.
So, the CGO role isn't starting from square one. Instead, the role is built on the previous expertise of the CMO, who will have their roles repositioned and supported across the organisation, in order to allow them to focus on one thing - significant and strategic growth. This also means that senior marketing strategists might be attracted to the role.
But if a company isn't ready to bring on a CGO role entirely, there are other ways. Companies can achieve their growth goals by leveraging fractional CGO services. This allows companies to have the benefits of a CGO without having to bring on a full-time employee.
Do we really need CGOs?
Much can depend on the size of the company. Often, the CGO position is best suited to small to mid-sized companies where this is potential for growth, and this role can take them to the next stage.
In smaller companies, CGOs can identify opportunities for growth, something which can be harder in larger firms.
Often CGOs are taking roles that would normally belong to the CMO, thanks to their remit that allows them to cut through red tape and work across departments, and bypassing the hierarchical restrictions which can affect similar roles.
By aligning departments, CGOs will save time by making sure certain tasks and processes aren't needlessly repeated, and that best practises are shared and evolved.
The need for this role has come from the difficulty of sustaining growth in a highly competitive market. Companies often find it difficult to maintain this progression when they're reliant on incremental expansion.
So, the CGO is there to help. They'll be tasked with the job of keeping a company's customer centricity front and centre. Happy customer, happy life. When customers are fulfilled, and encouraged to return time after time, a company can maintain its competitive standing. All thanks to the overview and strategy of a CGO.
Plus, with a CGO in place, the strain and responsibility of these focuses are taken away from other roles. For example, the CEO will be able to remove themselves from specific roles and apply their skills where they're needed most. They'll be able to reduce their responsibilities when it comes to external image management, meaning that they can become the forward facing...face of the company.
So, companies that work in fast-growing markets, have overworked C-suite positions, and have issues with siloed goals and teams could benefit immensely from the introduction of a CGO into their company.
This post is part of our "What is a..." series, which compiles the top job roles in the martech industry today. Others include: