After several years of growth in Martech M&A activity, including 95% growth during 2021, the market has been more subdued in 2022.
Luma's 2022 Market Report finds a sharp decline in M&A activity across Ad Tech and MarTech. There was a year-on-year increase in Digital Content, thanks to increasing interest in mobile and gaming.
There was still plenty of deal activity in the martech sector, with overall activity in this area down by just 1% when compared to 2021. However, scaled activity (defined as deals worth $100m or more) fell by 41% YoY.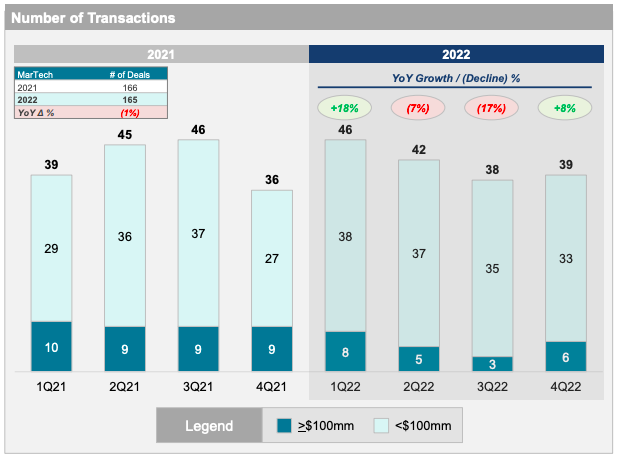 2022 did still see some significant deals though, including:
Adobe acquired Figma for a cool $20bn, to add to its acquisition of Workfront for $1.5bn in 2021.

THL acquired a majority investment in digital asset management platform Bynder in a deal worth $350m.

BC Partners acquired ABM platform Madison Logic in a deal said to be worth $750m.

Some martech vendors have reacted to more challenging market conditions by moving away from a strategy of growth at all costs strategy towards more capital efficiency. We've seen examples of reductions in headcount to streamline costs, and we've also seen fewer martech IPOs in 2022.
Make no mistake though, there is still plenty of efficient growth to be had, but commercial strategies need to be adapted.
Luma expects M&A activity to pick up in 2022 from the low in Q4 'as valuations "season" throughout 2023 and the disparate views on valuations align between buyers and sellers'.
Quoted in LXA's 2023 Predictions for Martech, Salestech and Nexttech report, CEO Carlos Doughty expects to see more activity in 2023:
"Martech, Salestech & Adtech M&A will accelerate from last year. With the shake-up in the tech markets and a need to adjust from growth at any cost to finding a path to profitability, some will struggle and, in turn, look for an acquisition from one of the majors."
See our State of Martech 2023 Report for more on the latest marketing technology trends.