Happy Martech Day, party people! 🎉💃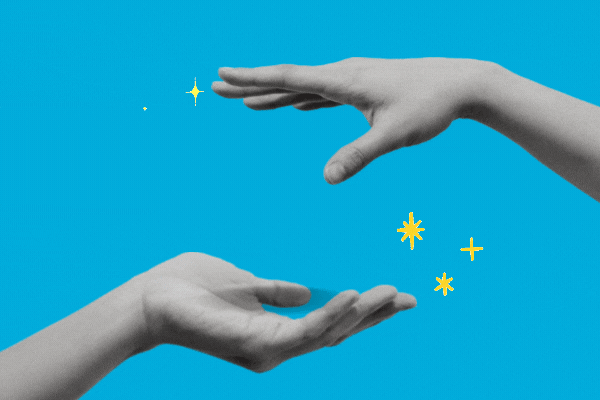 And on the first day of martech-mas, what did Scott Brinker and Frans Riemersma give to us? No partridges in pear trees here. Instead, we're getting something infinitely better - the 2022 marketing technology landscape!
The big question this year was just that: what will the marketing technology landscape look like in 2022? After a couple of years of turmoil, disruption, and movement, we're anticipating a huge change.
Some key stats and facts from the event:
The 2022 Martech Map, categorises a whopping 9,932 martech solutions, mapped into 49 categories.
There were 972 during the past two years too, from acquisitions and pivots to unsuccessful products shutting down
The largest growth happened in the categories of Content & Experience, Commerce & Sales, and Management.
Europe developed 50% more DAM & MRM products than the US, while the US developed 61% more ABM products than Europe.
One out of every five M&A deals were valued at $100 million or more.
One Forrester analyst estimated that there are over 100,000 SaaS apps today and that there could be 1 million by 2027.
SaaS will grow 18% this year, from $145 billion in 2021 to $172 billion in 2022.
54.5% of customer/marketing data platforms were either custom-developed or incorporated custom development with a commercially packaged app.
Our most recent report at LXA estimated that the martech industry in North America and the UK was worth $149.7bn in 2021. We believe these results are typical of key global markets, suggesting a worldwide market figure of a whopping $344.8bn.
But this isn't without challenges. What impact is the growth in martech having on leading CMOs? How are companies keeping up with the growing skills gap? These are the questions that reveal martech to be one of the most fascinating, and rapidly changing, industries today.
However, it's been a whole two years since Scott Brinker has released his famous marketing technology landscape, which visualised 8,000 different martech solutions. That's why this year is so exciting.
Combined with the expertise of Frans, who has been producing a European martech landscape for several years, this year sees its return ."From the very first one, the moment I come out with the landscape, the analyst community and others comment on how oversaturated it is, and how it'll radically consolidate and won't be this big ever again. And of course, next year it's even bigger," reported Scott.
In a recent interview with us, Scott commented on how much has changed since his last edition:
We continue to see rapid growth within the marketing technology industry. I haven't published a 2021 landscape yet, but we've been researching it. I'm quite confident in saying it will contain more than 10,000 vendors if we published it today.

I think the way I would describe it is for the past five to 10 years pretty much every company has been talking about digital transformation.

I've consulted with a number of them, and they all have these five to 10 year plans of how they're going to digitally transform and everything always took longer than anyone anticipated.
But 2022 has seen an even more unprecedented growth. The number of vendors has shot up to a whopping 9,932, mapped into 49 categories, not far off Scott's original prediction. Plus, it's a very special version of the supergraphic this year - a print-your-own, DIY version.
It's important to understand the scale of the growth. In fact, the numbers have jumped up from 150 in 2011 to 8,000 in 2020. This was a growth rate of 5,233% within a 10-year period.
There were also plenty of exits, at 972, during the past two years, due to acquisitions or unsuccessful products, but the number of new martech solutions grew faster.
Of course, the growth rate eventually slowed, given the large absolute numbers. But each year, hundreds of new solutions keep being added.
The look-and-feel of the landscape is quite different as a result. Instead of packing full logos in by hand — an insanely laborious effort in previous years — we are now using the favicon from each vendor's website and fitting them in an evenly-spaced grid. This has several advantages over previous layouts.


Because it's now algorithmically generated, we can publish a new version any time with refreshed data. Given that the martech industry is likely to continue to evolve rapidly, we will update it regularly. In fact, we encourage you to contribute by reporting new, changed, or exited vendors on martechmap.com.

- Scott Brinker and Frans Riemersman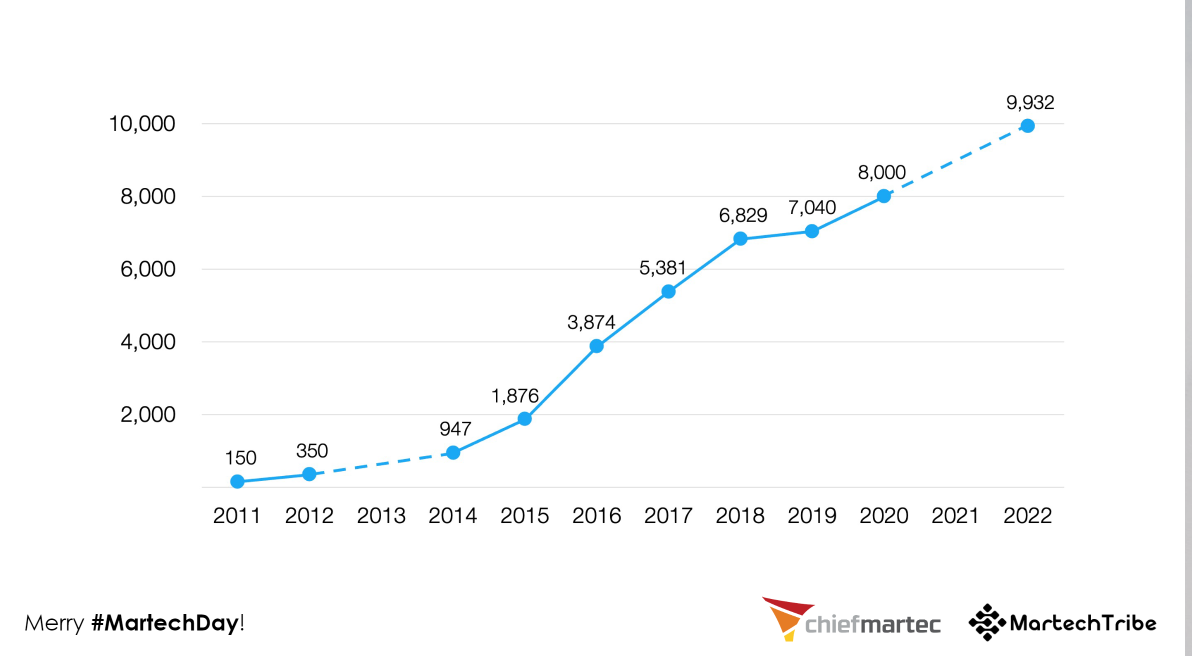 Thousands of companies, and many marketing technologists and operations professionals have been working to make the industry what it is, and grow it year after year.

So, if you joined the webinar, you'd have been one of the first to see the landscape, and learn about the major trends it reveals.

Plus, it's everyone's favourite awards show, now the Oscars are less about films, more about celebrities bare knuckle boxing. Yes, that's right - The Stackies!

A Stackie is a single slide of a company's martech stack — visually represented in a creative and interesting way. It's been a real treat for a number of reasons, from providing an insight into how people are approaching martech in a day-to-day way, to raising money for charity. In fact, Scott and co. donate $100 to charity for every qualified entry, up to a total of $10,000.

Over the last few years, it's become more and more obvious that investments in the space aren't just about tech for tech's sake. Instead, the ultimate goal should be about improving the experience for the end user.
Yes... there's some great martech out there. At scale, how do you keep making sure that you're connecting all the dots, so that the complete experience delivered to the customer is good?

I think it's hard, I don't think it's because people don't want to do it, I think it's just this balance between having a really large organisation and at the same time having this tech beautifully connected so everything just works in harmony together.

I haven't even looked at how to achieve this but I'm quite sure it's like a Pareto curve, a trade off. We can push that curve out and keep coming up with innovative ways to do this and that but there is still some inherent trade off there between scale and the harmonisation of the entity as a whole.

-Scott Brinker
This growth, as rapid as it is, has required a good deal of adaption from individuals, teams, and entire organisations alike. Martech is now a necessity, not a 'nice-to-have'. So, how can we keep up?
"New tech, new customer journeys and evolution of business models & competition means that the future is increasingly murky," states LXA Head of Product Sean Donnelly.
So how can marketers navigate their careers? It might sound trite but continuous learning is key to adaptability and for sustaining a competitive business.
At LXA, we want to help marketers be future fit by curating the right mix of events, courses and resources to equip marketers with the capability they need to succeed. After all, how capable we are has everything to do with how we respond to challenge and opportunity.
Think about this - the more we invest in our capability, the less threatening new situations feel, and the more likely we are to believe in our own potential for improvement.
The pair are bullish on content, with the number of content and engagement vendors growing from 1,936 to 2,592 in a single year. In fact, content personalisation is becoming more and more important, year on year. Frans claims that Europe, due to its wealth of languages, is flagging behind in this regard. The second biggest category behind content is "social and relationships", showing the increasing importance of community and engagement within an audience.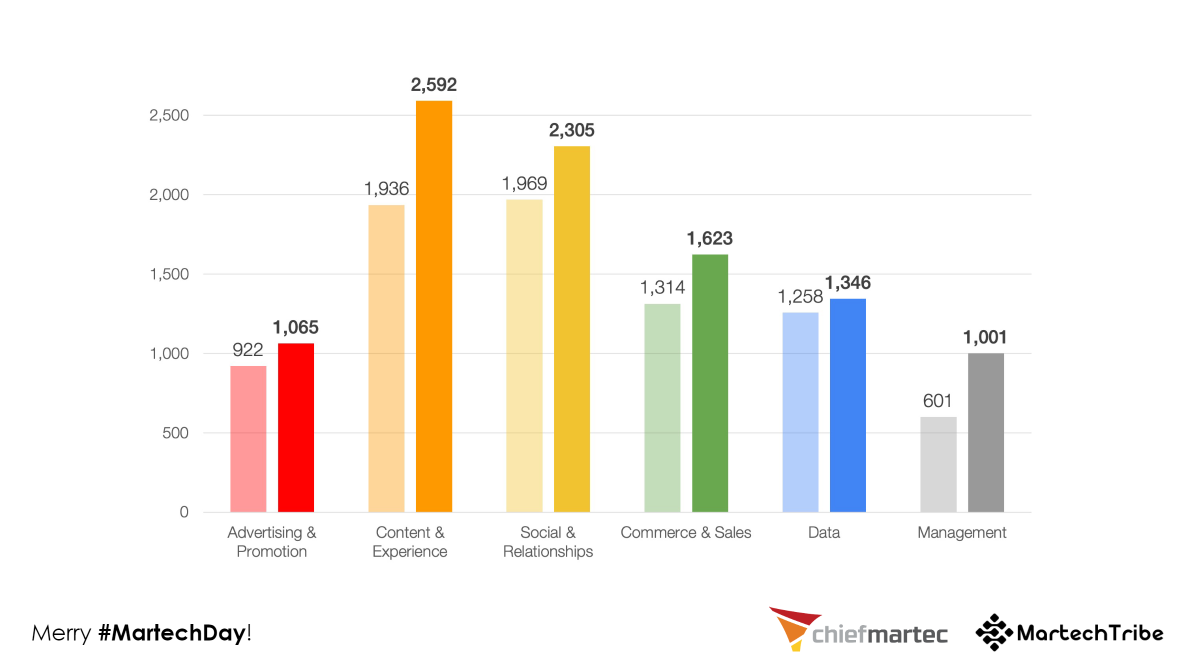 But with the amount of acquisitions and mergers, how does everything keep growing? Martech continues to consolidate, but the challenge is that it's doing so in a macro environment, with apps and services appearing in the cloud at a rapid rate. "New companies are able to stand on the shoulders of giants", says Scott. The consolidated apps facilitate custom, smaller-scale apps. Customers are able to discover the more personalised, customised apps using these 'giants', leading to higher availability of apps. So, ironically, consolidation is often a catalyst for new software to be created.

The research firm IDC has estimated that there will be over 500 million digital apps and services deployed in the cloud by 2023.
"We call this The Great App Explosion.

"If that seems impossible, it's important to remember that this is in the context of an incredibly long tail of specialist apps, many of which will plug into larger app platforms as extensions rather than stand-alone applications"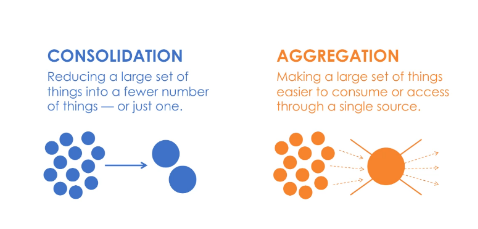 "There is tremendous consolidation at the bottom of this spectrum with those cloud platforms, where four companies hold the majority of the market share," reports Scott
"At the top of the spectrum, however, there are millions of custom-built apps and websites.As we go up this spectrum, diversity increases, with each layer building on the ones below.
Cloud, API, and app platforms all enable developers to build on, extend, or integrate with their services. This makes it easier for more apps to be created, "standing on the shoulders of giants" below."
However, "technology is only as advanced as the person operating it", says Frans. In fact, he says the Hype Cycle can even be applied on a small, single-business scale. People get excited about a Ferrari, but what they really need is a Volkswagen. Marketers have to understand the real value of technology - and this is where Marketing Operations come in. We need to equip these individuals with the right technology, to amplify their skills, and make sure they are equipped to use this technology.
Marketing ops and marketing technology have grown together. But Europe is flagging behind the USA. Instead, European companies are likely to have a number of roles performing similar jobs, but under disjointed names and teams.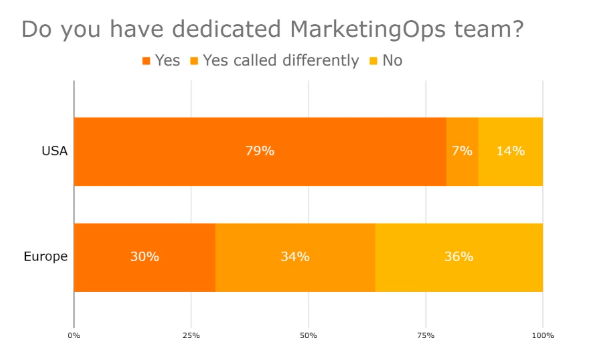 "Our advice to individuals is to take agency over your own learning and development. That means doing courses and it also means taking advantage of opportunities to learn in your day to day work. Build time and space to ask colleagues to share their knowledge. You can grow your capability by supporting senior colleagues to solve problems," continues Sean.
"This will create demand for leaders to promote rather than having to ask for promotion. You can also seek opportunities to work in cross-functional teams. After all, you may not need to master new domains. You might just need to know enough to collaborate with colleagues from other teams and departments. For marketers that means collaboration with colleagues who add value to the marketing function but who may not identify themselves as marketers (IT, data, customer service etc.)."
Marketing Operations are known for its ability to orchestrate technology, processes, and data, which all underpin marketing activities.
This has also been seen across a number of teams, in terms of digital orchestration, which has resulted in the building of
domain-specific operation teams
, such as data ops, and product ops. So, this is the blossoming of Big Ops, a natural successor to Big Data.
But by leveraging aggregation tech in the broader business tech stack, the pair say that these different ops functions are becoming increasingly interconnected.
The pair also note that we're using more SaaS apps than ever. Latest estimates from Gartner suggest that worldwide spend on SaaS will grow 18% this year, from $145B in 2021, to $172B in 2022.
"

Martech is simply one category of SaaS in which this phenomenon

is happening

—

albeit a relatively large one.

The same pattern holds

across salestech, fintech, devops stacks, and so on."
Using our research from the
CX report,
Scott and Frans reveal that martech stacks often include custom developed software.
In fact, we reported last year
that 54.5% of customer/marketing data platforms
—
a foundational layer of martech stacks
—
were
either custom
-
developed or incorporated custom
development with a commercially packaged app.
"The classic build vs. buy question is increasingly answered as "both""

The growth of low-code/no-code products is also accelerating the development of both commercial specialist apps and custom apps.
So, it's clear that the industry has changed in a number of different ways. Okay, that might be an understatement. As our Head of Content Graham says:
Our 2022 Martech Report found that the global market for marketing technology is £344.8bn. It's continuing to grow, with makeovers increasing their tech budgets. The new martech landscape, now with 49 vendors, underlines this growth, and the fact that martech is now essentially for any modern marketer.