At LXA, we've just launched our 2023 Predictions for Martech, Salestech and Nexttech report, with contributions from Joe Pulizzi, Christine Bailey, Guy Kawasaki and more.
Here, we round up some predictions from Forrester, Forbes, Gartner and others.
1. Metaverse hype will meet market uncertainty
The metaverse has made some progress, with adoption by various brands, and tech giants investing big money into metaverse platforms.

However, it's yet to capture the public imagination, and wider-scale adoption is unlikely to happen in 2023. According to Forrester VP, Research Director Mike Proulx, it needs a 'Pokemon Go moment' to drive wider understanding and adoption.

The potential remains for brands to create exciting hybrid physical-digital experiences, but with economic instability resulting in slashed innovation budgets, brands are unlikely to take such risks in the coming year.
2. Adoption of automation will slow in 2023
Budgets for automation will switch to known issues and risks away from more ambitious transformation, as economic uncertainty places pressure on budgets.

Greg LeClaire, VP and Principal Analyst at Forrester predicts that this uncertainty 'will drive enterprises to shift 10% of their automation budgets from transformation to resilience'.
3. CX innovation will be hampered by talent shortages
The shortage of skills in the martech industry has been highlighted in our State of Martech 2023 report. According to CMOs, lack of staff and issues around knowledge of tech and data represent some of the biggest barriers to excellent CX.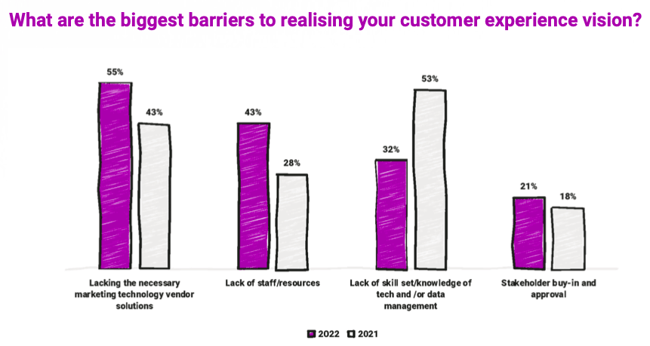 According to Forrester VP, Research Director Rick Parrish, 80% of CX teams will lack critical design, data and journey skills in 2023.
This in turn will lead to a divide between organisations with those skills and those that don't. Brands lacking the talent will be forced to concentrate on basic CX problems, while higher-performing organisations will be able to innovate around customer experience.
4. The game-changing potential of generative AI
Generative AI brings the use of AI into a new area of marketing. It offers the potential to create new content from scratch, whether this is text, images or video content.
Scott Brinker sees generative AI as one of the key trends for marketers in 2023, and as a potential game-changer for marketing in the coming years.
Scott Brinker, Editor, chiefmartec.com:
"Generative AI is the trend that has the most exponential disruptive possibility ahead. It has caught a lot of people by surprise about how quickly it has become impactful. I think it's going to be really hard to predict how generative AI is going to change marketing and the wider world but it's going to change it in some really big ways."
The interest in generative AI is reflected in the interest shown in tech startups in this space. For example, AI content platform Jasper raised $125m in a Series A round which valued the company at $1.5 bn.


5. Consumer data management will be a priority investment
Forbes predicts continued investment into data management will be a key priority for 2023, regardless of any economic trends.

In practice this means investing in up-to-date technology such as customer data platforms (CDPs) will increase in the coming year.
Our State of Martech 2023 report found that 49% of CMOs plan to add a CDP to their marketing stack in the next 12 months.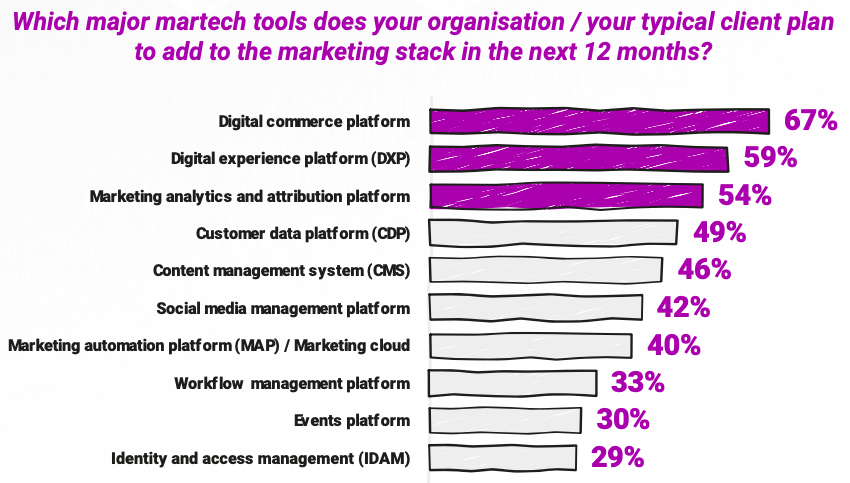 6. Growth of concerns about ethical AI
As marketers adopt AI more and more, concerns about ethical AI will come into focus. According to Gartner, 70% of CMOs will identify accountability for ethical AI in marketing among their top concerns by 2025.
There are possible legal implications to come around the use of AI, and the prospect of government legislation to set guidelines around the use of AI in marketing, and more generally.
Marketers need to be aware of ethical AI issues such as algorithmic discrimination, data privacy, disclosure, explanation and consent.
7. Monitoring of fake content will become essential
2022 Marketing Predictions
So, onto this year - 2022. Yep, it's that time once again when all the leading names and organisations in the biz dust off their crystal balls and peer into the wondrous trends and opportunities the new year has in store for us mere marketing mortals.
Will it be 'I predict a riot' or more 'I predict a...quiet'? Will it be chaos, or calm? Creativity or calamity? Well, let's find out, together.
Prediction Number One: The Issue of Privacy Will Persist
Chatting to some of the most influential CMOs in the space, Forbes put together a list of the biggest predictions for the year.
And what was the most prevalent concern? Well, it's that 2022 is going to be all about privacy.
"Years of breaches, unwanted sharing, and greedy grabbing of all zero, first, second, and third-party data that companies can get their hands on have made people angry, confused, and suspicious," says author of the piece, John Koetsier.
Big companies have lost consumer trust. Data breaches and hacks, and over-personalised advertisements, have left the relationship between company and consumer damaged.
So, what's the solution? Well, the first step is investing in the space.
John asked his interviewees their thoughts, and how they mean to shift focus into privacy-first marketing. In particular, Pat McLean of Walgreens reported the importance of first-party data:
"Marketers must be prepared to invest and get the right tech in place to develop its first party data," Walgreens CMO Pat McLean told John.
"This is exactly how Walgreens has differentiated in marketing via our mass personalization strategy and myWalgreens platform as we know this is core to our future growth."
Mateusz Jedrocha of RTB House put the focus onto contextual targeting:
"As we head towards more privacy-focused advertising, contextual targeting has become one of the main viable ways to reach a target audience,"
And thanks to technological advancements, the solution has become much more scalable … the key to success will be how well these contextual tools are integrated within the entire programmatic ecosystem."
So, the use of this 'old' form of marketing might see a resurgence, filling a gap that third-party data is leaving behind. But old doesn't equal more work; connecting new technologies to old techniques makes for an effective double act.
Jas Ahulwalia, Senior Account Director at Xandr, believes the replacement could actually be hugely beneficial for advertisers:
"Contextual targeting can recognise signals within the bid request that lead to improved performance without requiring any user tracking, and it does this without detracting from the final results too.
This is a very positive development for advertisers looking to continue to find and reach the right audience for their message, in environments they are actively engaged in, while respecting and upholding consumer privacy standards."
"…As such, contextual targeting will be a driving force behind creating a stable balance between performance and engagement, as we work towards a more transparent and privacy-first landscape in 2022 and beyond"
But one thing's for sure: marketers will continue running away from third-party cookies at a rapid pace.
Seb Tomich, SVP and global head of advertising at The New York Times agrees, acknowledging the importance of tech (in particular machine learning) in the transition:
"First party took centre stage this year with the looming death of the third-party cookie. Although we are still waiting for a resolution, The Times has been building first-party products and set our own deadline of 2021 to eliminate third-party targeting.
It is so important that there will be more solutions to help mitigate this shift. But at The Times, we are strictly first-party and leveraging our expanding readership to fuel our platform. The more our readership grows, the more impressive our machine learning becomes.
When we look to 2022, all eyes will be on the economy. A healthy economy is a healthy ad business."
John Hamilton, CEO of TVDataNow also hints towards the importance of a new tech and software in delivering insights , whilst dealing with the privacy/personalisation balancing act:
"Large publishers, platforms and DSPs want better control over privacy and security while still being able to measure the effectiveness of advertising.
Clean rooms, software that enables companies to match user-level information without sharing raw data, have been a huge topic of discussion in digital media."
Prediction Number Two: Marketers Need to Learn to Tell a Story
Okay, okay, this is not technically a piece of tech. But it is facilitated by tech. It's the need for story-telling to engage customers, and build a brand. This could be in audio or visual formats. Though a lot of emphasis is place on video, iHeartMedia's CMO Gayle Troberman suggests that podcasting and audio should not be underestimated this year:
"Consumers now spend one-third of their media time with audio … audio is now the most accessible medium," she says.
"And marketers are waking up to the massive potential of audio to deliver highly engaged, targetable audiences at scale."
It's not just about a nice, branded video. It's not just about a very snappy social media post. Oh no.
Instead, consumers across the globe are being pulled towards Chinese-style home-shopping live-streaming video sales. This means a focus on live-shopping influencers, social engagement, and community building. Even giants like Amazon are taking advantage of this new trend.
"Brands who have jumped on the live shopping bandwagon are 3X'ing their sales goals during these live streaming events in addition to increasing their social engagements and follower counts," says Jena Joyce, founder and CEO of Plant Mother.
"Social shopping is coming to all platforms: Facebook, Instagram, TikTok, Pinterest … Instagram shopping is becoming a profitable alternative to paid ads."
Prediction number Three: The Continued Momentum of No-code/Low-code
Already going into this year, 33% of marketing teams say they use no-code/low-code tools regularly. But the accessibility of this tech could change the way we work in 2022.
With one third of marketing leaders saying that "inflexible and non-user friendly tools" are holding their teams back from reaching their efficiency potential. So, it's all about MGTOW (marketers going their own way).
In fact, Gartner estimates that, in two years time, 80% of tech products will be built by people who aren't tech professionals, ushering in the era of the "citizen developer". This is a set of employees who create internal apps, and don't belong to the IT department.
No-code/low-code tools mean that marketers can work on the tools they need, and use, everyday. So, this means more customisation and more control, as well as faster development and workflows. Marketers know specifically what will make their jobs easier, and these new tools will help them to directly build the tech they need.
Prediction Number Four: Changes in The Workplace
Now, this involves a few different predictions, all wrapped up into one neat parcel.
Martech series believes that the demand for Big Data Analytics roles will increase during 2022. In fact, 96% of companies are already planning or likely to plan to hire new staff with relevant skills to fill future big data analytics related roles in 2022.
Plus, the demand for digitally-skilled employees will continue to grow. Specifically, with abilities relating to data science, cloud computing, AI and ML, and blockchain.
This is something that Sekhar Garisa, CEO of Monster.com is considering:
"The year 2021 was definitely a year of recovery. As we step into the new year, we are optimistic about paving the way for better employment opportunities in 2022. The future of work is location-agnostic and hybrid, with increased skilling initiatives being undertaken by both employers and employees.
Further, leading tech-enabled industries such as IT, FinTech, BFSI, and crypto will continue to flourish with talent demand spikes. It is also interesting to note that employee flexibility would be critical towards retaining talent in the future, and the Great Shuffle is a reinforcement of how the huge demand in the jobs market is opening the door for employees to select a career of their choice."
Prediction Number Five: Social Media and e-Commerce will Combine.
Doug Huntington, CEO and Co-Founder of FatTail believes there will be social and e-commerce competition:
"Social media continues to grow and multiply. As an increasing percentage of buying decisions are made on social platforms, their commerce capabilities are getting stronger. Consumers who cut their teeth buying on Amazon now expect to be able to buy anything, anywhere at any time.
Suppliers in pursuit of less cluttered distribution channels are being drawn to social commerce and its corollary benefits: enhanced engagement and precision targeting. E-commerce platforms, seeing the writing on the wall, will begin mounting competitive responses including increased M&A activity."
Prediction Number Six: Cloud Use will Increase, and Costs Will Fall
Already, the costs to deploy cloud solutions are falling. This, combined with the massive scalability of data processing in the cloud, will mean it is an accessible game-changer for marketers. Cloud will be another skill employers will be looking for in potential employees, thanks to its ability to offer core toolsets and tech that are native to the platforms, and speed up processes and solutions.
This is what Chad Engelgau, CEO of Acxiom predicts. He elaborates:
"As brands flock to the cloud to upgrade legacy solutions, it feeds the "everyone is doing it" mentality. The cloud ecosystem is booming, which makes the right choice difficult.
Large brands with complex use cases are likely to use multiple clouds, but that means charges can pile up fast. Talent is another challenge, as most companies don't have the skills to build new solutions or to migrate existing ones. Concerns about data leakage and being locked into a single cloud platform are also likely to persist."
Prediction Number Seven: Employee Advocacy Programmes.
According to Gartner, 2022 will see an increase in employee advocacy driving brand credibility, with 90% of B2B social media marketing strategies incorporating scaled employee advocacy programmes by 2023.
"Employee advocacy programs achieve higher reach and engagement than more conventional approaches to earned and owned social media.
They also bring secondary benefits beyond customer acquisition, such as increased employee engagement and productivity, and improved reputation."
This offers the opportunity to strengthen strategies aimed at building brand recognition and trust. This can involve providing team members with a stream of content to share with their social networks.
Prediction Number Eight: Virtual Influencers
Another prediction from Gartner. They predict that virtual influencers will disrupt celebrity-led programmes with the promise of greater control. This means that, by 2026, CMOs will dedicate 30% of their influencer and celeb budgets to virtual influencers.
In fact, we already see that a growing share of the $14B influencer marketer spend is currently going towards virtual influencers. These CGI-created social media figures are gaining popularity across the globe, and have represented many brands, from luxury fashion brands, to car companies, to fast food joints.
These computer-generated influencers could be worth millions in brand endorsements, and offer companies more control over messaging, at lower costs. There's also a lower risk of 'cancellation', scandals, or separation from the company.
Prediction Number Nine: The Connected Metaverse
2021 saw Facebook parent company Meta jump headfirst into the Metaverse.
Recently, companies have been taking huge steps, both overt and covert, into creating metaverse infrastructure. And with the martech landscape ramping up, and changing rapidly, it's not impossible that the two spaces will quickly overlap. In fact, we at MarTech Alliance found that AR/VR/ER is currently used by 46% of respondents, with more planning to use these technologies in the next 12 months.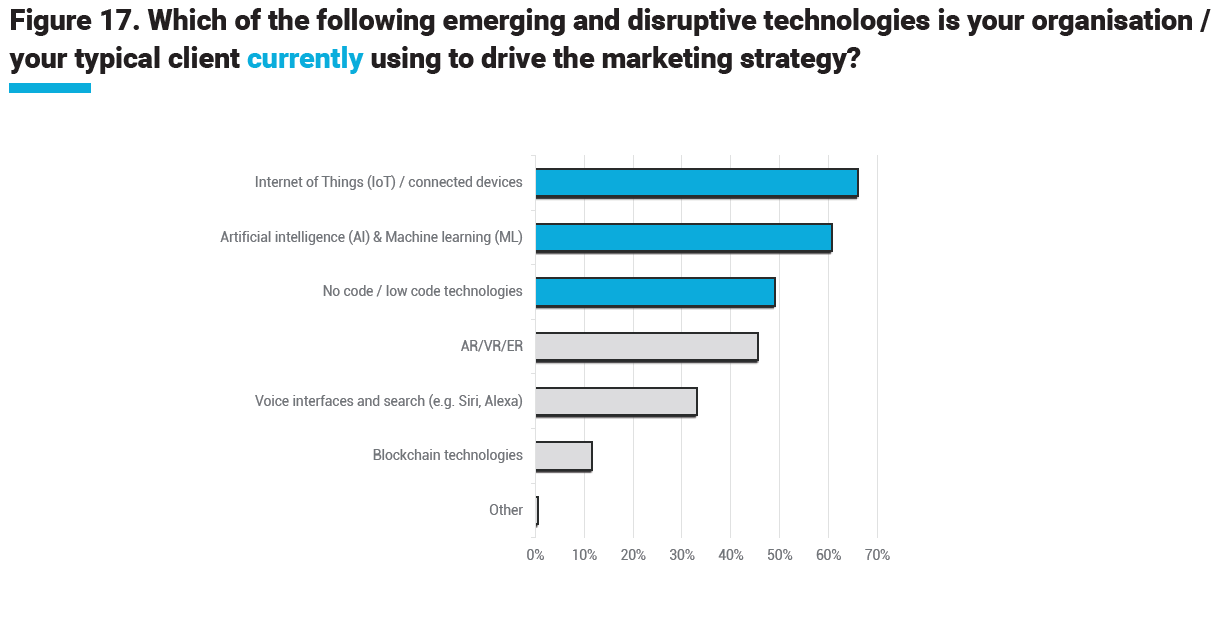 With giants like Facebook and Microsoft introducing metaverse elements into the fabric of their business models, it's not a concept that can be no longer ignored.
But Chris Wood of Martech.org suggests it may be a case of repeating old habits.
"Marketers who were well aware of the skyrocketing advertising rates on Facebook (Meta's flagship social network) could see history repeating itself, as bricks were being laid for another walled garden, a virtual one which, instead of "metaverse," could be more accurately described as a "Zuckerverse" after Facebook founder Mark Zuckerberg."
So, what's the solution? Well, this is where the idea of the connected metaverse comes in. Tony Zhao, Co-Founder and CEO of video developer platform Agora, predicts the space looking something like this:
"The way current metaverses are set up isolates each on their own digital island.
But next year, real-time engagement technology will enable connectivity between metaverses and create a more connected and engaging experience for users. It will also reduce the barrier to entry by simplifying access to the metaverse to something as ubiquitous as a web browser."
…But what were last year's predictions? Did any of them come true? How did the universe begin? All your questions answered, below! Well, maybe not the last one, unless the centre of your universe is marketing.
Gartner's Top Marketing Predictions for 2021
Gartner was one of the first to take the plunge and declare their predictions for the marketing world to witness.
Gartner sees their 2021 predictions in the form of six short stories, here are our top 3 to keep an eye on:
Be Here Now
Gartner's first prediction: "By 2023, 60% of companies that pivoted to virtual events will incorporate real-time or real-space experience into their virtual events."
Over the course of 2021, 55% of marketers have adapted their in-person events to a virtual version. But despite such rapid growth, the majority of consumers have said that the virtual alternatives are still no substitute for the real deal.
This could mean that the race is on for virtual events to formulate the perfect interactive experience. And if the recent funding that has being injected into this space is anything to go by, the race may well have already begun.
Blend, Don't Break
Gartner's next prediction: "By 2025, consumers' omnichannel behaviour will drive 60% of B2C brands towards a functional, rather than a channel-based organisational structure."
So, what implications can we expect? According to Gartner, channel-centric organisational and financial models perpetuate silos. Not only this, but KPIs that focus on a single channel ignore the halo effect of omnichannel experiences.
Employee Unrest
36% of employees have spoken out against their employers in the past year and as a result, 44% of consumers say that when they see an employee speaking out, it changes their perception of that company. This makes the consumers question the company values so much, that as high as 80% will re-think their purchase.
Gartner predicts that: "By 2022, one-third of crisis communication budget will be used to respond to employee activism."
2021 could be the year for businesses to re-establish their core values, both internally and externally.
Read about all 6 short stories from Gartner's 2021 Marketing Predictions here.
Scott Brinker's Martech Predictions for the Decade to Come
Not even the God father of martech, Scott Brinker could have seen 2020's explosive rate of digital transformation coming. In fact, Brinker had to amend his famous Martec's Law illustration between tech change and organisational change as the rate of change exploded beyond everyone's expectations.
But that's not stopped ChiefMartec from predicting martech trends not just for 2021, but for the decade to come. Here are our top 3 trends to look out for…
No Code Citizen Creators
We are currently seeing a rise is no code martech tools, and Brinker predicts the demand to soar. No code tools not only offer the advantage of speed of production, but they also open opportunities for diverse ideas to explore so creativity can explode.
As Chris Wanstrath, CEO of GitHub wisely said, "the future of coding is no coding at all."
From Big Data to Big Ops
There's a little saying that goes 'data is the new oil' well, Brinker prefers 'data is the new oil paint'. It's not just about collecting your data, the value comes with how you use it.
Last decade was the decade of big data, this decade will be the decade of big ops. It's what we do with our data that matters.
Harmonising Human and Machine
Computer intelligence and machine learning is on the rise, but is machine about to become man's new best friend?
Brinker predicts that the advances in machine intelligence will take care of the manual maintenance tasks freeing up our time to do the work that only humans can do. This means that we'll have more time to be empowered with creativity, collaborate with colleagues and customers and be able to commit more time to innovation.
So rest assured, an IRobot style takeover isn't in the cards just yet.
Read more about Scott Brinker's Martech Predictions for the Decade to Come here.
Forrester's Predictions 2021: Strong CMOs Will Own Their Companies' Regrowth
Forrester takes the role of the realist in our 2021 predictions line up as they come equipped with caution, stating CMOs should brace themselves heading into the new year.
They expect to see an obvious separation of CMOs who are "leaders" – those who have recognised that 2020 launched a new chapter for the way commerce works – from CMOs who are "outdated" – those content to continue running promotions, sales support, or media-buying teams.
Forrester warns: "Companies without a CMO leader won't survive."
In light of this, Forrester expects to see:
Hacked Business Models
A lot has changed in 2020, and your customers priorities are no exception. According to Forrester, businesses who refuse to adapt won't last without reshaping delivery and revenue models to accommodate their customers new needs.
Diverse Marketing Teams
In 2021, Forrester predicts that CMO leaders will nurture diverse teams focusing on building belonging not filling a quota.
In fact, Forrester states that workplace belonging leads to a 56% increase in job performance and a 50% reduction in turnover risk.
An Emphasis on Retention
If you think marketing is only about acquisition, you're wrong. CMO leaders will sustain and grow their businesses by focusing their strategies on retention as much as acquisition. By blending marketing and customer experience teams, CMO leaders might find the key to increasing their CLV ( customer lifetime value).
Read more of Forrester's 2021 Predictions here.
Deloitte's 2021 Global Marketing Trends
In 2020 we entered a new world, now we've entered a new year faced with new consumers with new needs.
With this in mind, Deloitte conducted two surveys of 2,447 global customers and 405 US C-suite execs from global companies to better understand how consumers and executives are responding to their new environments.
The data collected by these surveys have been used to fuel each of Deloitte's 7 chapters into 2021 Global Marketing Trends. Here are our top 3 to watch…
Purpose
Purpose-driven organisations know why they exist and who they're built to serve. These are the organisations who are uniquely positioned to navigate through unprecedented change.
In Deloitte's survey of 2,447 global consumers, 79% of respondents recalled instances of brands positively responding to COVID-19 to help their customers, workforces, and communities. Not only are purpose-driven organisations attracting more attention, but also sparking consumer action.
Agility
Deloitte predicts a change in the playbook of Agile marketing. The pandemic has enforced rapid changes in consumer behaviour as the majority of us have been forced away from brick-and-mortar stores and towards digital channels.
According to Deloitte, the time is just right for marketers to leverage relevant digital tools and design an organisational road map to make agile marketing a reality.
The Human Experience
If there's one thing that COVID-19 has thought us, it's how much we all value human connection. And for some organisations, the more efficient but less human-centric solutions proved insufficient at a time when technology became the primary source of human connection.
In 2021, Deloitte predict the importance of human experience being highlighted and executives having to strike a balance between the organisational need for efficiency and people's universal need for human connection.
Read Deloitte's full research article and all seven chapters of their Global Marketing Trends in 2021 here.
Adweek's Marketing Trends to Expect in 2021
Adweek have been another to brave the marketing trend predictions after a year that no one saw coming. Despite the pandemic still leaving a trail of uncertain breadcrumbs in its wake, Adweek have started fitting their pieces of the puzzle together to give us an inkling for what could be in the cookie-less, post-pandemic pipeline.
The Cookie-less Future
By early 2022 Google will stop supporting third-party cookies. This is going to have a significant impact for marketers effecting how online ads are targeted and tracked.
The new year will be the final count down to the cookie-less world and marketers had better use this time wisely to prepare their first-party alternatives.
Ad Spend Following Shoppers
The spike in ecommerce and a related impact on advertising budget allocations over the course of 2020 are both projected to continue into the new year, according to Adweek.
According to eMarketer, advertising on ecommerce platforms jumped 39% in 2020 and will grow another 30% in 2021, capturing 13% of total U.S. digital ad spend.
Increased Action on Social Issues
In 2020 we saw consumers putting the pressure on brands to shine a spotlight and take a stand on social issues. Gen Z have been the driving force to taking this stand across generations, and as more of this age range enter the workplace in the coming years, their voice on social issues will continue to get louder as both consumers and employees.
Adweek sees brand marketers feeling both compelled and inspired to demonstrate a corporate stand on social issues in 2021 and hopefully, beyond.
Read more of Adweek's 2021 Predictions here.
David Raab's Marketing Technology Predictions
David Raab also took a stab at the technology trend predictions for 2021. Here's what he sees in the hands of 2021…
Data will Become More Accessible
"Data-driven" marketers are old news. The accelerated rate of digital transformation that has been pushed forward by the pandemic has made data more available alongside the tools that have been provided to use it.
Although internal data is still at the focus of most integration efforts, David says, access to external data is also growing, as more privacy rules are rolled out.
Artificial Intelligence Will Become Ubiquitous
AI will continue to grow all around us and continue to develop its capabilities. Raab's headline story here is that AI will be taking on more "creative" tasks such as content creation and design. Another contributing factor to the growth of AI may be that human interactions are shifting to digital channels as they have been forced to do so in the midst of a global pandemic.
No Code will Continue to Grow
Up there on the buzzword podium along with 'AI' this year is 'no code'. By automating complex process and not having to rely on highly trained IT professionals, our productivity and outputs can continue to rise.
Although David does identify the downside as potential loss of quality control and integration. David suggests a more realistic view could be to recognise AI as a key enabling technology inside any no code systems. This way, as the internal AI learns, no code will take on increasingly complex tasks.
Read more of David's 2021 predictions here.
2021 Predictions with Scott Galloway
As Eisenhower once said, "Plans are worthless, but planning is indispensable." Prof G once said, "Predictions are useless, but scenario planning in invaluable."
So, without any further ado, let's see what made Galloway's list of 2021 predictions…
Dispersion of HQ
Galloway sees a coworking renaissance on the horizon and predicts that Airbnb will be bigger than the top 5 hotel chains combined, hitting $200 per share.
He also foresees Restoration Hardware becoming a $1,000 stock and Sonos reaching $40 per share.
Dispersion of Media
In the media-sphere, Galloway predicts a 30% rise in Disney stock on move to a rundle, AT&T stock hitting a $40 per share and/or divests HBO and/or CNN.
Acquisitions, Acquisitions and Acquisitions
Scott sees several acquisitions in the cards for 2021, across a wide range of industries:
In the Dispersion of Retail, Scott sees big acquisitions by Shopify and Zoom.

Podcast features and a flurry of acquisitions are predicted within the Dispersion of Creativity.

Within the Dispersion of Healthcare, Scott sees Walmart as the new kid on the block, entering via acquisition.

And in the Dispersion of HQ – Scott predicts the acquisition of the year: Apple acquires Peloton. *Mic drop.*
See more of Prof G's 2021 Predictions here.
And Galloway doesn't stop there, Scott continues to discuss how the year 2020 has not been a change agent as much as an accelerant of trends that were already on the rise in the release of his new book: Post Corona (which features in our Top Marketing Books of 2021 - check it out.)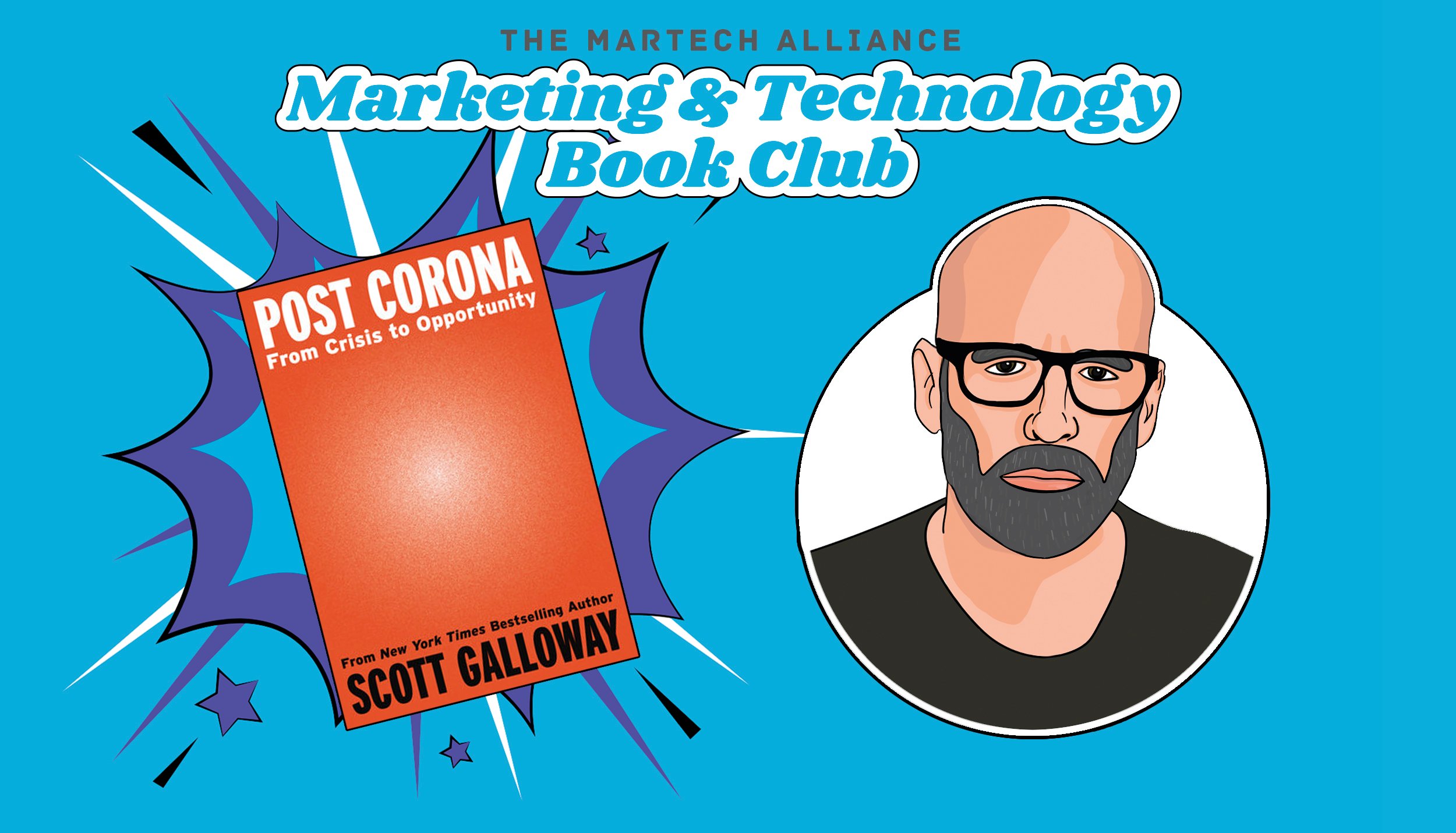 Not got your fill of predictions? Check out our own MarTech Predictions for the year 2021 and beyond.
If you missed the live web sesh, don't sweat. Catch our fine, fortune-telling team; Moni Oolyde, Alex de Fursac Gash and with our very own, Carlos Doughty at your place, on your time. Watch the web sesh on demand here.
(A round up of last year's martech predictions we covered can be found below - Published January 2020)
Let's take a glimpse back at the predictions by some of the best in the biz as we entered 2020. Spoiler: No one spotted the pandemic.
So, the crystal ball was a little cloudy when it came to predicting global disruption in the form of an air born virus, but there were a few foresights that got some spidey senses tingling…
2020 MarTech Predictions
It's not just the start of a shiny, fresh new year but a whole decade.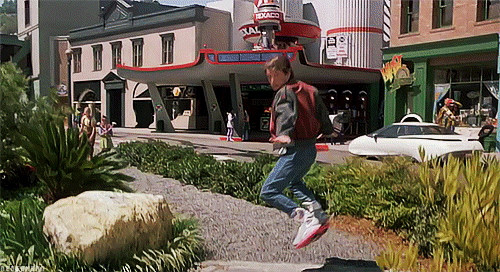 So, there's nothing we like more at MarTech Alliance than to hit up some of martech's finest to find out what they reckon are going to be the hot trends in the months and years to come.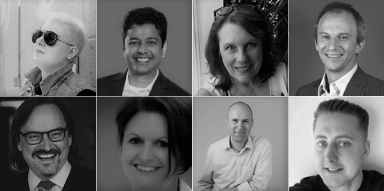 As you might expect in a sector that's as fast-moving as MarTech (remember godfather of MarTech, Scott Brinker's MarTech Landscape went from about 150 suppliers in 2011 to more than 7,000 vendors by 2019), when we asked 'what do you think are going to be the biggest trends for 2020 and beyond', we got a huge range of responses.
So that it doesn't take you til 2021 to discover what our experts said, we've distilled the top 5 findings so you know what to look out for and whether or not to leap aboard that particular bandwagon. And, after a year of ever-expanding suppliers with a sometimes baffling array of solutions, it's probably no surprise that trend number one is all about decluttering your stack…


Getting back to basics
In the race for adoption, the entry point for a sizeable chunk of Brinker's 7,000-plus MarTech solutions has been pretty frictionless – API-based, plug-and-play and free to start using, or as near as. Inevitably, that has led to a great deal of tech sloshing around in organisations, some without a purpose, some without an understanding – a great deal of it surplus to requirements. Experts expect 2020 to be the year of cleaning house and getting those proverbial ducks in a row.

"In 2020, watching the companies managing their stacks on our platform, we see continued momentum around getting the MarTech fundamentals right. Companies are rapidly moving to centralized oversight of their marketing technology and marketing is bringing IT back into the fold to help with security reviews and data integration," says Anita Brearton, Founder/CEO, CabinetM.

Sara McNamara, Senior Marketing Operations Manager, Cloudera agrees and feels marketing operations is going to take charge with renewed vigour: "What used to be one person within an organization is growing to entire teams in the enterprise and smaller teams in SMB and mid-size companies. I also see more and more agencies being brought into the fold, to help keep things afloat as internal talent comes and goes."

She predicts: "With more expensive toys comes more focus on talent to administer them, so I anticipate the demand for marketing technologists to grow exponentially as these purchases take place."
No such thing as a free (data) crunch
If MarTech 2019 was all about the Freemium model of onboarding tech, then it looks like MarTech 2020 will be the year of 'you get what you pay for':

"There is an increasing appetite for paid analytics technology, driven mainly by a realization that data and statistics available from free providers cannot offer the same level of actionable insights as paid-for solutions," predicts Dr. Christine Bailey, Chief Marketing Officer, Valitor.
Adtech v MarTech – a fight to the death?
Adtech garnered the lion's share of column inches across the 2010s, latterly not always for the right reasons as privacy and user experience issues abounded. The need for a cohesive strategy across data, communications and customer journey is becoming more apparent and the more joined up MarTech-led approach looks set to dominate:

"2020 Will be the year where adtech takes a huge, probably crippling, hit and martech swallows up everything in its path. You will start to see tech vendor businesses really bolster their martech capabilities and selling into the marketing groups. This will be driven by data and privacy including CCPA and GDPR," claims Robert Rose, Chief strategy officer, Content Marketing Institute / Chief troublemaker, Content Marketing Advisory.

But Adtech isn't dead it will just change, as Rose adds: "Adtech will start to reposition itself, using privacy first party data and the idea of more internally focused features and benefits which will make it start looking more like MarTech."
Stop targeting and start communicating
Since the Millennium, tech has undoubtedly revolutionised how close marketers have been able to get to the consumer. Whether the consumer wanted them to or not. MarTech has often meant that brands sometimes just didn't know when to back off. Figuring out if and when customers want brands to slide into their DMs will be a Twenties tipping point, according to Frans Riemersma, Founder, MarTech Tribe:

"In the third [decade], we'll see the breakthrough of advanced Journey Orchestration: integrated real-time listening, analyzing and messaging. We'll finally enter a phase where brands' messaging reaches the same level of trust and authenticity as friends' referrals. Content creation will be driven by personality & empathy techniques such as OCEAN and Myers Briggs, where possible supercharged with AI and ML. We'll not only humanise Martech, but brands as a whole."
2020's top MarTech trend – won't be about tech at all!
MarTech innovations are going to keep on coming. There are always going to be new solutions to problems marketers didn't know they had. The real skill is going to be in learning how to adapt and assimilate all that new tech into the very human process of selling stuff. For that to happen, marketers are going to have to learn how to upgrade a pretty critical piece of kit – themselves.

Dr Bailey warns: "Every marketer should aim to become more data competent. It is no longer something that can be left to the data scientists; data has become democratized and permeates every aspect of the marketing role."

Decisiveness is going to be key, according to Anand Thaker, Martech Industry Expert and Growth Advisor. Never easy when there are more than 7,000 options to choose from: "Marketers have enhanced automation, data, and analytics to navigate the complex marketplace. Together with seasoned experience, marketing leaders with highly collaborative teams making smarter decisions are critical to brands. AI-enablement and empowerment will magnify you and your team's strengths."
Rockstar CMO Editor Ian Truscott adds: "Perhaps, as we enter a new decade it's time for marketers to step back from all that is shiny and take a fresh look at their goals, what they actually need to achieve them."

And equally a time to rethink work environments: "What will be interesting to see is if, due to the scarcity of available seasoned talent, companies that are more traditional will open up remote positions to secure the best talent. The vast majority of Pardot and Marketo Champions that I know are keen to work remotely and view required onsite work as a chore, as seen in my late 2019 Marketing Operations Compensation Survey results," McNamara reveals.

Brearton adds: "I'd like to see 2020 become the year of the MarTech professional (and all equivalent titles). To realize the true value of all of the innovative technology available requires training and skills to ensure that systems are fully utilized. I'm hoping that companies will carve out budget for training and invest in their MarTech teams."
MarTech Alliance, CEO & founder, Carlos Doughty, concurs: "2020 will be the year there is an spike in enterprises restructuring their marketing teams to double down on martech. I'm already seeing this where organisations recognise they have gaps in marketing tech knowledge and experience that they either need to up-skill their teams in or introduce new hires. This shouldn't mean all martech and data thinking though, the timeless marketing fundamentals will remain as important as ever, from people to planning".