We're going to start this article with possibly the most overstated and under rated statement of 2020 (and no, it's not "you're on mute") but, "it's been a difficult year." It's been difficult to prepare, endure and predict anything in the path of 2020 and the near future due to the unpredictable nature of the global pandemic. But that's not stood in Gartner's way of rounding up their Top Marketing Predictions for 2021 and Beyond…
Gartner sees their 2021 predictions in the form of six short stories, enticingly titled:
Be Here Now
Blend, Don't Break
Sign Me Up!
Tearing Down the Walls
Employee Unrest
More Adult Supervision
Let's begin with chapter 1…
Be Here Now
Over the course of 2021, 55% of marketers have adapted their in-person events to a virtual version while 48% of consumers have increased their use of video conferencing as a means to stay connected with friends and family.
Despite such rapid growth and high statistics, the majority of consumers have said that the virtual alternatives are no substitute for the real deal. While the experiences just don't compare, they might still be sticking around for a while yet. So, what do we do?
Gartner's first prediction: "By 2023, 60% of companies that pivoted to virtual events will incorporate real-time or real-space experience into their virtual events."
Now we're not here to rain on anyone's parade, yes the future is beginning to look bright, but it's not yet sparkling. Pandemic-related restrictions are likely to stick around and will extend our reliance on virtual events. But we know you're no stranger to Zoom-fatigue as digital falls short of real-life experiences. But, what can we do about it?
Gartner suggests the CMO Imperative should be to redeploy cost-savings from in-person event marketing to enhance virtual events and enhance digital experiences with elements of real-life, such as live streaming and shared experiences. We're yet to see the full potential of what virtual events can be. So far, we've just dipped a toe in the water.
Some event companies such as Hopin and Bizzabo are already making their moves to improve virtual events. With substantial recent funding under their belts with both funding rounds totalling over $100 million, the event platforms plan to use their new cash injections on developing new features for their virtual event platforms, alongside heading towards a hybrid future.
Blend, Don't Break
Let's start our second story with some more stats. 50% of consumers have increased their frequency of online shopping, however, 33% of consumers have said that they miss experiencing products in person. Similar to the suggestions of the event statistics, people don't plan on abandoning in-person experience when the Pandemic has gone for good.
Interestingly, 19% of marketing organisations organise their alignment by channel, whether that be online or in person and 27% organise their alignment by function, whether that be operations, creative or commerce - regardless of physical or digital. Gartner suggests that sorting by function can break down silos. By thinking of the needs of the customer, it will enable greater consistency and connectivity.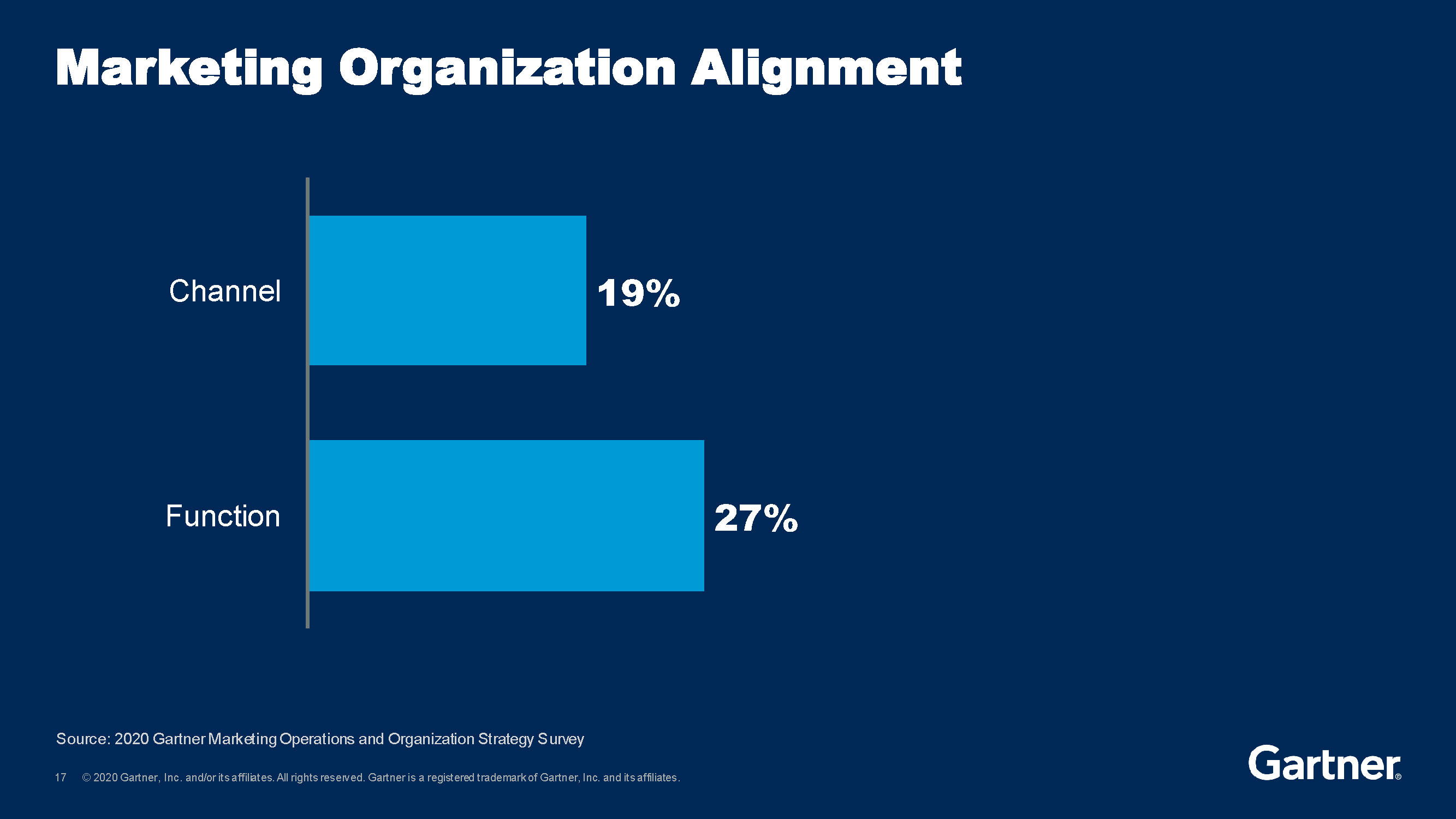 Which brings us to our second prediction: "By 2025, consumers' omnichannel behaviour will drive 60% of B2C brands towards a functional, rather than a channel-based organisational structure."
So, what implications can we expect? According to Gartner, channel-centric organisational and financial models perpetuate silos. Not only this, but KPIs that focus on a single channel ignore the halo effect of omnichannel experiences.
And as for our CMOs, Gartner suggests we use customer insight to generate ideas to reimagine physical spaces, to look across for indicators of the symbolic relationship and friction between channels and reorient teams and objectives around a customer-first, channel-agnostic strategy.
Sign Me Up!
Another trend Gartner reports from 2020, is that subscription offerings are expanding rapidly, and this has been accelerated by the pandemic. Whether that be meal prep kits, online streaming or beauty subscriptions.
In fact, Gartner found that 1 in 5 consumers have purchased a subscription box during Covid-19.
Gartner predicts: By 2025, 20% of B2C revenue will come from recurring revenue models, causing profound shifts in marketing strategies, spend and channels.
Before all the subscription brands out there decide to double the Christmas party budget, Gartner suggests that this growth in subscriptions will make it harder for brands to differentiate their offering and a heavy focus on sign-up offers will result in increasing the cost of acquiring new subscribers.
For our CMOs, Gartner suggests elevating subscriptions by coupling convenience and access, discovery and curation. Given the cost of acquisition, our CMOs should focus on lifetime value and retention, while managing churn.
Tearing Down the Walls
Our next story reports that 39% of Corporate Boards of Directors and CEOs are considering a complete digitally-driven transformation of their business model, while 27% of CEOs say multiple business functions are already being redefined, merging or cleaving.
Gartner's prediction: "By 2023, 25% of organisations will amalgamate Marketing, Sales and CX into a single function."
While marketing, Sales and CX functions have long been expected to collaborate, Covid-19 has intensified the demands on executives to work cross-functionally. This accelerated digitalisation amongst cost constraints requires nimble, streamlined operations.
Gartner advises our CMOs to share customer and market insights to inform a continuous experience and reduce redundancy. Use end-to-end customer journey maps to identify hand-offs and points of friction between functions and proactively identify duplicate workstreams.
Employee Unrest
Our next trend takes us back to the employees. Gartner has seen employees getting more comfortable speaking out about working conditions and turning to social media to express their views. Something Gartner calls, "Employee Activism."
36% of employees have spoken out against their employers in the past year and as a result, 44% of consumers say that when they see an employee speaking out, it changes their perception of that company. This makes the consumers question the company values so much, that as high as 80% will re-think their purchase.
Gartner predicts that: "By 2022, one-third of crisis communication budget will be used to respond to employee activism."
As growing unrest in the workplace is prompting employees to speak out about their conditions, Gartner warns that while companies may be tempted to silence these employees, it's easy for big brands in battle to be perceived as the bully. Gartner suggests instead, to partner with HR and Communications Leaders to address the negative concerns, prepare a response to customers' concerns about employees' comments and brand core values.
More Adult Supervision
Our final story centres around polarised content on social media, whether it be fake news or targeting misinformation.
This can be an issue for marketers in particular as the U.S. Internet Regulatory framework states: "No provider or user of an interactive computer shall be treated as the publisher or speaker of any information provided by another information content provider."
This leads us into our final prediction: "By 2024, 30% of large organisations will identify content moderation services for user-generated content as a C-Suite priority."
Large platforms enabling user generated content test business needs and brand values as content volatility on social networks has reached a fever pitch.
The difficulties to interpret this activity in the absence of definitive regulation and enforcement, alongside the complications surrounding freedom of speech, Gartner suggests CMOs to invest in tools to enable your online audience to flag offensive content and collaborate with industry peers to standardise content ratings to assess brand safety.
Key Takeaways
To summarise our 6 short stories into one happy ending, we'll leave you with these 3 top takeaways:
Redesign experiences to blend physical and digital
Reorient your organisation structure by aligning to shared business and customer goals
Re-establish your core values, both internally and externally
This year has been impossible to predict, hopefully Gartner's insights can provide us all with a little guidance on where to focus our efforts next year.