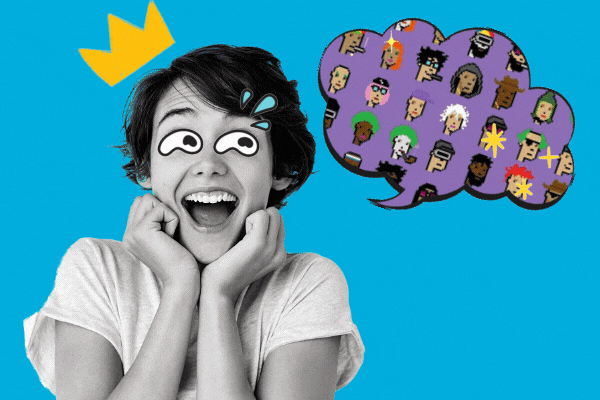 Got a spare pile of cash you were wondering what to do with? We got you with this non-exhaustive list of top NFTs you can invest in! Consider this the Argos Catalogue of NFTs.
Go through each one, circle it with a black marker pen, and give it back to mum just in time for next Christmas.
Want a weekly update on all things NFT, metaverse, AI and more? Well, you're in luck. Sign up for our NextTech newsletter, right here! 👈
It's been a couple of years now since the world went NFT-mad, putting bids on that random meme that lives in the recesses of your 15-year-old mind.
But now it's expanded waaaay beyond this, from online games to profile-picture specific pieces, to buying prestigious artwork that can never actually be hung on the wall to impress your hipster friends.
If you've just woken up from a coma and have no idea what I'm talking about: number one, congratulations, you're a fighter and your family is very proud of you, number two, be sure to check up on our WTF NFTs article. There's some other news stuff about the site, just to get you up to speed with the rest of the world too.
Hear more about the evolution of exciting tech in person, at October 21st's AntiConLX Global! Peer into the future through the lens of tech contrarian, innovation and transformation expert, Tom Goodwin, as he unpacks what every marketing department needs to pay close attention to - or ignore.
One NFT element we've been seeing a rise in is the popularity of NFTs with an extra added element i.e. a utility that takes them beyond a piece of digital artwork and makes the purchase an experience. This might be through multiple types of media, digital interaction, or even through a real-world event or add-on. A purchaser could receive a physical piece of art that matches their NFT, or a function in the gaming world. Basically, it's an NFT+.
Recently, as the shine of NFTs begins to wear off, we're seeing the rise of more interactive elements. Pay to Earn games such as Axie infinity have paved the way for competitors, a couple even making their way onto this list. Particularly, we're seeing horse racing emerge as a big market; all the old attractions of gambling and horse racing, with web 3.0 elements.
Fashion NFTs are also remaining strong. This might be in addition to a physical product, so it can be shown off online. This isn't too far away from how fashion would be utilised in the Metaverse.
Another example: "French Fashion" and "Haute Couture Federation" partnered up with the "Arianee" platform to create NFTs that could be exchanged in the 2022 men's fall/summer fashion week in Paris and other high fashion exhibitions.
These tokens allowed its users to view exclusive fashion; one of them from famed fashion digital artist Richard Haines.
So, how do you find the best NFTs to invest in? Well, you need to consider:
The Creator of the Collection. NFTs with a well-known creator tend to perform better than others, such as all collections released by Larva Labs, the developers of CrytoPunks.
The Price Point. The best NFTs are often listed at a reasonable price, to anticipate months and years after minting. NFTs that previously went for $1 can reach millions, highlighting the price potential if buyers invest early.
Additional Features. As we've mentioned, the best NFTs come with additional benefits beyond the artwork. From tickets to events to exclusive Discord groups with high-profile names, NFTs with additional features help to foster a community of like-minded people.
Celebrity Supporters. NFTs owned by celebs can develop a 'luxury' status, helping to boost their value. More and more celebrities are investing in NFTS, such as Eminem and Reese Witherspoon.
Without further ado, take a browse at the biggest and/or best NFTs to buy right now.
Want a weekly update on all things NFT, metaverse, AI and more? Well, you're in luck. Sign up for our NextTech newsletter, right here! 👈
Number One: Silks
This new NFT project is a blockchain-enabled metaverse which allows users to trade, own, and earn rewards from racing horses.
This collection is based on actual events, meaning that the in-game 'virtual horses' have a counterpart in the real world. This enables metaverse participants to benefit when the real-world horse performs well in races. Each horse has unique traits derived from its racing record and the training history of its counterpart.
The virtual worlds that underpin the project will allow users to purchase plots of land and construct their own stable to house their horses. This land is structured as NFTs, which can be monetised and traded through the Silks marketplace. The horses are also structured as NFTs, with new groups of horses being minted annually to coincide with the IRL trading of 'Yearlings'.
Silks ensure the legitimacy of their data by incentivising miners to validate data through distributions of $SLK, their governance token. This token, due to its connection to the platform's DAO, will have a crucial role when voting on changes and shifts.
An honourable mention in the horse-racing-NFTs space is Zed Runs. This is also a blockchain-based racehorse NFT, which sold recently for $125,000. When the platform began in 2019, horses were priced at under $30, but have since risen to a peak of $125,000 and often exceed $15,000. Since then, around 11,999 horses have been sold and an additional 8,000 have been produced.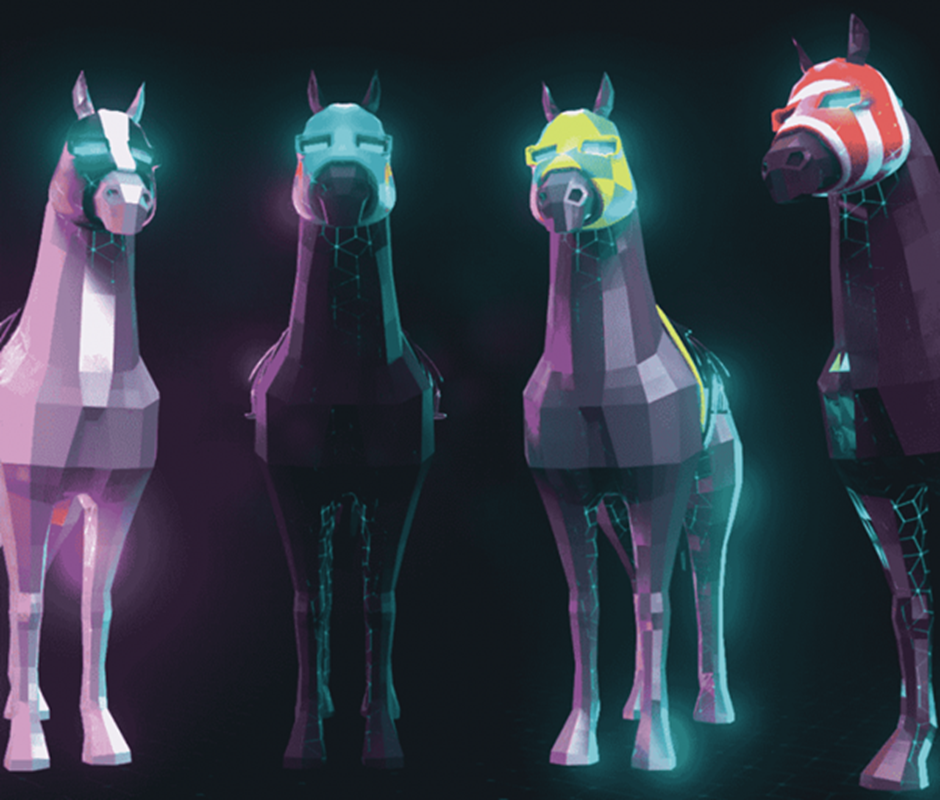 Chris Ebeling, co-creator of Virtually Human and Zed Runs' founder, stated that there was room for growth and that people could potentially earn a profession by trading, raising, and racing digital horses.
Number Two: FLUF World
Each with their own unique expression, dance, and soundtrack, FLUF NFTs are programmatically designed 3D rabbit figurines described on the FLUF site as "3D, Animated, Programmatically Generated, Fluffy".
There are around 10,000 FLUFs generated from over 270 attributes across 14 different categories.
Launched in August last year by Non-Fungible Labs, a creative studio in New Zealand, FLUF World aims to become a metaverse ecosystem of virtual land, music, and games.
Since then, the team have added the Party Bear collection, the Thingies collection, the Burrows collection, and the Scenes and Sounds collection.
The Scenes and Sounds collection was created to provide FLUF holders with the opportunity to customise their NFTs with music or backgrounds. Burrows are virtual metaspaces found inside the FLUF metaverse, which holders can acquire.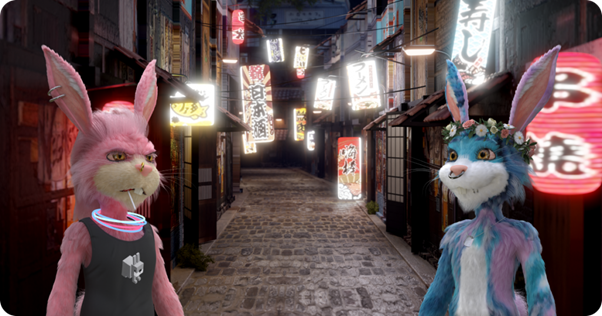 By breeding male and female NFT rabbits, you can create fluflets. These fluflets take on the combined traits of their parents.
The community also hosts a conference called FLUF World, an out-of-home approach to marketing. They recently ran a four-day pop-up village at SXSW, with a bar and buffet where members of the FLUF community could network and interact.
The users can also download their NFT as a GIF, MP4, PNG, and 3D model.
Owning a FLUF gives holders access to all this exclusive content, in both the physical and digital worlds. They can also expect more IRL experiences, immersive VR experiences, and future NFT collections according to the FLUF roadmap. So, it's no surprise that the current sales volume of FLUF has been around $13.2M, with just 930 sales.
The highest bidding for a FLUF NFT went up to a whopping $184,709.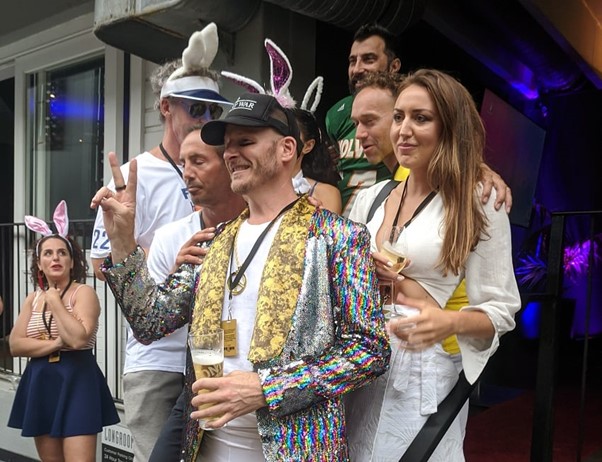 Number Three: Copium Protocol
Copium Protocol is a new protocol that combines ownership with a new version of cloud mining.
This version of mining was designed to make mining more universally accessible, and move mining away from institutions or organisations by renting hardware and making it more user-friendly.
Many platforms failed to live up to expectations as it was difficult for those without expert knowledge to make it a success. This is where Copium Protocol is different.
The project promises to make it more accessible and profitable for individuals to mine cryptocurrency. So, rather than renting hardware or hash power, investors in the protocol are investing directly into a crypto mining company and reaping the rewards passively.
The project is centred around Copium Mining, a company that has a mining facility backed by 100% clean hydroelectric energy generated in the local area.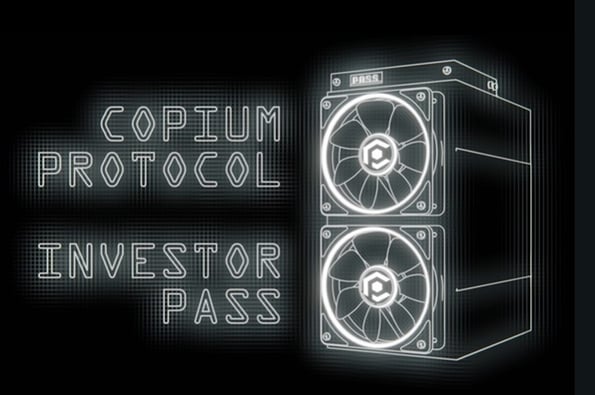 The collection is 10,000-strong, named the Copium Investor Pass, with Copium Mining using the funds generated from the sale and upcoming ICO to upgrade the mining infrastructure and capacity.
So, holders of the NFT are basically investing in the company, and their NFTs will generate a 10,000 Copium Coin airdrop, and improved rates when staking coins.
Number Four: Gods Unchained
Gods Unchained is a free-to-play trading card game, which allows players to partake in fights by utilising fantasy cards. The game is created to change how gaming functions, by using Ethereum tech to fetch digital ownership to players and supply the means to increase the value of goods.
The $GODS token was created to be the native currency of Gods Unchained, powering the environment that authorises players to make and trade NFTs.
The native token price has increased almost 55.45% in the last seven days alone.
Number Five: Cocky
Cocky is one for music fans.
The project is an exclusive NFT lifestyle club which provides all its NFT holders access to huge music events.
The events promoted by Cocky are suggested to be once-in-a-lifetime events, especially for its holders. So, to gain access to these events, individuals will need to purchase one of the Cocky Can NFTs. The team behind the project describes it as experiences money can't buy, but holding an NFT can.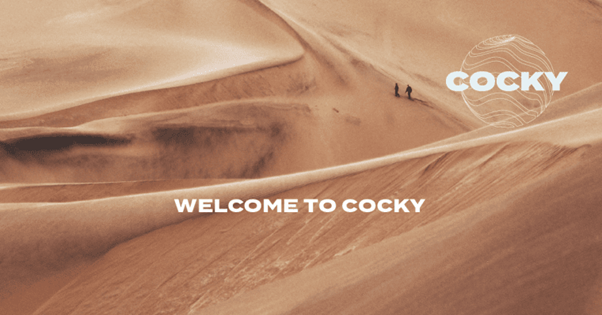 The collection is made up of 10,000 Cocky Cans with different skin and lid combinations, which represents the benefits the holders receive.
This tier-based system is randomly assigned to NFT holders during minting, with each piece unlocking a range of benefits, which include:
Subsidised transport to and from the events
Luxury Accommodation during the event
Additional invites to bring your friends and family
Bar tabs
Exclusive merchandise
The project also has a unique utility, called Mutations. These are presented in the form of a stamp in the background of the piece and are similar to passport stamps.
NFT holders earn mutations by attending events and participating in the ecosystem. As more mutations occur, it becomes more valuable, allowing holders to write a story about the events.
Number Six: Tamadoge
Tamadoge is a play-to-earn crypto project where NFTs are deployed and used to participate in the virtual ecosystem.
Tamadoge (TAMA) is the native coin and utility token of the Tamaverse, the platform where players participate to earn multiple rewards. The main feature of the platform is the Tamadoge pets, unique dog avatars which can be bought, bred, and sold across the Tamaverse.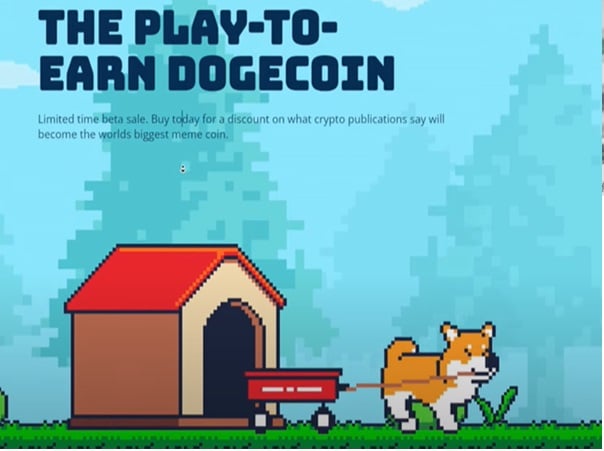 The pets are minted as unique NFTs, using smart contract functionality. The pieces can be purchased from the Tamadoge store with native cryptocurrency tokens.
So, this means the NFTs can have real use-cases within the ecosystem and can be used to compete with other community members to earn points in monthly leader boards.
Number Seven: Real Estate Investment Club
Real Estate Investment Club is an interesting one. It's a NFT metaverse, specifically dedicated to real estate education and investing.
The NFTs for the project were also designed by a team member from the GTA and Red Dead Redemption game series', making them unique and desirable due to the connection.
Each piece serves as the holders avatar, and grants access to REIC - Metacity, a high-definition metaverse.
Inside the 'verse, members of REIC can network and socialise with like-minded investors, while also granting access to the Digital Asset Property Group.
On top of this, holding the NFTs provides investors access to:
Future REIC NFT airdrops

REIC merch giveaways

Consultation and investment advice from industry elites

Webinar/Seminar access

Holidays in premium locations

Luxury items such as watches and cars

Charitable donations

Downpayment in Ethereum for your first real estate investment
The team behind the project hope to develop MetaCity to act as a Metaverse-as-a-service, for all REIC Members. This means players can monetise their assets and services within the game to create an entire in-game economy.
REIC also intends to be the pioneer in bridging real estate investments to the blockchain. They hope that the real estate will eventually be tokenised, with fractional ownership shares represented on the decentralised technology, making it more accessible to a wider audience.
The metaverse created by REIC intends to provide the infrastructure required to be the leading community in the blockchain-based real estate investment industry.
Number Eight: Souls of Nature
This project is still in its early stages therefore they don't offer NFT on sale for now. But it's still a super interesting idea, thanks to its metaverse and play-to-earn features.
These combined will provide users with the first-ever experience-to-earn in the crypto industry.
In addition to this, the NFT also provides the chance to make a difference. By holding the pieces, individuals are able to protect endangered wildlife around the world. A percentage of the collection's initial funding will be donated to entities safeguarding wildlife.
The NFTs will consist of "nature souls", a digital replication of animals surrounded by an aura which will represent the player's characters within the overall experience-to-earn.
Number Nine: PirateXPirate
PirateXPirate is an up-and-coming pirate-themed NFT game. Each player has the chance to create and form a crew and fleet, and can then battle against fellow players to earn rewards.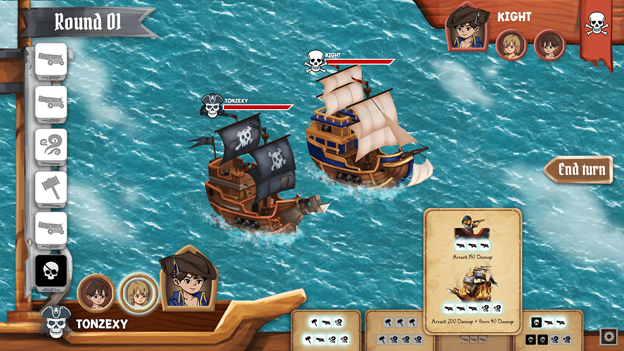 The project is also building a metaverse that will allow players to explore new worlds with their fleet through a self-contained economy. Although the game is still in the early stages of its development, it already has a fully-functioning game. Within the PirateXPirate world in-game items, such a ships and crew, are all represented by NFTs.
Number Ten: Flyfish Club
Ah, you know we couldn't write a 'Top 10 NFTs' article without including ol' Gary V.
The Flyfish Club is another venture from the man himself, but this NFT is offering something pretty unprecedented - the world's first NFT member's only private dining club.
People who own one of these pieces will have the ability to access a private dining room in New York City, which will span 10,000+ square feet. The standard membership contains reservations for a table, that can include 8 non-token guests. The next option - the Flyfish Omakase - will allow the same perk, but with the addition of bringing a guest to the V.I.P Omakase room.
The standard flyfish members NFT can be bought for 2.5 ETH, with the Flyfish Omakase membership being almost double at 4.25 ETH.
The most interesting part of the membership being an NFT is that purchasers can lease or resell their membership at any point - with this price point set to rise, due to Gary V's prominence in the space.
"As an NFT, the membership becomes an asset to the token holder, which can later be sold, transferred or leased to others on the secondary market," says the Flyfish Club site.
"By utilizing NFT's, FFC is able to create a loyal, member-community that we can provide special experiences for. NFT's create new modernistic financial models, which will allow FFC to deliver an exceptional and sustainable product for years to come.
Currently, the collection is sold out, but there is an intention to roll out additional locations and memberships as popularity increases.
Want more NFT content? Check these out: