The Super Bowl. The biggest sports event of the year, I've been told. Well, apart from the Olympics. And the FA Cup. And the World Cup. And the Under 10s Local Village Cricket Team Tournament. But apart from those, the Super Bowl reigns supreme.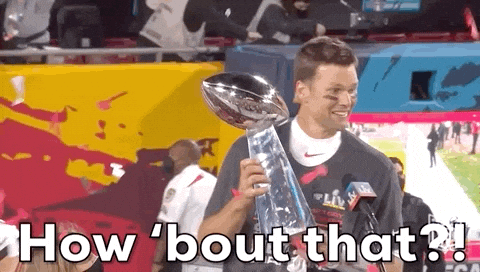 The Super Bowl is a pretty big deal in the marketing world especially. So, what happens when you combine two of marketing's current darlings? Well, you get Super Bowl NFTs, of course. I'm trying to imagine explaining that sentence to my nan.
Instead of splashing out hundreds of thousands, or even millions, of good ol' American dollars on a single 30 sec ad, brands are branching out into other mediums. The use of NFTs is an example of this, where a brand can shape their community, whilst jumping into some innovative, eye-catching marketing. All whilst saving, and making, a bit of cash.
So, which brands are the VIPs of NFTs? The superheroes of the Super Bowl? Let's find out.
Number One: Rolling Stone
Rolling Stone, the famous magazine brand, is no stranger to the Super Bowl. And this year, they're back with Super Bowl Live, a music party to be held ahead of the game.
So, it's no surprise that RS are expanding their Football offerings even further. They've teamed up with cryptocurrency exchange and wallet provider Coinbase to present a limited drop of NFTs from big names in graphic design and digital art.
The NFT collection includes pieces from Deadfellaz, Boss Beauties, and Giant Swan, plus many more of the NFT space's most influential artists.
The move announces the ongoing partnership between the two companies.
This comes after Rolling Stone's collaboration with Bored Ape Yacht Club, where the two brands unveiled the first ever digital cover NFTs. The collection featured a total of seven NFTs, including the two animated cover designs by Yuga Labs and five commissioned pieces by NFT artists.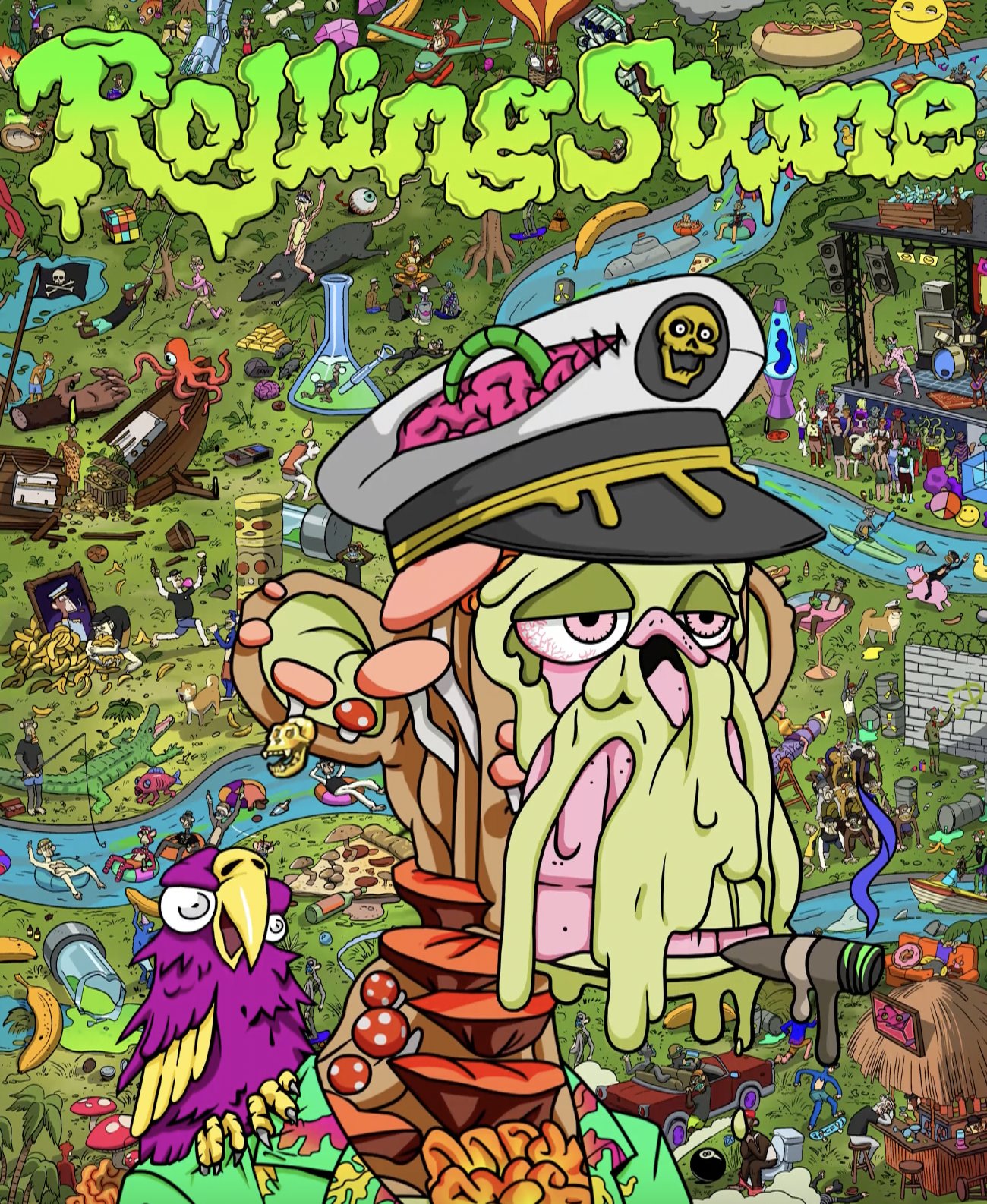 Number Two: NFL, NFT
Okay, so I don't know if this one's cheating. But the NFL themselves are offering fans the chance to own NFTs. NFL NFTs. Try saying that ten times fast.
The tickets for the Super Bowl are not cheap. Thousands-of-dollars-not-cheap, even.
So, along with every purchase of a ticket, the NFL will give the fan a commemorative, branded NFT. The NFL says as many as 250,000 NFTs were distributed as part of the trial. Every fan which bought a ticket for selected matches via an official channel, such as a team box office or Ticketmaster, were eligible.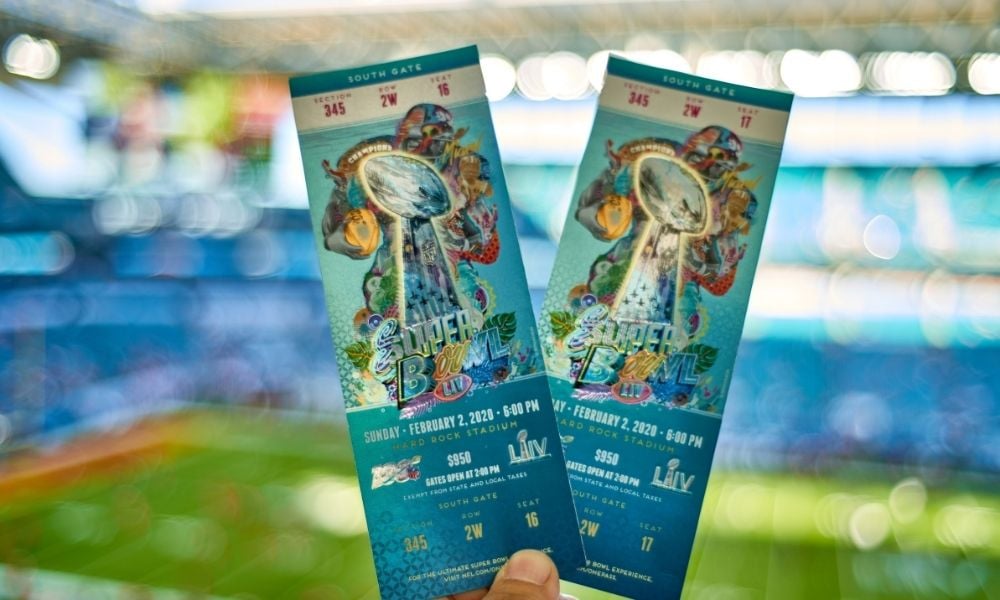 Each NFT will be customised with the attendee's seat number, offering fans a digital version of the ticket stub. The NFL will also be exploring secondary market activity, in order to understand how NFT exchanges work, and how they fluctuate in value.
So, NFT-owners will have the ability to relist their NFTs on the platform. But secondary market activity has been relatively quiet, in comparison, although some transactions have reached hundred of dollars.
This isn't the NFL's first foray into the space, however. They also offered a limited number of NFTs directly on its platform. During the regular season, they sold 125 for each team, for $10 each. Another 125 Wild Card versions were made for each team that played, and sold for $99, with plans to have a similar offering each week of the play offs.
Number Three: Rob Gronkowski's Best Moments
Last year, Rob Gronkowski entered the NFT space by releasing his own NFTs. The tight end (which I'm learning is a football position, not an insult), partnered with NFT marketplace OpenSea to release five digital trading cards featuring Super Bowl moments.
Each piece features Rob's career highlights, and are designed by visual arts studio Black Madre.
However, as OpenSea doesn't have licensing permission from the league itself, the NFTs will not include any NFL team logos. Although, the pieces will show iconic plays from Super Bowls Rob participated in, and he will sign the digital cars.
"I see what's going on, and it's just exploding," he said.
"I wanted my fans that are living in the digital world to be able to get a piece of this action."
Number Four: Bud Light
For a light beer, Bud is going heavy on their new campaign.
For the announcement of their new zero carb beer, the brand is dropping thousands of NFTs to celebrate. The "Bud Light N3XT Collection" NFT project will tie into the release and Super Bowl ad.
The collection is composed of 12,722 unique tokens, designed in the brands blue and white colour hues. Each NFT is priced at $399 apiece, and are age-locked to consumers above the age of 21. Plus, they're only available in the U.S. to those who purchase using Ethereum or fiat currencies.
"What we're seeing in the space... is NFTs are continuing to redefine how we think about community and ownership, technology, all of those things," said Corey Brown, senior digital director at Bud Light.
"And at the same time, Bud Light since 1982 has always been about innovation. So right now, what better time to launch something of this magnitude than when we ourselves are redefining the beer landscape with this new product called Bud Light Next."
On top of the NFT, the purchaser will receive a vote on Bud Light N3XT merchandise, and grant them access to brand and partner events. But you better be quick, the tokens roll out on Feb 6th, a week before the big event.
Bud has jumped into the space before, previously creating 36 "Gold Heritage Cans" priced at $999 each. The collection sold out in less than an hour, with 20% being flipped for a higher price, with another 75% up for sale.
"These NFTs will act as your key to the Budverse and can unlock exclusive benefits, rewards, and surprises," the brand announced on its official Discord server.
The Budverse sounds like a shop in California. Either way, it seems to be expanding.
The brand was one of the first to really embrace NFT culture, even using a Nouns NFT image as its profile picture. The Nouns Foundation actually gave the NFT to Bud Light as part of a proposed agreement that includes Nouns imagery being used in a Super Bowl commercial.
This is all on top of the brand purchasing an unofficial Bud-themed rocket image from the Tom Sachs Rocket Factory Collection, as well as the beer.eth Ethereum Name Service name, i.e. a domain-like name which points to an Ethereum wallet.
Number Five: Frank's RedHot Sauce
Frank's has launched what it calls the "first-ever Edible NFT" ahead of the Super Bowl.
Chicken Wings and the Super Bowl are a well known power couple, so Frank's is betting on the iconic pairing as part of their new campaign.
So, what's all this about an edible NFT, and "Bonecoin"?
Well, from the end of January until the day of the Super Bowl, fans can scan images of their chicken wing bones to earn Bonecoin, at Boincoin.com. Whoever gains the most Bonecoin will win the Franks Redhot NFT, and its edible replica - the eNFT.
"Frank's RedHot keeps a pulse on the latest trends, and we are particularly excited about giving fans the opportunity to tap into the NFT space in a saucy and interactive way," said Alia Kemet, VP of Creative & Digital, McCormick.
"We're excited to be first to offer an edible NFT, or what we're calling an eNFT. What better way to enjoy football than with your own Frank's wing art — both digital and edible."
But the promotion doesn't just stop there. Frank's are also counting on some big name influencers to develop enthusiasm around the event.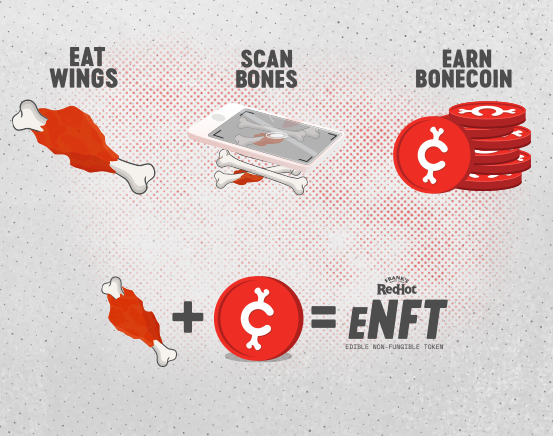 NFL star and Frank's ambassador Eli Manning will be, uh, manning the Wing Wagon in New York City at Broadway between W 58th and W 59th Street, handing out free wings from 10:30-12:30pm. Plus comedian Eric Andre will also be generating buzz for the brand on social media.
Number 5.5: Bored Ape Yacht Club (Maybe)
Okay, so this one's purely speculation. But it's too big not to let you know.
A tweet by popular Twitter user Peltzm has suggested that the popular NFT project BAYC will appear at the NFL Super Bowl.
And it's not too far out there. Numerous musicians now own Bored Apes, such as Dr Dre, Snoop Fogg, Eminem, and Kendrick Lamar - all artists that have been confirmed to be appearing at the Super Bowl halftime show. Watch this space.