It's a phrase which is often used in the industry, and was previously a kind of Holy Grail for marketers, but what do we mean when we talk about a 360 view of the customer?
In this article, I'll look at what we mean by a 360 view, why marketers should aim for this, and how to get there.
What is a 360 view?
In a nutshell, it's about having a complete picture of your customer, which includes every interaction with your brand, from first contact, to the most recent email to customer services. It's the aggregation of data from all the touch points your customer uses.
It's about gaining knowledge of your customer - their habits, preferences, devices used etc - and using this knowledge to make your marketing and other interactions more effective.
In a competitive market, excellent customer experience can give you a decisive advantage over the competition, and by knowing your customers you can tailor this experience more effectively.
The benefits of a 360 customer view
The ability to personalise
CX surveys tell us that customers want brands to understand their preferences, and use this to provide a better customer experience.
A 360 customer view enables you to understand a customer's contacts with you, browsing and purchase history, building a picture of their interests.
For a retailer, this allows you to make relevant product recommendations based on their history and preferences. This is something you'll see from platforms like Netflix and Spotify, while Amazon is an obvious example.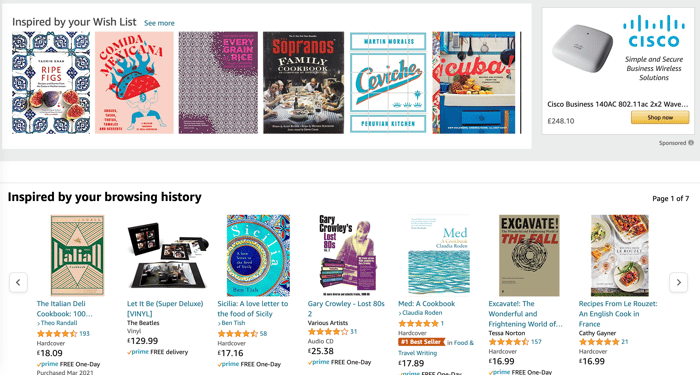 Email marketing is another obvious use for personalisation. An email which delivers more relevant product recommendations is more likely to be opened and acted upon.
Customer retention
In general, customers will be more loyal to brands which provide an excellent customer experience from start to finish, from first contact to after-sales service.
A good experience leaves a great impression and means customers are more likely to buy again. Combine this experience with relevant personalised marketing which entices them into repeat purchases, and you have some of the key ingredients to reduce customer churn.
The use of personalisation also tells customers that you're working hard to understand their preferences and are treating them individually, not just as some generic customer.
Better customer service
Customer service can be a challenge, but also presents an opportunity to impress customers by solving any issues promptly and to their satisfaction.
The 360 customer view can be key here. There are few things more frustrating to customers than having to start anew and explain issues every time you make contact, or switch customer service channels.
An understanding of previous contacts should avoid this issue and enable customer service agents to understand and address any issues more quickly and efficiently.
Reduced costs
One benefit of a greater understanding of customers should be that marketing is more relevant, and therefore more successful.
This greater efficiency should reduce acquisition costs, while improved retention leads to greater value from existing customers.
Predictive analysis
Predictive analysis is the use of data, algorithms and machine learning techniques to identify the likelihood of future outcomes based on historical data.

For marketers, this can lead to a greater understanding of which campaigns are working and what will lead to more leads / conversions in future.
By gathering comprehensive information on customers, you can improve your ability to predict outcomes, identify parts of the customer journey which may help or hinder the customer, as well as improving future marketing strategy.
How to achieve a 360 customer view
Unless you're a very small operation, the gathering and management of data at scale will require the right tech. There are plenty of tools that help you to gather and manage data, all of which can contribute to a 360 degree customer view.
For example, you can use B2B social listening tools to gather information, and audit your existing data but the management and use of your data will require a CRM, DMP or a CDP.
Let's look at what each of these tools can do...
Customer Data Platforms (CDP)
Customer data platforms can collect relevant data from your customers, from the channels they use to buy or otherwise interact with you - emails, customer service interactions, purchases etc.
These data points are used to build unified a customer database, one which can be accessed by other systems to create your 360 degree customer view.

Customer Relationship Management Platform (

CRM)

Customer relationship management software (CRM) collects data and helps you to manage relationships with customers and prospects.

A CRM will create a customer profile which encompasses previous purchases, enquiries, or use of touchpoints like site visits or emails they interacted with.

By allowing all customer facing departments - sales, marketing, customer service etc -access to your CRM, they can be up to speed on each customer's history and preferences.
Data Management Platforms (

DMP)

A Data Management Platform collects anonymous data from a variety of sources, enabling more data-driven marketing. DMPs help businesses to identify audience segments, which can be used to target users more effectively.

However, these platforms mainly deal in third party data, which can be troublesome given increasing consumer privacy concerns, and large platforms' policies, and data privacy regulations coming into place around the world.

All of these platforms can help you to collect and manage customer data, but the CDPs have the key advantage in the ability to collect data and manage both potential and existing relationships, and deal with online and offline data.
In Summary
With customer experience all important, and a key differentiator, the ability to collect, manage and use customer data effectively becomes ever more essential.
The 360 customer view, gained by gathering data from customers, is one step on the way to improving customer experience.
By providing more relevant experiences, you can improve customer retention, turn customers into advocates, and improve the efficiency of marketing and customer service.