Who are the top sales influencers of 2022? Who should you be following to get the latest insights and industry goss? Well, you're about to find out.
We've got established names, we've got new names, all with one thing in common: they're mad for Salestech.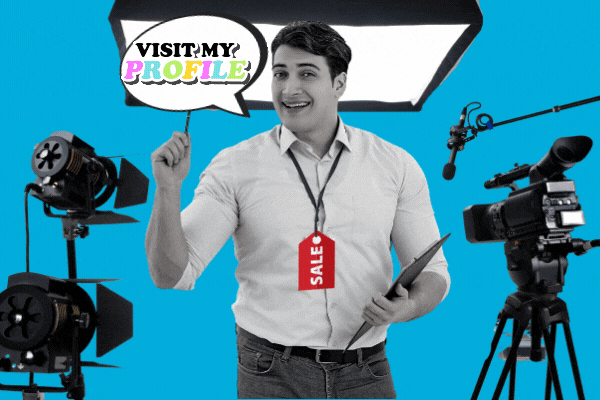 Sales tech is a rapidly growing space. In fact, half of all sales organisations in the UK have responded to the pandemic by increasing their investment in sales tech, with another 52% saying they will grow their investment over the next year.
And the proof is in the pudding: 57% of UK sales professionals say that technology is important to closing deals, with 38% saying it is very important. That's why almost a third are applying tech to sales planning, engagement, and enablement.
I think the pace of sales tech innovation and integration will continue to increase — which means that it's hard to put a pin on where it will end up. Someone five years ago would have been hard-pressed to guess that the landscape will look as it does now! I think automation and AI will continue to provide data and information and make it increasingly easy to target prospects. At the same time, I think we'll see more defences pop up as people work to protect their time, attention, and privacy.

— David J.P. Fisher, President, RockStar Consulting
How do you find out what you should be doing, and when? Who can you turn to in this hour of need? Let's take a look at these industry heavyweights' stats.
Pam Didner,

President, Relentless Pursuit
Stats:
Twitter Handle:

@PamDidner

LinkedIn Profile: linkedin.com/in/pamdidner/
Followers:

14.4K

Followers on Twitter

Location:

North Carolina



Pam Didner is a no-nonsense B2B marketing consultant, writer, consultant, author and keynote speaker. She's advised companies globally, including organisations such as Intel, Southwest Airlines, 3M, Sunstar, Cisco, TE Connectivity, and more.
She trains, coaches, and provides advice on topics including sales enablement, ABM, and sales and marketing integration for enterprise and tech companies.
Pam has appeared at many conferences, including Inbound, Content Marketing World, MAICON, B2B Marketing Forum, and AntiConLX Dial Up. She has also taught Content Marketing at West Virginia University, and Marketing Communications at the University of Oregon School of Journalism.
Her podcast and YouTube Channel B2B Marketing and More with Pam Didner gives her the space to share personal marketing stories, templates, and frameworks that the audience can immediately put into action.
Nancy Nardin, Director, SBI
Stats:
Focused on marketing, sales, sales enablement, salesforce, and more, Nancy is a sales tech and go-to-market tech expert.
She specialises in advising clients on technology to drive growth and has even been named one of LinkedIn's 15 Influential Sales Professionals to Follow, Forbes' Top 30 Social Sales Influencers in the World, Top 50 Retweeted Vendors by B2B Marketers and HubSpot's Top 25 Sales Bloggers in the World.
Currently the Director of Commercial Tech Research at SBI Growth Advisory, Nancy is also the founder of Smart Selling Tools. Now, if that's all not impressive enough to place her as a true Salestech influencer, she is also recognised as one of the top voices on the space, due to being the creator of the Nancy Nardin SalesTech landscape, a market landscape of nearly 600 sales solutions sorted into 43 categories.
Plus, if you're not much of a reader, she's also got a very handy YouTube channel. Now that's multimedia.
Most Sales leaders struggle to realize the full value of SalesTech, even from tools they describe as "critical to day-to-day operations." To maximize salestech investment and return, companies must work through these five barriers. https://t.co/sCcoFbWnrt

— Nancy Nardin (@sellingtools) March 16, 2022
Brad Gillespie, VP/GM, Cvent
Stats:
Twitter Handle: @tbradg
LinkedIn Profile: linkedin.com/in/tbradg
Twitter Followers: 1,560
LinkedIn Followers: 4,381

followers LinkedIn

Location: Washington, DC
Vice President and GM, Consulting, at Cvent, Brad has 20+ years in B2B GMT. He discusses a wide range of topics, including sales, marketing, product, customer outcomes, CX, and is even beginning to research Web 3, DAOs, and the ethics of AI. Wowzah.
A self-proclaimed 'connector of dots', Brad shares his views and opinions to an audience across a number of different platforms. He even has a SnapChat, if you're into that sort of thing.
Jack Neicho, SMB Account Executive, Salesloft
Stats:
Now, you know when their company has 'sales' in the name, they know what they're talking about. Jack is no exception.
In his day job, he supports emerging and SMB buyers across the EMEA region, helping them to drive pipeline and revenue growth, replicate sales rep best practices, and forecast more accurately.
He also is one of the 3 founding community hosts working for AEs of London, which is a community for Emerging Account Executives based in London looking for peer-to-peer mentorship. But how does he describe himself? Well:
I am a dedicated West Ham fan (IRONS), what a season we are having! Love going to the gym and playing sports. I'm a passionate food-y and am always checking out new restaurants to lunch, brunch, and dine at. If you have a recommendation for a great Lasagne you had, please message me!


Jack tends to focus on the following topics: B2B Sales, SaaS, Go-to-market strategies, Salestech, Cadences, Video Prospecting, Conversations Intelligence, Opportunity Management, Account Management, and Customer Success. And breathe.
"I'm passionate about empowering my colleagues and community to perform at the top of their game," he says. "By being viewed as a peer by leaders and a leader by peers"
Maria Sundström, CEO, LiiD
Stats:
Twitter Handle: @

mariasundstrom

LinkedIn Profile: linkedin.com/in/jackneicho
Twitter Followers:

3,373 Followers

LinkedIn Connections: 500+
Location: Helsinki
Maria is an entrepreneur building Salestrail, a solution which automatically logs client interactions to CRM. So it's no surprise that she's an expert in sales tech. sales enablement, entrepreneurship.
Described by professional connections as "The best salesperson around", Maria is a pure sales tech expert.
"I still recall the first sales call Maria made to me, long before I joined Liid as an investor: She would not let me get out of the call without getting a warm lead and next steps to close it. As a CEO, she uses her skills in sales to translate the customers' needs into product vision."
She's also worked as Managing Director for Meltwater Group, a Workforce Coach at Spring House, and even as a Swedish Teacher in Helsinki. Så fantastiskt!
We help salespeople improve call performance by auto-tracking and recording their mobile calls!
James Springhetti,
Chief Revenue Officer,
Enable.us
Dad, SalesTech Enthusiast, & Chief Revenue Officer at Enable.us (note 'Dad' is first), James is an experienced SaaS GTM leader. With an emphasis on customer-centricity, team building, and modern selling, James teaches his followers up-to-date sales tech trends and tricks.
"It's always been a passion of mine to help solve problems, disrupt and retool for optimized results," he says.
As the GTM leader at Enable.us, it's his goal to empower his team to help sales and marketing leaders use cutting-edge tech to provide buyers with the best experience possible.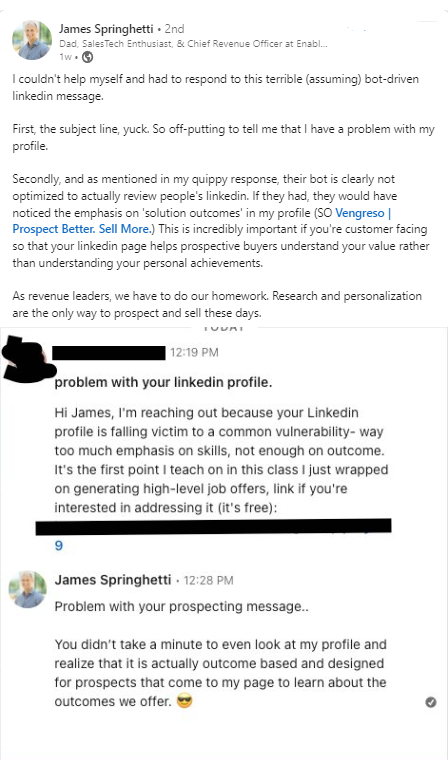 Shashank Kapur,
E-Marketing & Digital Specialist,
S&P Dow Jones Indices
Stats:
Shashank is a digital marketing and data science professional with 11 years of experience is customer relationship management, campaign management, email marketing, marketing and sales operations, business intelligence, reporting, analytics, and data science.
His industries even span such spaces as digital payments, fintech, high-tech computing, cloud solutions, financial services, and real estate.
Mary Shea, Global Innovation Evangelist, Outreach
Stats:
Twitter Handle: @sheaoutr
LinkedIn Profile: linkedin.com/in/maryshea
LinkedIn Followers: 6,646

Twitter Followers:

1,883

Location: Portland, Maine
Mary is a go-to source for all things B2B sales, research, sales tech, the future of sales, and diversity and inclusion.
As the Global Innovation Evangelist at Outreach, she's been responsible for conducting thought-provoking research on the sales tech landscape, as well as the future of buying and selling, and the criticality of having a diverse, equitable, and inclusive B2B sales organisation.
Prior to joining Outreach, she's been a principal analyst at Forrester, an adjunct professor of marketing at the University of Chicago's Booth School of Business, and a chief revenue officer at various global technology companies.
And on top of all this, she's also a keynote speaker, podcast host, author, and advisor to many of the world's leading B2B brands.
In our Principal Analyst roles at Forrester, we all research, write for and advise business leaders. But every analyst has a slightly different spin on the execution of that remit. Working alongside Mary, for the past 5+ years, serving B2B marketing and sales leaders, I have so admired Mary's visionary thought leadership. She has the ability to see around any corner and not only identify but also see into, the next disruptive change lurking there.

- Lori Wizdo, VP, Forrester Research
Her work is often featured in academic and commercial publications, and she also serves as executive sponsor for Outreach's Rainbow Employee Resource Group.
Namrata Murlidhar Anand, Director of Marketing, EMEA, Shopify
Stats:
Having worked in Asia, America, and the UK, Namrata has a global mindset. For the past 2 years, her remit has spaned both B2B and B2C marketing, with a primary focus on MARCOMS.
On top of this, she has 10 years of experience in managing marketing efforts for SaaS, and 5+ years of management experience, in managing field and product marketing, and executing local, regional and global campaigns.
Her specialities include: Social media, digital marketing, marcoms, branding, market research, strategic marketing, PR, competitor research, direct marketing
She's also worked in a number of roles at LinkedIn, such as Director of Marketing, EMEA marketing lead, and Group Marketing Manager. So, she's seen behind the scenes.
Self-described as a "Working mom," with a love of "good food, good wine, a good run," Namrata regularly posts her 'Letter to my Daughters' series of articles, detailing how women can succeed in the workplace and beyond.
Niko Nelissen, Founder, Peliqan.io
Stats:
Twitter Handle: @nikonelissen
LinkedIn Profile: linkedin.com/in/nikonelissen
LinkedIn Connections: 500+

Twitter Followers:

2,139

Location: Ghent Metropolitan Area
Niko is the founder of Peliquan.io, a data collaboration platform, and has previosuly been the founder of Blendr.io, an iPaaS integration platform for SaaS companies, before it was acquired by Qlik in October 2020.
Before then, Niko was a seed investor and CEO of TapCrowd, a mobile apps platform for events. Then before that, he co-founded Oxynade, a white-label eTicketing platform. So, it's an understatement to say he's covered a number of areas.
An important part of your integration strategy as a SaaS company is how you will service your customers. Integrations are not just about the technolog (iPaaS) but also about the "who does what". Here's our latest blog article on service models: https://t.co/jb0PPZM40c

— Niko Nelissen (@nikonelissen) July 6, 2019
Helen Kelisky, MD UKI, Google Cloud
Stats:
Helen Kelisky, whilst currently being the MD UKI at Google Cloud, is also a Board Member at WiTT, or the Women in Telecoms & Technology. This is a non-profit set up to support women in their quest to achieve their career dreams.
"Given the enormous amount of change we're experiencing in the world - health, climate, technology and more - I will continue to champion diversity and inclusion in all its forms into 2022 and beyond, as I have done for the last 30 years," Helen says.

She has a wide knowledge of a number of topics, including tackling business problems and turning them into opportunities, creating diverse teams, and embracing life-long learning.
Her areas of expertise also include general management, sales and marketing, and technological experience.
AntiConLX Global Speaker Aaron Ross
Stats:
Twitter Handle: @motoceo
LinkedIn Profile:linkedin.com/in/aaronross
LinkedIn Followers: 50,655

Twitter Followers: 17K

Location: Edinburgh, Scotland
Aaron Ross created Salesforce back in 2002 when the internet was more like the Wild West than the information and meme superhighway it is now, and since then, in his own words, has "helped hundreds of companies figure out how to build scalable, predictable revenue teams and have created billions in value".
If you want to see Aaron speak in person, you're in luck. At the moment he's preparing to speak at SaaSiest 2022, the "ultimate B2B SaaS experience in the Nordics, in Malmö, Skåne County.
Plus, he's going to be on the Mainstage at this year's AntiConLX Global. You can check out all the details for our upcoming event, right here!
So, I feel there are a lot of roles I've taken on… father… business person… speaker… entrepreneur .. parent… husband… money manager… cheerleader...

This list never ends.

but the role that I really struggle with, and I don't know how to do...or forgotten how to do… is just Aaron.

who am I? what inspires me? what do I enjoy? what do I want to do?
Aarons focus on shifting how the business world works, on a human level, shows no signs of slowing. He believes we're in the middle of a ginormous shift in leadership, from books marts to emotional smarts.
Being a CEO is a tough job, though (hopefully) rewarding. there's little day to day glamour. lots of responsibility. + always a new twist to deal with: pandemics, economic shocks, competitors, the disconnection of remote work, stress, uncertainty, loneliness... though with some fun, teamwork and growth mixed in!

[sounds like parenting]

...There's more to leadership than holding teams accountable to goals and KPIs."
whether you're a CEO,founder, or natural leader...

the biggest missed opportunity for marketing is not putting yourself out there.

you can be real online, and be not talking heads repeating the corporate messaging.

— Aaron Ross (@motoceo) February 10, 2022
Alex Hormozi, Entrepreneur, Acquisition.com
Stats:
Instagram Handle: hormozi


Instagram Followers:

269K

Twitter Profile:

@AlexHormozi

Twitter Followers:

69.6K

Followers



Owner of acquisition.com, Alex Hormozi is a Iranian-American entrepreneur, investor, and philanthropist.
He has founded and scaled a number of companies to $120M+ in cumulative sales across four different industries, including software, SAAS, e-commerce, and brick & mortar. He and his wife now spend their time investing in founder-led service-based businesses to help them scale & multiply profits.
He is particularly known for his expertise in customer acquisition and monetisation.
Daniel Disney, Author
Stats:
Twitter Handle: @thedandisney
Twitter Followers: 3,155 Followers
LinkedIn Profile: linkedin.com/in/danieldisney
LinkedIn Followers: 93,033 followers
Location: London, England
With over 20 years sales experience and over £25 million in revenue generated from LinkedIn, Daniel is a social selling expert.
In fact, he has been named the #1 Most Influential Sales Expert on LinkedIn in the world.
He is also the founder and owner of The Daily Sales, LinkedIn's most popular sales page, with over 625,000 followers.
On top of this, Daniel is also a author, entrepreneur, keynote speaker and advisor.
Morgan J Ingram, Director of Execution and Evolution, JB Sales
Stats:
LinkedIn Profile: linkedin.com/in/morganjingram

LinkedIn Followers:

137,229

Instagram Handle:

morganjingram




Instagram Followers:

10.4k

Location: Atlanta Metropolitan Area
Named a "Top Sales Voice" by LinkedIn in 2018, 1029, and 2020, Morgan J Ingram is a sales coach, podcaster, live streamer and speaker. He is also the Director of Execution and Evolution at JB Sales, where he focuses on delivering training to sales development teams.
When I started, I never wanted to make a 'personal brand.' I wanted to stay humble, and I was afraid of what people would think if I tried to make a name for myself. But throughout my personal journey I overcame that fear, and now I help people do the same thing. I help them cut through the noise in their marketplace and — more importantly — in their own head.