The majority of organisations are planning to expand sales enablement and operations teams, as senior leaders increasingly understand their impact on business performance.
This is one of the insights from LXA's State of Sales Enablement & Operations 2023/24 report, produced in association with Seismic.
A survey conducted for the report found that 52% of organisations plan to increase the size of their sales enablement and sales operations teams over the next 12 months, with just 7% planning to reduce headcount.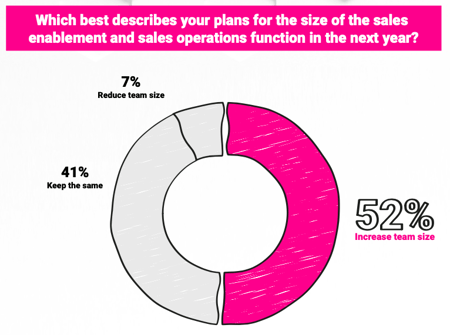 So why are companies investing more in sales enablement? The reason is that it's delivering results, and key stakeholders understand this.
68% of sales leaders surveyed by LXA see sales enablement as key to driving overall business performance. According to 76% of respondents, leadership teams understand the value that sales enablement is bringing in terms of improved business performance.
If you can prove business impact to leadership teams, this can secure further investment - a lesson that applies to sales teams, as well as marketing teams looking to improve investment in martech.
This is about effective measurement, and communicating results to management teams. A focus on high-level metrics such as improvements in sales deal win rates, retention, and increased new business are clear measures of business impact.
Another factor behind increased investment in sales enablement is that it's a necessary function which addresses key issues facing sales teams - the complexity of the customer journey and the skills and technology required to adapt.
72% of our survey respondents report that customer journeys become more complex, compared with 65% last year. With a greater number of (mainly digital) touchpoints taking in multiple channels, sales teams need to fit around the customer more than ever before.
This increased customer-centricity requires greater sales intelligence, better training, improved sales processes, and the technology that allows organisations to create better buyer journeys. The sales enablement & operations function brings this expertise to organisations.
LXA's State of Sales Enablement & Operations 2023/24 report looks in depth into areas such as technology, training, measurement, and the impact of AI on sales teams.