As a Sales Enablement Manager, you're the go-to person for sales reps whenever they need to brush up on their knowledge. So, the Sales Enablement Manager is a critical role in driving sales success.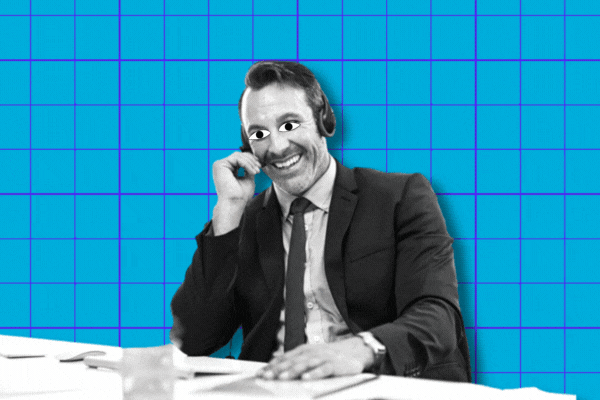 So, basically, it's a Yoda-Luke dynamic. Or a Daniel-Mr Miyagi dynamic. Or a Mary Poppins-and those-annoying-kids dynamic. Take your pick.
The amount of people with "sales enablement" in their job title has risen year-on-year. In fact, there are currently more than 9,000 LinkedIn job postings worldwide related to sales enablement.
This is because companies are now beginning to see the link between enablement programmes and business growth and success. So, as the practice and role gain authority, there'll be way more opportunities for career growth and advancements within the space.
But let's stop messing around, and ask:
What's in the Sales Enablement Manager Job Description?
As a Sales Enablement Manager, you're the go-to person for sales reps whenever they need to brush up on their knowledge.
You don't just have to know what's selling and why - you have to be able to pass that knowledge on in a way that makes sense and is easy to understand. It's like being an encyclopaedia of product information, but with the added bonus of making it enjoyable for your team!
After all, nothing kills motivation like boring training materials. So if you're looking for a fun way to help your sales force stay ahead of the competition, then this is definitely the job for you!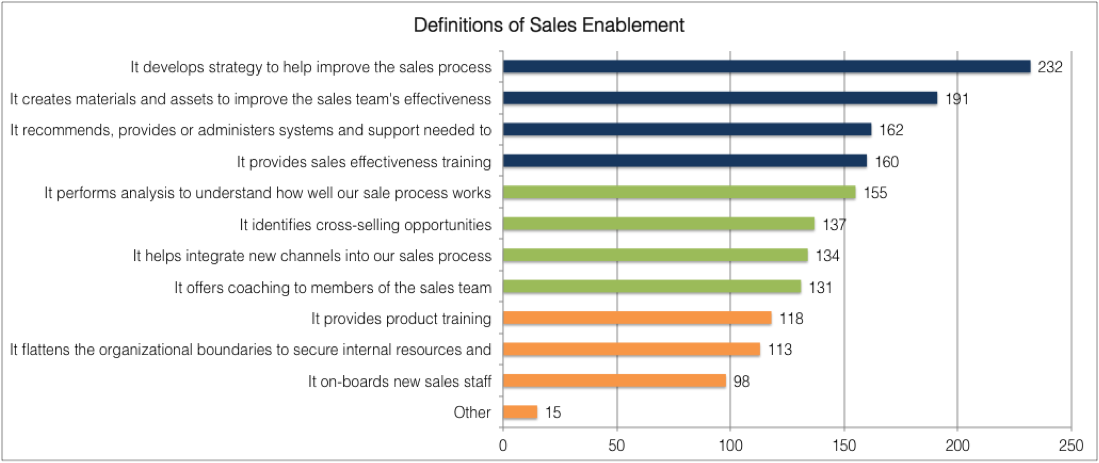 But don't underestimate the importance of staying current: As a Sales Enablement Manager, you'll also need to keep on top of industry trends and shifts in customer preferences.
This is important because it ensures your sales reps are always armed with the latest information they need to close deals.
And if that isn't enough, you'll be responsible for developing training materials that keep your team up-to-date on best practices and strategies. Put simply, you've got quite the "toolbox" when it comes to making sure your sales reps stay informed!
What are the Sales Enablement Manager's Responsibilities?
The Sales Enablement Manager is responsible for developing and managing the overall sales enablement strategy. This includes creating programs to train and equip sales teams, tracking sales campaigns' effectiveness, identifying new opportunities and approaches to optimise results, and tracking changes in customer preferences or business conditions that could impact future performance.
They are also responsible for overseeing the implementation of new technology or software that could be used to streamline sales processes and enhance customer service. Additionally, they are tasked with developing and maintaining relationships with key stakeholders to help drive successful campaigns.
The Sales Enablement Manager must be able to lead and motivate a team of individuals while effectively communicating goals, objectives, and expectations on an ongoing basis. They should possess excellent organisational and communication skills and be comfortable working in a fast-paced, ever-changing environment.
This person should also be comfortable working with senior executives to develop strategic plans for the sales team, as well as creating tools and processes that increase efficiency. Finally, they should have a data-driven approach to decision-making, enabling them to make informed decisions that will improve performance.
By leveraging their knowledge of software, sales processes, and industry trends, the Sales Enablement Manager can help drive business growth and ensure that teams are equipped with the resources they need to succeed in a dynamic marketplace.
They must also be able to identify opportunities for improvement, create actionable plans for implementation and work collaboratively with key stakeholders to execute those plans. Ultimately, the Sales Enablement Manager should be a leader within the organisation who is committed to driving sales success with their passion and expertise.
What Experience is Needed to be a Sales Enablement Manager?
The ideal candidate for a Sales Enablement Manager role should possess strong communication, problem-solving, and organisational skills. They should be comfortable working independently and collaboratively while managing multiple tasks at once in a fast-paced environment.
In terms of qualifications, the successful candidate will have a minimum of 3+ years of experience in sales enablement, training, or a related field. They should have a Bachelor's degree in business administration, communications, marketing, or a related field. Additionally, experience with instructional design and adult learning theories is highly preferred.
The ideal candidate will possess outstanding interpersonal and communication skills to effectively collaborate with sales teams and other stakeholders across the organisation.
They should have an in-depth understanding of sales processes and be able to use data analytics to identify opportunities for improvement. The Sales Enablement Manager should also have extensive knowledge of CRM systems, such as Salesforce, and the ability to leverage technology solutions to drive success.
To ensure success in this role, the Sales Enablement Manager should demonstrate exceptional project management and problem-solving skills.
What is the Career Path of a Sales Enablement Manager?
A Sales Enablement Manager ensures that sales staff are equipped with the appropriate knowledge and skills to maximise their effectiveness during customer interactions. This involves developing and delivering training programs, creating content related to product and service offerings, and leveraging technology to provide information quickly and accurately throughout the organisation.
The career path of a Sales Enablement Manager typically includes positions such as a Sales Trainer, a Content Creation Manager, and an Information Systems Consultant.
Sales Trainers develop, deliver, and evaluate training programs for sales personnel to ensure they are up-to-date on product information, customer service approaches, and sales best practices. They also use technology to provide content quickly and accurately in the field.
Content Creation Managers develop and create content related to products and services that can be used in sales activities. They also ensure this information is kept up-to-date by researching industry trends, customer feedback, and customer needs.
Information Systems Consultants analyse data flowing through a company's information systems to help the sales team improve its operations. They ensure that data is accurate and timely and help assess customer needs in order to provide relevant information quickly.
By taking on roles as Sales Trainers, Content Creation Managers, and Information Systems Consultants, Sales Enablement Managers can develop their skills in customer service, product knowledge, and sales best practices to advance their careers. With the right combination of experience and expertise, these professionals can become invaluable resources for sales teams.