Woof, what a ride it's been. From just a desk in Carlos' bedroom to our shiny offices in Shoreditch today, MarTech Alliance has come a long way.
We've grown and grown, thanks to the blood, sweat, tears (happy, mostly) of our hardworking team, and the support of our community. Everyone pat yourself on the back and say three cheers for MarTech Alliance.
Wait, what do you mean MarTech Alliance is dead?! 😱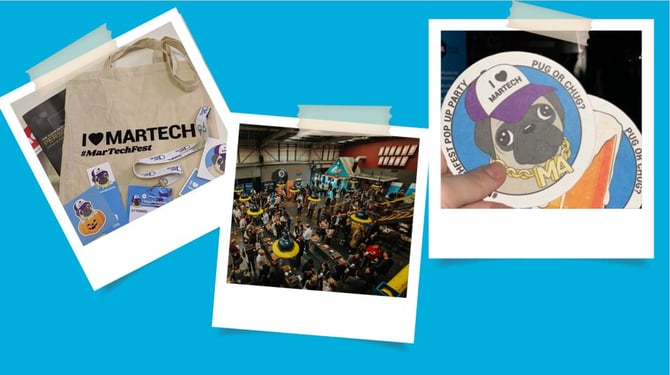 Well, not really. More like transformed. Today, we announce our rebrand to LXA, Learning Experience Alliance. 🍾
Why LXA? Well, unfortunately, Paco the Pug's 90s Hip Hop Fan Club Limited was already taken.
But Learning Experience Alliance showcases the three things we're all about: learning, learning, and more learning.
In the words of our founder Carlos:
We live to deliver exceptional learning experiences, helping our community keep upgrading their skills, knowledge and network. Put simply, we help people do their job better, so they have less stress, more fun, meet interesting people and keep kicking their career up a gear."
This latest update follows on from the recent renaming of the #MarTechFest event series to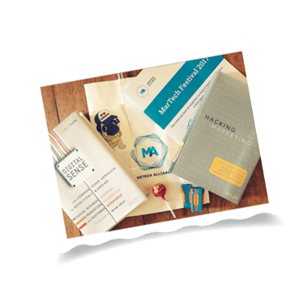 AntiConLX which will continue to bring you cracking speakers, networking, best-selling authors, giveaways and more in our unique anti-conference style.
"Why no more martech?" I hear you ask. "Where's the martech going? Who's taking the martech away from us?" Whoa, whoa. Calm down. The martech is not going anywhere.
We're not even asking it to share the stage, because it's getting its own. That's three separate stages, for all three topics at this year's AntiConLX!
We realise that the landscape has grown massively over the last few years. Marketers want to keep up, naturally. We're an ambitious bunch.
So it's time to create 3 tribes and interconnect them;
👉
MarTech.
Marketers, MOPs & martech specialists
👉
SalesTech
.Sales, SOPs & Growth/Revenue officers
👉
NextTech
. Innovation, Transformation & Digital officers

And they all fit under a flashy new umbrella. LXA.
But how did we get here? Well, you're in for a treat. Let's have a look at what we've done at
MarTech Alliance
LXA, What we're doing, and where we're going. Here's to the wild ride!
2017:

Business Name Registered
I kicked this off in my spare time, in my spare room. The original HQ.

So I scribbled and doodled a company name and logo – before having a business plan. Naturally.

- Carlos Doughty, Founder and CEO, LXA
Carlos spent over a decade in marketing for an FTSE 250 media company helping some of the world's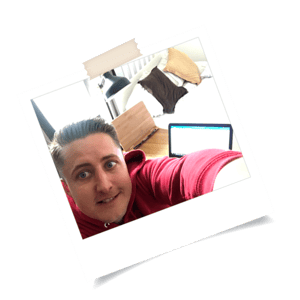 largest law firms, agencies, manufacturing, financial services and media companies, as well as tech start-ups.
But it wasn't the life for him. The siren song of martech was calling.
The early site was visually different, but the core values were the same:
"In a nutshell, we are:
Practitioners. More than marketing theory and trending buzzwords, what we know, is from what we do first-hand.
We Get $h!t done. We believe in a practical simple approach to everything, whether it be implementing the right tools or building your entire marketing strategy.
Martech nerds. We simply love Martech."
2017: Paco Comes to Life
You've seen him on our website, you've seen him on our newsletters, and you've seen him across our socials. Paco is the snapback-wearing, gold chain-sporting, hip hop-loving pug that embodies the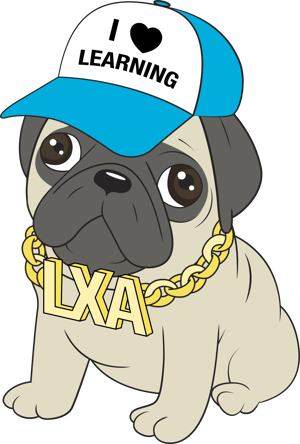 the playful spirit of LXA.
He makes sure we keep away from any stuffy buzzword-filled nonsense, and that we're always honest, authentic and unpretentious. Basically, we all aspire to be like Paco.
When our founder Carlos Doughty started MarTech Alliance, Paco was technically the first employee and has been our mascot ever since but don't let the cuteness fool you, Paco isn't to be underestimated.
I don't want to take all the credit or anything (I 100% do) but when our adorable little pug mascot was a mere 2d illustration I suggested he be dubbed Paco.

Our founder is half Spanish and I live for alliteration and so Paco the Pug seemed obvious the choice. It would be two whole years of pestering before Carlos finally took the plunge and adopted the real-life version we know and adore today…and so his name was pre-destined. But doesn't it suit him so much?

- Rachael
2017: The first AntiConLX (Formerly #MarTechFest, Formally MarTech Festival) is held in London at Hawker House
"To bring the business to life I got a little help from friends."

- Carlos
In the same year, we announced our flagship event: #MarTechFest.
Well, at the time it was known as the "MarTech Festival". Less snappy, but doing exactly what it says on the tin. The event aimed to offer something different. Something cool. Something filled with beer and pugs.
It was not your ordinary conference, although not quite Glasto – tip-top speaker line up, popcorn and beer, practical advice and insight you could put to work and then cut some shapes in the evening.
Plus it offered visitors a chance to speed date our MarTech vendors to find their match. Held at the edgy, hipster haunt of Hawker House, a SE16 warehouse with all the ingredients for an epic food and drink party. And a bit of marketing talk, of course.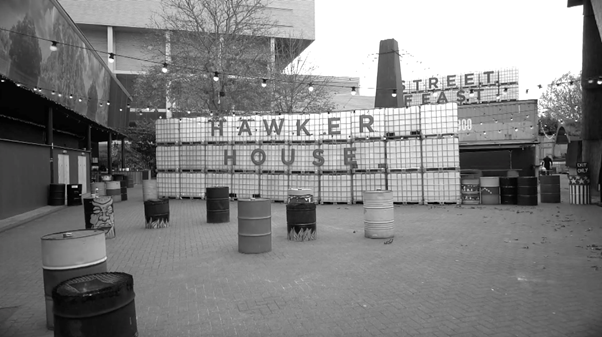 We've since added a whole range of ways to help our community better understand the martech space and build their careers and companies. Today we provide events, both in-person and online, small and large, webinars and dinners.
We also provide digital learning certified courses and masterclasses, as well as a library of martech resources.
"Before I crossed the fence to join LXA in January 2022, I attended AntiConLX (formerly #MarTechFest) every year.

It's one of the best learning experiences for marketers out there – the anti-conference experience is really refreshing compared to other large, in-person conferences and the quality of speakers and presentations is exceptional.

It's been amazing to see the evolution of the business over the last 5 years as a member of the community, and so exciting to now be part of this monumental turning point with our brand rename."

- Izzy Casey, Head of Marketing, LXA
MarTech Festival 2017 even had a keynote session by the Godfather of MarTech himself: Scott Brinker.
He addressed how the space is evolving, the challenges this brings and some guidance on how best to stay ahead of the curve. We even produced this handy little infographic: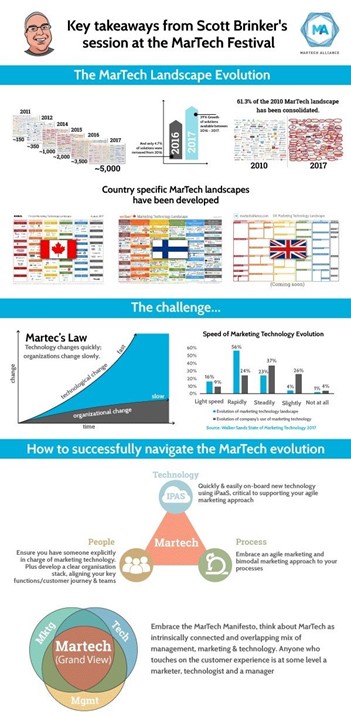 The next year saw the return of Scott, as well as talks by other huge names in the industry. Marketing icons such as Tim Hughes, Laura Price, Nick Mason, and Martha Bennett graced our stage.
Year on year, #MarTechFest attendee growth has grown, with 2018 seeing 71% more guests stroll the anti-conference floor. Then, 2019 saw a whopping 92% growth. Spoilers for later: all this growth meant we had to move onto new, Greenwich-based waters.
2018: The First Employee is Hired
Rachael is our swiss army knife.

- Carlos, 2018
Quite a while before becoming our Head of Audience Development, Rach was a jack of all trades, master of pretty much everything, for the first few years of LXA.
The self-proclaimed "office Aussie" was one part of the Carlos-Rach double act that developed Carlos' dream of starting his own marketing technology media company. But we'll let her speak for herself:
If you could choose an 'honest' job title, what would it be?
A wearer of a million hats #startuplife
Describe your role at MarTech Alliance in one sentence
A wild fucking ride.
What's some advice for your younger self?
The only person you need to prove yourself to is you.
Best advice you ever received
Treat the receptionist as well as you 'd treat the CEO, you never know, they might be your boss one day.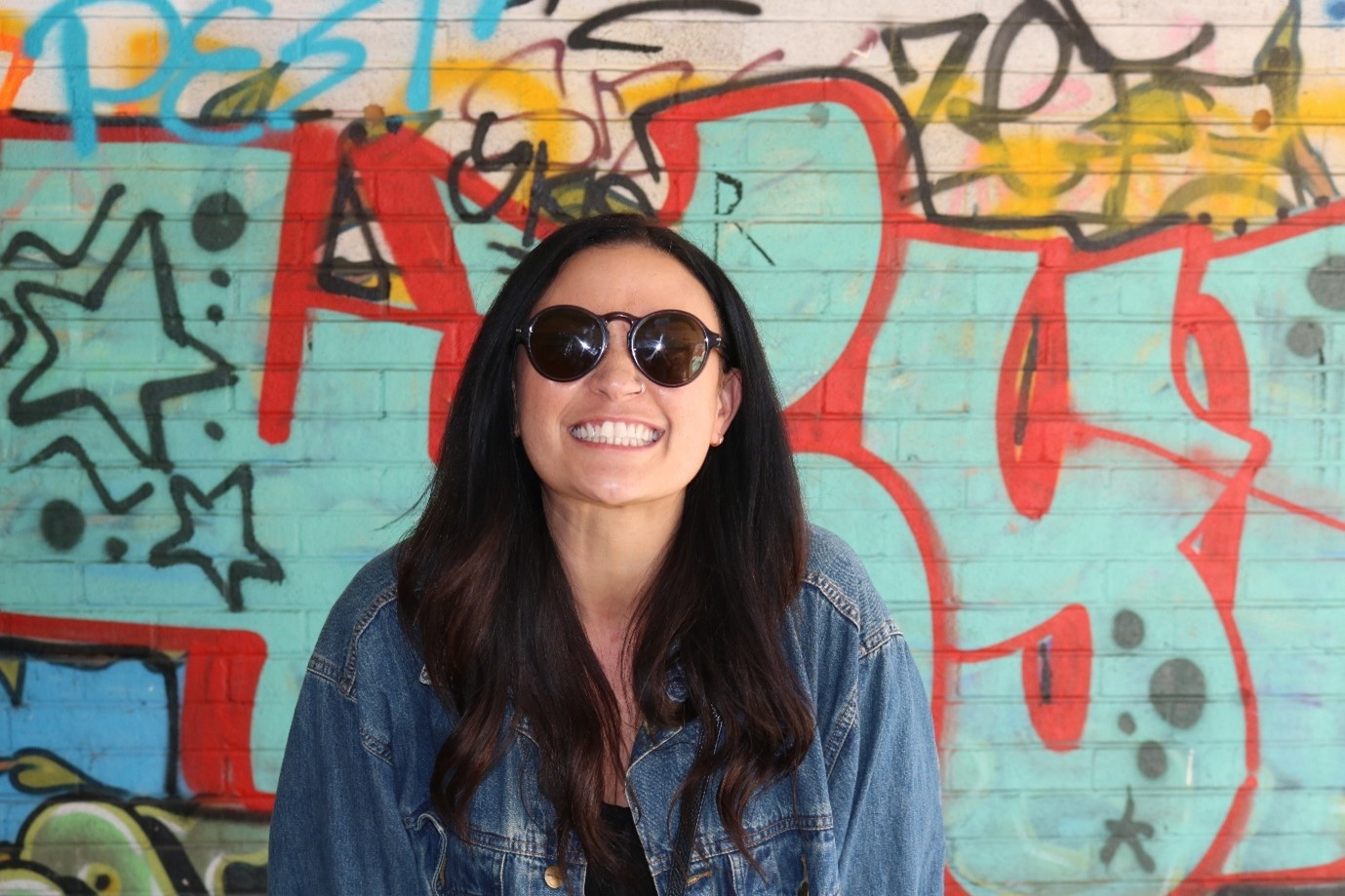 2018: Office Move Number One
Now the team had grown, they needed desks. No more working from shared office space. So, Carlos and Rach headed to the bright lights of Hoxton, East London.
A cool and funky workspace, this building had a prime location in London's Tech City.
2019: The 4Ps Framework is Developed
Martech solutions are both a blessing and a curse for marketers.
On the one hand, while technology changes quickly, most organisations do not and martech helps to bridge that gap.
On the other hand…technology changes quickly. It can be hard to keep up, know what's new tech is necessary and what's not, where to spend and where to save. That's when you know it's time to take control of the situation.
So, MarTech Alliance offered a solution: The 4Ps of MarTech.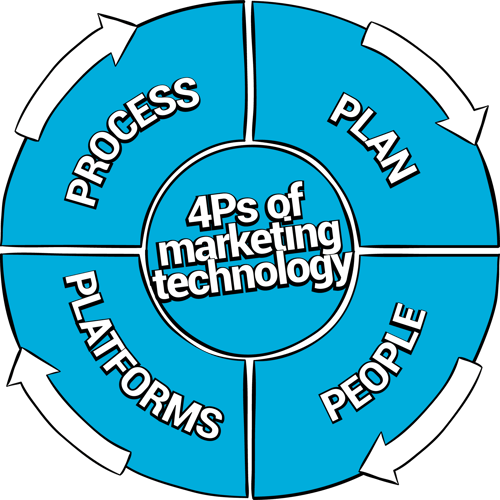 The 4Ps were designed to help organisations get the most out of technologies that have the potential to deliver market-leading performance in a sector that is innovative but necessarily complex and often hard to get a handle on.
At Martech Alliance I eat, sleep and breathe martech. That's why I took a long, hard look at what marketers needed to get from martech and what was stopping them from getting it. And then I came up with a framework to help.

- Carlos
So, what do the 4Ps involve?
P1: Plan – the why?
This is the cornerstone of your marketing strategy. Your Martech plan and roadmap wrap around the customer journey, power your channel marketing, delivers richer insight and accelerate your marketing strategy through to the business goals and customer experience.
P2: People – the who?
The skills/training, people, partners and team structure needed to deliver your martech strategy.
Marketing technologists or ops, platform partners, marketing automation managers, digital marketing operations managers, data scientists, growth hackers and more, all the way to emerging and disruptive tech that redefines roles as we know them today.
P3: Platforms – the what?
From marketing tool selection to building and integrating your complete marketing stack, this is the technology enabling or optimising advertising and promotion, commerce and sales, content and experience, data, management plus social and relationships.
This could be anything from email marketing, search, content, social, paid media, measurability, conversational marketing, multi-channel automation and personalisation, sales enablement – and essentially, data-driven/informed anything.
P4: Process – the how?
This is a two-parter: Implementation of the process of setting up your martech solution(s), and operations or the process of how the business runs with martech platforms in place. In both cases, it's about speed, adaptability, and rapid experimentation through to optimisation.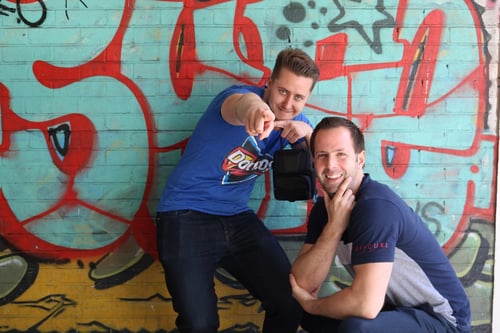 Carlos wanted them to be words beginning with T I'm pretty sure. I found a way to make all words begin with P. So basically, I should get royalties on this one right…it's pretty much the most important part of the framework. C'mon back me up.

- Rachael
2019: #MarTechFest Global
Adapting to the pandemic wasn't easy for anyone. And for a company that likes to throw raucous, vibrant, in-person events, it was particularly tricky.
So, we followed the advice of Bear Grylls: we improved, adapted, and overcome. And what was the result? Well, it was #MarTechFest Dial Up, of course.
This wasn't your average webinar. We booked some of marketing's greatest and streamed live across two time zones! Here's what our watchers enjoyed:
Globally recognised martech speakers
Live polls & Q&A
Exclusive attendee community space
Games, competitions & prizes
Resident Virtual DJ
2021: AntiConLX Moved Into a Bigger Venue
London's #MarTechFestGlobal was the flagship event of the inaugural #MarTechFestWeek. It was 5 Blissful days of marketing technology breakfasts, workshops, parties, dinners and plenty more.
Over 40 of the best and brightest experts took to the stage to share their knowledge, wisdom, insights, case studies and predictions with over 1000 senior marketers.
We took learning to the next level with our MarTech Alliance Campus. There was even a new dedicated space for freshers and course alumni to connect, collaborate, and have peer-to-peer coaching
Everyone agreed Head of Events Brogan's first MarTech Alliance event went off with a bang: '
A bigger venue, with bigger stages, bigger audiences and most importantly bigger and better experiences for our community
2021: The First Global Martech and Marketing Ops Certification Launched
At the start of this year, the team moved into an even flashier office, in the fashionably edgy streets of East London.
Then, we hit a milestone event: the launch of the first certification course in martech and marketing ops.
Featuring our very own Carlos, and marketing operations expert Darrell Alfonso, the course aims to bridge the gap between the rapid growth of technology, and marketers' skill sets.
The course was, and is, packed with everything from marketing ops organisation fit, campaign ops, administration, sales enablement, budgeting and reporting, tech and project management - and everything in-between. We covered how to:
Master best practice marketing ops management

Drive marketing technology utilisation

Achieve true marketing and sales alignment

Reduce data risk exposure

Optimise campaign execution

Elevate programme & project management

Advanced reporting & measurability practices

Drive greater ROT across the marketing function

Boost marketing ROI - and the value of MOPs
I created an online course about Marketing Operations. Why?

𝗕𝗲𝗰𝗮𝘂𝘀𝗲 𝗶𝘁'𝘀 𝗮 𝗥𝗘𝗗-𝗛𝗢𝗧 𝗽𝗿𝗼𝗳𝗲𝘀𝘀𝗶𝗼𝗻. Martech is exploding, and businesses need competent talent to realize Martech potential. At the same time - marketers are desperate to connect their efforts to true business impact. If you want a promising career trajectory, marketing ops is the place to be.

𝗕𝗲𝗰𝗮𝘂𝘀𝗲 𝗶𝘁 𝘄𝗼𝘂𝗹𝗱 𝘀𝘁𝗿𝗲𝘁𝗰𝗵 𝗺𝗲 𝘁𝗼 𝘁𝗵𝗶𝗻𝗸 𝗰𝗹𝗲𝗮𝗿𝗹𝘆 𝗮𝗻𝗱 𝗵𝗼𝗿𝗶𝘇𝗼𝗻𝘁𝗮𝗹𝗹𝘆. I was happy to partner with Carlos Doughty of MarTech Alliance, who helped me put my first-hand experience into frameworks that would work for companies across industries and sizes.


- Darrell Alfonso, Course Instructor.
2021: FSMartech is Acquired
In September LXA moved to acquire FSMartech, a dedicated community website for those using marketing technology within the financial services sector.
"Our vision is to create a first-class educational platform for those in marketing operations – to support the industry in delivering great people, process, plans and products. Partnerships and acquisitions play a key part in our growth strategy. We're excited about the benefits this acquisition provides to both communities. And also having access to Richard's knowledge and experience to support our global development."

- Carlos
It meant that FSMartech Founder Richard Nolan joined our team as a very welcome addition, as Chief Operating Officer.
"Following early growth, a strategic partnership with MarTech Alliance made immediate sense, allowing us to increase the resources available to community members. This acquisition cements that relationship and more. We're delighted to be part of the vision created by Carlos and on a personal level, joining the MarTech Alliance team in a COO capacity."

- Richard Nolan, COO, LXA
2022: Re-Brand Announced
2022 was the year of change. Starting off with a bang, #MarTechFest became AntiConLX, bidding our old event a fond farewell.
Like many waistlines during the lockdown, the marketing technology industry continued to grow. And so did we. So, in order to show our commitment to all things learning, our flagship event had to follow suit. So, #MarTechFest Global upgraded, shifted and transformed into AntiConLX.
In London, on 1st July 2022, AntiConLX will be where tech meets marketing, sales & experience, featuring a stellar line-up of all-star speakers.
As we continue growing our event series, we are more committed than ever to delivering exceptional learning experiences (LX) to help people keep upgrading their knowledge, skills and network.

Our events will retain the "anti-conference" format but expect even deeper learning and opportunities for career growth.
Then, MarTech Alliance became the next part of the re-name series. Becoming LXA, Learning Experience Alliance, the new name shows that learning is at the heart of everything we do. We want to help people do their job better, and get ahead in their career.
But one thing isn't changing: we will continue to bring you cracking speakers, networking, best-selling authors, and giveaways.
Obviously, this is the most important of all milestones in the company's history! It feels like 5 minutes ago and also 1000 years, I sometimes have to pinch myself when I take a minute to appreciate just how far the company has come...we've really achieved some amazing things and I can only imagine what we'll be able to pull off now that we have such a huge, amazing team!


- Rachael
As part of our new rebrand comes the expansion into two new topics: SalesTech and NextTech. Getting their own stages at AntiConLX, the new areas help reflect the needs of a rapidly expanding audience eager to update their knowledge across marketing, tech, and data!
So, what lead to this shift? How did we get to this point? Well, according to Carlos: "We needed a name that rolled well with MarTech and SalesTech. Many have been obsessed with innovation and futurism for some time, what became clear to us is some of the same crowd that live that martech life were early tech adopters beyond marketing and we wanted to give them a home."
2022: Opening of the APAC office
Prepare for global domination!! Who'd have thought from humble beginnings as the first employee at LXA, Learning Experience Alliance? (RIP MarTech Alliance) I'd be able to move back to my home country of Australia armed with the wealth of knowledge I've gained over the past 4 years and help share the vision of this business with a broader audience.

From Content Lead to Marketing Director to Head of Audience Development / Head of APAC I'm genuinely honoured to have been a part of this company's trajectory, and I know there's so much more to look forward to.

- Rachael
We're bringing LXA to the world. You're welcome. From a single spare bedroom to multiple continents, we've grown year on year on year. Promise we're not all wildly jealous of Rachael, getting to do all-things martech, but in the Australian sun. Maybe.
LXA in...The Future
So, what's next? I know, I know. We should have a break. But how can we? Martech never sleeps 😤
Check out our upcoming events:
AntiConLX Lands in Sydney
We're introducing our very own 'anti-conference' down under….for the first time we're kicking off AntiConLX APAC. The cute little sister to the original Global event, AntiConLX APAC will storm the shores of Oz with 300+ APAC marketers to Sydney's premier event space, Carriageworks.
AntiConLX APAC may be little and cute, but do not underestimate her… she will definitely pack a punch. Taking cues from the flagship event and promising to make marketing technology simple. As always, you'll see epic speakers, break out zones, activities, street food and bangin' hip hop tunes.
Leaders Dinners Launched Across Europe
That's right, we're picking up the bill across the globe! Leaders' dinners have been bringing marketers together, sharing tips, tricks and insights over some posh food and wine. Keep your eyes peeled - we might be coming to a town near you!
DialUp USA with Keynote Scott Brinker
AntiConLX DialUp continues to be the internet edition of your fave anti-conference featuring the most exclusive industry speakers.
This will be AMA sesh with the straight-talking industry ledge. We will dive into Trends, Planning & Predictions. Plenty of crystal balling but best of all you can ask your questions to him directly.