Sales Operations Professionals, or 'SOPs': What can they bring to your team?
The world of salestech and sales enablement is booming. "Prove it" – you say? Just take a look at Nancy Nardin's 2021 edition of the SalesTech Landscape, now featuring a whopping total of 1078 solutions across 45 unique categories. Need we say more? And when the demand for great tech rockets, the demand for great people to drive the solutions is never far behind.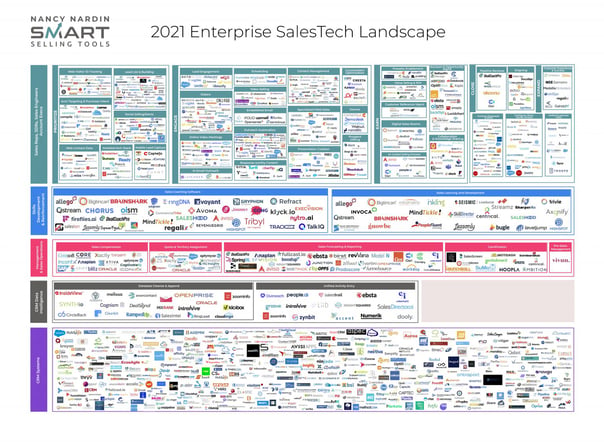 In the marketing world, you'd often look towards the MOPs (Marketing Operations Professionals) to manage the evaluation and implementation of martech into the wider strategy. But now that salestech has emerged from a mere category featured in the Marketing Technology Landscape to inspiring a whole Landscape of its own, you might be asking yourself, "Who should an organisation look to in order to manage the evaluation and implementation of salestech?"
Want more on sales operations? Check out our What is Sales Operations eBook, here!
Introducing the Sales Operations Professionals (AKA SOPs). Much like a MOP, a SOP uses data to drive strategy, best practices and technology to drive success to the department. Sales Operations Professionals are vital for developing and overseeing a smooth, effective and efficient sales process to enable the growth of the businesses and take charge of the salestech stack to do so.
To break it down, the primary objective of the SOPs team is to bring a process to selling by:
Providing strategy, planning & analytics
From optimising sales processes, adopting sales best practice methodology to analysing performance metrics.
Managing and maintaining an integrated salestech stack
From vendor selection, new tool implementations and integration into the salestech stack.
Manage day to day operations and enablement
With a clear strategic direction and great tools in the stack, SOPs are also responsible for the sales team's day to day executions.
So, when is it time to add a Sales Operations Professional to your team? If you want your sales reps to focus on what they do best and bring in the big bucks for your business in the most effective and efficient way – it's probably time.
SOPs not only enable the reps to focus on reaching revenue goals, but they also play a huge part in bridging the gap between marketing and sales. They ensure the customer journey is a seamless experience by thinking holistically, from tip to toe of the funnel, aligning martech and salestech.
Marketing and sales, martech and salestech, MOPs and SOPs are all cut from the same cloth. When adopting proven methodologies, but not muddying the line between the functionalities of these two departments we can ensure the teams, planning, process and tech remain aligned and ultimately drive more success to the business.