The What, Why How of SalesTech
Your step by step guide to salestech
1.What is Salestech?
Salestech is where sales and technology meet. It's the tools designed to help sales teams boost their productivity, drive the speed to lead, improve lead coverage, better understand prospects and customers, and ultimately close more deals. Put another way, salestech enables and accelerates sales team's performance through a range of different platforms and apps.

According to our pals at HubSpot, the working life of salespeople has become increasingly hectic in recent years, with 28% of Sales Directors and VPs working more than 60 hours per week on average and we'd bet our bottom dollar that a significant chunk of that time spent is on manual administrative tasks, organising and chasing leads, as well as laborious customer research. Well there is another way, an automated, enhanced and streamlined way.

*Enter salestech to save the day*
2. Why is Salestech Important?
While we could sing and dance about salestech until the sun goes down, let's get real. A fool with a tool is still a fool. Simply using a salestech tool isn't going to make anyone a natural born salesperson. The tech can't replace the fundamentals of great salespeople and good processes, but by God can it supercharge them. And here's why…
Boost Organisation and Productivity
A significant category in the SalesTech Landscape is Productivity & Enablement. These tools enable salespeople to streamline, automate and co-ordinate their activity in order to boost organisation and productivity.
From lead management, pipeline management to task management, this category of salestech is often in the form of a CRM. This technology can help make a multitude of manual tasks quicker and easier to complete and manage by having activity and actions all stored in one place.
Whether it be click to call, lead piping or email sequencing, more time means more output and helps salespeople become more organised which ultimately leads to closing more deals. *cha-chiiiing*
Drive Lead Generation
Whereas boosting organisation and productivity enables salespeople to be more efficient, driving lead generation enables them to be more effective. Now that our salespeople have the time to do more, it's important to ensure what they do, they're doing well.
Unfortunately, that can't all be down to the tech. Salestech isn't going to populate emails with more persuading copy or set potential clients under a trance on the other end of the phone but what it can do is enable salespeople to target better and move quicker.
Intent and signal-based salestech can be used to identify new leads in a short period of time. For example, firmographic data tools can look up an IP address to identify which companies are visiting your website. Similarly, using first party cookie tracking connected with a CRM, alerts can be created when contacts have been to the site or opened emails and pitch documents.
However, it still remains down to the salesperson to get them over the finish line.
Improve Customer Experience and Drive Speed to Lead
Every great salesperson will know that speed to lead is key to conversion. The quicker the follow up, the more likely the client is to remember them and their previous conversation. Yep, you guessed it. Salestech can surely assist with this too.
We all know how the story goes, and it sounds a little something like this…
"How is 10:00am tomorrow for a call?"
"Can't do 10 but free from 2-5"
"Can do 2:30?"
"Sorry, diary changed can no longer do 2-3 but can do 4-5"
"Can't do 4-5 Tuesday but can do 4-5 Wednesday?"
"4-5 Wednesday doesn't work, 10am Wednesday?"
"Flat out Wednesday morning, any time Wednesday afternoon?"
And so it goes on… and on and on and on. *Enter salestech*
From calendar meeting bookings integrated with dairies, click to call buttons, eSignatures to email templates, salestech can offer a multitude of time saving solutions that not only drive speed to lead, but also improve the customer experience.
Better Understand Your Customers
Sales intelligence tools can provide auto-populated information about contacts before the follow up. Tools such as Clearbit provide data enrichment tools that take an email address and reverse engineer the domain to find key information such as company size, revenues, industry focus, the list goes on.
With this information at hand (without blocking out hours to manually research) salespeople can turn up to pitches better prepared and ready to drive engagement. By better understanding the customer, they better understand their needs and arm themselves to propose a better solution.
This data can also give the sales team the vital information needed to prioritise leads to ensure the highest ROI (and return on time ROT). Better understand your lead and spend your time on leads with greatest probability of closing.
Drive greater engagement and opportunity of conversion through...
Lead Scoring and Predicative Analytics
As we've mentioned, salestech can provide the data to inform and define the highest relevance and intent lead data so the sales team can double down on the most important contacts.
Personalisation
By integrating the sales channel activity and better understanding the customers and their intent, the sales team can harness the power of salestech to deliver the right message at the right time to the right person.
Salestech with a focus on social selling via video, email, direct mail and calls can enable the pitch to stand out from the crowd.
Salestech isn't just for the client's benefit. There are also a handful of solutions out there to boost team motivation and selling techniques.
Sales and Marketing Alignment
Integrating salestech at the heart of sales brings a more data driven approach. This same ethos aligns perfectly with modern marketing teams and presents the opportunity to align activity. Thinking about the marketing AND sales funnel, about the customer activity tip to toe, awareness to conversation, marketing to sales, martech to salestech.
Scale and Aggressively Grow
Embracing salestech effectively across the sales processes creates a more uniformed way of working. One which can be built into a powerful sales playbook. This in turn provides a more predictable growth strategy and a common onboarding approach to make an increasing sales team and book of business grow quicker and easier.
3.What Categories of Salestech are There?
What started in 2017 as a supergraphic displaying the entire salestech marketspace has continued to expand. Nancy Nardin's latest version of the SalesTech Landscape has had a 'complete and thorough re-audit' – Nancy and her team have left no logos left unturned and no corner of the salestech-sphere unexplored.
You'll now find a grand total of 1078 solutions included in the Landscape, with a whopping 461 of them being CRM solutions - all of which carefully curated across 45 unique categories. It just goes to show we're not short of salestech solutions. [Source: Smart Selling Tools]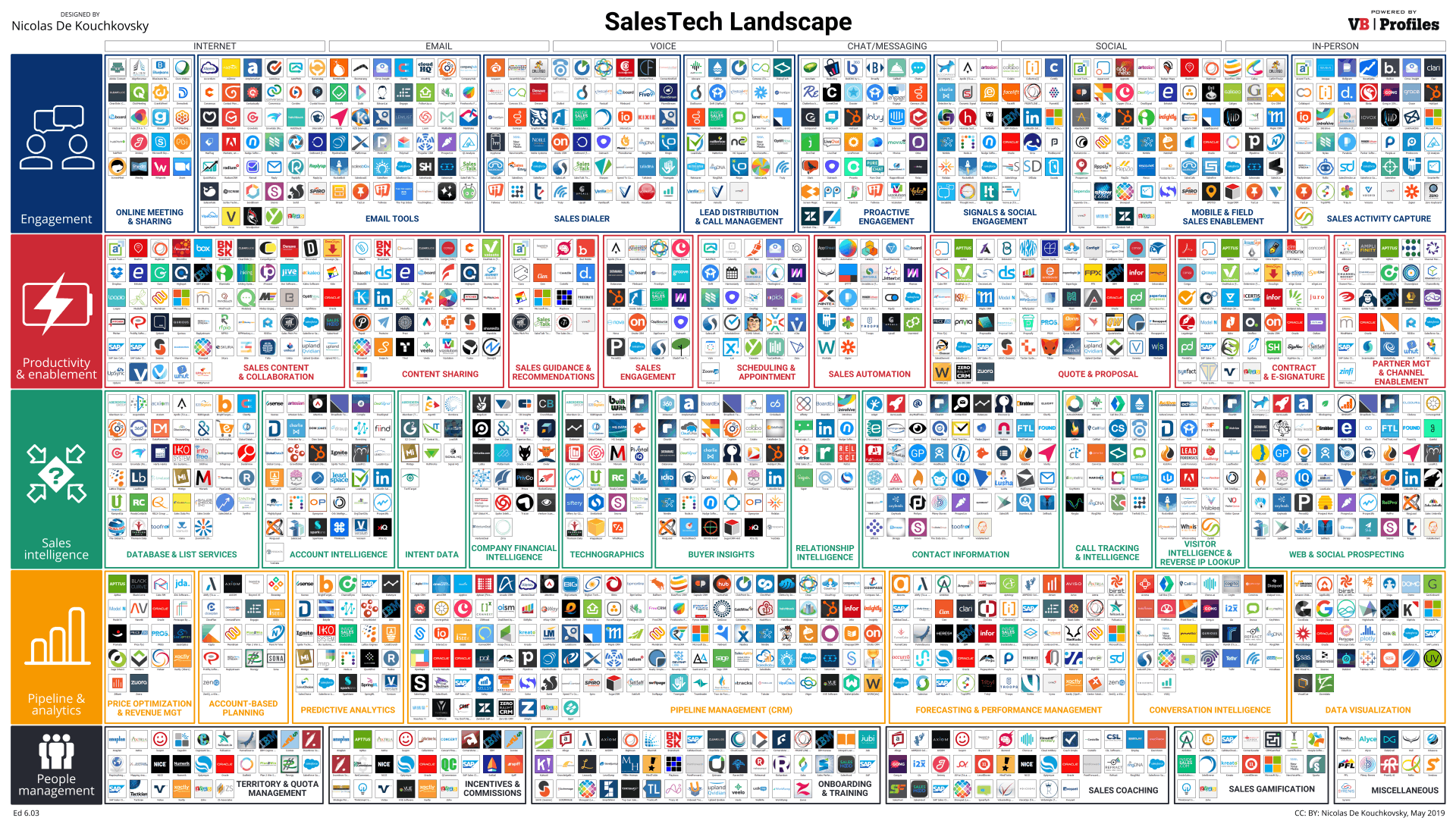 In fact, Nancy and the team at Smart Selling Tools aren't the only ones who have a passion for organising tiny salestech logos. Nicolas De Kouchkovsky and VB Profiles have also created their own SalesTech Landscape at categorised the tech by the following:
Engagement
Communication is key and speed to lead is king and Queen. From tools that provide virtual meeting rooms, automated emails to intelligent chatbots. Salestech enabling better engagement can be divided into the categories below:
Online meeting & sharing
Email tools
Sales dialler
Lead distribution & call management
Proactive Engagement
Signals & social engagement
Mobile & field sales enablement
Sales activity capture

Productivity & Enablement
It all comes back to organisation. By automating manual tasks, you can spend time on the stuff that matters and doing more of it. From synced calendar meeting bookings, online proposal docs to cross-team collaboration, Productivity & Enablement salestech can be categorised into the following:
Sales content & collaboration
Content sharing
Sales guidance & recommendations
Sales engagement
Scheduling & appointment
Sales automation
Quote & proposal
Contract & e-signature
Partner management & channel enablement

Sales Intelligence
Sales intelligence harnessed by tech can not only save hours of research time but also enables salespeople to better prepare themselves for pitches and proposals.
Data that enables a better understanding of the client can inform the organisation how much time to invest in its business and use these insights to create informed target lists and ICPs. Sales Intelligence solutions can be categorised into the following:
Database & list services
Account intelligence
Intent data
Company financial intelligence
Technographics
Buyer insights
Relationship intelligence
Contact information
Call tracking & intelligence
Visitor intelligence & reverse IP lookup
Web & social prospecting

Pipeline & Analytics
Many analytical salestech solutions are becoming increasingly focused on assembling comprehensive customer datasets which can run powerful predictive models. These models can be utilised to drive planning and prioritising sales. From internal organisation to sales prioritisation, salestech which aims to enhance the Pipeline & Analytics can be split into the following categories:
Price & optimisation & revenue management
Account-based planning
Predictive analytics
Pipeline management (CRM)
Forecasting & performance management
Conversation intelligence
Data visualisation

People Management
There are also a handful of salestech solutions out there to boost the team's motivation and improve their selling techniques. From gamification tools to drive engagement to training and coaching tools. A variety of People Management salestech tools can be grouped by the categories listed below:
Territory & quota management
Incentives & commissions
Onboarding & training
Sales coaching
Sales gamification
Miscellaneous

4. What are the Top Growing Salestech Trends?
As the salestech landscape continues to expand rapidly, it is driven in large part by some of the key sales trends playing out such as:
ABM (Account Based Marketing)
Account based marketing (ABM) is a business marketing strategy that concentrates resources on a set of target accounts within a market. ABM campaigns aim to establish meaningful relationships with the most important clients who will deliver the highest ROI.
Dynamic salestech solutions including sales intelligence and analytical tools allow both sales teams and marketers to harness the benefits of account based marketing.
Video Selling
It's a competitive world out there for a sales rep and it's only getting harder to make sure your pitch stands out. That's why more sales teams are turning to new video communication techniques to get noticed.
In fact, last year HubSpot listed video prospecting as the number 1 skill every sales development rep needs to master. They suggest making short, engaging clips (no more than 2 minutes long) to introduce themselves, deliver value with a quick tip and ask to schedule a call.
Video pitches and presentations can effectively communicate a message in a memorable way that is easily consumed by the customer. As video is becoming the preferred content consumption format, video is also becoming one of the fastest growing sales enablement tools on the market.
Social Selling
Social selling is another salestech trend that is also on the rise. Researching and engaging with potential customers on social platforms is now a common practice for sales reps.
Whether it be connecting, commenting, liking, or sharing potential customers activity, sales reps can create meaningful relationships and increase their credibility.
With tools such as LinkedIn Sales Navigator providing company news, information, organisation structure and account activity it's no wonder LinkedIn's State of Sales Report Pocket Guide reported that over 59% of sales reps use Facebook and LinkedIn to connect with prospects and close deals.
Conversational Marketing & Sales
Conversational sales and marketing solutions have the power to rapidly enhance the customer experience by enabling potential customers to receive an answer to their query in minutes without the waiting time to speak to a representative. This also frees up the time of the sales team who no longer have to dedicate huge quantities of time answering repetitive questions.
Conversational marketing and sales are powered through live chat and chatbot software to produce real-time, meaningful conversations with customers at different points in their buying journey. Often AI enhanced to make the conversation even richer.
But it's the combination of man/woman and machine that makes for the most successful customer experience. For example, intelligent chatbots can ping the appropriate salesperson to take control at critical points in the conversation if the query has not yet been resolved.
5. Top Recommendations for Using Salestech Right
Good Tech Doesn't Replace Good Salespeople and Process
Your salestech tools are there to enable the sales teams to become more efficient and effective, not do their job for them. Along with the great people and processes this should result in better quantities and quality of deals being closed. Your salestech alone can't be responsible for bringing in the big bucks, your tools should be used to support your teams and processes.
Don't Over Automate
Automation is a powerful and useful tool, but don't over do it. Stay clear of batch and blast emails, LinkedIn spray and pray connections and Twitter smash and bash posts. It's important to keep an authentic human element to your daily interactions and personalisation is the key. Use the time saved with automation to research, plan, pause and personalise.
Beware of Shiny Object Syndrome
We're all accustomed to shiny object syndrome and the excitement of new tech can be dangerously distracting. Start with what's most important – getting processes on point, people in place and ensure you're making best use of the tech already in play before you start searching for the best sales software out there.
Co-ordinate and Integrate
Think of your salestech stack holistically and consider how your solutions all work together to provide a better experience for your customers. Consider where, when and how each tool wraps around the customer journey.
Document & Roll Out
Investigate your tools and how your team utilises each one. Find what works best - tool by tool, tactic by tactic, hack by hack and document everything into a detailed, powerful sales playbook and share it with the team. Make this your Bible, your informed way of working across the team. Once carefully constructed, don't just leave it on the shelf to gather dust, constantly review and update your processes based on any new learning, big or small.
Think Martech AND Salestech
Martech and salestech are cut from the same cloth, the latter is part of the former. When you think "sales" think "sales AND marketing", when you think "marketing" think "marketing AND sales". Ensure the teams, planning, processes, and tech all stay aligned to really boost your business performance.
By aligning your marketing team and sales team, your martech and your salestech you will drive more success to the business. Think of these teams and tools holistically as they all drive to deliver a common goal.
Marketing and sales, an unwritten love story… Until now. Marketing and sales have been drifting closer together in recent years and with such a boom in marketing technology (martech) it's no surprise that sales technology (salestech) is now following in its footsteps.
These two are no strangers, in fact, they've already crossed paths. While the acceleration of salestech has inspired its own Landscape, salestech has also bagged itself a cosy spot to set up camp in Scott Brinker's Marketing Technology Landscape 2020.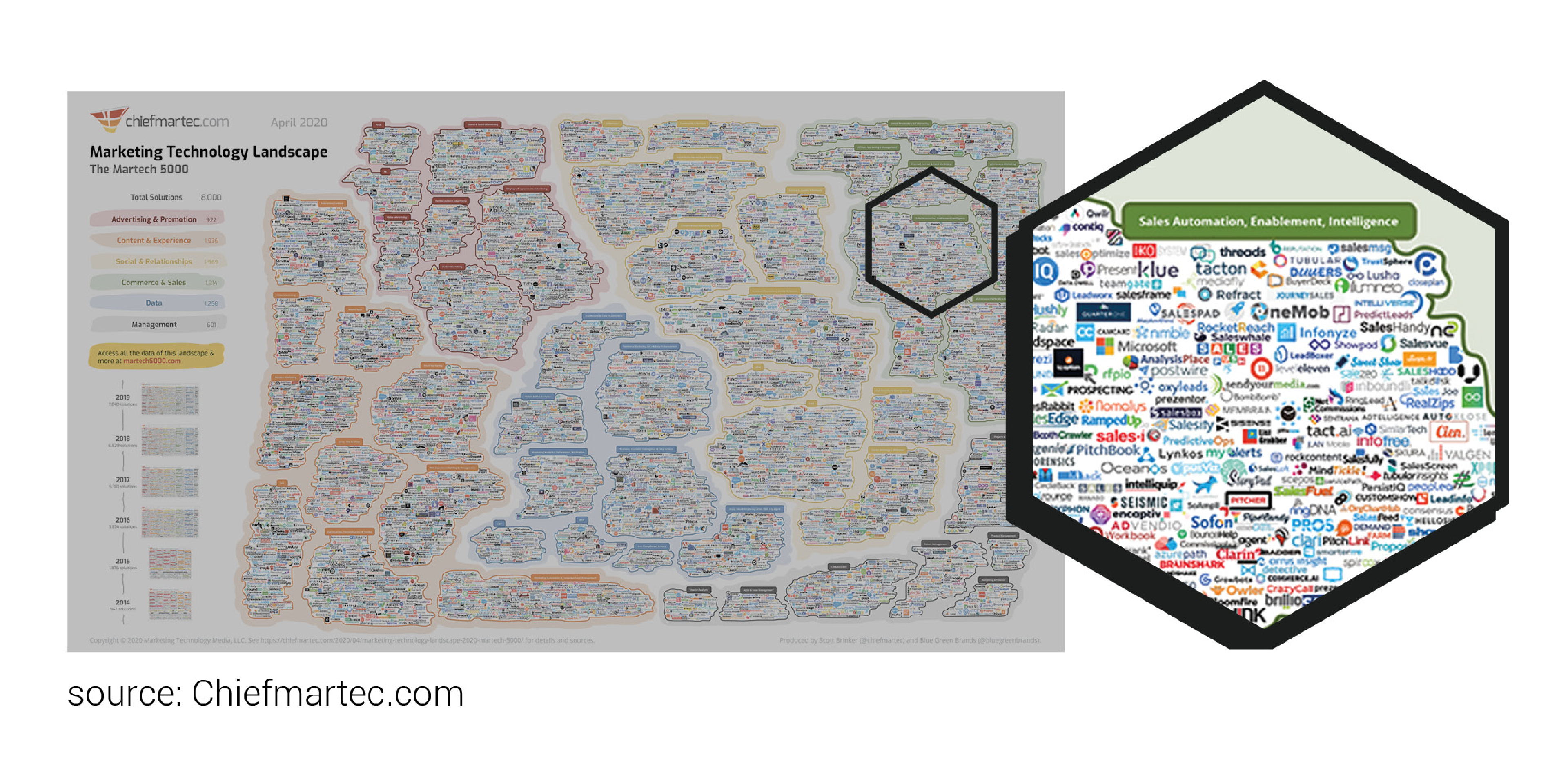 Looking to drive your salestech plans? Check out our 4Ps
of marketing technology framework and guide.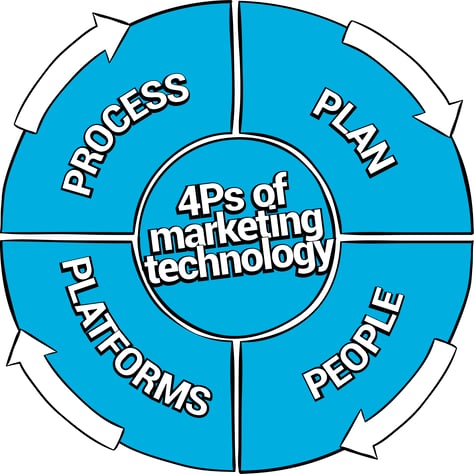 Covering a practical framework of all things martech (which of course includes salestech) that will help you build and manage your sales and marketing tech strategy and roadmap and optimise what you already have in place.