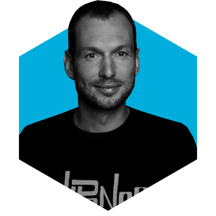 As part of the research into the 2020 UK Marketing Technology Landscape Supergraphic, we reached out to some of the UK's key marketing technology vendors.
We chatted on what makes them tick, what makes their companies successful, and gained valuable insights to the current & future state of martech.
Peter Iriokovsky, CEO:
Exponea
In one Tweet (now 286 characters) describe your company for anyone not familiar?
Exponea is the world's leading Customer Data & Experience Platform (CDXP). Customer data is unified from all touch points in order to drive insights and action opportunities that deliver results. We pride ourselves on empowering marketers to be more relevant, efficient and crazy-fast.

Can you tell us a little bit more about you and how the business came about?
When my co-founder and I started Exponea back in 2015, the word CDP was non-existent and the single customer view was just a dream. But we knew the combination of my customer-centric e-commerce background and his vendor integration background could result in something really powerful. Today the use cases are what amazes me most. For example, everyone was talking about the death of email in 2015 but it's an even more important channel in 2020. Exponea's foundation makes it possible for our customers to evolve in whichever surprise direction the market takes, and that's something we're extremely proud of.
What do you think has been the driving force behind your growth to date?
The driving force behind our growth is the same as the driving force behind our users' growth: the customer. Building a globally successful company that's here for the long haul is part of the goal, but customer loyalty and customer-centricity are the things that will get us there.
What have been some the toughest moments with the business?
In 2018, we realised we needed to rewrite almost the entire core architecture to enable nearly infinite scaling -- an absolute necessity. During that time, we were still growing and on-boarding new clients. The rewrite created triple the workload for key engineers, but we're fortunate to have super committed people and made it through.
What books, publications or individuals do you take inspiration from?
I try not to follow individuals, but I read 20+ non-fiction books a year, especially philosophical (e.g. Vedanta Treaties from Swamiji Parthasarathy), psychology (What you do is who you are - Ben Horowitz), business (Blueprint to a billion - David G. Thomson) but also spiritual (Letting Go - David Hawkins).
What's the best advice you've received for scaling your business?
Most people think that if you build something amazing, the growth will come easy and quickly, but that's far from the truth. My experience from Groupon and Slevomat taught me the importance of pacing yourself, putting the utmost care into the foundation, and working to make small strides every day.
Finally if we fast forward 5 years where will Exponea be, and how do you think the marketing space will have evolved?
I believe the volatility of the market will continue well beyond 2020, and companies will need to develop the ability to change quickly. Boris Groysberg, my favorite professor from Harvard, calls the new strategic approach "Protect and Pivot". There will be much more focus on fast time-to-value technologies and there will be a huge rise in the importance of CRM managers (they might be call loyalty managers, or customer directors etc.). As we've built Exponea for customer-centric companies with a huge focus on the fastest time-to-value, we're well on the way to becoming a market standard.
---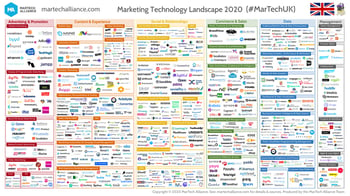 Get your high resolution version of the UK 2020 Marketing Technology Landscape Supergraphic here