Increased M&A activity in the Ad Tech, Digital Content and Martech sectors suggest the industry is continuing its recovery from the pandemic.
In both Ad Tech and MarTech, the number of deals has grown by more than 200% year on year, from the low point of Q2 2020.
Luma's Q2 2021 Market Report found strong deal activity when compared to Q2 2020. The number of deals increased year on year by more than 500% in Ad Tech, by 80% for Digital Content, and by 214% for MarTech.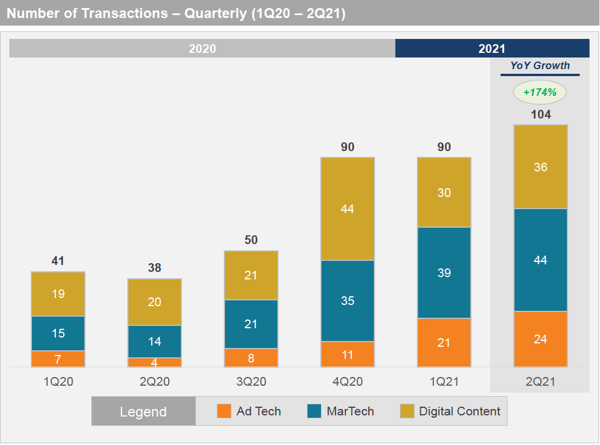 Luma expected this level of activity to continue thanks to a number of factors, including the openness of public markets to Ad Tech and MarTech, privacy issues. and shifts in consumer behaviour towards Streaming media and ecommerce.
MarTech activity
In MarTech, overall deal activity continued to grow from the lows during the pandemic, with Q2 2021 up 214% on the same period in 2020.
Luma observed several notable acquisitions of messaging platforms during Q2, including Sinch's acquisition of Message Media for $1.3 billion, Twilio's acquiring ZipWhipfor $850 million, and MessageBird buying commercial email service SparkPost for $600 million.
With this battle forming around customer communication platforms, we can expect to see more activity in this space, as consumers use more channels for interaction with brands.
A number of data and analytics companies with a retail focus were also acquired during Q2, including Numerator, Bridg, and Pathmatics.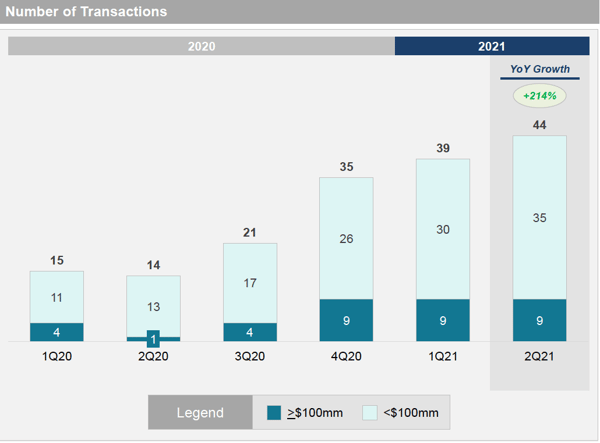 Martech share performance
SEO tool SEMrush, which went public in March 2021, was the top performing MarTech stock, up almost 80% in Q2, followed by social media platform SproutSocial and ecommerce platform Shopify.