We're bringing you the best insights written in the world of marketing today, thanks to our sponsors at mParticle.
"Marketing is a battle of perceptions, not products," said Al Ries and Jack Trout in their seminal work The 22 Immutable Laws of Marketing.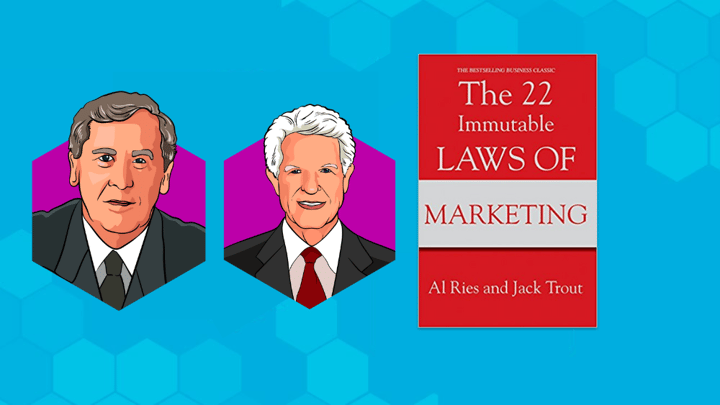 Twenty-two?! That's, woof, far too many, you might be thinking. Can't we reduce it to 3, maybe 5 at most?
No, no we can't. Each one of these is unwavering and indisputable. Immutable even. The 22 Immutable Laws of Marketing is a marketing classic, outlining (you guessed it) 22 rules companies function within, and can determine the success of your offerings and business.
Published way way back in the far-off year of 1993, the book was meant as a guideline for companies to understand how they can make their products successfully locally and globally.
Why

is The 22 Immutable Laws of Marketing is Vital for Any Modern Marketer
Al and Jack are two of the world's most successful marketing strategists and have 40 years of marketing expertise to call upon.
They combine a wide-ranging historical overview with a look into the future and examine marketing campaigns that have succeeded and others which failed. They also analyse why some good ideas don't live up to expectations and offer alternatives.
The book highlights the foundations of marketing, and how to avoid violating the 22 laws.
About the Authors
Al Ries founded his first agency in 1963 in New York City - Ries Cappiello Colwell. This agency is now known as Ries, a global consulting firm with offices in Atlanta and Shanghai, with affiliates all across the globe.
Al rose to fame in 1972 when his three articles on a concept called "positioning" were featured in the Advertising Age magazine. The positioning concept has since been voted by AdAge as one of the 75 most important advertising ideas of the past 75 years.
Jack Trout was an owner of Trout and Partners, a consulting firm. In terms of his academic career, he was one of the founders and pioneers of positioning theory and marketing warfare theory. Jack started his business career in the advertising department o General Electric, and from there he went on to become a divisional advertising manager at Uniroyal. After this, he joined Al in the advertising and marketing strategy firm where they worked together for over 26 years.
Top Takeaways
Right, let's have a look at those 22 laws.
The Law of Leadership. It's better to be first than to be better
The Law of Category. If you can't be first in a category, set up your own.
The Law of the Mind. It's better to be first in your customer's mind, than first in the marketplace
The Law of Perception. Marketing is a battle of perception, not products
The Law of Focus. It is a powerful concept to own a word in a customer's mind
The Law of Exclusivity. Only one company can own a word in a customer's mind
The Law of the Ladder. The strategy to use depends on which rung of the latter you're on
The Law of Duality. Every market becomes a two-horse race
The Law of the Opposite. If you're aiming for second place, your strategy is determined by the leader
The Law of Division. Over time, a category will divide and become two or more categories
The Law of Perspective. Marketing effects take place over a period of time
The Law of Line Extension. There's always pressure to extend the equity of a brand
The Law of Sacrifice. You have to give up something, to get something
The Law of Attributes. For every attribute, there is an opposite, effective attribute
The Law of Candour. When you admit a negative, the prospect will give you a positive
The Law of Singularity. In each situation, only one move will produce substantial results
The Law of Unpredictability. You can't predict the future
The Law of Success. Success can lead to arrogance, which can lead to failure
The Law of Failure. Failure will happen and should be accepted
The Law of Hype. The situation is often the opposite of how it appears in the press
The Law of Acceleration. Successful programmes are built on trends, not fads
The Law of Resources. Without adequate funding, an idea won't get off the ground
Link to purchase page
Purchase The 22 Immutable Laws of Marketing on Amazon and Audible
Other Books You May Be Interested In
We're bringing you the best insights written in the world of marketing today, thanks to our sponsors at mParticle 👇

Stay tuned for more! 📖📚