The pandemic continues to have an impact on marketing budgets, with spend as a percentage of revenue falling to a ten year low of 6.4% year on year.
However, though spending on marketing technology has fallen along with the rest of marketing, its share of budgets has increased, and many CMOs expect to spend more in this area during 2022.
Gartner surveyed 400 CMOs, with just under half based in the US, as well as respondents from Canada, UK, France and Germany.
Marketing budgets continue to fall
There was some expectation that marketing budgets would bounce back during 2021.Indeed Gartner's CMO survey from last year found optimism that budgets would grow by 5% this year.
However, the average marketing budget fell from 11% of company revenue in 2020 to 6.4% in 2021, the lowest as a percentage of revenue for seven years.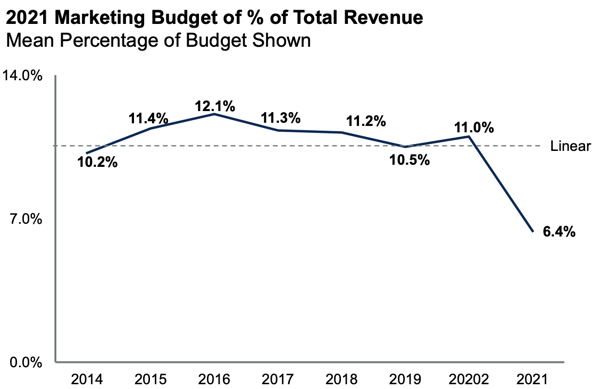 As Gartner VP Analyst Ewan McIntyre suggests, many CMOs may have adapted to lower levels of spending during 2020, and decided not to spend more in some areas, while one obvious saving has been travel and in-person events.
The risk for many firms is that, though companies may not feel the impact from reduced marketing budgets right now, the effect may be felt in the long term.
Budgets fell at similar rates across industries, while B2C and B2B marketing budgets experienced similar falls.
The main difference was between levels of marketing maturity. The most mature marketing organisations secured higher budgets, 8.6% of revenue on average. These are organisations that understand the value of marketing, can measure its effectiveness and see the risk of cutting too severely.

Majority of spend on digital, events budgets down
The majority of marketing budgets were spent on digital channels, 72.2% in all. According to Gartner, this marks the end of the budget split between digital and offline.
In addition, the increased spend on hybrid events which mix online and offline channels means all marketing budgets now include some digital element.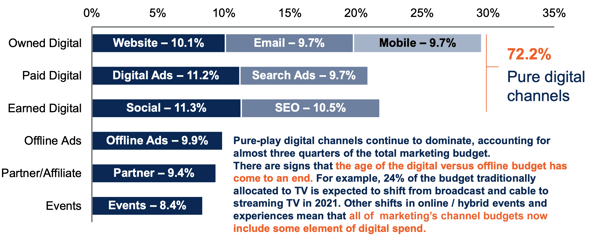 Unsurprisingly, the areas where marketers are decreasing investment include offline advertising, mobile marketing, and event marketing.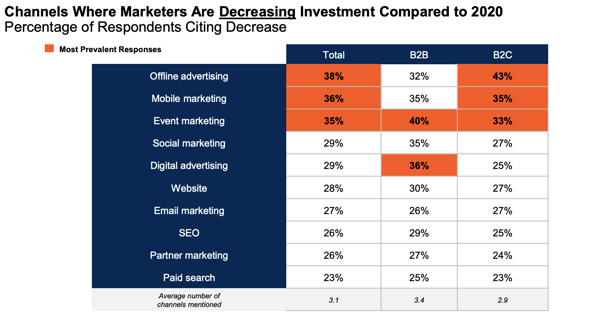 In the case of events, the various pandemic related restrictions means the opportunities for spending in this area were reduced, though we can expect some bounce back as in-person events are staged again.
It's also a reflection of the relative cost - without venue and related physical event costs, companies spend a lot less on digital events.
Spending on martech
While overall budgets have been falling, the proportion of spending on marketing technology remains strong, with martech taking a 26.6% share of marketing budgets.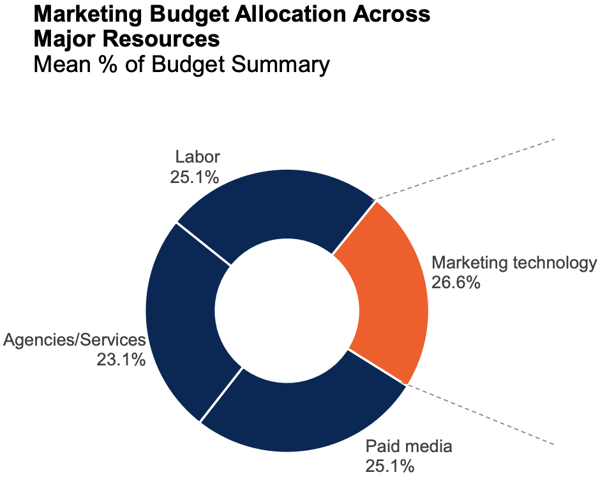 The accelerated shift in customer behaviour towards digital channels, and the need for brands to be where customers are means marketing technology has become even more important.
It's also significant that CMOs expect their budget for marketing technology to increase. 68% think they'll be spending more on martech next year.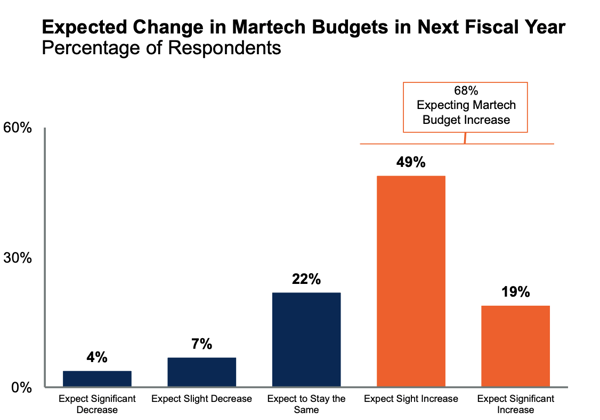 Martech has been seen by CMOs as one area where they've been reluctant to cut, as they see this as a path to growth out of this crisis.
As Ewan McIntyre pointed out, it's also an area where more ROI can be found, as marketing departments learn to harness the technology they use more effectively.