Organisations increasingly understand the link between how they obtain, manage, and use data, and the level of customer trust.
74% of marketers agreed that adopting data governance, ethics and privacy best practices in marketing campaigns leads to an uplift in overall brand trust.
This is an issue explored in LXA's new State of Data Privacy and Trust in Marketing 2023 report, written in association with OneTrust.
For several years, a combination of deepening customer concern around how companies use personal data, and the introduction of data privacy legislation around the world has become challenging for marketers.
With data privacy legislation in force in more than 180 countries, and tech platforms such as Meta, Apple, and Google regularly changing their own data privacy policies, marketers need to balance compliance with the ability to personalise marketing.
Our survey found that the vast majority of organisations understand that the adoption of data governance, ethics and privacy best practices is improving brand trust and reputation, with 71% providing greater control for customers in the form of clear consent practices and options to control the sharing of data.
Marketers also acknowledge the need to provide a value exchange for consumers to build up this trust. By using data to personalise and target marketing more effectively, customers see the direct benefits of sharing data, often in the form of more relevant promotions, and a better overall customer experience.
For marketers, getting this value exchange right, and building trust with customers enables them to collect quality first-party data and use it to improve the effectiveness of marketing campaigns.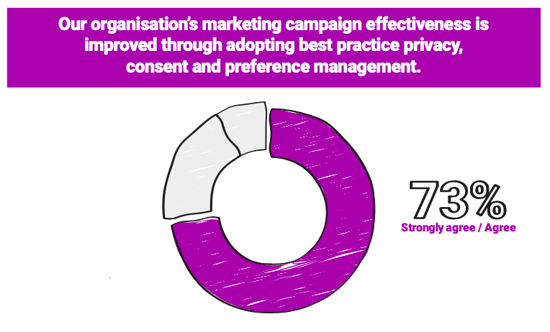 As Michael Klazema, Chief Marketing Technologist & Director, EY Consulting explains, the focus on trust and the use of first-party data benefits customers and marketers:
The desire for trust from consumers has forced marketers to ask about what data is needed. If it's truly needed and there's a value exchange, customers are willing to share.

With zero and first-party data, marketers have a more limited number of data points. By focusing on fewer, higher-quality data points, marketers can do more with the data they collect.
LXA's new State of Data Privacy and Trust in Marketing 2023 report looks in greater detail at how marketers handle data privacy and compliance, the benefits of improved data management, and the technology that enables organisations to manage data more effectively.