Customer experience is one of the most important considerations for any business, and a factor that can give you a competitive edge in a crowded market.
While you may think that a shining and great product or service would outweigh the drawbacks of a bad CX, according to a Forrester report, 61% of U.S. adults say that they are unlikely to return to a website that does not provide a satisfactory experience, regardless of how good a product is.
In this article, we'll round up some key data around different aspects of customer experience.
Why customer experience matters
84% of people say that the experience provided by a business is equally important to the product or service they're using.*


One in three consumers will walk away from a brand they love after just one bad experience.*


65% of US customers find a positive experience with a brand to be more influential than great advertising.*


53% of consumers feel brands fail to meet their experience standards.


Two-thirds of UK consumers can't remember when a brand experience last exceeded their expectations.


76% of people will switch to a competitor if they have just one bad experience
Consumer expectations of customer experience
Customers expect connected journeys, and 76% of customers expect consistent interactions across departments (Salesforce).


However, 54% say it generally feels like sales, service, and marketing teams don't share information.


74% of customers have used multiple channels to start and complete a transaction.


66% of customers expect companies to understand their unique needs and expectations, but 66% say they're generally treated like numbers.



According to customers, healthcare, travel and retail are the most customer-centric industries.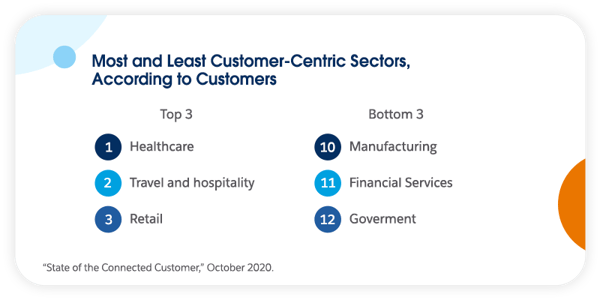 53% of consumers feel brands fail to meet their experience standards. (Acquia).

Business attitudes to customer experience
For the Martech Alliance 2021 Customer Experience Trends & Insights report, we surveyed more than 200 CMOs in the UK, France and Germany. for their views on CX.


The vast majority (78.5%) agreed that an amazing customer experience provides a powerful competitive advantage.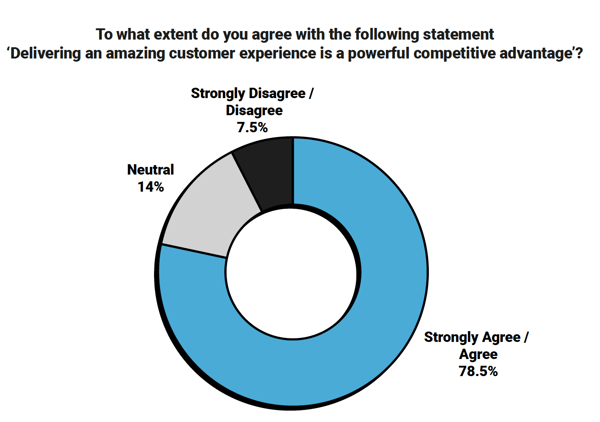 31.5% of companies say they are exceeding customer expectations, while 17.5% feel the experience offered meets the needs of customers.

The main barrier to providing a great customer experience is a lack of skills and knowledge with regards to tech and data (53%), while lacking the necessary tech solutions (43%) was the second biggest obstacle.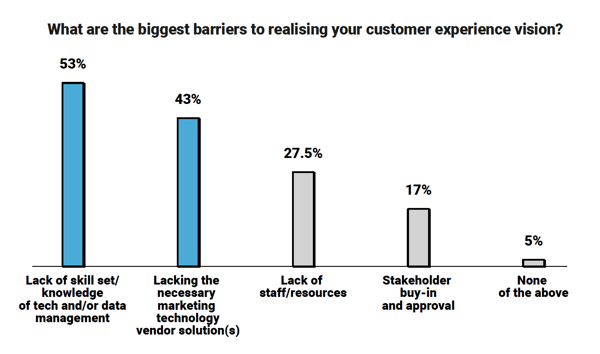 48% of companies feel that they fail to meet customer expectations when it comes to CX.


54% of UK brands rely on their CMO to set the CX vision for their organisation. (Acquia)


44% of UK brands face a brand leadership talent shortage and 23% report confusion on where to start with CX technology.


A third of companies that ranked CX investment areas as low priorities prior to COVID-19, now plan to spend more.


73% of brands can't provide a consistent experience across their different digital channels


Fashion sites have the highest proportion of abandonment on mobile (63.03%)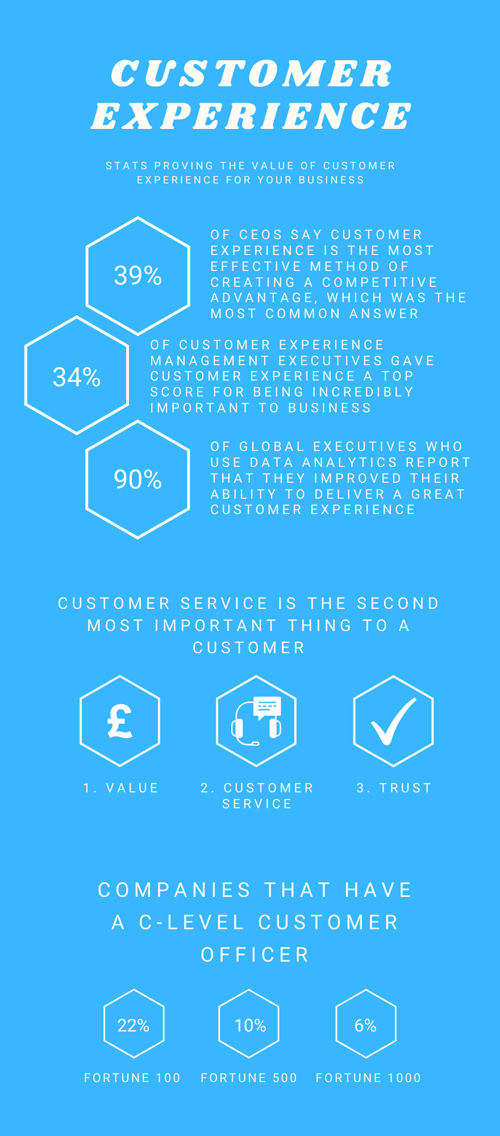 Customer experience and employee engagement
Companies that excel at customer experience have 1.5 times more engaged employees than less customer-focused companies. In turn, companies with engaged employees outperform the competition by 147%.


59% of companies with a CEO who is involved in customer experience report higher revenue growth, compared to just 40% of companies without a customer-focused CEO reporting growth.


ROI from customer experience
Customer service
This post is part of our Martech stats series, which compiles key data and trends. Others include: