You're probably starting to see the words "customer data platform" appear on your screen more regularly by the day, and you know what that means… Aaah yes. Another red hot, martech trend is fresh out the oven and ready to take the industry by storm.
---
For some of you, this is Christmas come early. An opportunity for a new tech tool makes your heart skip a beat, fills your body with first date jitters – the perfect combination of excitement and anticipation. Procurement proposal in hand you take a breath and say to yourself; "play it cool, make the first impression count, this could be… the one."
For others, a little more scepticism could be on the cards. Your martech stack is pretty hefty as it is and managing that stack is turning into more than just a little maintenance. So, the first question you'll rightly ask is "Where does a CDP sit in my martech stack?"
As the saying often goes: mo' martech mo' problems - to quote the Notorious MTA (that's MarTech Alliance). While we might be so bold as to say there aren't many who love martech as much as we do, it is all too often that the more martech solutions in your stack, the more disconnected the data becomes.
But when it comes to integrating a customer data platform (CDP) into your stack, we'll cut straight to the case – a CDP sits bang in the middle. Rather than adding more data silos, the purpose of a customer data platform is to connect the existing customer data to create a singular customer view and enable insightful actions.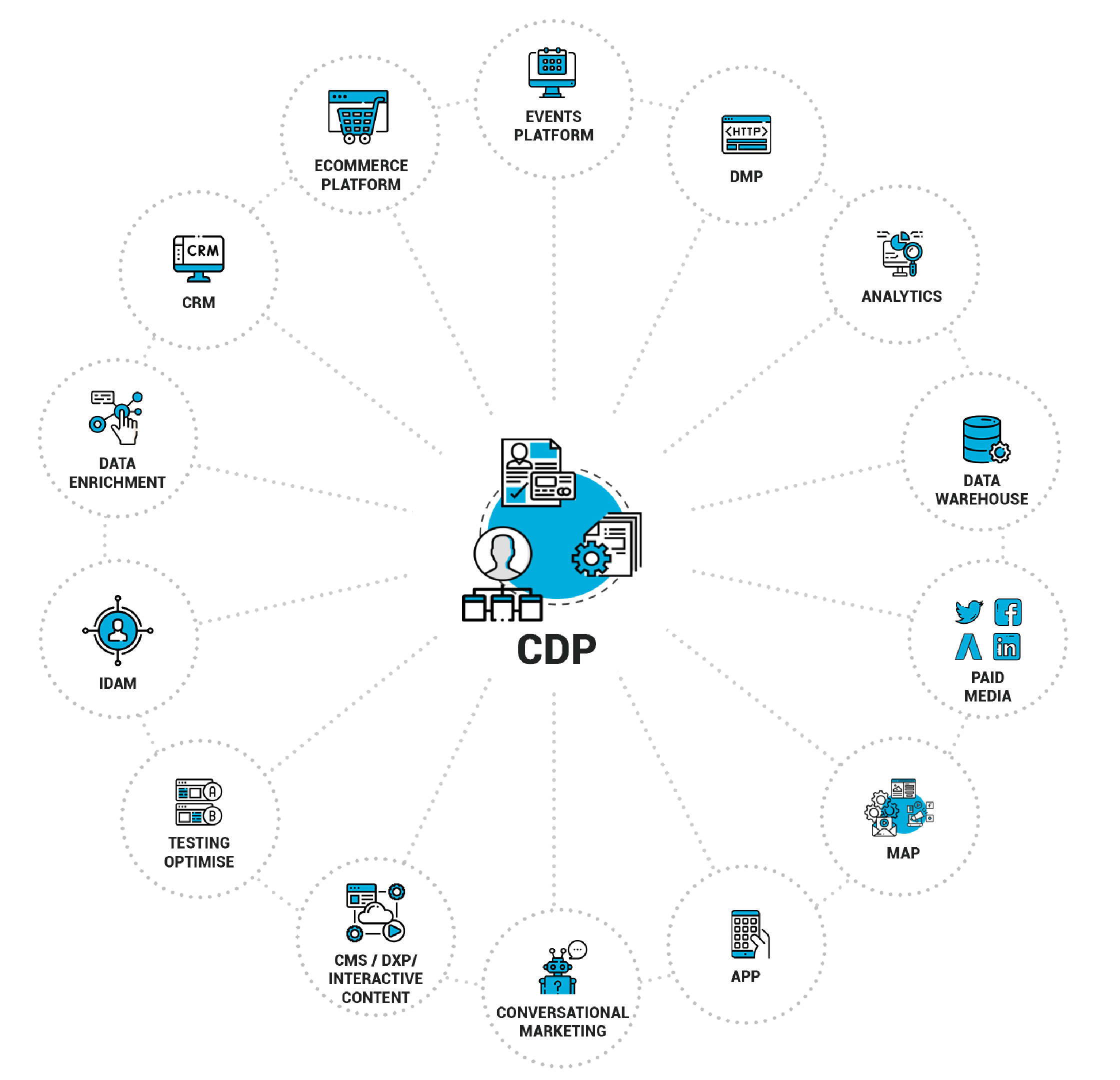 A CDP will gather, segment and identify data from a CRM (customer relationship management) and a DMP (data management platform), centralise it, while also pushing out information to these platforms too. While a CDP might be run by marketing, it can also benefit the entire business by cleaning the data across the organisation and offering a unified insight which can be used by any business line.
The function of a CDP is to create a 360 degree profile of your customer and their behaviour by gathering a multitude of customer data across various touch-points in the user journey in order to make informed marketing decisions. A CDP can also assist with the decisioning and activation of the marketing campaigns and connect to various channels to push out personalised messaging. So yeah, it's a pretty bad ass tool.
We're also seeing some serious CDP acquisitions from the biggest players in the martech game right now, all driven by one common goal: to unify their customer data.
Only last month we saw Twilio get their foot firmly in the CDP door by acquiring customer data platform, Segment for $3.2 billion. Twilio, like many other martech providers are coming to the conclusion that creating a successful customer journey can't be achieved if you don't fully understand who that customer is.
Rather than seeing a CDP as an addition to your martech stack, start seeing a CDP as the glue that connects your stack together. A customer data platform could be the solution to integrating and connecting the customer data that is already being collected by your martech tools.
To find out more about CDPs, check out our resources: