Yes, we're talking about the Christine Bailey - a multi-hyphenate of CMO, author, Tedx Speaker, and general badass.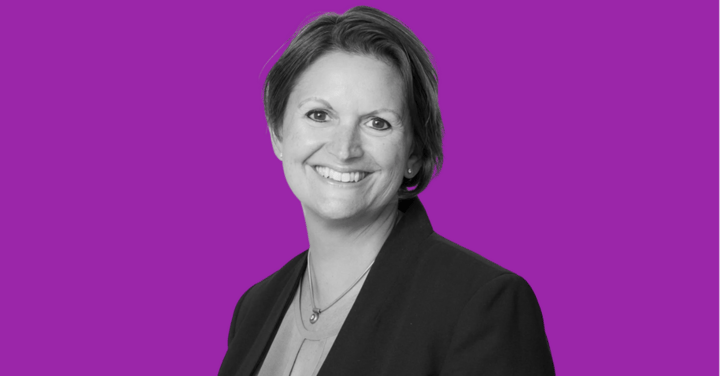 We're not talking about that Christine Bailey who does all those gluten-free recipes, or the one who offers hypnotherapy services, or even the one who caused that plane crash. You'd be surprised by the people who come up when you're looking for C.B's Wikipedia page.
I'm sure they've all got their own stories, but those other Christines have just one thing in common: none are as interesting as the Christine we're profiling today.
Dr Christine Bailey is the CMO of PassFort, a SaaS RegTech provider, which specialises in the automation of anti-financial crime and compliance processes. Very MI5, if you ask us.
Prior to this, she was Managing Director, SMB UK, at Valitor, a European payment solutions company.
Christine has spent her career in B2B Tech and FinTech marketing roles, leading European marketing functions for Hewlett-Packard and Ciscom as well as for pre-IPO companies.
In fact, her first degree was in German and Business Studies, which led her to work in Germany for 5 years. "I always knew I wanted to work in international marketing, so my first adventure was running European PR/analyst relations for Hewlett-Packard in Germany," Christine recalled.
After this, she aspired again, this time to be a marketing director. And wouldn't you know it, she succeeded in 2000, this time at Extraprise, a CRM consulting firm.
Then, a mentor inspired her to "dream bigger", so she started aspiring to be a 'marketing guru'. "I'm not there yet, but getting my doctorate and landing my first CMO role at Valitor have been great steps in the right direction!"
Christine has also faced a number of challenges in her career. She has been made redundant three times, with each being a huge obstacle to overcome. However, these tests have each shaped her career in a positive way. "It's helped me to get comfortable outside my comfort zone. I've found that the path to success isn't always linear - sometimes you have to go sideways to go upwards. But as long as you have a clear direction and you're moving forwards, I believe that everything happens for a reason."
I've found that the path to success isn't always linear - sometimes you have to go sideways to go upwards. But as long as you have a clear direction and you're moving forwards, I believe that everything happens for a reason.
But after these challenges have come achievement after achievement. In fact, she's been part of Onalytica's Who's Who in Fintech 2021 and was even a finalist in the Women in Marketing Awards 2018.
But what are the big things she's personally proud of? What was something she achieved, which pushed her to the edge, and allowed her to walk away with a new lesson learnt?
"My biggest physical achievement was getting to the top of Mount Kilimanjaro in 2002. That taught me important lessons in stamina and how small steps can achieve big things if taken in the right direction. As my guide said, "there are no prizes for coming first, you just have to get to the top. Keep putting one foot in front of the other and you'll get there". My greatest mental achievement was getting my doctorate. That was definitely a marathon not a sprint."
But Christine's not just a mountain-climbing doctor, oh no.
She's also a published author, having released the popular "Customer Insight Strategies: How to understand your audience and create remarkable marketing" in 2020 (check out our review, here!)
So, where did the inspiration come from to write the book? "When Professor Moira Clark suggested doing a doctorate back in 2004, it sparked a passion for the topic of customer insight. Writing a book has always been on my bucket list and I intended to write one when I published my doctorate in 2008, but life had other plans. Twelve years later and I like to think this is a much better book! Not least because customer insight is more 'mainstream' now than it was in 2008 plus I interviewed 33 marketing practitioners/academics from around the world who are all experts in their fields. They generously shared their opinions and case studies." Christine shared.
But what are the top three takeaways from her book, according to Christine herself? In fact, there are key takeaways at the end of each chapter, as well as a section that includes practical suggestions for readers to put into practice.
We need to listen to our customers and inform every decision with insight and evidence
Marketers need to be strong, adaptable, open-minded and unafraid to do things differently
Insight-driven businesses are set to dominate in the future and marketers that use customer insights to understand their audience are likely to do remarkable marketing
So, Christine's doctorate in customer insights has allowed her to develop her marketing expertise into a fine-tuned tool.
When studying, she found that organisations were collecting data from five main areas: competitors, customers, markets, employees, and channel partners, all the way back in 2008. When she was writing the book, she found that the categories are the same today, with a few crucial differences. These were:
Two-thirds of the buying journey now happens online, which has led to enormous volumes of digital footprint data.

400 million people speak to Siri, and 500 million speak to Google Assistant. The world of typing and reading is transitioning to speaking and listening.

The rise of AI and ML: both technologies are now being used more and more in marketing.
It's these kinds of insights that have led her to be voted the Number One Woman in tech by B2B Marketing in 2021. These awards, and organisations, have focused on the need for women to break the marketing technology glass ceiling - something Christine is passionate about.
"There's nothing more powerful than women supporting other women. And there are plenty of networks that you can find of like-minded women. And I'm an advisor on the European Women in Payments network, for example."
"I'd also recommend getting a mentor or a sponsor. Somebody who's going to be your champion. I used to lead Connected Women globally for Cisco, and we used to run a conference to celebrate International Women's Day. And the theme this year was "choose to challenge" – because with challenge comes change."
Christine believed that women should not only focus on challenging others but themselves. To do this, it's important to start with shifting around your questioning. "Instead of "who's going to let me?" she says "ask, "who's going to stop me?"
"And don't ask permission, beg forgiveness."
Outside of work, she has a teenage daughter, who she's inspiring to be a similarly kickass leader. In fact, when her daughter was four years old, she was already showing some real leadership skills:
I arrived to collect her in the evening and the nursery Principal took me aside and she said, "just thought, you'd like to know that we asked all the children what they'd like to be when they grow up. most people said they wanted to be a doctor or a nurse or a fireman." And I said, "well, what did my daughter say?" And she said, "I want to be in charge!" And I thought, "yes, go girl! Different perspective. Don't go with the conventional!"
Her teenage daughter also inspires her, too. "I love hearing her opinion, her views on the world, watching how she interacts with technology, how she communicates with her friends."
But apart from her work and family life, Christine also has a number of hobbies, including running and outdoor swimming. On a Friday evening, she'll even be found dancing to live music in my local pub.
And like any author, she's also an avid reader. "I still prefer a physical book to a Kindle," she joked.
And like any author-slash-inspiring-guru, she's got a specific morning routine. No 3 am wake-up times and cryo-chambers here, though.
"I wake up, I get myself a cup of tea – because I'm very British – and I sit in bed and I'll read the news and I'll look at articles on my phone and I'll get that bit of inspiration."
Christine is also an avid traveller, a piano player, and a jive dancer. I know, the talents don't stop coming. But you don't get those multi-hyphenates by sitting back and not acting. In fact, Christine warns about inaction, or more specifically the fear which causes it:
"Often we're paralysed waiting for the next meeting, the next budget cycle, that magical new hire who's going to change the world.

Don't wait for the perfect moment. Wake up every morning thinking WTF. What's the future?"