73% of companies report that a CDP will be critical to their customer experience effort in the future. Oh, you say. A CDP. I know exactly what that is. It's very similar to a CRM, or a DMP. No, I say. I whack you with a newspaper.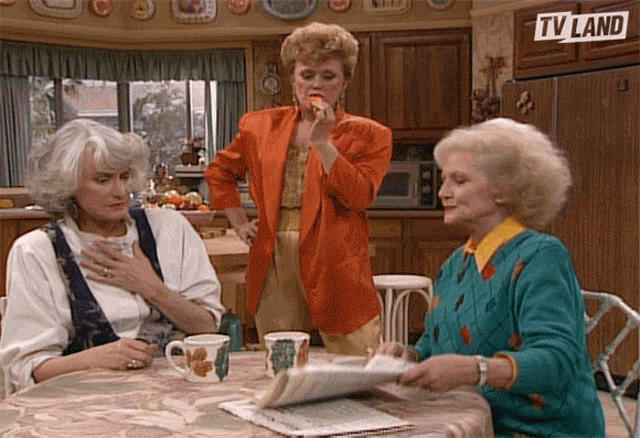 According to Segment, 47% of respondents to their survey reported they will increase their CDP budget by more than 25% in the next five years. But first up, let's define a CDP.
What is a...CDP?
The CDP institute - which has CDP in the name, so must be right - defines a Customer Data Platform as "packaged software that creates a persistent, unified customer database that is accessible to other systems." Put into English, it's a centralised system of customer data, made readily available to you and your teams.
So, a CDP is a software that aggregates and organises customer data, across a variety of touchpoints. They also collect and structure real-time data into individual, centralised customer profiles.
Customer Data Platforms...help companies solve a huge and growing problem: the need for unified, accessible customer data. Like most packaged software, a CDP reduces risk, deploys faster, costs less, and delivers a more powerful solution than custom-built alternatives."

— David Raab, Customer Data Platform Institute
These customer profiles are informed by a collage of first, second, and third party sources. This might include your; CRM, DMP, web forms, email, website, social media activity, behavioural data, transactional systems, and beyond.
If you met a CDP at a party, it would introduce itself as a "people-person". And then you'd try and escape and eat as many sausage rolls from the buffet table as possible, avoiding eye contact.
A CDP, in simple terms, serves three purposes:
To collect and unify all first-party data. Eliminate silos, and connect all tools.
To manage customer data. Control the data flows between systems, and manage consent.
To allow for the activation of this data. Create audience segments that can be used across the rest of your channels.
And put in a nice, bright graph: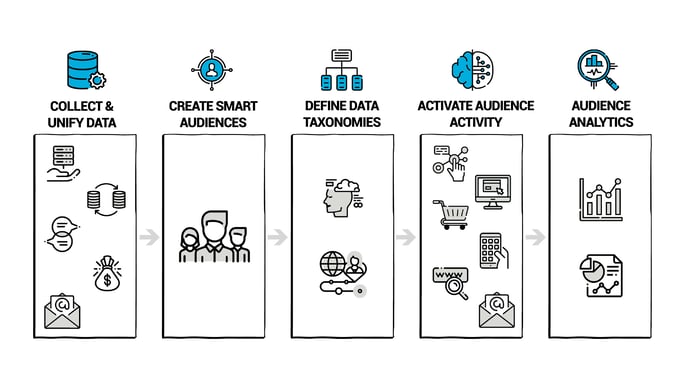 Click here to read our CDP eBook, detailing each key function in detail!
Digital sources a CDP might utilise can include:
Behavioural data - the length and frequency of customer behaviours, on websites, apps or other channels.
Transactional data - Any e-commerce actions, including purchases and returns.
Demographic data - Data related to a customer's, well, demographic. Think age, location, name etc.
So, next up:
What is a...DMP?
First, how does a DMP differ from a CDP? Well, DMPs are:
Cookie-based
Do not create a persistent customer profile
Integrations tend to be limited to advertising
Focused on 3rd-party data (whereas CDPs have a much heavier focus on 1st-party data)
DMPs focus more on anonymous segments and categories, than individual customers. Most of the info is anonymous and expires after the cookie lifetime - 90 days.
This is pretty good for having up-to-date info on your customers. If you're a restaurant-based advertiser, you don't want to target someone who was looking up Korean BBQ 3 years ago - it's more than likely they've already been, gone, and filled themselves up with bulgogi.
DMPs were designed to target, and re-target, anonymous users for advertising. This is a big ol' difference with CDPs, which aim to create a persistent customer profile, through storing and keeping the history. A CDP crafts a database of your known customers, to use for more than just advertising.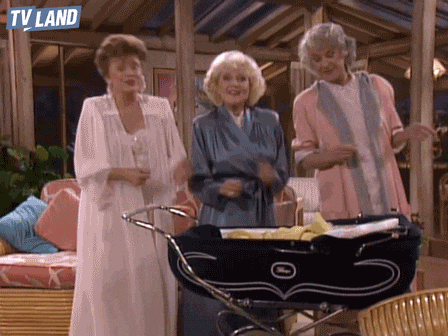 So, data is where the difference lies. And one of the biggest differences between the two is their use of PII, or personally identifiable information.
PII is any piece of data that identifies a particular person. This might be an email address, phone number, etc, any data touchpoints that detail a person's actions or behaviours.
With A CDP, you've got to make sure you're collecting PII in an ethical way. This might be through having strong data security, and offering ways for visitors to opt-in and opt-out. DMPs, on the other hand, use data that is anonymised. They don't use PII, but still collect data on anonymous users, so it's harder to make sure data is collected in a legal, GDPR compliant way.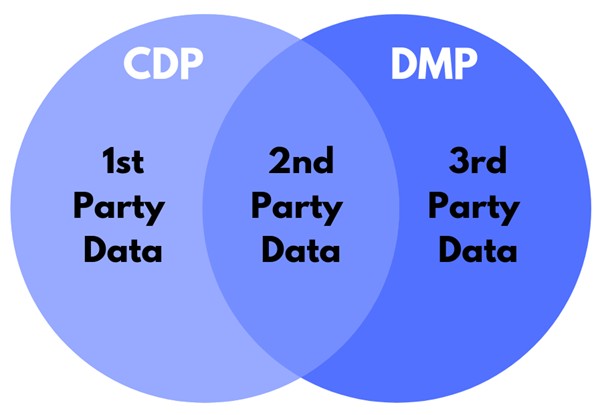 What is a...CRM?
A CRM, or customer relationship management, is a software system that helps businesses build and nurture relationships with clients. Basically, as the name suggests, they manage customer relationships. CRMs also assist with organisation and efficiency.
CRM systems are built to engage with customers, on the basis of historical and general data gathered to create a persistent customer profile. But, they're not structured to ingest huge amounts of data from other sources.
Some benefits of CRM software include:
Organisation
Task Tracking
Increase retention
More sales opportunities
Tracking Sales
Personalised communication
While CRMs and CDPs both collect customer data, they differ in one big way. Basically, CRMs organise and manage customer interactions with your team, whereas CDPs collect data on customer behaviour.
CRM data gives you customer names, sales team interactions, support tickets etc. CDP data tells you each and every touchpoint a client has had with your company, from beginning to end.
So, let see all of this in a more visual way, thanks to Econsultancy: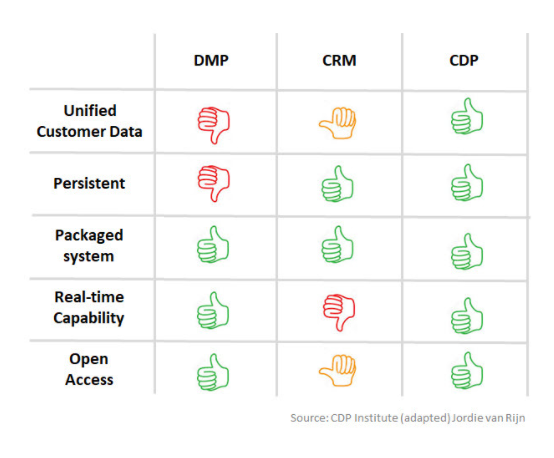 Check out our CDP eBook here, for your step by step guide to Customer Data Platforms.