Looking to level up your marketing game but don't know where to turn? As it happens, there's a handful of leading names in the biz willingly serving their skill sets and industry knowledge on a platter for lucky little devils just like you.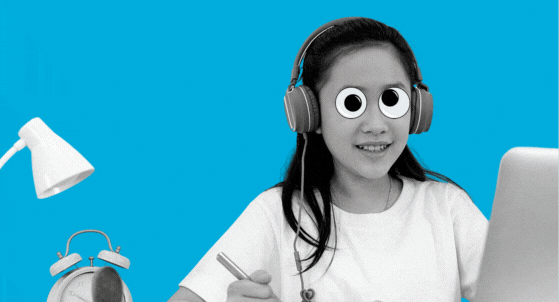 But wait, it gets better. Committing to a course can be some high pressure $h!t so we've rounded up our top MarTech training courses to help you take a load off. Who doesn't love a good try before you buy? (And by 'try' we mean – read a little paragraph or two about it to see if it takes your fancy.)
Looking for the down low from a download? Want to be overly-informed on Martech? Well, check out our The 4Ps of Marketing Technology, here!
HubSpot Academy
Looking to dive into Martech courses? Look no further than the HubSpot Inbound Marketing course, a top choice for beginners in the space.
This free certification option offers easy-to-follow training sessions that provide guidance on creating content to nurture and educate leads throughout the buyer journey.
It is a beginner's marketing course that covers the fundamentals of inbound marketing. Basically, it's a generalist course and doesn't go into too much depth or detail.
It is a great all-round course based on the core principles of inbound marketing and is a good option for marketers at the beginning of their careers.
But in terms of martech knowledge, it can be lacking. Scroll down for more options, if that's what you're looking for.
It is a foundational course on inbound marketing and explains how to tailor content and marketing campaigns for customers at different stages of the buyer journey.
You'll learn how to customise your content for different audiences and optimise your marketing strategies using automation and artificial intelligence.
The course consists of 24 videos, 7 lessons, and 7 quizzes, totalling just over three and a half hours of education. It's the perfect resource for those new to inbound marketing, with bite-sized modules that gently introduce you to the marketplace.
There are plenty of other great bite-sized videos and courses on HubSpot Academy to help you get the most out of the platform.
Certificate: Marketing Technology Essentials with Carlos Doughty
Okay, this might sound like we're tooting our own horn… and that's because we are. (You'll see why.)

Run by none other than our homeboy Carlos Doughty, Chief Marketing Technologist & CEO / Founder of MarTech Alliance. A leading authority in marketing technology, Carlos has spent over a decade in the biz and is the creator of the 4Ps of Marketing Technology Framework.

Built around the LXA 5Ps of MarTech & Marketing Ops© framework, this course will provide you with a holistic overview of the what, why and how of martech.
It will help you uncover valuable insight around auditing your martech maturity and developing your marketing tech strategy with impact.

Whether you're just starting out or looking to brush up on your skills, this course will help you audit your martech maturity and develop a marketing tech strategy that drives results.

With LXA you get certified, have access to tons of resources and frameworks, develop more in-depth knowledge and critical in-demand skills and are guided and taught by experts. Pretty cool, huh?
Plus, you can choose a cohort-based learning experience or go entirely on-demand
🔑What will you get out of this course?
Critical in-demand skills
Learning outcomes
Designed by experts
Informed by industry leaders, owned research reports, event speakers + more
In-depth topic deep dive
Stacks of resources
On-demand OR cohort
The course is designed with today's learners in mind, with an EdTech meets MarTech format that's accessible via the internet.
The LXA Certificate strikes a perfect balance between being long enough to matter, but not so long that you get bored.
You'll have plenty of opportunities to interact with the trainer and other students through interactive Q&A sessions. Plus, you'll receive an Essentials of Marketing Technology Course Certificate upon completion.
It also offers an adaptive, flexible, and social learning experience, allowing you to learn at your own pace and engage with other learners.
As a bonus, you'll have access to a library of content from the AntiCon event series, further expanding your knowledge of the martech landscape.
Overall, the LXA Certificate: Marketing Technology (MarTech) Essentials course is a must-take for anyone looking to stay ahead of the curve in the fast-moving world of martech.
With its practical, hands-on approach and comprehensive curriculum, it's one of the top marketing courses available today.
Ready to get certified in marketing technology? Download the brochure for more details or book now
LinkedIn Learning
LinkedIn Learning is pretty great for online learning. It's like having a personal tutor but without weird eye contact.
LinkedIn Learning is a platform for online learning, that offers numerous benefits. One of the highlights is its extensive library of courses taught by industry experts.
For example, "Building Your Marketing Technology Stack" is a course that guides marketers in selecting and implementing the right marketing technology tools for their businesses.
It covers fundamental concepts and walks learners through the process of evaluating and integrating various tools, helping them optimise their tech infrastructure effectively.
Another course on LinkedIn Learning is "Digital Marketing Trends," which keeps marketers updated with the latest strategies and emerging technologies in the digital marketing landscape.
It explores social media trends, content marketing techniques, and more, equipping marketers with the knowledge to adapt their strategies to the ever-evolving digital world.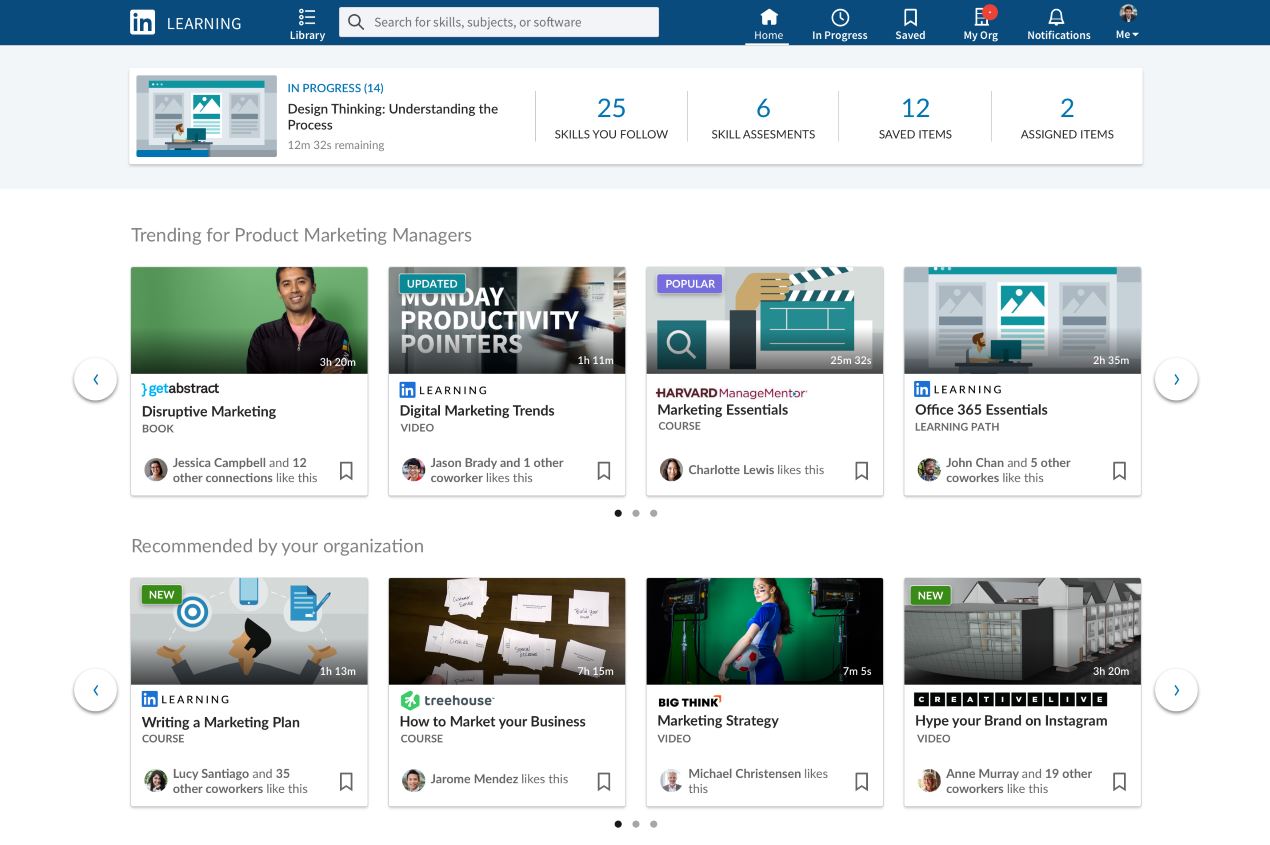 LinkedIn Learning offers flexibility, allowing learners to access courses at their convenience. With diverse learning formats like video lectures, interactive quizzes, and downloadable exercises, it caters to different preferences and keeps learners engaged.
Personalised recommendations make it easy to discover relevant courses based on individual interests, industry, and career goals.
Leveraging its vast professional network and user data, LinkedIn Learning suggests courses that align with learners' needs, enabling targeted skill development.
Accessibility is another key advantage, as LinkedIn Learning can be accessed from any device with an internet connection. Whether on a computer, smartphone, or tablet, learners can enjoy a seamless learning experience.
The integration with the LinkedIn professional network offers networking opportunities.
Users can connect with professionals in their industry, join groups, and participate in discussions, enhancing their professional network. By adding completed courses to their LinkedIn profiles, learners can demonstrate their commitment to continuous learning and boost their professional credibility.

However, LinkedIn does not go into as much depth, with shorter courses and videos. These are good for time-conscious marketers however.
These videos mean the user can learn at their own pace, but the course doesn't give a 1-on-1 experience with an instructor, so learners who would benefit from feedback from the course instructor may have to look elsewhere.
Hootsuite Academy
Hootsuite Academy offers a range of martech courses catering to professionals of all levels in the digital marketing realm. Their courses cover various aspects of social media marketing, including strategy, analytics, advertising, and customer care.
The courses are well-organised and provide practical knowledge that can be applied to enhance marketing campaigns. Upon completion, you can earn certifications, which can be advantageous for job applications and career advancement.
Networking opportunities within Hootsuite Academy allow you to connect with like-minded professionals and learn from their experiences. Staying up-to-date with the latest trends and technologies is made easier through their comprehensive course offerings.
In summary, Hootsuite Academy is a valuable resource for martech education. With its well-structured courses, certification options, networking opportunities, and focus on keeping up with industry changes, it's an excellent platform for professionals aiming to boost their skills and excel in the digital marketing field.
This is a good option if you want to develop skills and knowledge in social media, so marketers looking to develop a specific skill will benefit from this course. For more intensive and in-depth courses, learners should look at other options, such as the others in this list.
Google Analytics Academy
If you're looking to level up your martech skills, Google Analytics Academy is the place to be. They offer a comprehensive set of courses that cover everything from the basics to advanced features. Let's dive into some of their popular courses:
"Google Analytics for Beginners" is the perfect starting point for newbies. You'll learn how to set up an account, implement tracking code, and analyze basic reports. It's like getting the martech equivalent of a superhero origin story.
For those craving more, "Advanced Google Analytics" takes you deeper into data collection, processing, and configuration. You'll feel like a martech wizard with these advanced skills in your arsenal.
If you're ready to take it up a notch with Google Analytics 360, "Getting Started With Google Analytics 360" has got your back. You'll learn how to tap into the premium features and functionality of this souped-up version.
Aside from the content, there are other benefits to taking Google Analytics Academy courses. First, you can earn certifications that showcase your expertise. These certificates are like shiny trophies that make your resume sparkle.
Networking opportunities are also a perk. You'll meet fellow martech enthusiasts, exchange ideas, and build valuable connections. Who knows? You might even find your martech soulmate. And let's not forget the importance of staying up-to-date. Google Analytics is always evolving, and these courses ensure you're in the loop. Snazzy.
Just like Hootsuite, this is a good option if you are looking to develop a specific skill. Learners who want a course in using Google Analytics will find this useful, but marketers who want to a more wide-ranging and in-depth course should look elsewhere and at the other courses listed above.
👉Remember: a lot of marketing technology vendors will have an academy with how-to videos and learning resources that can be a valuable aid to marketers looking to get more from their existing martech stack. So keep an eye out, and keep upgrading!
SalesForce Trailhead
Trailhead is a free online learning platform created by Salesforce, providing a diverse array of learning content to individuals, teams, and companies seeking to upskill and excel in the Salesforce ecosystem.
Whether you are a beginner exploring the world of Salesforce or an experienced professional seeking to advance your expertise, Trailhead offers a comprehensive learning experience. The platform offers free access to high-quality learning resources, making it accessible to anyone interested in Salesforce. Or is it free? More on that in a second.
The platform provides a self-paced learning environment, allowing learners to study at their own convenience. With hands-on exercises, projects, and labs, Trailhead offers an interactive learning experience that fosters better comprehension and retention.
Plus, with gamification elements, such as badges and points, the course makes learning engaging and motivate learners to progress.
The content on Trailhead is regularly updated to reflect the latest changes in Salesforce. But this is one of its downfalls: the course is Salesforce themed and exists to teach people how to use the platform. It does have material for learning outside Salesforce, but more so for subjects such as Privacy Law, iOS App development, and Blockchain, and not for Martech in general.
While Trailhead offers free learning resources, earning Salesforce certifications incurs costs, with some certifications being more expensive, such as the Certified Technical Architect certification, which costs $6,000. This means that rather than offering one complete course, Trailhead requires users to choose skill by skill, adding time and effort, and potentially costing a bunch of money.
In conclusion, Trailhead is a valuable and accessible platform for individuals and organizations seeking to enhance their Salesforce skills and knowledge.
Its diverse array of learning content and the self-paced environment with gamification elements make it engaging and effective. However, the platform's focus on Salesforce-specific content and the cost associated with earning certifications may limit its suitability for those seeking broader martech education.