It's party time! Grab your pointy hats, pin-the-tail-on-the-donkey, white tigers, champagne fountain, and pug shaped piñata, it's going to be a wild event. Now, time to send out a Facebook event aaaand...no-one's turned up. Should've sent an email. Party people love emails.
I mean, 78% of event creators say email marketing is their most effective marketing tactic. And for those who track it, 45% of event ticket sales can be attributed to email.
In the last few years, marketers have relied on their social media channels and influencers to promote events, and reach their audiences. This might be used alongside online paid advertising, leaving email marketing in the dirt. But our little underdog can be just as effective in reaching specific demographics, and keeping costs down.
The fact that 75% of event marketers believe email marketing is the most effective channel for promoting events speaks for itself. That's a big chunk of the ol' marketing pie chart, there.
Combined with creative assets such as gifs, videos, and images, email outreach can be a great way to promote an event.
Plus, you can get those numbers up even higher with a few easy steps. Event-related emails generally see a 28% open rate, but increasing the sense of urgency in the subject line, or using the recipient's name, can significantly increase that number.
You can also try:
Using pre-launch emails. These build hype for your event, and can start a few weeks before, and lead up to the minute your event starts. Keep people excited, interested, and aware.
Informational emails. If people are aware of the details of the event, they're more likely to commit.
Personalisation. 82% of marketers say they see an increase in open rates when they use email personalisation.
Optimising dates and times. Tuesdays and Fridays tend to be the best days to send emails, but make sure you're aware of the industry. Weekdays might be better for B2B, but it's been shown that B2C emails do well at the weekend.
Automation. Automated emails get 119% higher click rates, compared to emails that aren't part of the automation workflow.
Anyway, let's jump into some examples of top event emails, starting with:
Segment, CDP Week:
Building Suspense
Just like Kubrick, you've got to build suspense.
Teasing content can be an effective tool in engaging interest, and sparking action. With the first email, your main aim is to generate this excitement, and get the conversation started. This email by Segment does a good job with playing up the 'breaking news' aspect of the launch:

"Just announced" stands front and centre, piquing the reader's interest. If the event is annual, you could instead include a "we're back" or "get ready" prompt instead.
While you're building suspense, keep a few details close to your chest. The email above reveals the high-profile speakers, and their session topic, but doesn't reveal too many specifics. Segment has paired this with a few bold images and text, to really up that excitement factor.
Another clever aspect of this email is the countdown clock. Literally showing time running out, the countdown is used to show deals, offers and registration dates that are close to expiring.
You're sending a promotional email out for a future event, so you need to create a sense of urgency in your clients to act now, rather than later. The clock means you can illustrate this gap in time narrowing. This technique actually has a name - urgency marketing.
Marcus Taylor, writing for CXL, ran an A/B email campaign using different levels of urgency:
Version A

Version B

"This is one of the most impactful A/B tests I've ever run," said Marcus.
The conversion rate of Variation B was almost 3 times that of variation A. Here's what happened to our conversion rate as we gradually rolled out Variation B to all users. It went from ~3.5% to ~10%."
Airbnb, Celebrate Love:
Mobile Experience
We live on our phones. Where else can you order a pizza, watch a video of a dog sneezing, and keep up to date with your ex's mum's second cousin twice removed, all in under five minutes?

Airbnb seems pretty aware of the infatuation, going out of their way to make their emails a mobile-user-friendly experience. Swipe right on that, or whatever the kids say.
In the two emails Airbnb sends a month, there's achieve a very impressive 100% mobile optimisation.
It is important to realise how vital responsive emails are, keeping in mind the experience of a small screen, and the ability to render on one.
To provide a great mobile experience, Airbnb has used a one-column design; easy to scroll through, and easy to scan. They've also included a clear, tap-able CTA, and have used clear, large text.
Speaking of that CTA button, this is a good example of a uh, good example. If you're using an event email to direct someone to a landing page (which should be optimised for email, too), make sure the CTAs' intentions are bold and obvious.
Include phrases like:
Register

Learn More

Sign Up Here
Make sure you provide adequate space around the buttons, so it's obvious where the reader needs to focus their attention, and that the button is the main attraction.
Smashing Magazine,

SmashingConf:

Visual Experience

When it comes to email visuals, simplicity is key. Every email should contain some key elements, stripped back to the most essential basics. Key a mind out for:
A detail description of the event

Time, location and other event details

Social media links, and any other contact details

A bold, easy to spot CTA.
Too many elements on the page will mean the event will be lost in an alphabet soup. This can help with your mobile optimisation as well, whilst avoiding important details being overlooked.
But this simplicity doesn't mean boring, as Smashing Magazine shows below:

It's important for the email design to be visually appealing, and interesting. Using images, videos, gifs and memes, can make the message more enjoyable to read, and shows your event will be just as exciting. Also, be sure to use the right branding consistently through the email, and the email campaign. Non-for-profits, like The Franklin D. Roosevelt Park tend to do a particularly good job.
Research actually suggests that emails that include images have a much higher goal completion rate than those without.
Something else this email does which is pretty cool is include this section: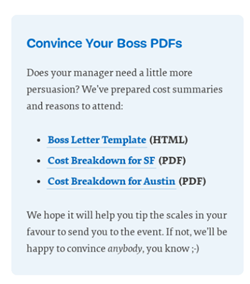 In a humorous, brand-relevant way, Smashing Magazine makes it easier for the reader to convince the decision-maker in their company, if they are not able to make decisions themselves.
Marketing United, Charity Ball:
The Thank You Email
After you wrap up your event, you'll need to reach out to your attendees and vendors.
Now, I can hear you saying "but I thought this article was about getting people turning up to my events? Why are you bothering me with post-event stuff? God I hate you".
Wow, okay, that last bit was harsh, I'm just trying to help. But the thing is with thank you emails is that they are getting people to turn up to your events. Your future events, that is.
Using foot-in-the-door theory, it's easier to get people to act again, after they've acted the first time. So they're more likely to return to a restaurant after their first visit. The first step is always the hardest.
Post-event emails provide opportunities to carry on providing valuable and useful information. You'll be able to nurture event advocates by providing a great experience, and a great follow-up experience, with people who have previously attended your events. If you continually provide them with useful and engaging content, they'll keep you in mind when recommending events to friends.
Plus, thank you emails make people feel appreciated, and 70% of purchases are made because of how consumers feel.
Thank you emails can be a good opportunity to show off, too. You can thank attendees for making the event happen, and then highlight what a success it's been. This can be through statistics and highlights, in a video or image format. Charity: Water does this particularly well: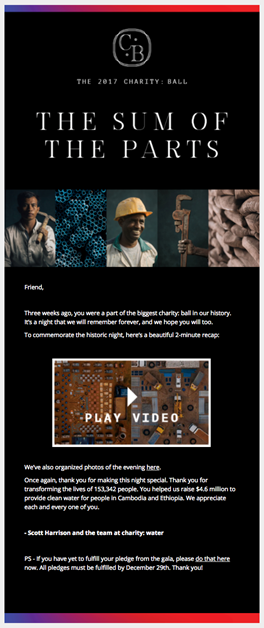 They've got some stats. They've got a thank you message. They've got a recap.
Emails with video receive an increased click-through rate of 96%, according to Sprout Social. Plus, email open rates rise from 7% to 13% when marketers used the word "video" in the email's subject line.
Using a video in this way also encourages content sharing on social media, leading to the gaining of new, fresh interest and the expansion of your event's reach.
Charity: Water also encourages donations in this email. As they've created, and hope to maintain, a connection with an attendee after they've engaged with them in person, the charity is using this thank you email to make sure they've fulfilled their pledged donations.