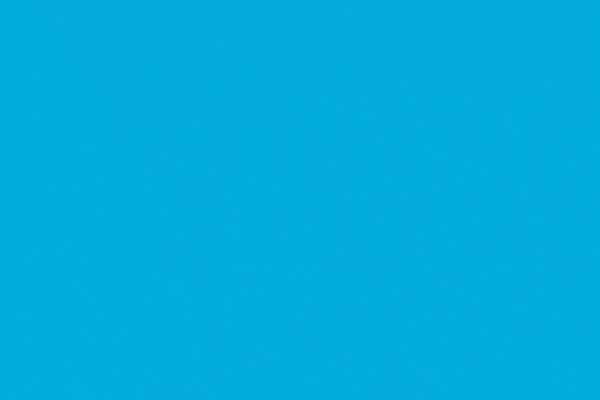 In today's news:
On This Day
2 AI Truths and a Lie
Threads, Metas Twitter Clone, is Released
Harvard Will Teach Students Using an AI Instructor Next Semester

New Meme Coin Thug Life Raises $275k in Presale - But What is a Meme Coin?

More NextTech stories
Graph of the Week
NextTech Mergers, Funding, and Acquisitions
The Latest NextTech reads from LXA
This week's NextTech news

is listening to its mother.
Mother knows best. Especially when it comes to cage-fighting your AI rival.

Many have been speculating who the winner will be, the stubbornness and unpredictability of Musk, or the junior-level jui jutsu white belt of Zuckerberg. But we're here to update you.
It's been cancelled - by Musk's mum.

"Don't encourage this match!" she tweeted at podcaster Lex Fridman last week, before adding: "Actually, I cancelled the fight. I haven't told them yet. But I will continue to say the fight is cancelled, just in case."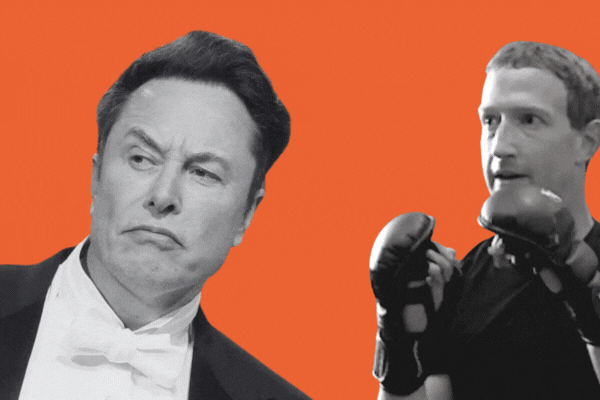 🤫 One AI Project and Two Lies
Play along at home. Out of these three wacky AI projects, two are fake, and one is real. So, which of these new AI projects is unreal, and which is ugh, for real?! (Check at the bottom of the newsletter for the reveal!)
This AI girlfriend is based on a Snapchat influencer, who based the chatbot on her own personality. She says it's a way to connect with all her subscribers.
AI BFF
This AI was created by a man whose best friend moved to a completely opposite time zone. He trained it on his mate's texts, so he could talk to him at any time of the day.
AI F
A team project at a school based on the relationships between AI and humans has been given an 'F', after being found to be written entirely by AI.

📰 Threads, Meta's Twitter Clone, is Released
After much speculation, Meta has released its Twitter clone Threads.
The site was surrounded by loads of hype, with early listings being available on the App and Play Store. Here's the official description:
Say more with Threads — Instagram's text-based conversation app
Threads is where communities come together to discuss everything from the topics you care about today to what'll be trending tomorrow. Whatever it is you're interested in, you can follow and connect directly with your favourite creators and others who love the same things — or build a loyal following of your own to share your ideas, opinions and creativity with the world.
And the 'secret' way to discover the app was pretty damn cool.
When a user would enter the word "threads" or other relevant keywords into the search box, a ticket icon would instantly appear on the search bar. By tapping on it, a dynamic ticket emerges, displaying your Instagram username and a converted local launch time from 10 AM ET on the 6th.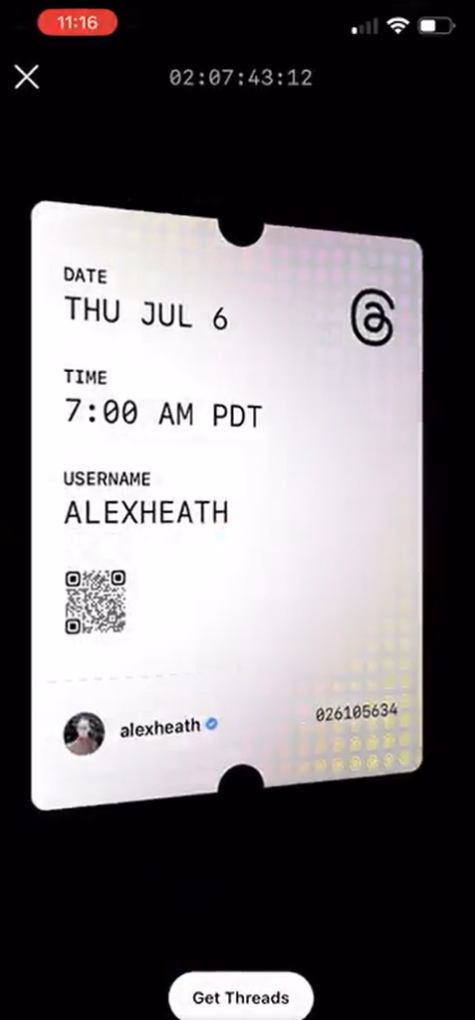 The rotating ticket also featured a QR code that directed you to threads.net, which appeared to be the web portal of the recently introduced social media platform.
Threads also released an accidental sneak peek on Wednesday after the web interface went live for a few hours. Basically, it's hype generation 101.
This all comes days after Elon Musk, the executive chair of Twitter, revealed a temporary limit on the number of posts users can access on the platform.
Since Elon Musk acquired the social media site for over £34bn ($44bn) in October, several Twitter-like apps such as Bluesky and Mastodon have witnessed a surge in popularity.
📰 Harvard Will Teach Students Using an AI Instructor Next Semester
In a new development, starting this autumn, a popular introductory coding course at Harvard University, CS50, will be instructed by an AI. Great idea, let's get all the top future coders brainwashed by the robots themselves.
This decision is not due to financial constraints at Harvard, as some might assume, but rather stems from the university's aspiration to achieve a personalized learning experience for each student by approximating a 1:1 teacher-to-student ratio through the use of AI-based tools.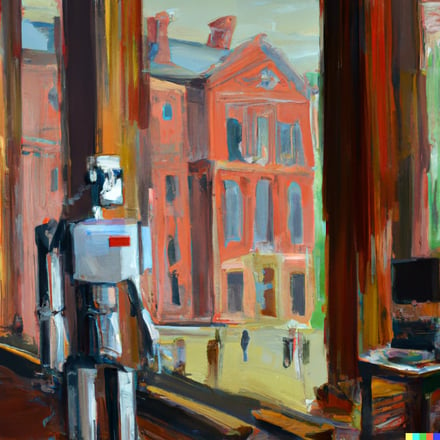 Dall.e Prompt: a robot teaching at Harvard, oil painting
Professor David Malan, who teaches CS50 and is not a robot, expressed his optimism about leveraging AI to support students' learning at their own pace and in their preferred style.
According to The Harvard Crimson, the course staff is currently experimenting with both GPT 3.5 and GPT 4 models, and incorporating AI into the teaching methodology is viewed as an evolution of the course's ongoing tradition of embracing new software technologies.
📰

New Meme Coin Thug Life Raises $275k in Presale - What is a Meme Coin?
Thug Life ($THUG), the newest player in the meme coin realm, is generating significant buzz during its ongoing presale phase.
This cryptocurrency, inspired by hip-hop culture, has already amassed an impressive $275,000 in funding in less than a week, highlighting its surging popularity.
With 14 days remaining in the presale, all attention is focused on $THUG, as it has the potential to redefine the landscape of meme coins.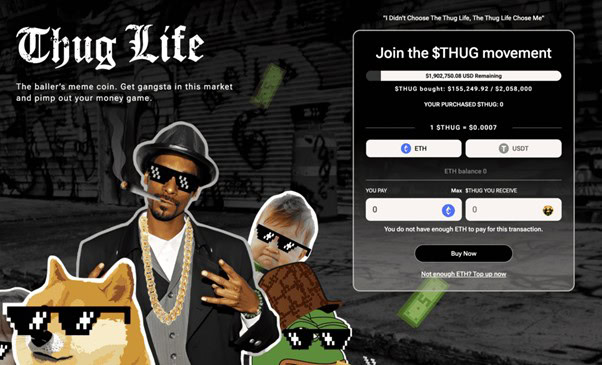 In a sea of meme coins saturating the market, Thug Life stands out by embracing the dynamic realm of hip-hop culture.
Rooted in the influential Thug Life movement of the 1980s, this project embodies resilience and pays tribute to iconic rappers such as Snoop Dogg, Tupac, and Ice Cube.
Thug Life's primary objective is to cultivate a strong sense of camaraderie among its community members. This is achieved through the sharing of humorous market-themed memes across the project's various social media platforms.
But what even is a meme coin?
A meme coin is a cryptocurrency that originated from an internet meme or has some other humorous characteristic. They are often created as a joke or for entertainment purposes, and they may not have any specific use cases. Meme coins often bank on community participation, humour, virality, social media trends, and the potential of quick market gains to attract investors.
Some of the most well-known meme coins include Dogecoin, Shiba Inu, Floki Inu, and Dogelon Mars. These coins have all seen their prices surge in recent years, thanks in part to their popularity on social media. However, it is important to note that meme coins are highly volatile investments, and their prices can fluctuate wildly. As such, they should only be considered by investors who are comfortable with high levels of risk.
Whether or not meme coins have value is a matter of debate. Some people believe that they are simply a fad that will eventually die out, while others believe that they have the potential to become legitimate forms of currency. Ultimately, the value of a meme coin will depend on the whims of the market and the popularity of the meme that it is based on.
Here are some of the risks associated with investing in meme coins:
High volatility: The prices of meme coins can fluctuate wildly, making them risky investments.
Lack of use cases: Many meme coins do not have any specific use cases, which makes them less valuable than other cryptocurrencies.
Pump-and-dump schemes: Some meme coins are created as part of pump-and-dump schemes, where investors artificially inflate the price of a coin in order to sell it at a profit.
📰 Hong Kong Sets Up Task Force for Web3 Development
.In a recent press release, the Hong Kong government revealed the establishment of a task force dedicated to promoting the development of Web3.
Leading the task force is Financial Secretary Paul Chan, with the participation of 15 non-official members from relevant sectors, key government officials, and financial regulators. Yat Siu, the chairman of Animoca Brands, announced his inclusion in the task force on Monday.
Dall.e Prompt: Hong Kong with robots walking the streets, oil painting
Highlighting the potential of blockchain technology that underlies cryptocurrencies, Financial Secretary Chan expressed in the press release that it offers security, transparency, and cost-effectiveness, with the ability to address various challenges in finance, business operations, and trade.
The government had previously allocated $6.4 million (HK$50 million) in February for the advancement of its Web3 ecosystem and had outlined plans to establish the Web3 task force at that time.
📰Gizmodo, Kotaku, Quartz, Jezebel, and Deadspin Will Begin a "Modest Test" of AI Content
G/O Media, a prominent online media company responsible for managing publications like Gizmodo, Kotaku, Quartz, Jezebel, and Deadspin, has revealed plans to conduct a "modest test" involving AI-generated content on its websites.
Joining the ranks of various media organizations experimenting with this technology, such as Red Ventures (owner of Bankrate, CNET, Men's Journal, and BuzzFeed), G/O Media's foray into AI content has drawn attention.
Previous trials have resulted in an influx of error-ridden, plagiarized, and poorly written articles, which critics attribute to the implementation of inadequately designed AI models that tend to fabricate information. Notably, the push for AI-generated content has also coincided with significant layoffs at CNET and BuzzFeed.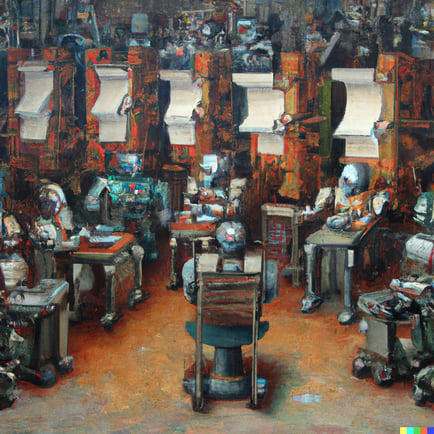 Dall.e Prompt: an infinite room of robot writers, writing the works of Shakespeare, oil painting
In an internal email to staff, Merrill Brown, G/O Media's editorial director, acknowledged that the news may not be surprising, as AI has been a topic of consideration across the media industry.
Brown outlined the trial's scope, which involves producing a small number of stories for most of their sites, particularly centred around listicles and data-driven content. Emphasizing that these AI-generated features won't replace the work of writers and editors, Brown expressed hope that, if successful and scalable, AI could assist in audience growth through search and promotion.
However, despite these assurances, the announcement sparked horror among many journalists at G/O Media. Unions representing G/O Media and The Onion staff released a statement expressing their deep concern, citing their strong belief that the labour-intensive work of journalists cannot be substituted by unreliable AI programs known for generating falsehoods and plagiarising the work of genuine writers.
$1.5B
Gemini's Cameron Winklevoss Tweets $1.5B 'Final Offer' in Debt Talks Over Crypto Firm Genesis
$3T
Apple became the first company to close with a $3T+ valuation
56%
56% of tech workers are open to accepting the same or lower pay in a new role so long as it fulfills another unmet need

💰Graph Of The Week
In a study which tracked the success rate of various AI chatbots, OpenAI scored the best for accuracy, providing a 100% accurate response 81.5% of the time. Plus, Google Bard posted an accuracy score of 63%, meaning it had incorrect information in more than 1/3 of its responses.
Each generative AI tool was asked the same set of 30 questions across various topic areas. Metrics examined were scored from 1 to 4, with 1 being the best and 4 being the worst.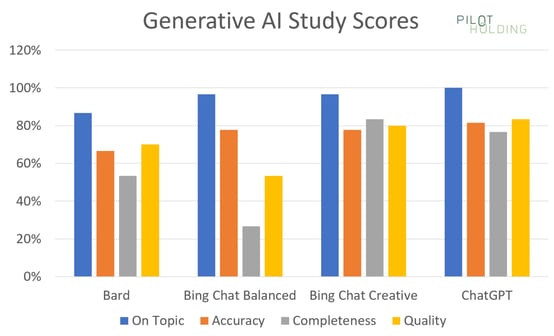 ✍️
NextTech Mergers, Funding, and Acquisitions
Who's making dough, who's laying low, and who's in a constant state of "Oh, God, no"? It's time to find out, with LXA's NextTech News Round.
💰 Resistant, which catches financial crime using AI, raised $11 million.
💰 Crypto Custodian Cobo Argus Scores $100M in Value

💰 Patented, a service that detects intellectual property infringement, raised $4 million.

💰 CADDi raises $89M Series C to scale its B2B supply chain marketplace for manufacturing parts

💰 Intelecy, which helps industrial engineers deploy ML models with no code, raised $3.5 million.

💰 Voice.ai raises $6M as its real-time voice changer approaches 500K users
💰 JustPaid, which helps companies monitor payments with automation and benchmarking, raised $3.5 million.

💰 Brilliant Labs, a maker of AI-powered AR glasses, raised $3 million.

💰 Bored Ape Yacht Club NFT Floor Price Sinks to 20-Month Low

💰 Runway, a startup building generative AI for content creators, raises $141M
🤫 One AI Project and Two Lie Reveal:
Oooohh guuuuurl(friend). The AI GF is real!
✒️ The Latest NextTech Reads from LXA