With a name like a German metal band, a stream of awards, and a genius founder behind its every move, it's no surprise that Thunderhead's reputation precedes it.
A big hitter in the software game, Thunderhead have become a recognised leader in the customer engagement and customer journey orchestration market since their founding in 2001.
"At Thunderhead we believe in a world that's filled with happy customers", they say on their website. Isn't that lovely.
Thunderhead is well known for their ONE Engagement Hub, a cloud-based customer engagement platform, that allows discovery of customer insight in real-time.
So, let's jump into how they began, all the way back in the long-gone era of 2001. Cue flashback wind chimes.
2001
Thunderhead is the brain-child of founder Glen Manchester. From his first company Geneva Digital,
founded in 1991, to now, all his businesses have been based on a single idea - to change customer engagement for the better.
In 1999, Geneva was acquired by Xenos Group, and Gen was appointed President and CEO. But he had other plans.
In 2001, he founded and privately funded Thunderhead, to develop a new generation of enterprise technology for customer engagement. The company's Smart Communication platform soon became the established market lead in Customer Communication Management. This led to Smart Communications, which sat under the thunderhead umbrella, being transformed from a UK-based start up, to a global cloud-based tech company, with operations throughout Europe, APAC, and Australia.
Check out some early iterations of their website, below:
In 2003: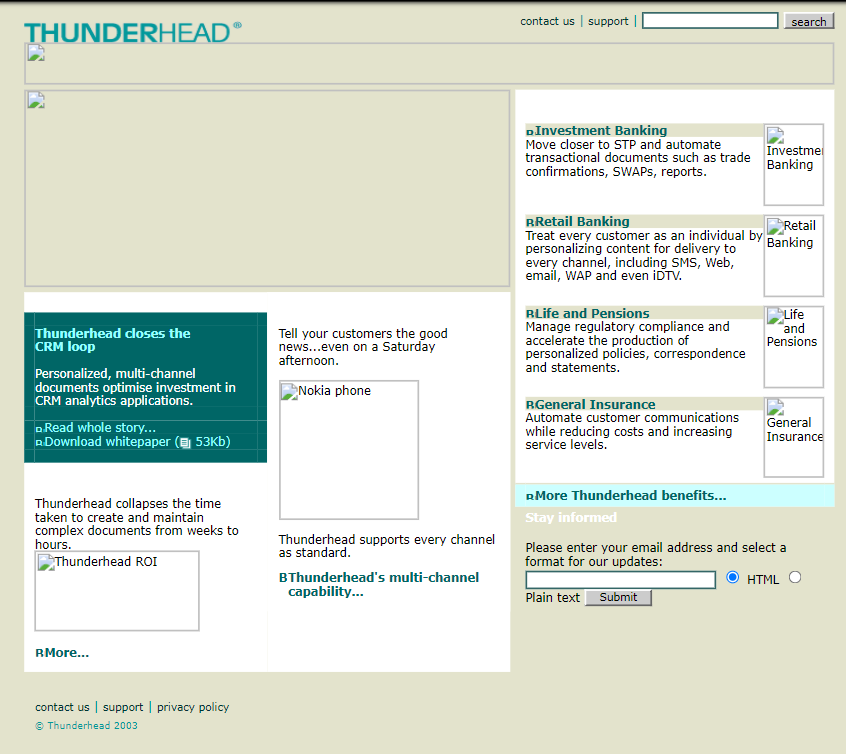 …And 2005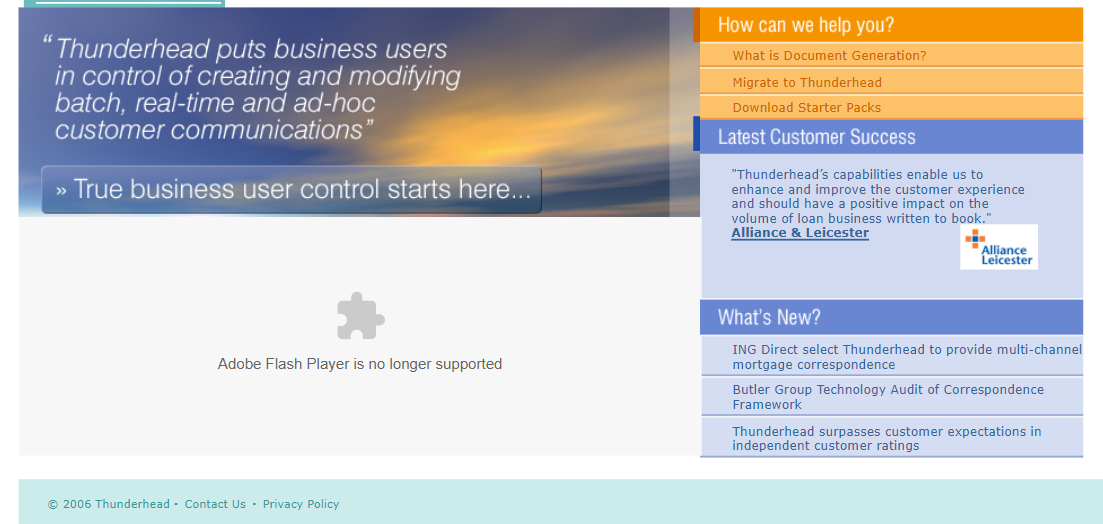 …And 2006!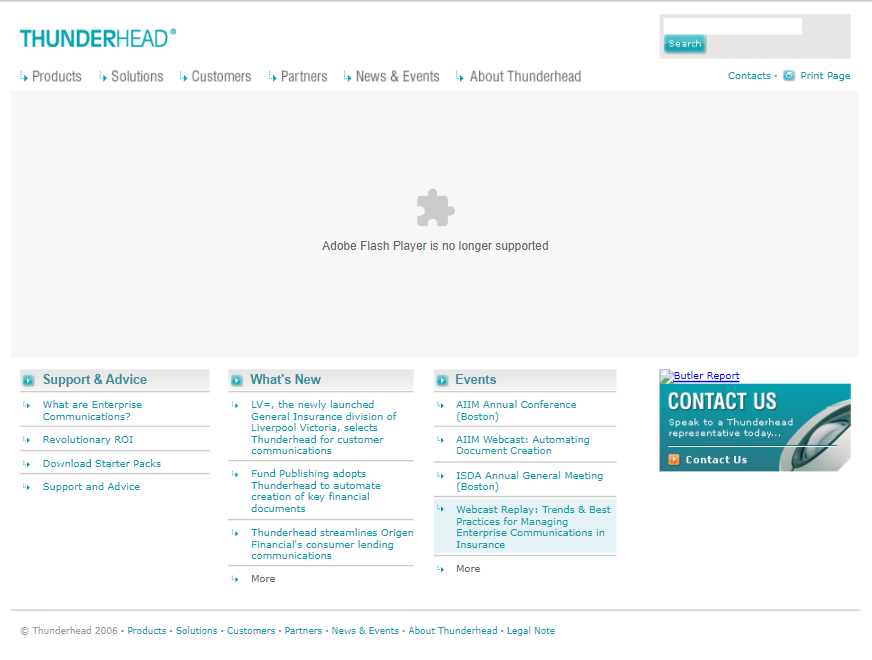 R.I.P Flash Player. 😢
2008
Jumping now to 2008. Thunderhead was ranked number one in the 2009 Deloitte Technology Fast 500, as well as the 2008 Deloitte Technology Fast 500 EMEA. Not too shabby.
2009
In this year, Glen was named "Entrepreneur of the Year" at the Real Business Growing Business Awards in 2009.
2012
In 2012, the company was relaunched. With its new name of "Thunderhead.com", it was ready for its new era.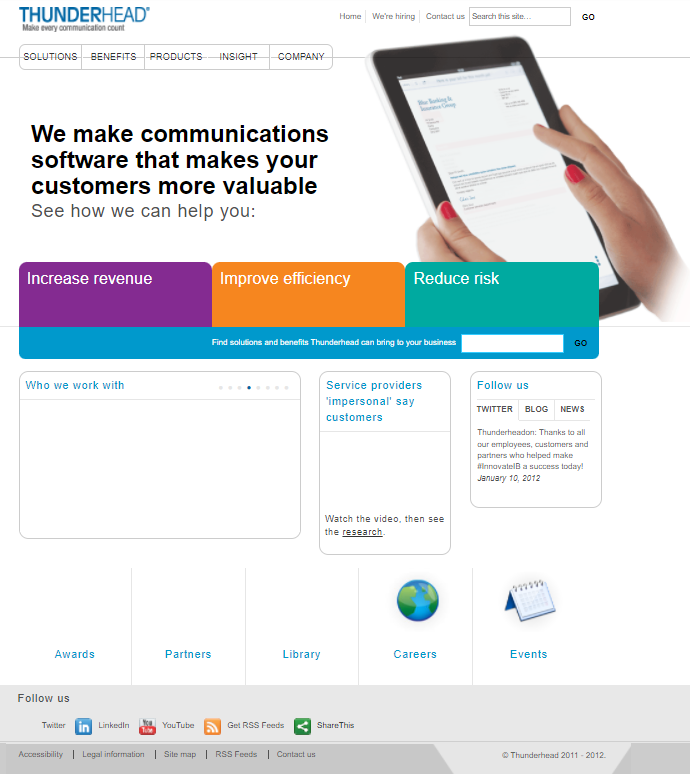 2014
In July 2014, Paul Anthony Milton joined the company as director.
2015
Thunderhead's first generation technology Smart Communications was sold to Accel-KKR in this year.
2016
2016 was a big year for Thunderhead.
Glen launched Thunderhead's next generation of technology, the ONE Engagement Hub, an AI-fuelled Customer Journey Orchestration and Analytics platform. This was designed to help brands respond to in-the-moment customer intent at scale. The ONE Hub is now the recognised leader in Forrester's Waves for Customer Journey Orchestration and Analytics, and Real-Time Interaction Management.
The Hub was also selected by EasyHotel to transform their customer engagement in 2016.
August was a month with some big moves. Thunderhead announced that Generali Netherlands has selected their ONE Engagement Hub to improve their customer journeys and build meaningful relationships with their customers.
In November, Thunderhead saw the appointment of James Bodha as director.
2018
Under Glen's leadership, the ONE Engagement Hub became central to Thunderhead's next stage of growth. In fact, in this year, the business increased its headcount by 40%, opened a new data centre for APAC and an additional office in Germany. So, it was no surprise when they were named outright leader in Forrester's Journey Orchestration and Visioning Wave.
In March, Thunderhead introduced Intent Analyser, which offered customer journey intelligence powered by AI. This represented the next wave in their work. The tech allows business users to anticipate customer behaviour by leveraging ML algorithms and visualisations to automate the analysis of customer journey touch-point events. Try saying that five times fast.
This year also saw General Tools selecting the Hub as their instrument for omnichannel customer engagement.
Plus, the AI was bringing in some great results. Results from 2018 found that customers using ONE's AI capabilities together with Intent Analyser had significant results. One brand achieved a 10% uplift in sales, and a 6% reduction in abandoned journeys.
2020
2020 was a year filled to the brim with rewards.
Thunderhead was named a leader by the Forrester Wave: Journey Orchestration Platforms report. It stated:
"Recognizing the growing importance of this technology, Forrester have surveyed the landscape of technology and put together this report to help brands navigate the market.
With Thunderhead's ONE Platform, named a Leader in this 2020 report, brands can unlock individual customer intent, discover journeys and use real-time decisioning to orchestrate the next-best conversation with a customer throughout their end-to-end journey."
Thunderhead was also named a winner with distinction in the CRM watchlist 2020. They became one of only three brands commended with 'Distinction' status, alongside Salesforce and Microsoft. The award's intent is to highlight companies making a significant impact in customer-facing technology.
Glen commented at the time:
"We're thrilled to be named as a Watchlist Winner for 2020. The Watchlist is a significant landscape review of companies making the most impact in customer-facing technologies, and we're especially honoured this year to be a Winner with Distinction.
As the market pioneer and leader in journey orchestration technology, we couldn't agree more with Paul Greenberg's statement that 'CX and customer engagement are now standard to the thinking of companies'.
In December of this year, Thunderhead expanded their APAC Footprint with the hire of Aarron Spinley as VP ANZ. In the newly created role, Aarron became responsible for building the ANZ team and operation, in order to help their customers use the ONE platform.
Thunderhead was also announced as a Sunday Times Tech Track 100 Company in 2020. The league table ranked the top one hundred private tech, media, and telecoms companies based on their growth across their latest three years.
Thunderhead was included due to their position, in 2020, as one of the fastest growing privately-owned technology companies in the UK at the time, demonstrating impressive momentum, with an ARR of 243% and CAGR of 170%.
Top British racing outfit Thunderhead Carlin Racing took its maiden victory in Asian Le Mans Series 4 Hours of Sepang this year, too.
2021
More awards came Thunderhead's way in 2021. They were within the 2021 Deloitte UK Technology Fast 50, and were included in the Lazard Venture Growth Index.
2022
Big news: In 2022, Medallia announced the acquisition of Thunderhead.
This move was made for a number of reasons. But most of all it was due to the fact that Thunderhead proved, over the last two decades, that they have become a leader in enterprise tech, and that they have the ability to strengthen Medallia's capability to power individualised journeys and conversations at scale.
"Medallia pioneered customer experience management and continues to lead the category," said Thunderhead CEO Glen Manchester. "Medallia's ability to capture signals from an extensive range of sources to operationalize insight and drive action has kept it at the forefront."
"The acquisition of Thunderhead by Medallia heralds the next era of customer experience. We pioneered the idea of The Customer Operating System™, with our closed-loop customer engagement platform powered by continuous listening, feedback, and learning, all actioned through our unique fusion of journey orchestration and real-time interaction management (RTIM)," Manchester continued.
"With Thunderhead, Medallia can ensure that every single aspect of the customer lifecycle — marketing, commerce, sales, and service — will be a seamless, relevant, and frictionless experience."
The transaction is expected to close in the first quarter of this fiscal year.