After meeting at MIT in 2004, Brian Halligan and Dharmesh Shah realised people were completely changing how they shopped. No longer did the whole pop-up, invasive, attention-grabbing techniques work. In fact, they'd become detrimental.
So, the tech-loving duo wanted to provide small companies the opportunity to compete with big companies, and the internet was the way to do it. As a result, they set up their pre-launch website, and got to work. Now, that's good news for all you martech-ers out there.
Describing itself as an "early-stage software company focused on delivering simple, integrated web page applications for professionals", HubSpot's first iteration of it's website is pure early 2000s internet, down to the single clip art picture of a man on a laptop.

But we're discussing pre-history right now. What happened after the launch?
2006: HubSpot founded
We're heading way, way back, all the way to 2006.
Mass cold calling, outbound marketing and advertising was vastly expensive and time consuming. Small companies had real trouble keeping up with the time and monetary expense to keep up.
Plus, the internet was changing everything. From how people engage, to the way they shopped, to the way they realised what they liked. Plus plus, people were becoming immune to traditional marketing - the internet killed the video star, who killed the radio star.
People were turning to new forms of media, which meant they were turning to new forms of advertising. Music was being streamed. Online video was being watched. People were relying on the opinions of real people, over the television.
So, companies had to adapt. They had to get consumers to market for them, not just purely to them. Woah, the HubSpot duo had just invented the basis of inbound marketing.
What is inbound marketing? Well, it's the concept that people don't want to be bothered by marketers or salespeople, and just want the answers to their pain points.
This led to Brian and Dharmesh entering their new solution to this issue into MIT's $50,000 business plan competition, and...got to the semi-finals.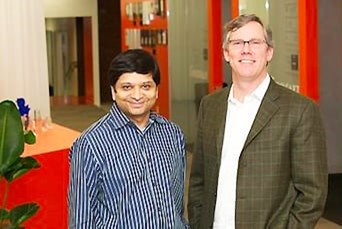 But that wasn't the end. When they graduated later that year, the guys dedicated themselves to the business plan they'd formed. They even created a bog, showcasing their ideas, and later built an inbound community to help small businesses utilise inbound marketing. So, HubSpot began.
2007: company revenue reached $255,000
Within the year, the company grew from $255,000 in revenues.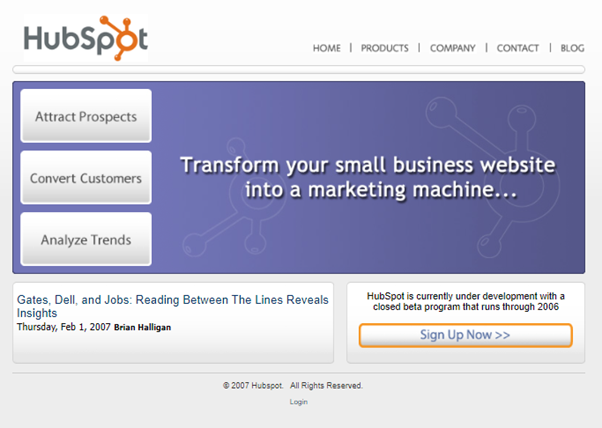 HubSpot also launched their Website Grader in 2007. This feature now gets 25k+ organic visits per month, and has 1.2M backlinks. It also means millions of dollars in revenue for customers each year. Oh, and it's free.
"Back then when it first launched, no one was really talking about the idea of having ranking factors. No one was really talking about, what's the algorithm for doing Twitter right or LinkedIn right, et cetera.

HubSpot was really one of the first to do this. And back in 2007, when they launched it, they launched this website called Website Grader where you could submit your URL as well as a few different competitors, so some websites that your brand competed with.

-Ross Simmonds, Action Driven Podcast.
2008: HubSpot hires sales representatives
In 2008, Brian hired a sales representative, in order to branch out to seeking out and selling packages to third parties. One of these was Schwartz Communications, a Boston-based PR agency.
But now, on their two year anniversary, HubSpot hit the ground running. They grew past 600 customers, a massive customer base growth, and their Website Grader reached a total of over 400,000 unique URLs analysed. Plus, they reached a total of 50 employees in August.
On top of this, the company closed its series B funding, raising $12M with Matrix Partners and General Catalysts.
Up until this point, the company has also either won, or been a finalist, for eight awards, including the Webby and ad:tech awards. They were also presented with an Impact Award for its "Innovative Business Strategy".
This year, they started their organisation and sponsoring for the first annual Inbound.
2010: HubSpot grows to $15.6M
In 2021, HubSpot grew to $15.6M. Then, later that year, the company acquired Oneforty, the Twitter app store founded by Laura Fitton.
They also introduced a new feature which allows businesses to personalise their website for each visitor. They also released a number of free tools as inbound marketing assets.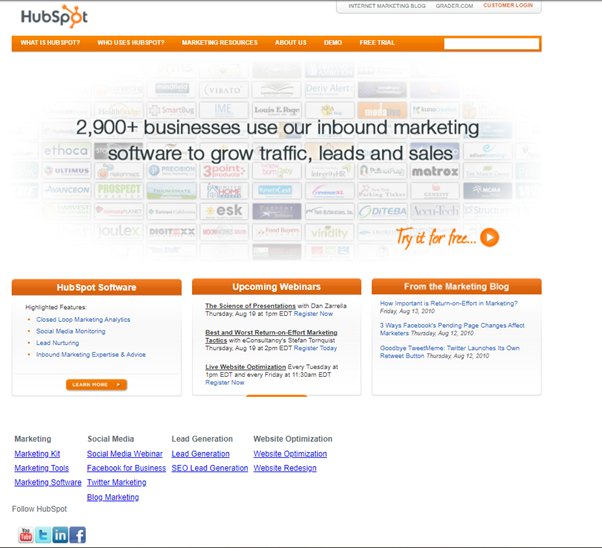 Plus, according to Forbes, HubSpot started their move from targeting small companies, turning their attention "steadily upmarket to serve larger businesses of up to 1000 employees".
But the achievements don't stop there. In an article, the Harvard Business Review said that the company's most effective inbound marketing feature was its free online tools.
Also, this year, Brian and Dharmesh wrote, and released the seminal book on Inbound Marketing.
2011: momentum begins to pick up
This is the year when HubSpot ramped up their multinational momentum.
Brian won the Ernst & Young Entrepreneur of the year award. The company itself acquired an app store for Twitter known as Oneforty, and HubSpot gained over $65M in venture capital investment.
In this year, HubSpot reached over 5,000 subscribers, and continued their focus change.
The company also released a Twitter tracking feature in 2011.
2012: Inbound Conference launches
In 2012, HubSpot started their famous annual marketing conference for HubSpot users and partners. They call it "INBOUND".

Just seven years later, in 2019, the event set a record of over 26,000 attendees from 110 countries. Since 2012, speakers such as Michelle Obama,Tiq Notaro, and Issa Rae have appeared at their events.
The reviews kept coming. The Boston Business Journal named HubSpot a "Best Place to Work in 2012".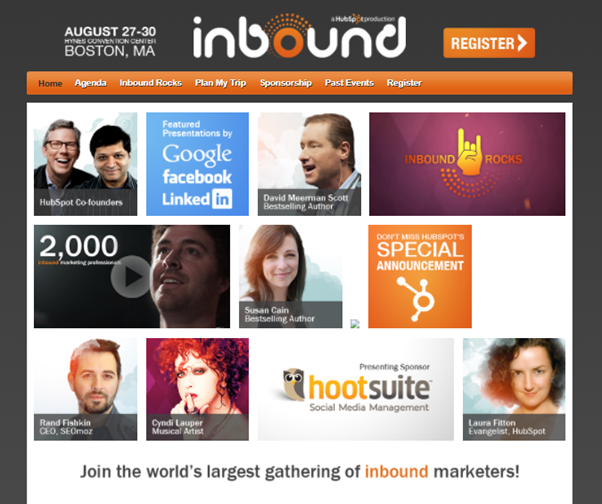 Plus, a review in CRM search said HubSpot was the best "marketing solution" which combined many tools into one package.
The review said HubSpot's strengths lay in its call to action tool, its online ecosystem, and its ease of use.

2014: HubSpot files for an IPO
2014 saw HubSpot filing for an initial public offering with the Securities and Exchange Commission on August 25th, requesting they be listed on the NY Stock Exchange under the ticker symbol HUBS.
They raised more than $140M, at $25 a piece. The stock has since more than doubled, hitting an all-time high of $55.07.
This year, HubSpot also launched HubSpot CRM Free.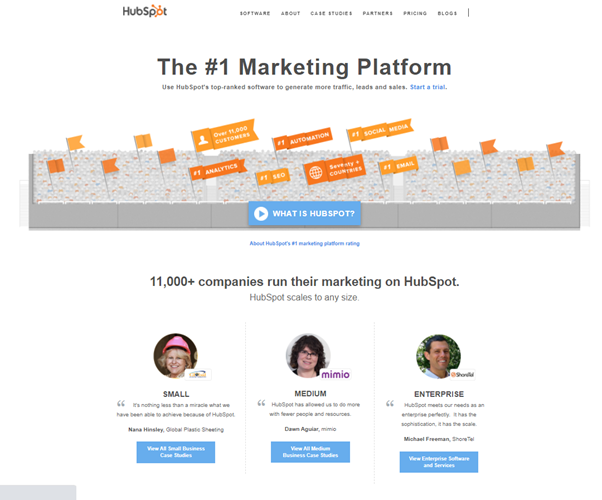 2015: controversy and success
In July, HubSpot's CMO Mike Volpe was dismissed for violating the company's code of business conduct. It was found he tried to obtain a draft copy of "Disrupted: My Misadventure in the Start Up Bubble", written by former employee Daniel Lyons.
According to an article in The Boston Globe, HubSpot executives considered the book "a financial threat to HubSpot" and Volpe used "tactics such as email hacking and extortion to prevent its publication.
In 2015, HubSpot was named the best large company to work for, by The Boston Globe.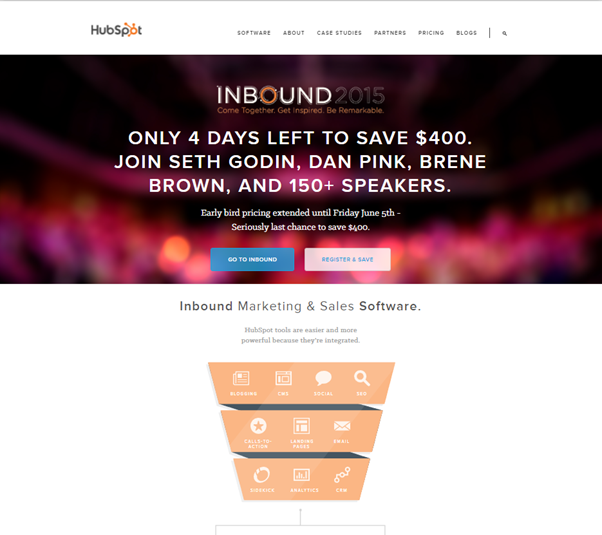 2016: HubSpot Academy
In November, Hubspot launched HubSpot Academy. This is the company's training platform that provides various digital marketing training programmes.
2017: acquisitions
July 2017 saw HubSpot acquiring Kemvi, which applies artificial intelligence and machine learning to help sales teams, and saw the company introduce the technologies into their solution.
This year also saw HubSpot being named 7th by CNBC as one of the best places to work.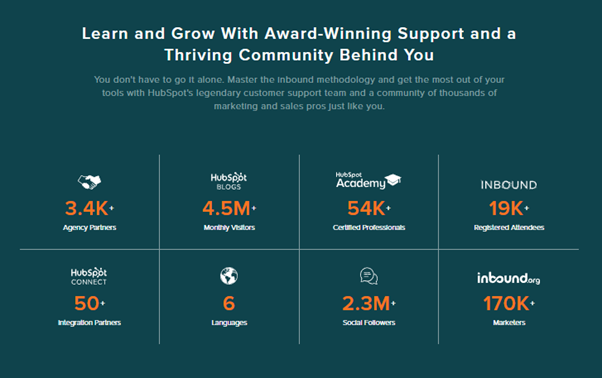 2020: workplace success
In 2020, Glassdoor named HubSpot the best place to work in 2020.
2021: revenue grows to $1B
In 2021, the company reported revenues of $1B.
In February, Axios reported that HubSpot would be acquiring The Hustle, a content and email newsletter company focused on small business owners and entrepreneurs.
Later in the year, in September, HubSpot announced Yamini Rangan as their new CEO, while Brian stepped out from the role, and became an Executive Chairman at the company.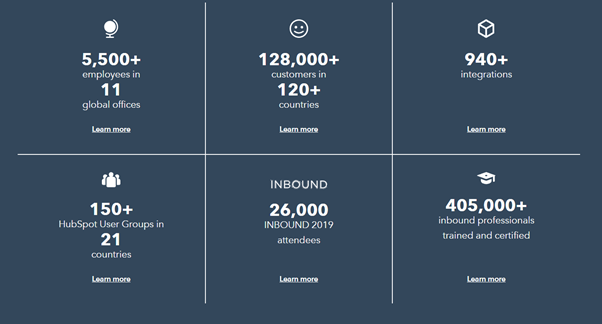 HubSpot now has a number of AI-powered tools that can help businesses improve their marketing, sales, and customer service efforts. These tools include:
Content Assistant: This tool uses AI to generate content ideas, write blog posts, create social media posts, and more. It can also help you optimise your content for SEO.
ChatSpot.ai: This tool uses AI to help you create chatbots that can answer customer questions, provide support, and even close deals.
Conversation Intelligence: This tool uses AI to analyze your customer conversations and identify trends and insights that can help you improve your customer experience.
Data Enrichment: This tool uses AI to enrich your customer data with additional information, such as demographics, interests, and purchase history. This can help you target your marketing campaigns more effectively.
Predictive AI: This tool uses AI to predict future customer behaviour, such as which leads are most likely to convert or which customers are at risk of churn. This information can help you focus your resources on the most important tasks.
These are just a few of the AI-powered tools that HubSpot offers. As AI technology continues to develop, HubSpot is likely to add even more AI-powered tools to its platform in the future.
The Future?
Amazon is reported to have an interest in the acquisition of Hubspot, with reports that one of the Amazon Web Services teams have recommended the move.
A report from Business Insider suggests a deal worth $38 - $40 billion to purchase Hubspot was pitched internally by the AWS Pinpoint team.
This team behind the AWS marketing service Pinpoint suggested the acquisition of a rival, namely Hubspot to 'truly go big on marketing cloud', as it believed its own solutions were too difficult to use.
CRM platform Hubspot currently serves more than 128,000 customers, with a presence in 120 countries worldwide. Earlier this year, it announced it had reached the milestone of $1 billion in annual recurring revenue.
Hubspot's share price rose by 2% in response to the news of this potential acquisition.
Hey there, martech fans. Want to expand your knowledge on the space to the nth degree? Well, have we got a treat for you.
It's our goal at LXA to help marketers understand and deploy marketing technology. Our 4Ps of MarTech & Marketing Operations guide will provide you with a practical framework for doing exactly that. Check out our 4Ps of marketing technology ebook here!