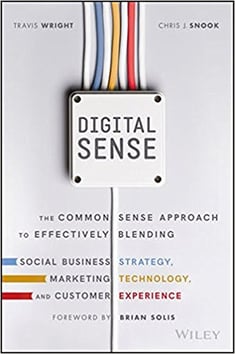 Do you put your customers at the forefront of every business decision? If the answer is no, then you need this book.
Put simply, Digital Sense is common sense for the digital world. The emergence of innovation and new technology should not sacrifice customer satisfaction.
The customer remains the #1 asset in the digital world and it's time every business leader realises that.
Working within the digital world is a minefield of buzzwords, new concepts and the ever-tricky task of creating a truly positive customer experience.
In this book, Travis Wright and Chris J Snook provide shrewd strategies that will not only improve business processes but allow innovation to become part of everyday operations,
We chatted with Travis and Chris about their fantastic book as part of our Marketing & Technology Book Club
Here's a sneaky clip:
In this episode we chatted to Travis Wright and Chris j Snook about their co-authored bestseller, Digital Sense, the power of digital in business and the role crypto currency plays in the wider landscape.
Alongside their collaboration on Digital Sense, Travis and Chris have both found themselves within the cryptocurrency space, with Travis co-hosting The Bad Crypto Podcast and Chris as Chairman for the World Tokenomic Forum. We spent a bit of time during this interview to get them to answer the well-asked question..- what is blockchain?
Travis and Chris have not confined themselves to one thread of business, and in this episode they urged us to follow suit. In this ever-changing marketing and tech world, building a personal skills stack can help us become more value over time than our peers.
We couldn't have let them leave without getting them to dish on their bestseller, Digital Sense. Travis and Chris dished on their creative process and the motivation behind writing the book in the first place.