Will that one annoying colleague that keeps talking about his Peloton, or his arm rash, get any less annoying in the Metaverse? At least you can fly away to avoid getting stuck with him in the kitchen.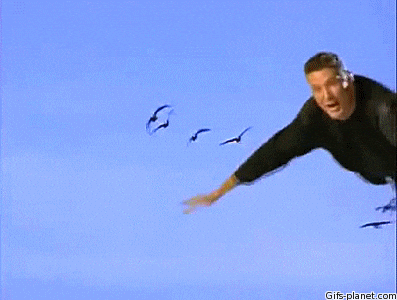 You might work in B2B, and think: "what's all this Metaverse nonsense, and should I care? Does Roblox really help my Quarter four budget? Do I need to have a pair of NFT Nikes to connect with our sister office in Tokyo?"
The answer to all these is yes, yes you do. Well, kind of.
Business is all about meeting your customers where they are, at the right time, right? Remember, B2C concepts and techniques are seeping into B2B; every customer wants to be treated with the same personalisation and care as consumers.
So, the Metaverse is offering an elevated version of all this. It is a digital version of our lives laid over the real version - shopping, meetings, communication, leisure spaces, gigs, workspaces and all. This means marketplaces are opening, and B2B businesses must consider new ways they could be approaching, and engaging, their customers.
Well, this is not completely new. B2B buyers and vendors have been sitting behind computer screens, on zoom, emails, social media, webinars etc. for the best part of two years now. It's not such a leap that they would try out experimental, exciting ways of entertaining their customers.
Plus, Gen Z is now starting to make their way into the workforce. I know right, insane. But soon they'll be stomping their platformed feet right down the hallways at a business near you. And they're receptive to all sorts of new technology, with innate skills and knowledge on all things tech.
"It isn't just about gaming. It's an innovative way to connect with key B2B decision makers within companies, particularly the younger cohort," says Michael McLaren, global chief executive of Merkle B2B.
"An open mind is critical while costs are still low and measurement is in its infancy. There is a true first mover advantage."
So, let's have a look at some examples of where B2B can utilise the Metaverse, starting with:
Trade Shows and B2B Events
The Metaverse has the potential to branch into all aspects of business. Events tech has already seen a jump into more experiential, experimental fields, such as implementing VR and AR, scannable tech, and face scanning. So, it's not a massive jump to implement the Metaverse - what's more experimental and experiential than a virtual world?
The pandemic has forced people online; we saw webinars jump in popularity during COVID out of necessity, and they are now sticking round thanks to convenience.
So, marketers could move to virtual worlds like Decentraland and set up virtual conferences in a fully interactive 3D space. Plus, Decentraland is not owned by any other company, but by a decentralised autonomous organisation.
"While most of the B2B businesses primarily focus on conferences/Meetups to pull the crowd, this proved to be the biggest challenge during the pandemic. However, in Metaverse, companies can easily set up virtual stalls/booths with real time interaction, offering a seamless virtual experience," says Prashant Sharma, Co-Founder and CEO of Plutoverse
"Another advantage that Metaverse will offer is that it will make the marketing experiences more immersive. This new model can help businesses create a virtual experience for their target audience with their product at the core of it, instead of just creating an advertisement."
Office Space
Just like virtual events, working from home was a pandemic necessity, but has stuck around. And, due to changing work habits and worker wants, it's likely to stay stuck. With 89% of employees saying they would feel more engaged in the workplace if there were gamified activities, plus employee happiness having the potential to be increased by 89% with a gamified workplace, working from home doesn't have to be Zoom call after Zoom call.
If employers are worried about disengaged, unproductive employees, the Metaverse could be the answer. In fact, a survey of 500 business workers found that 30% said that gamification leads to an increased desire to be engaged while at work.
But this isn't just about working from home. It also removes the challenges of existing in a global-focused world. The metaverse allows businesses to conduct virtual pitches with avatar-attended meetings, any time and any place. Some brands are even building their own, custom environments in the Metaverse. So, virtual real estate has the potential to make some real bucks.
"Latecomers are finding it difficult to afford the cost of land in popular metaverses," says Rob Davis, head of innovation at Ogilvy. "Plots that may have cost $5k to early adopters now sell for 10 to 30 times that."
Hiring Metaverse Team Members
"It's very much on the minds of some of the most leading brands that understand they need that next generation," says Karen Harvey, CEO and founder of fashion advisory and executive placement firm The Karen Harvey Companies.
So, what does that look like? Well, Karen is actually currently placing people in roles concerning the Metaverse. Think CMO standing for 'Chief Metaverse Officer'. "Among fashion and luxury brands, some are diving headfirst, some are putting a toe in the water," she says.
The role, potentially, could act as a liaison between a number of teams, for a number of campaigns. Combining creative ability and technological skills, the individual might lead projects involving virtual goods and influencers, avatars, company virtual real estate, NFTs, gamified elements, AR and VR, and more. Anything to do with Web 3.0, cryptocurrency, blockchain, and the cloud would be necessary skills in the job.
But this is not just a nebulous concept; it's already happening in a number of industries.
This is most common in luxury fashion brands. A range of roles and departments are currently already overseeing metaverse projects. So, this would involve digital marketing teams, innovation teams, digital designers, strategy leads, and gaming engineers.
Harvey says starting from scratch won't be easy. The best way is to collaborate with people already thriving in the space - for now.
"If you're a brand that needs to reinvent, hiring these people is still extremely difficult. You have no infrastructure for them. Your fastest way to get there is to create partnerships."
Let's have a look at some examples of B2B companies working within the Metaverse.
NewSky XR and B2B events
NewSky XR has hosted 11 B2B events with more than 10,00, all fully immersive and interactive.
It's event set up includes keynote halls, networking lounges with avatars, staff training areas, and trade shows. It combines the best parts of in-person events, with the comfort and accessibility of virtual. Plus, marketers will be able to get their hands on easily collected, rich data immediately.
So, how did NewSky make the transition from in-person to in-metaverse?
Well, the company combined "their vast experience producing decades of live events… with an easily customizable event platform", in order to provide a great experience.
Plus, they were able to trace the trail of data created by each avatar as they moved through the conference. They were able to ask: "Who came to our booth and for how long? How many times did they come? Where else did they go? That whole underlying data movement was very unique."
Other well-established events are also moving into the virtual world. For example, South by Southwest created a version of Austin in the Metaverse, with VR game-like elements. Attendees had avatars, which could attend film screenings, drinks, keynote sessions, and even axe-throwing.
Microsoft and the Enterprise Metaverse
Microsoft is on its way to create the 'enterprise metaverse', which some companies are using to speed up production, both in terms of products and staff. Teams has been connecting employees across the globe, and introduced real-time avatars recently, showing the capability for Metaverse elements to be normalised in an office setting.
Anheuser-Busch InBev is using Microsoft's enterprise metaverse to track every bottle through the manufacturing and distribution process. This map of production is overlaid across their physical brewery and understands the relationship between equipment and natural ingredients. This enables the brewers to make adjustments and monitor their supply chain to run as efficiently as possible.