Prehistoric continents, modern art or fiendish jigsaw? The latest Marketing Technology Landscape from the godfather of martech Scott Brinker (aka @chiefmartec) has drawn various comparisons regarding its unexpected new look. It also seems to be drawing a certain opprobrium though, which is misplaced. The most recent landscape, unveiled by Scott at the very successfully (and rapidly) virtualised Martech West conference, specially renamed "Discover Martech", now comprises 8000 vendors. (Though curiously it's still referred to as the "Martech 5000" - I suppose it's a bit like Douglas Adams' Hitchhiker's Guide to the Galaxy trilogy that actually comprises six books…)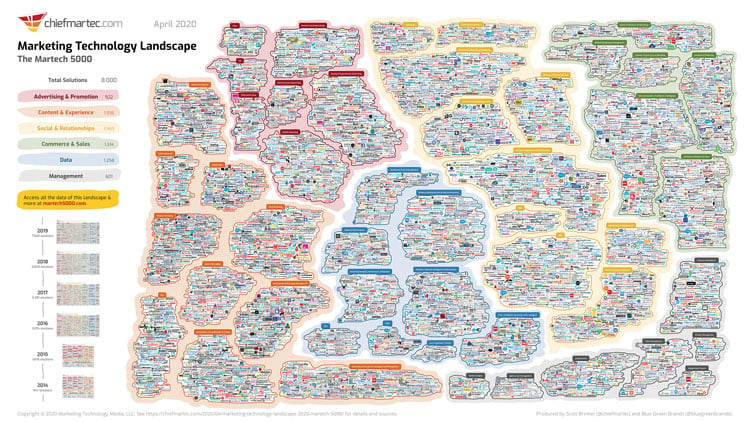 Source: chiefmartec.com
Now I must confess to a slight eye roll myself whenever yet another martech talk includes the seemingly obligatory landscape slide, although I've been guilty of it myself so I can't really complain. This ubiquity though doesn't alter the central point that there's a lot of martech from which to choose and innovation in the space is seemingly boundless. The landscape does have its detractors though, partly on the grounds of this over-referencing but perhaps more so for encouraging too much focus on tech for its own sake. This is a fair point and Scott himself frequently references "shiny object syndrome" where Marketers succumb to the temptation to add unnecessarily to their martech stacks.
While this is a genuine consideration, and buying the latest cool toy without proper consideration for how it will be deployed or utilised is definitely to be avoided, this effect is over-stated. Few Marketing leaders have budget to spare that can be lavished on new software and tools on a whim, rather than requiring well rigorous justification and solid use cases.
It's also been suggested that there is insufficient attention given to strategy when selecting marketing technology, even when individual solutions are carefully evaluated. This is certainly crucial, as the long-term fit and purpose of any addition to the stack must be fully considered rather than just how a tool addresses a point issue. Equally, deployment and adoption must be properly thought through or otherwise an expensive purchase can go underutilised, or even not used at all.
This though is where the landscape comes into its own, helping with martech identification and selection. I have certainly turned to the data on which the supergraphic is based (previously provided in spreadsheet form and now accessible via an online database.) This is incredibly useful for reviewing the solutions in a particular category and systematically determining their high-level suitability for inclusion on a long list when considering a particular requirement. This then is not merely vanity or whimsey but a genuinely useful service to the martech community.
It's worth noting too that since Scott Brinker has been compiling the landscape, many contributors around the world have become involved, ensuring deep geographical and sector coverage that might otherwise have been overlooked, boosting this utility effect for the industry. The latest landscape in particular would actually have shrunk were it not for a slew of additional solutions from around the world that have been identified and added by these contributors, further boosting the service to martech professionals.
The landscape should also be something in which to take pride as martech professionals. Admittedly this risks falling into chest-thumping territory but at the same time it's important to celebrate success, in this case the vibrancy, diversity and innovation of the martech industry. Every one of the solutions on the landscape is intended to solve a specific issue being experienced by Marketers somewhere around the world and in disparate sectors, which should be recognised and applauded. Maybe the supergraphic even helps identify gaps where a solution could be provided to address a particular challenge that has yet to be tackled. The landscape represents our industry marketing technologists, let's embrace it!
Finally, and I'm sure Scott would be the first to agree, the landscape is perhaps not to be taken too seriously. This again is a service to marketing technologists, creating a talking point and something around which we can coalesce and share a bit of (virtual) water cooler conversation. It certainly helps bring marketing technology to life, which could otherwise be a little dry, and creates some buzz every year, as well as presentation slide content.
So whether an 8000 piece puzzle, a Jackson Pollack or the long lost continent of Panmartechia, here's to the Marketing Technology Landscape supergraphic!
If you're a fan of the Marketing Technology Landscape supergraphic, check out our breakdown here.
T
his story is contributed from our audience, if you'd like to have your say and get published on our site, get in touch at
hello@martechalliance.com
Grab a ticket to our #MarTechFest Dial Up
here

. It's free btw!