Yes, it's almost 2022. It's been a couple of years where we've seen a pandemic accelerate existing trends, in terms of the adoption of tech and changes in customer behaviour.
In its 2022 Predictions Report, Forrester looks at some of the trends which will potentially shape business and customer behaviour in the coming 12 months.
1. Values matter to consumers
Brand values and policies around sustainability, environmental, social, and corporate governance (ESG) will become even more important.
Forrester research from 2021 found that 69% of European consumers want to see more transparency from brands, and 47% say they regularly purchase from brands that align with their personal values. It's a trend that's expected to continue.
2. The pandemic has permanently changed customer behaviour
Companies shouldn't rush too quickly to revert to pre-pandemic service offerings. Many consumers liked the digital alternatives. For example, the number of US adults who would be interested in a video-chat health appointment has increased by 66% since 2019.
Where digital can offer convenience and a better customer experience, it should be retained. For example, the B2B sales process is now more digital and self-serve than it used to be.
As Gartner found last year, B2B buyers are now spending less time with sales reps and more time researching online.
The following chart shows how buyers are spending their time researching purchases, and we can see online research takes the biggest chunk of time.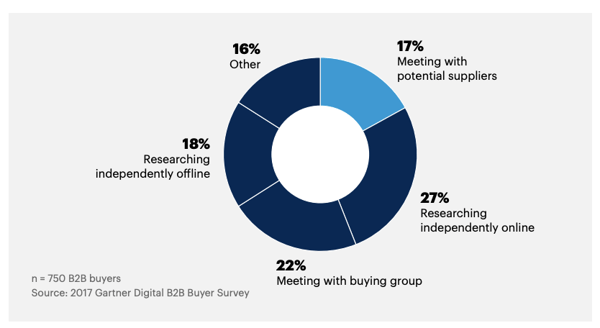 3. More CMOs will own or influence commerce and CX
Forrester predicts that 35% of B2C marketing functions will be responsible for customer experience, with many more influencing it.
This brings with it responsibility for the marketing technology that helps to power the customer experience. In our The Martech Report 2021/22, we found that the responsibility for martech (and by extension CX) was split between marketing and IT, though leaning slightly towards the former.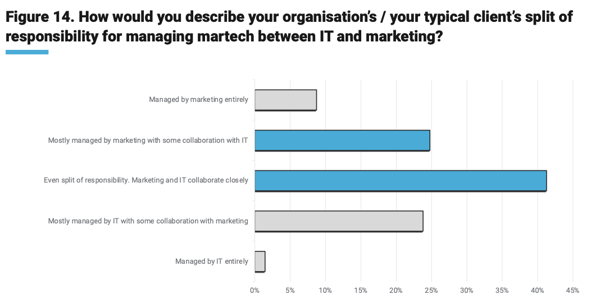 With this move towards more CMO responsibility for customer experience comes the challenge of managing complex martech integrations and the day to day use of tech.
With skill shortages in this area, training around the procurement, integration and use of martech will be much needed.
4. The UK will diverge from EU regulations
Post-Brexit, we're seeing this already with more sewage in our rivers.
On a business level, promises to free up the transfer of personal data to countries including the US, and the relaxation of privacy requirements will have implications for marketers.
However, for UK based business trading with the EU, European rules will still apply. More broadly, with customers more aware of data privacy, companies would be wise to prioritise customer trust in this area in order to access the data they need to provide more targeted and relevant marketing.
5. Companies will fail at remote working
While 10% of companies will commit to fully remote working practices, Forrester predicts that the 60% that opt for a hybrid model will experience problems.
Forrester sees these issues coming from firms that promise hybrid but still design working practices around face to face. When productivity suffers, it's likely to be the hybrid model that is blamed, rather than the failure to implement it effectively.
For those companies insisting on 100% in office, employee churn is expected to rise.