Over here at The MarTech Alliance, we were lucky enough to be joined by Bynder, who hosted a webinar which looked at how DAM can power engaging digital experience that build strong brands!
In case you're unaware, Bynder is a leader in digital asset management (DAM) and creative automation. It has 2,200 customers globally, and more than 1.4 million total users, and upwards of 130 million assets managed. Big numbers, essentially.
In this article, we will share some tips and examples of how some of the world's leading brands are using DAMs to deliver great digital experiences, reduce spend on content, and greatly improve the productivity of both marketing and creative teams!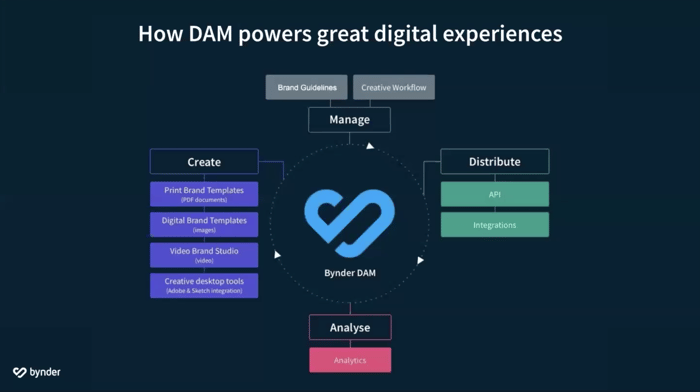 Offering on-brand and consistent digital experience across all channels.
How to massively reduce spend on content creation and launches.
Delivering a growing number of digital contents using marketing automation.
Integrating with other martech tools.
Why is Digital Transformation and Digital Experience so important?
Naturally, Digital Transformation has been a huge topic over the last two years, thanks to growing customer expectations. Customers now expect every digital touchpoint with a brand to be connected and symbiotic, almost.
We expect when we log in to Amazon online, or via an app, mobile browser or desktop, for every experience to be consistent, and for Amazon to use our data to provide relevant recommendations and product content. This is accentuated by research from SalesForce showed that, on average, customers engage with a particular brand across five separate channels.
Obviously the pandemic has sped things up. Ecommerce accounted for 25% of all retail sales in August 2021, while 59% of organisations accelerated their digital transformations in response to COVID.
What is a digital experience?
It's really very simple. Digital experience is the interaction between you and a customer that happens online. It's not all live-chats and emails though, as there really is no digital experience without creative content. Content is at the core of all digital experience, regardless of the platform.
What defines great digital experience?
To simplify it down to its core fundamentals, a great digital experience needs to be fast, consistent, personalised and, of course, impactful.
Speed. People want their online experiences to take seconds; minutes at most - that is when they're dealing with brands, of course. Research from Google found that website loading times of over two seconds result in a 32% bounce away. Of course, it's the visual content that takes the longest time to load, but this really can't slow down, for risk of losing customers.
Consistency. Consumers expect brand experiences to be the same throughout all platforms. This gives brands more chances to engage with consumers across different areas of the web, but also stops consumers from fluttering away. 73% of users will switch brands if they lack consistency.
Personalisation. Research shows that 80-91% of consumers are more likely to purchase after a personalised experience.Content is the challenge here, with 31% of CMOs viewing content as the number one barrier to better personalisation. (Gartner)
Content quality makes the difference. There is little point in offering a personalised, consistent and speedy experience if, ultimately, all you're doing is showing people pictures of fast-loading ducks across all platforms with a certain user's name superimposed over them. That's not really good content. You need to grab your users' attention, and be relevant to what they want to see from your brand.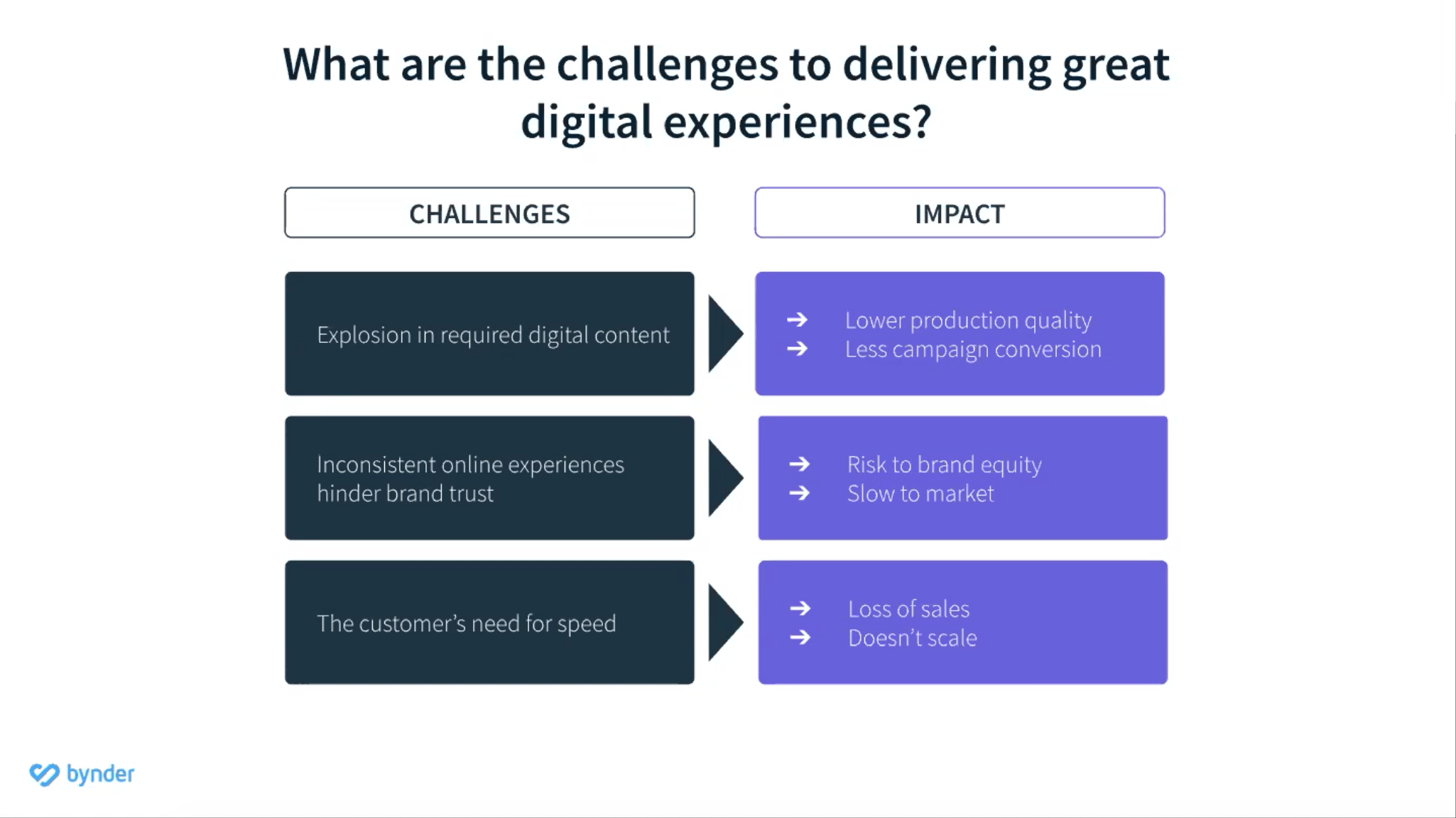 There's a lot being asked there, and many, many brands are struggling to deliver impactful, personalised content at speed across all platforms. This can result in hurried content created by marketers, such as stock images of Hide The Pain Harold on company landing pages.
How can DAMs help build strong brands?
DAMs start by addressing three key elements:
Create content for DX
Marketers are now asked to make consistent content across at least five different channels, and these channels often need to cater to 10 or 15 different languages. DAMs have tools that can help you with this growing need for content upon content, using the likes of "smart automation" and brand templates.
With DAMs, you're able to centralise all of the content that you need, and be able to see which team is responsible for which asset/language/platform and more. This allows for a consistent brand across all mediums, as small changes are able to be made with clicks of a button, while still maintaining an overall tone/identity.
Keune, one of the biggest hair care brands in the world, uses the Bynder DAM to be able to empower partners to customise, localise and utilise branded content with its dedicated Content Creation Centre, with over 300 Brand Templates. Since the Content Creation Centre is connected to Episerver, they're then able to publish finalised content pieces straight to their sites, partners' sites and more.
Pay-later service Klarna also uses Bynder to reduce the costs of content creation. Oftentimes a company will end up creating the same content - sometimes at great price - over and over again without knowing, since certain areas of the brand were unaware that they had already been done.
By using a DAM, Klarna were able to view every digital asset in one place, each one with its own metrics and with consistent branding. The marketing team was able to comment on certain assets with instructions for the creatives in the company and were also able to assess the ROI per asset via built in usage analytics.
Repurposing content saves extraordinary amounts of money, and paired with knowing which content works on certain platforms and to certain audiences, the right assets can be used, the wrong ones can be disposed of, and this saves time and money.
Manage content for DX
A DAM automatically updates when an asset is updated or a new asset is launched. Basically, you upload the variations of the asset to the DAM, and then choose which platform to send each one to - when you later update that asset for whatever reason, Bynder updates it everywhere that it's being used.
Groupe SEB is a Bynder client, with more than 200,000 assets across 30 brands, and needed to be able to automatically synchronise all of those assets with the existing tech stack, to avoid the need to manually upload all of these thousands of assets across their many sites every time something was updated (something that happens often).
Using Bynder, they were able to just upload something once, which was subsequently pushed across all of their sites with the relevant changes necessary (language, currencies, etc.)
Distribute content for DX
You want to be able to distribute the right content to the right people, quickly and seamlessly. DAMs such as Bynder are able to automatically deliver optimised assets and improve digital experiences.
For instance, the DAM will automatically resize or crop an image depending on the platform it is being shown on. DAMs upload the best possible asset for each use, such as showing smaller size images on mobile to Improve page load speed.
This feeds perfectly into personalization, as Bynder is not only just able to know what platform an asset is being viewed on, but where the person is and what they may be interested in, and altering the assets accordingly. It can understand exactly what kind of personalised content your customers want.
A 'mystery' airline client used the DAMs to measure where people were visiting the website from and what sort of destination they were looking to visit from their searches. With that, they were able to deliver content that was perfectly tailored to them, with the right price, destinations, timing and more, all delivered in more than 800 auto-generated and personal videos every day!
For more information on the potential benefits of DAMs and advice on selection, see our step by step guide to Digital Asset Management Systems.