The What, Why, How of Digital Asset Management (DAM) Systems
Buyer Guide: Your step by step guide to Digital Asset Management Systems
1.What is DAM?
DAM stands for Digital Asset Management and it pretty much does what it says on the tin: It's a piece of software that helps you manage all your digital assets.
What does it mean to 'manage' digital assets? Almost every business, whether B2C or B2B, retail or service, has digital assets of some form or other. Those assets – images, videos, podcast audio files, infographics, gifs, logos, and more – can be stored in one place, the DAM, alongside important information about each asset known as the Metadata. All of this is accessed by a simple-to-use platform which helps users find the right asset and use it in the right time and place. Sounds simple enough – if you have one in place.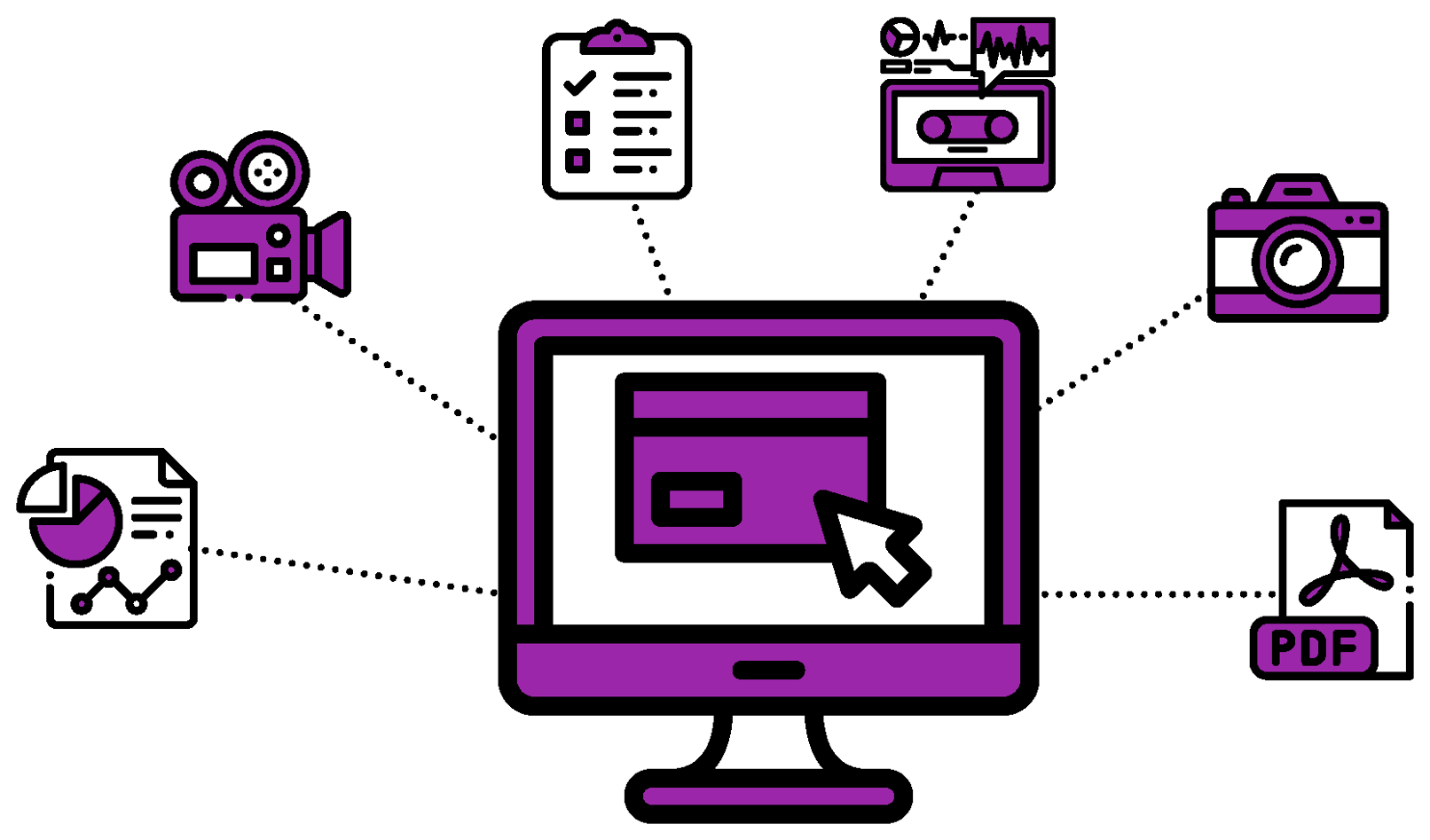 Why should we give a DAM?
A DAM solution sounds simple because it is. It is a simple and effective solution to an otherwise complex challenge for most businesses. Without a DAM, keeping on top of a rapidly growing number of assets and helping the business stay organised is a mammoth task.
You're probably sick of hearing people say 'the way we do business is changing' but it has been and still is. How customers interacted with us yesterday is different to how they do it today and it's going to be different again tomorrow. Businesses have to be flexible to keep up and that's pretty demanding if you don't have systems in place to support you.
Recent marketing surveys bear this out, with an IDC/Adobe survey finding that 85% of marketers are under pressure to create assets or deliver campaigns more quickly, and 71% revealing they need to create 10 times as many assets as before to support all customer touchpoints. Personalisation is also having an impact, as more than three-quarters of marketers think they need more assets as a result.
Essentially, a DAM is an oasis of calm in a turbulent marketplace. Whenever someone in the business needs to act fast, create new collateral, introduce new product line, provide detailed information or make an announcement, with a DAM they know for certain that the information or asset that they're about to use is appropriate, correct and up to date.
Aside from firefighting, a DAM is just one of a growing number of martech solutions that come together to make your business more effective, more efficient, an overall more pleasant place to work (trust us on this!) and ultimately, more profitable.
This guide is going to show you what types of DAM are available, what a typical solution looks like, how it fits with the rest of your martech stack, what sort of uses DAM can be put to and why a simple software solution has the potential to superpower your brand.
2.What are the benefits of a DAM?
Why do you need a DAM today?
Brands have moved from point of sale (POS) to point of interaction (POI). What does that mean? Basically, every time a potential customer comes into contact with your brand, that's a vitally important interaction that could lead to sales and long-term loyalty. It follows that brands should be making the most of every possible interaction, via sales channels, via media – on and offline, via POS, packaging and more.
That's a mammoth task.
A Digital Asset Management system, or DAM, takes on board all the assets and data streams you need to deliver those interactions seamlessly, at high quality and with the attention to detail consumers demand. In all, we've identified four key benefits that a DAM delivers to today's modern business.
Deliver brand & campaigns at scale
Quite simply, a DAM helps you manage volume effectively, efficiently and quickly. It also helps companies manage the paradox that is 'personalisation at scale'. That is, companies have to target vast audiences, but without the 'spray and pray' of old. Each customer wants to feel valued, and that in turn delivers value to the business. McKinsey reckons that personalisation at scale has the potential to create $1.7 trillion to $3 trillion in new value. Tactically a DAM will also ensure you use the most impactful creatives are used in your campaigning.
Build brand salience
It's a busy old world out there so to really cement themselves in consumers' minds, brands have to be ever-present in consumers' minds and resonate on multiple levels, across a huge range of potential touchpoints. That means building brand salience, the level of awareness and recall needed to make sure you're the first to mind.
Veteran broadcasting marketer, Spike Santee, nailed brand salience when he wrote:
"The goal [of] successful advertising is to be known before you are needed. The biggest mistake in advertising is waiting to be found."
He might have been talking about advertising but it's a truth that applies to the whole reach of Marketing and Brand. Achieving brand salience means keeping in front of the consumer – 'good' and 'often are' the watchwords, and a DAM helps deliver on that by making your library of brandified assets easily accessible. In fact it does more, it can avoid publishing of any assets which have not been preapproved which might otherwise confuse brand messaging and awareness.
Operational efficiencies
Hunting down, using and keeping digital assets up to date burns through company time and resources. Assets can simply go missing and, when managed in a haphazard way, the lack of security can be an issue. Nearly three-quarters of marketers (71%) in one survey admitted their assets were stored in an email, 68% said they were on a USB drive and 55% kept their assets on a public drive, while a shocking 90% admitted to losing confidential assets over the past year.
DAM solutions help companies work smarter. From reducing the time spent administrating campaigns to automating processes and working together faster, there are all sorts of efficiencies you can drive. Companies using DAM systems report saving time (31 weeks over four years, says one) and a rapid increase in activity - one increased their use of their DAM ten-fold in two months following a successful POC. DAMs really do deliver a return on time (ROT) which can be quantified in cost of wasted hours.
Better ROI from assets
Assets isn't just another word for picture or video. They are exactly that for a business – they're an asset that can generate revenue, but also cost money to acquire. We know of companies that before having a fully functioning DAM have operated with an 'its 'quicker' to reproduce an asset vs finding who has it saved and then trying to find who the file location has been a quicker' approach. Some vendors suggest a large business could save 6,000 annual staff hours using DAM, saving £100,000 with an ROI of £8 on every £1 spent.
Managing those assets effectively can make for some serious cost efficiencies. Deploying them well has a directly positive impact on revenues. One supplier reports saving 70% of costs on reproduction alone for a customer.
According to the IDC Technology Spotlight, a DAM can reduce costs even more, by 80% with an average revenue increase of 24% and a 23% reduction in risk from asset misuse. Better use of your assets in paid media campaigns can't be underestimated, if you mix and match the right creatives that are proving most effective on platforms like Instagram and Snap you will greater engagement – and ultimately make your media spend work harder.
3. DAMs sliced and diced
Even though it's a relatively young market, there are already quite a range of DAM solutions available, from freemium versions so you can dip a toe, to full-service integrations that do everything but make the coffee.
A DAM is a hub through which people and systems can work together to create new assets or mange existing ones – marketing materials, packaging, web content and so on – which can then be distributed via other systems and out into the wider world.
Many DAM solutions carry extra plug-ins, extra features and can be customized to very specific business needs. However, to be effective in the widest possible range of applications, any DAM solution should contain the following core elements:
Asset hub
Literally, where all the assets live. A single source where anyone who needs it (and with the right permission) can get hold of the most up-to-date, approved asset. Often contains automated services such as de-duplication and redundancy functions to identify unused or unnecessary asset copies.
Taxonomy
The way assets are classified. Often one of the most time-consuming to set up but ultimately most valuable parts of the DAM system. Some systems use artificial intelligence (AI) to help build the DAM taxonomy by suggesting keywords. It is the foundation that helps make a DAM so easily searchable.
Search tool
A range of filters to help users find the right asset for the right purpose, including the capability to search through an asset's metadata.
Metadata
Tags applied to assets as they are uploaded either manually or ingested from other systems such as product information management (PIM). Helps when searching for an asset for a particular use, by type, format or permission. Can also be enhanced in systems that incorporate AI.
Rights
Including rights information allows assets to be searched for and distributed according to use case and permissions; can also include automated triggers for when rights expire or requests for access, watermarking certain assets and so on.
Automated updates
Tags that track changes to assets to make sure they are translated across every other use of that asset from that point onwards.
Analytics
Provides insight into how and when assets are used, as well as information such as which assets are most used, and which drive the most engagement.
Workflow
Allows all users to be linked together in a single workflow. Connecting one dot to another; notifying users of next steps, required actions like approval or allowing annotation or commenting on an individual asset and pushing assets from one space to another are all examples of streamlined workflow.
Collaboration tools
Often used in together with creative tools such as design or publishing packages, allowing users in different physical and departmental areas to work together in real time on projects. Can also contain 'locked' parts to prevent unauthorised changes or resulting collateral.
Publishing and push
DAM distribution of assets to print, website publishing, social, podcast and video platforms, apps, email marketing and more.
4. DAM hosting
If you're worried that getting involved with DAM means a complex tech integration, then stop. DAM operates at varying levels of complexity and there is an appropriate solution for every need. You can have complex and wide-ranging integrations that depend on sophisticated internal IT support, or fully supported cloud-based systems that are plug-and-play. The three major DAM hosting options are explained here:
SaaS DAM
More and more martech integrations today come in the shape of Software as a Service, or SaaS. They are hosted in the cloud so there's no software or hardware to add to your existing IT infrastructure.
Before you get into things like customisation which take a bit more time to set up, most SaaS applications are also turnkey. You literally just turn them on and off you go. Equally, many SaaS products come with support as standard so the vendor itself should be able to help with any integration or usage challenges you come up against.
There are plenty more benefits from choosing SaaS-based products, such as scalability – want more storage or capability, just buy some – and security, as vendors tend to be specialists with specialist back-up in place.
Hosted DAM
Larger organisations with strong, IT infrastructure and considerable data security requirements might want to consider a hosted DAM solution which is software installed on-site. Some might argue that a sophisticated vendor might arguably have a more secure IT set-up than a client with an IT department, but this needs to be assessed on a case-by-case basis.
Hybrid DAM
Like the name suggests, it's a bit of a mix between SaaS and Hosted DAM. Companies that go down this road tend to want the security and control offered by keeping data and information on-site but use the SaaS components to create, collaborate and distribute finished materials.
Once up and running, however, it's important to put the work in in terms of creating a robust taxonomy, making sure every asset has the right set of metadata and understanding who in the organisation is going to use the DAM, why, that they have the right set of skills – and, crucially, mindset – to do so. This is all so important, we're going to have a proper chat about it in Section 9: Getting the most from your new DAM.
5. DAM integration or, where does your DAM sit in your stack?
A DAM system has two distinct jobs. First, it holds all the company's assets, allowing various people or systems around the organisation to interact with those assets. Second it pushes those assets to other systems. A DAM solution typically:
Ingests information from:
Content management systems (CMS)
P­roduct information management systems
Workflow management tools
Returns information to:
The systems above PLUS
Marketing automation
Social engagement
Which, in turn, sends information to:
Social channels
Email
Website
Print
…and more.
But how easy is it to integrate your DAM? The short answer is: relatively easy. The longer answer is: It depends on the complexity of the business stack and working processes.
DAM solutions will often integrate with other platforms such as content management systems (CMS), ecommerce, workflow management tools, product information management platforms (PIM), print platforms and social media platforms. The speed and ease of their connectivity will depend on their integration partner network.
For example, does the solution you need have a default connector for Hootsuite to manage social media or Sitecore for CMS? The ability to integrate with other platforms beyond a DAM's existing ecosystem can still be managed through their application protocol interface (APIs) it will just mean a bit more technical implementation is needed.
It's important to note that some DAM systems can also integrate one or more of the systems above, particularly PIM capabilities and some marketing automation or web content management. We'll help you work out whether a provider that offers this kind of 'enhanced' DAM might be suitable for your needs in Section 7: How do you select the right DAM?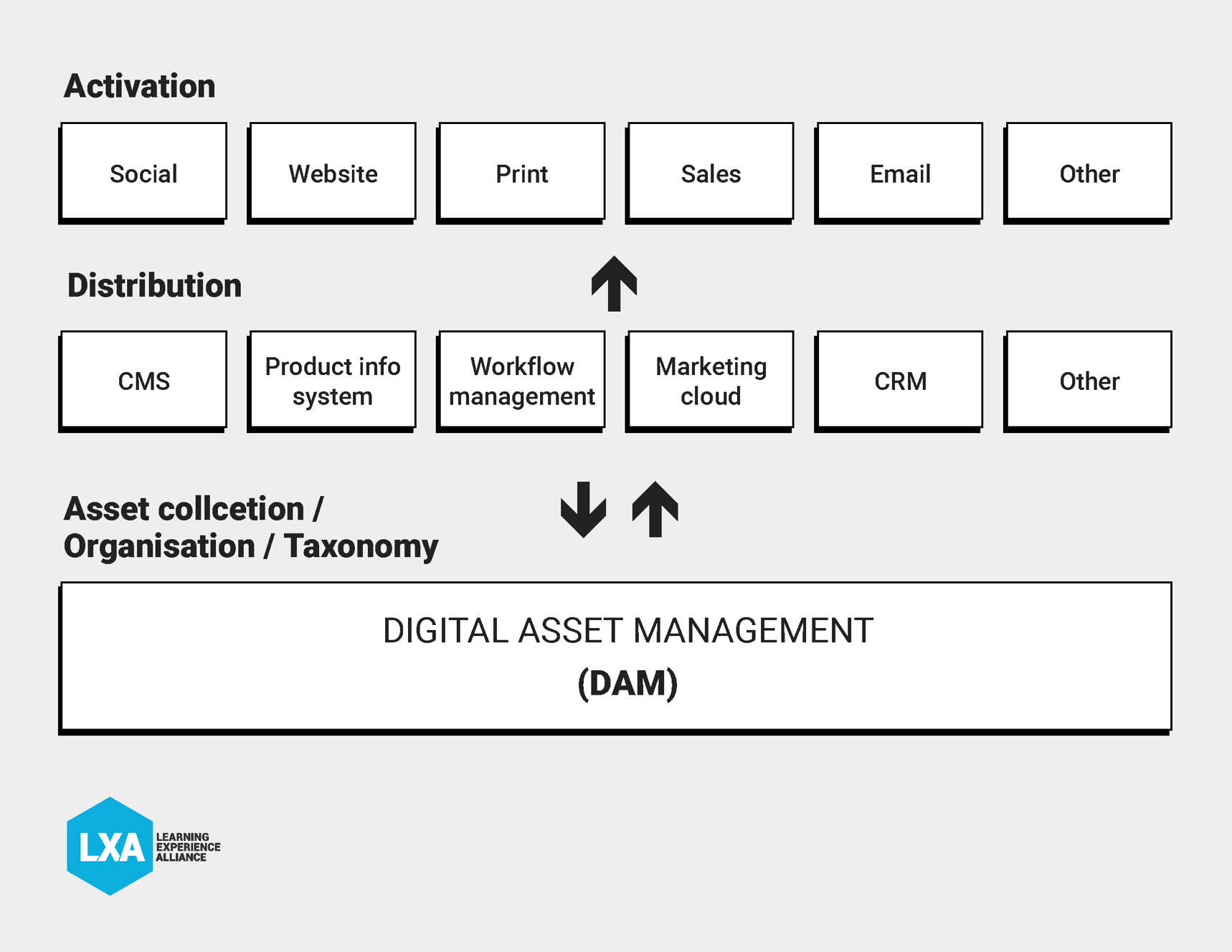 6.Who gives a DAM?
Digital assets are unique in business insofar as everyone from every department will have one reason or another to interact with them. Clearly, the art department or design team wants to work with imagery, and marketing needs to know what to include in communications materials. But legal will also have a say – for example, has the asset expired or does it need explanatory information, required by law? Supply chain will want to know it is targeting the right product for restocking, customer service wants access to answer sales queries, packaging for the latest retailer tie-up - assets criss-cross companies thousands of times a day.
Without something like DAM in place making sure the right people have access to the right asset at the right time can be a nightmare. Here's who would typically work through DAM on a regular basis:
Marketing
Arguably the heaviest users of DAM in any organisation, which is why decision-making about DAM solutions often rests with the marketing director or CMO. The benefits to marketers of using DAM are:
Staying on brand: Assets contain contextual information; only the most up-to-date, approved assets are stored.

Manage resources effectively: A single source of truth removes expired or duplicated assets, saving money.

Campaign insights: Built-in analytics reveal asset performance stats so we know which perform best

Speed up time to market: Automation cuts time wasted on mundane tasks, streamlines the approval process and helps repurpose content for faster, cheaper creation of marketing collateral.

Collaboration: Links providers and agencies together in real-time via a single dashboard to cut out delays between ideation and iteration.
Design
A smaller sub-set of Marketing-oriented users, Design has possibly the most hands-on, day-to-day experience of the DAM solution. The DAM helps designers:
Manage their assets better: Automated/AI tagging and metadata helps arrange assets for fast retrieval.

Reduces admin: More time can be spent on creating, less on managing and finding assets

Iteration control: More appropriate and on-brand assets can be retrieved first time, reducing cycles of approval.

Cost efficiencies: Templating and automation help easily repurpose existing content for new markets, freeing design for more unique projects.
IT
IT has less hands-on use of DAM systems day-to-day but a secure and centralised system looking after assets and company data enhances the company's overall tech performance:
Security: A range of DAM solutions can meet any organisation's data security needs, including managing highly sensitive assets.

Low-touch integration: Using APIs minimises disruption to existing IT systems

Flexible: Can be scaled or upgraded quickly according to need with little impact on existing systems

Supported: Teams can access vendor technical support as and when required
Agency partners
Asking to be involved in your client's DAM increases their speed to market, removes inefficiencies and can limit errors. With the right set of permissions in place, interacting via the DAM helps with:
Approvals: Working through a single hub and dashboard gives all interested parties visibility of assets in production in real time, allowing edits and sign offs to happen quickly and with clarity.
Sharing: No more insecure emails and images lost in inboxes, people can cherry-pick the appropriate assets all from the same database and automatically alert the next person in the chain when the work is ready.
Reduce cost: Agency costs can increase due to project delays and convoluted sign-off processes. Working through DAM streamlines communications and processes, lowering cost.
7. How do you select the right DAM?
Our 5Ps of Marketing Technology guide can provide some great advice on how to best select the right DAM. This will help you plan holistically around your broader martech strategy and roadmap. We have extracted some of the key areas below but you can access to the complete guide here.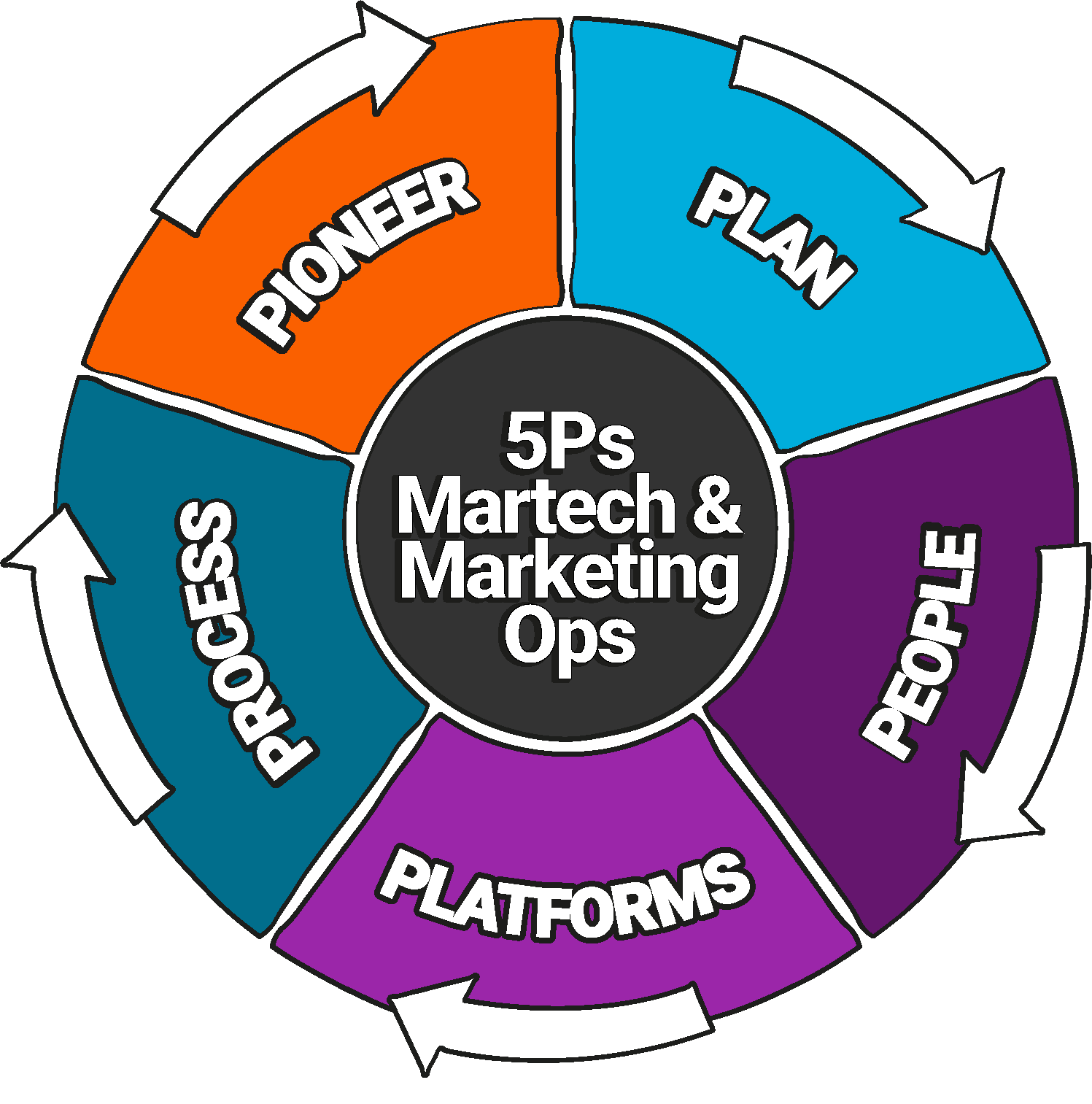 Typically, a company might want to implement a DAM system to:
1) Drive brand awareness and salience:
Building brand awareness comes down to the three Cs: Communicate Consistently Constantly. It sounds simple but to achieve at scale is a hugely demanding task. This is where DAM comes in.
First, consistency. By pulling together only the latest versions of assets, adding tags that mean any material change to one logo, image or brand asset is automatically applied across the board and limiting access to only those authorised to make changes, the assets maintain their consistency which improves awareness and salience.
Then, constant communication. By unifying assets in a single hub, it makes automation a whole lot easier. This allows teams to cue up content publication, campaign roll-outs, updates and responses and frees up staff to perform more creative or bespoke tasks that all combine to make a coherent and continuous brand strategy.
2) Optimise paid media performance:
Automation is arguably the best way to deliver messaging quickly and to a wide audience across a wide variety of platforms. With dynamic ads, emails and even print mail, it is possible to use it to communicate personalised messaging but at scale. Investing in data-driven paid media is a clear driver of ROI, but for it to work effectively it has to be served by a streamlined and up-to-date asset resource. Using DAM means the right asset is served to the right customer in the correct format and brand positioning, making the most of your media investment.
3) Improve efficiency:
Assets spread across multiple systems and departments can take time to locate and approve. By centralising assets, everyone knows where to find the asset they need, intelligent tagging makes search intuitive and quick and workflow management alerts the relevant people to the next step in the process.
4) Reduce costs:
Duplication of assets is a big driver of excess cost for businesses. Unnecessary payments for additional rights, photoshoots and creative executions can be scrapped when a DAM system makes it quick and easy to locate assets that match user needs, or reveal that there is indeed a gap in provision.
5) Drive collaboration and agility:
We're working in an altogether more agile, collaborative environment. Several parties are involved in content creation and campaign management, including external agencies, internal departments, brand partners, retailers and more. Allowing collaborators secure access to a centralised resource where permissions and actions are clearly defined makes the process efficient and effective.
Vendor selection
The next step to choosing the right DAM is taking those goals and matching them to the best fit product spec.
Assessing that requirement follows the same process as onboarding any piece of martech. We outline the vendor selection process in our 4Ps of Marketing Technology and it goes something like this:
1) Internal requirement gathering & Request for Information
What do our people need from a DAM, who sells DAM solutions and what sort of solutions do they sell?
2) Project steering committee established
Someone has to be in charge! Get insights from across the business from everyone you think might need to use the DAM at some point, but have a core, small team in charge of decision-making. This is often centred on marketing and led by the CMO or similar but working closely with IT when it comes to integration requirements.
3) Business use cases
What possible uses can you think of where a DAM might solve your real-world business problems (note, not the business problems the vendor says it can solve) today and in the future? At a tactical use case level you may have the following scenarios:
As a designer, I want a comprehensive set of brand assets and usage guidelines so I can create collateral quickly with minimal revisions required.
As a brand marketer, I want to create protected, regulatory-compliant copy templates, so I can be confident all parties are using the latest approved information.
As a marketing director, I want my agencies to collaborate on assets in real time, so I can speed up my time to market.
4) Platform use cases
What capabilities does your preferred supplier(s) product have, are there some solutions there that you hadn't thought of but could actually come in useful, or is there lots of functionality you can't ever see yourself using? Is the cost/usability balance worth it? You can use the DAM's sliced and diced section to list the key platform use cases and features.
5) Vendor score card
Create a chart using all these questions and more to compare the pros and cons of your preferred suppliers. The important thing here will be weighting each platform or business use case to your exact business requirements.
6) Request for Proposal
Contact your preferred suppliers with your platform and business use cases to demo each one extensively. At this stage you will use your vendor score card to find the best fit.
7) Proof of concept
Before making the complete enterprise wide investment you may wish to run a proof of concept to stress test the platform. Selecting a small business unit and team to run the new DAM in their day to day activities for a short period can help validate your selection.
8) Vendor selection
Too often companies jump straight into their selection and it all goes wrong. Often, they don't spend enough time and money on what follows either.
Once you've selected your new DAM supplier and have signed on the dotted line, that's not the end of the matter. In fact, it's only just the beginning. Both you and your supplier have to put in the work during onboarding and across the lifetime of your solution to make sure you're constantly getting the most from your DAM solution.
8.Getting the most from your new DAM
DAM systems are a simple solution to the complex problem of getting assets under control in an information-rich, fast-moving marketplace but, it's important to invest time and energy in the set-up process if you're going to get the most out of them.
Steps to a smooth set-up
A DAM solution is a powerful way to weaponise a company's digital assets, making them a key tool for driving efficiency, brand consideration and revenues. But the platform is only as powerful as the thought that goes into the organisation of the assets and their users.
Workflow and user management
An important piece of DAM onboarding is understanding the workflows it's going to simplify. As you implement, define and map your approval hierarchies, task allocation and most effective workflows to help the system help you streamline where possible.
Define permissions & access
By allocating the right access levels across the workflow hierarchies, you can be confident that the right people are acting on the right assets at the right level. Automating permissions accelerates the approvals process and reduces the risk of error but careful consideration needs to be given to these levels at the set up stage for the best chance of success.
Metadata & tagging
Garbage in, garbage out, they always say. By setting tagging and asset information conventions at the outset, assets become highly traceable and can be quickly allocated to the relevant campaigns, audiences, media or users.
AI-powered tagging
Making the most of an AI-powered tagging facility helps not only speed up the above process, but can also reveal new subsets of information or asset relationships that might not previously have been thought of. This makes your DAM system a powerful campaign development tool as targeting new segments becomes possible.
Training & onboarding
This is one of the biggest post-purchase steps and the one most often skimped on. Failing to get everyone on board with the DAM solution is by far the biggest reason for an implementation to fail.
All users don't just need to be trained how to use the DAM for their function, they need to be trained in all the things it could do for them. And they need to really buy in to the benefits of using a DAM. If they don't believe in it, they don't use it and if they don't use it, they become the weak link in the collaboration chain. The chain breaks, the process falls down. Consider using 'superusers' to influence the wider organisation, driving adoption and support
Keeping the vendor in the loop
In our 4Ps of Marketing Technology framework, the martech vendor selection process doesn't stop with Step 8: Hiring Your Supplier [link to Step 8]. There are three more, key steps to take with your vendor to make sure you're getting the most out of your tech. Implementing a DAM solution is no different.
Implementation & configuration
Work with your vendor and your IT department to make sure the version you are integrating is designed to be the best possible fit with existing systems and needs. You may want the vendor to pare back some of the unused functionalities to make the user experience as clear as possible, or tailor workflows to specific asset use cases – packaging or publishing-specific, for example. Equally, many DAM providers offer the opportunity to 'white label' their product, so you can add your own branding to the system. This gives the sense that it is now an integral part of the company, adding to that all important adoption.
Support & upgrade
Whether you buy a system outright, or enter a subscription model, keep the relationship going with your supplier. What more can you get out of the existing system? What else can you add on to it? Your business needs change, their system changes. Keep on top of it and evolve together.
Audit & review
You made your vendor work hard for your money at the start of the relationship, but it's vital to keep an eye on how their product is performing. Do their promises really stand up over time? Could you be using the system better? Don't be afraid to look at progress with a critical eye and make changes where necessary.
9. The last word
There's plenty to get excited about in the world of martech, but here at the MarTech Alliance we really believe that DAM has transformational potential for most businesses. It is a powerful resource for the storage, organisation and distribution of digital assets, allowing companies to streamline workflows and dramatically improve the consistency and frequency of their communications.
With DAM in place, the world is your oyster. You can choose to supercharge your media campaigns, safe in the knowledge your collateral will use the most powerful assets at the right time, in the right place. Or, you can branch out into new areas, making the most of automation, dynamic marketing and predictive personalisation, merging powerful data streams and assets into devastatingly effective integrated, omnichannel campaigns.
To find out more about how you can integrate DAM into your organisation, or discuss how the wider world of martech can help your business operate at the top of its game, contact us here