The growth of marketing technology (the global market is worth $344.8bn), presents challenges and opportunities for agencies, and we're seeing more of them move into this space, or increasing current investment.
The growth in the martech space, and the need for companies to choose the right tech and use it well provides an opportunity for agencies to provide this technical expertise for clients.
Our Martech Report 2021/22 has identified some of the key challenges marketers face around martech, many of which present opportunities for agencies.
The shortage of martech talent is one obvious area where agencies can help. 57% of respondents in our Martech report agreed that the market is lacking people with martech / marketing ops skills and knowledge.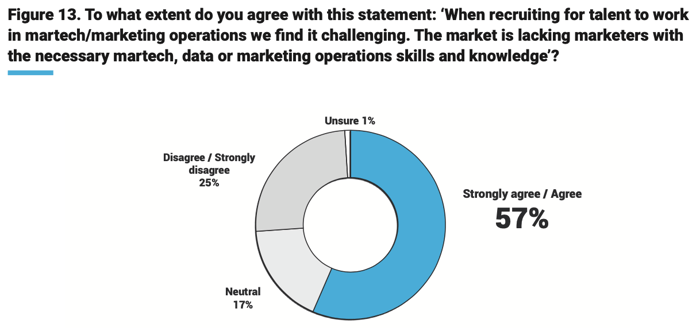 To some extent, this skills gap is simply a feature of the rapid growth of marketing technology, and the increasing complexity of tech.
However, with customer experience more important than ever, it's important that marketers get to grips with this issue, and this is where agencies can help.
We're seeing movement in this direction from the agency side, with the creation of marketing technology centres of excellence and the acquisition strategies of some of the bigger media agencies.
Oglilvy's creation of a "Martech COE" with 900 people with training in platforms and marketing tech solutions is one example of this, and we've also seen media agencies acquiring martech agencies to add this expertise and capability to their existing offerings.
WPP has just reported some promising results, with performance now above pre-pandemic levels, and it has been doubling down on martech over the past few years.
It acquired martech consultancy Xumak in 2020, and has allocated between £200m and £400m per year for acquisitions, with a focus on martech and ecommerce targets.
As Laura Merten, Martech Solutions Architect, Hogarth Worldwide says, agencies with the right expertise will become more valuable as martech continues to grow:
"Clients are investing a lot in building their Martech stacks, but the users are typically very busy, having to learn 40+ Martech systems and keep up with increasing demands of personalisation. Because of this, clients are asking agencies to step in to help augment their marketing operations teams and also help them make the most of the martech platforms.
"As organisations look to become fully digital, a process in which marketing technology is central, agencies that can offer this expertise in digital strategy and martech will become increasingly important."