The world of advertising and marketing is a murky one. You often see ads on the telly or in newspapers or even popping up on websites and think "how can anyone have been paid to make that?"
Well, it's usually worth remembering that no matter how much a current ad pisses you off, it could always be worse. Below are 10 marketing ploys that backfired horribly, leaving companies clutching at straws to repair the damage and sometimes losing hundreds of millions in the process...
Kendall Jenner Pepsi (2017)
We all remember this one since it seemed like it only happened a year ago, but in fact Pepsi ended all forms of discrimination back in 2017. Not bad, eh?

What's that? People still discriminate and the ad was in fact a very lazy and ham-fisted allegory for the Black Lives Matter and LGBTQ+ protests, which were subsequently solved when a model born into extreme wealth handed out some overly sweet brown water? Uh oh!
In light of the ad released on YouTube, Elle Hearns, the executive director of the Marsha P. Johnson Institute and former organiser for Black Lives Matter, said the ad:
"...plays down the sacrifices people have historically taken in utilising protests. No one is finding joy from Pepsi at a protest. That's just not the reality of our lives. That's not what it looks like to take bold action."
Pepsi eventually pulled the ad after mass criticism and boycotts, as well as apologising for the offence caused.
Sony: White is coming (2006)
Just a big old racist billboard, innit? Unfortunately, this won't be the last example of that issue in this list. A lot of ad executives are clearly either very stupid, borderline xenophobic, or both.
To advertise the new PSP coming out in white, Sony opted to showcase a white woman dressed head-to-toe in white (including her hair) seemingly throttling a black woman dressed head-to-toe in black.
Alongside this dangerously offensive image was a very missable picture of a white PSP in the bottom left-hand corner, and the caption "White is Coming".
Mmmmm. Yeah. Not good. Stunningly though, amid the outcries of racism, Sony doubled down on their Dutch ad, with a spokesperson saying:
"A variety of different treatments have been created as a campaign to either highlight the whiteness of the new model or contrast the black and the white models.
"Central to this campaign has been the creation of some stunningly photographed imagery, that has been used on large billboards throughout Holland".
Australia Tourist Board: So where the bloody hell are you? (2006)
A minute long ad that shows the stunning vistas of Australia, while showcasing every one of its clichés and then ending in a bikini glad model asking "so where the bloody hell are you?"
Maybe it would be more acceptable all of these 15 years later, but the ad that cost $180 million to make had its fair share of setbacks.
Banned in the UK for saying "bloody", banned in Canada (hilariously) for saying "hell", and shortened to the very tame "So where are you?" in Singapore, in October 2006, the number of Japanese tourists visiting Australia fell by 5.7% in comparison with the same period in 2005. Meanwhile, German tourists were down 4.7% and UK visitors dropped 2.3%
Funnily enough, the managing director of Tourism Australia at the time - who approved and subsequently defended the ad - was Scott Morrison. For those not in the know, Scott Morrison is now the Prime Minister of Australia. Funny how things work out.
Adidas: Boston Marathon Email (2017)
Devastatingly, in 2013, three people were killed and 260 injured when two bombs exploded near the finish line at the Boston Marathon.
It was a heartbreaking and terrifying turn of events with scars that are still yet to heal today, eight years on.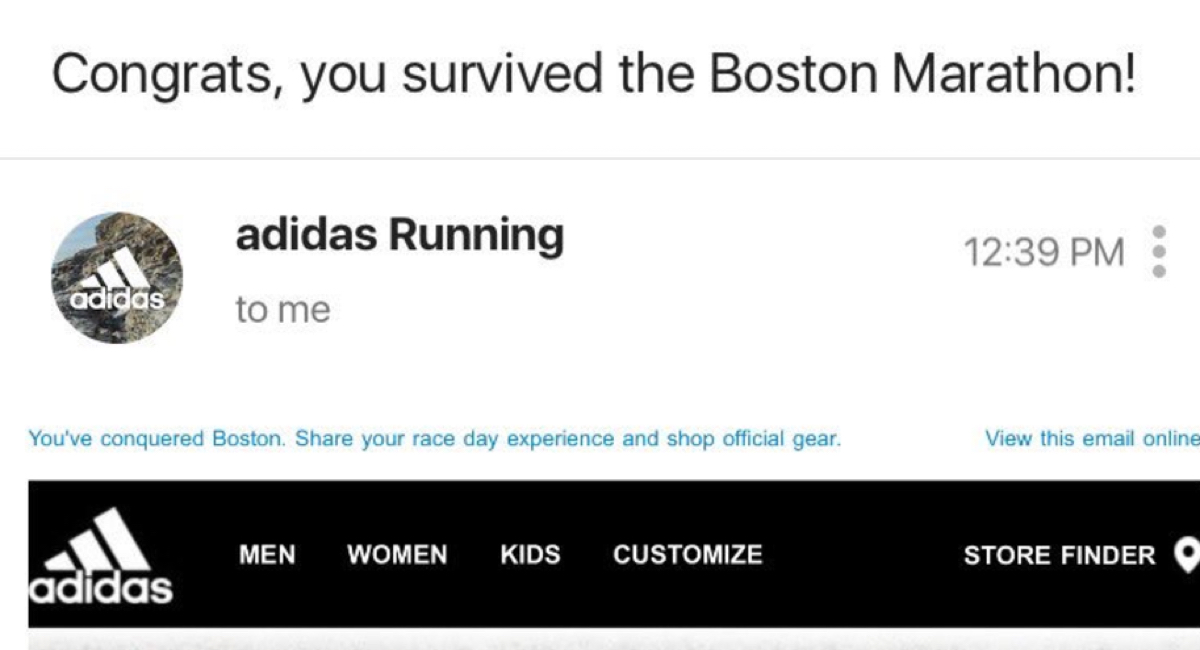 With that in mind, you'd think you'd be very tactful when advertising for a certain event, but Adidas weren't. Not even slightly.
In what was definitely just a miscommunication (albeit a very bad one), four years later after the 2017 Boston Marathon, sent an email to every one of the participants with the subject header "Congrats, you survived the Boston Marathon!"
Genuinely unbelievable. Naturally, many many people were absolutely horrified at the wording in the email, which led to Adidas backtracking hugely. In a statement to TIME, they said:
"We are incredibly sorry. Clearly, there was no thought given to the insensitive email subject line we sent Tuesday.
"We deeply apologize for our mistake. The Boston Marathon is one of the most inspirational sporting events in the world. Every year we're reminded of the hope and resiliency of the running community at this event."
Dove Racist Advert (2017)
Yep. Here we go. Another one. Unlike the Sony one though, this one actually does seem like a genuine mistake but yeah, it really doesn't look good.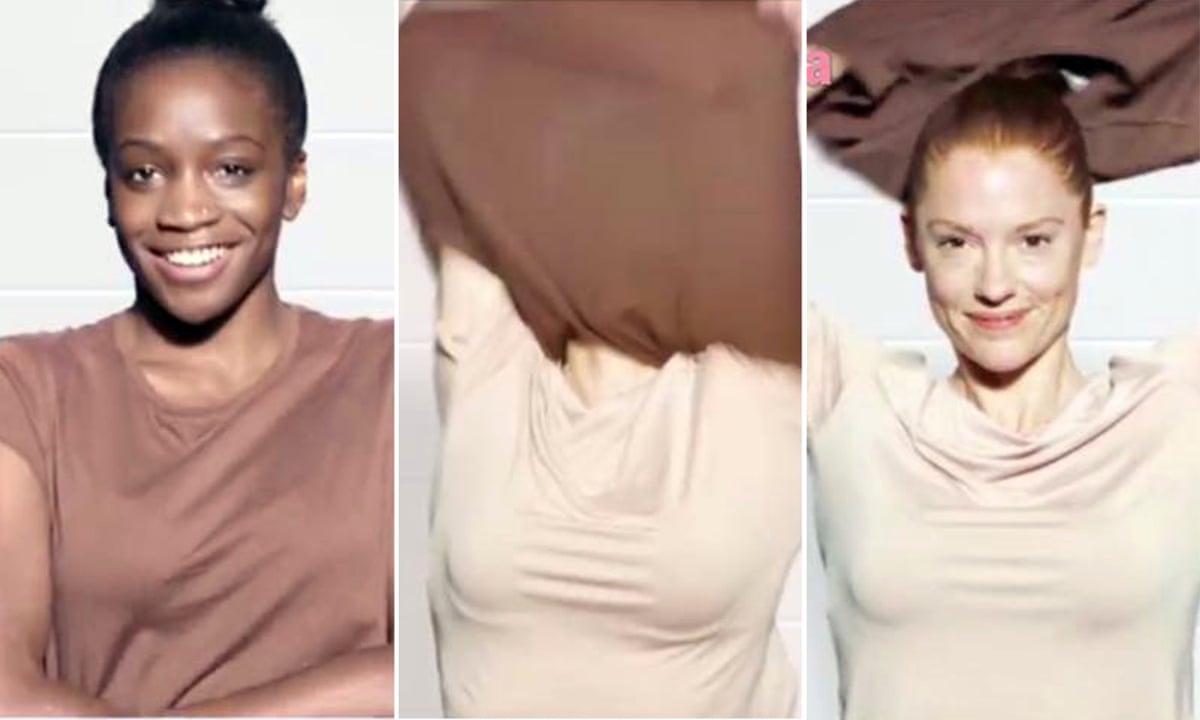 In 2017, Dove had an advert on Facebook that showcased various women taking off t-shirts that correlated to the colour of their skin, but when they took off the t-shirt, they turned into the next woman.
I understand that I just explained a very visual example pretty badly, but what's important is that a black woman wearing a shirt that reflects the colour of her skin, takes off said t-shirt and turns into a white woman wearing a lighter-coloured t-shirt.
Naturally, the ad received a huge amount of backlash and while the three second video actually continues to show the white woman turning into a woman of Middle Eastern descent, Dove were forced into an apology.
Taking to Twitter, Dove wrote:
"An image we recently posted on Facebook missed the mark in representing women of colour thoughtfully. We deeply regret the offence it caused. As a part of a campaign for Dove body wash, a three-second video clip was posted to the US Facebook page.
"This did not represent the diversity of real beauty which is something Dove is passionate about and is core to our beliefs, and it should not have happened. We have removed the post and have not published any other related content. We apologise deeply and sincerely for the offence that it has caused."
The response to that tweet was almost exclusively negative, with many calls of boycotts and the need to "see the power of the black and brown money power".
Nivea: White is purity (2017)
Oh boy another one. 2017 really was a bad year for advertising.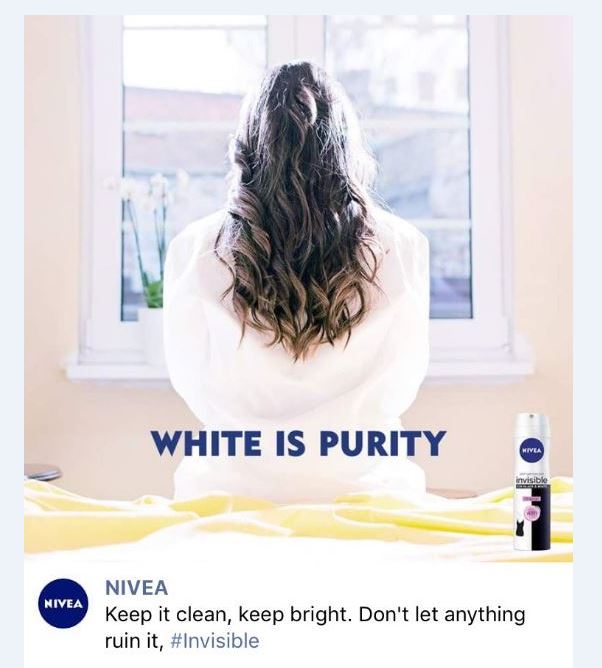 Just looking at the title of this one, I'm pretty sure you can guess where they went wrong. Telling people that "White is Purity" is something that you would equate to the Gestapo, but it was in fact Nivea wanting you to buy their deodorant.
The picture showcased in the poster isn't necessarily problematic at all, but the large slogan and caption below it reading "Keep in clean, keep bright. Don't let anything ruin it," really gave off the wrong impression.
To further discredit the ad, it began to be shared by alt right groups and was the subject of a lot of hatred from the more respectful parts of humanity. In response, Nivea dropped the ad with immediate effect, and wrote:
"There have been concerns risen about ethnic discrimination due to a post about Nivea Deodorant Invisible for Black & White on our Nivea Middle East Facebook page.
"We are deeply sorry to anyone who may take offence to this specific post. After realizing that the post is misleading, it was immediately withdrawn.
"Diversity and equal opportunity are crucial values of Nivea: the brand represents diversity, tolerance, and equal opportunity.
"We value difference. Direct or indirect discrimination must be ruled out in all decisions by, and in all areas of our activities."
I think that's the last racist one on this list, which is good.
Co-op treat your daughter (2017… shocker)
No more racism anymore, just casual sexism. Much better…
"Treat your daughter for doing the washing up." That's what the advert telling you to buy an ornate easter egg said, courtesy of Co-op. Not a great look is it?
Naturally, people were blown away by the outright and apparent sexism of the advert that essentially said that women deserve rewards for doing the washing up. To be fair, the egg looked nice and it was apparently full of sweets. Pretty cool. What's not cool is the aforementioned, albeit accidental, sexism.
In light of the backlash, Co-op released a pretty extensive apology, delving deep into their history with equality.
"We are proud of our organisation's equality and diversity, we are sorry.
"We have a proud tradition of equality and the first female member joined in 1846 at a time when women could not join trade unions and women members of the Co-op have had an equal vote 80 years before they had an equal Parliamentary vote.
"We have a very strong commitment to Fairtrade and all that it stands for and are the largest convenience retailer in the world to support Fairtrade."
I've no idea why they decided to mention Fairtrade, but there you have it.
Walkers selfie competition (2017)
Way back in the dark ages of 2017, walker's released what really seemed like a totally harmless marketing strategy that, more than them being inept or offensive, showed the shortcomings of humanity.
It was a case of the classic 'this is why we can't have nice things'. In fact, the response to their fun new ad was so bad that Walkers were forced to release a statement, reading: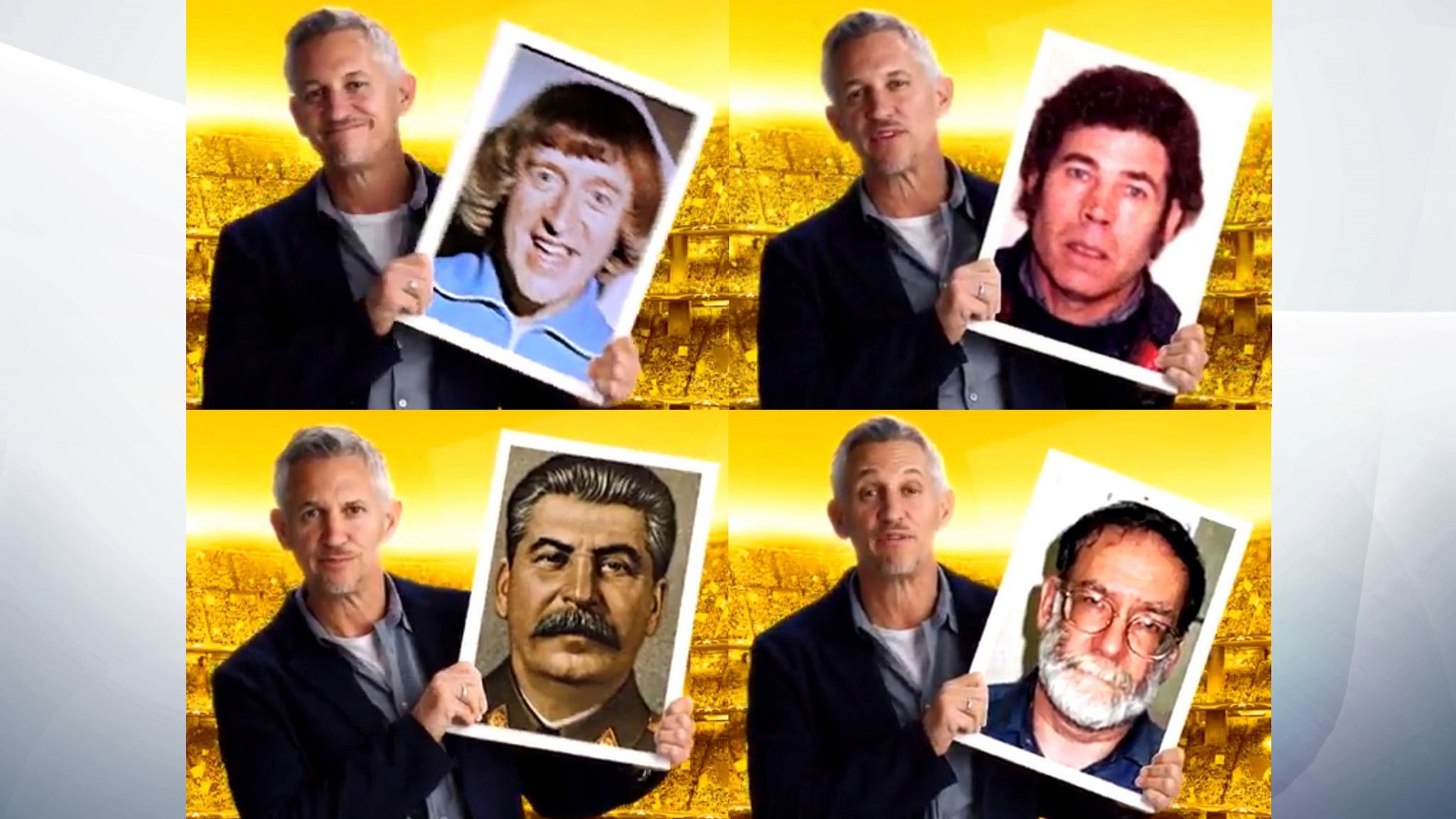 "We recognise people were offended by irresponsible and offensive posts by individuals, and we apologise. We are equally upset and have shut down all activity."
What happened? The idea was that via Twitter, people would send their selfies to Walkers using the #WalkersWave hashtag. Said selfie would then be held up proudly by company ambassador Gary Lineker, using some automated video editing and then tweeted out by Walkers themselves.
Unfortunately, there were no parameters in place to ensure that the pictures sent weren't offensive in any way, so what we ended up with was Gary Lineker, happy as can be, holding up pictures of sex offenders and serial killers, such as Jimmy Saville and Harold Shipman. Not a great look.
Apple's U2 gift (2014)
People were absolutely livid to receive a free album from U2 on their Apple devices. They were genuinely inconsolable. It took over the news waves to such an extent that I'd never seen before, with the public un-ironically being irate beyond words.
U2 made a surprise appearance at the California unveiling of the iPhone 6, playing a jaunty tune and having Tim Cook commend the performance, saying "Wasn't that the most incredible single you ever heard? We would love a whole album of that!"
As it turned out, that was a sign of things to come, as Apple installed U2's new album, Songs of Innocence, directly into the library of 500 million iTunes subscribers. Since people were no longer really buying their albums, U2 saw the giveaway as a promotional tool for their next lucrative global tour, while Apple looked to strengthen their ties with Universal Music and give their customers something to smile about.
Apple was forced to release a tool to remove the album from its customers' accounts, with a dedicated webpage providing step-by-step instructions.
The backlash was so intense even after that though, that people started looking into Apple's and U2's tax records out of pure spite, finding that U2 saved around £500m after re-domiciling a share of band income to the Netherlands in 2006. All the while, Apple's beneficial tax arrangements in Ireland came under scrutiny from the EU.
All because of a silly free album.
Gap logo redesign (2010)
Everyone knew and probably liked the Gap logo that had been emblazoned on hoodies and sweatshirts worldwide since 1986.
Despite that, the American clothing brand decided to shake things up in 2010, by typing their name into a PowerPoint template and not bothering to reformat it.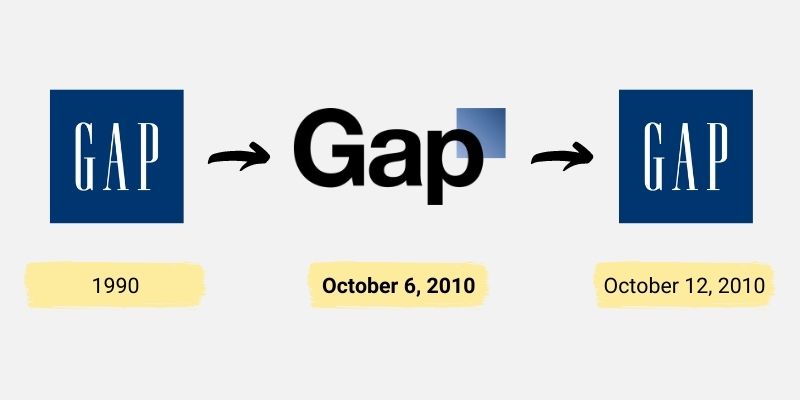 Genuinely it looked rubbish, and people were shocked and appalled. What came as a surprise though was that Gap didn't give their new creation time to breathe, instead axing it after less than just one week and returning back to the classic serif font we all knew and loved.
In all, the Gap rebrand was estimated to have cost them around $100 million, which is a lot for something that only lasted five days and now exists exclusively to appear on list articles like this one.