Robert Rose and Joe Pulizzi might sound like a 70s police detective tv show duo. But they're something even cooler than that.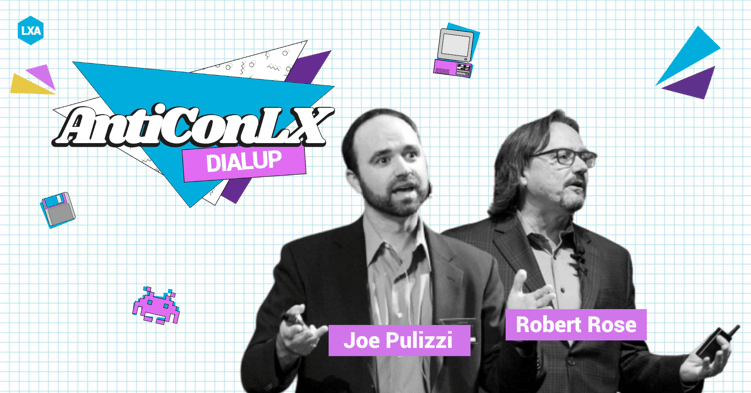 Robert Rose is an author, speaker, and content marketing expert. He's the co-author of The Content Code: Seven Unbreakable Laws to Understanding and Crushing Any Marketing Campaign, and he's been featured in Fast Company, Inc., Forbes, Entrepreneur and more. He also runs a podcast called This Old Marketing—which is exactly what it sounds like: a podcast about old-school marketing that's relevant today.
Joe Pulizzi is the founder of Content Marketing Institute (CMI), which he started in 2008 and grew into one of the largest content marketing organizations in the world—with over 50 employees and over 30,000 members worldwide. He has been called "the father of modern content marketing" by Forbes magazine, among other accolades.3. What is the This Old Marketing podcast?

The This Old Marketing podcast focuses on old-school (or "classic") marketing principles that can be applied to modern businesses today. It's hosted by Robert Rose and Joe Pulizzi, two experts on how to grow your business through better marketing—which makes them pretty qualified to talk about it!
You know that feeling when you're just so excited about something, and you just want to share it with everyone? That's how we feel about the This Old Marketing podcast.

We're talking about Robert Rose and Joe Pulizzi here—two guys who help businesses grow by sharing their knowledge and experience in the marketing world (and their enthusiasm for it). They've been doing this since 2016, and they've been steadily growing their audience ever since.

And what makes this podcast so unique is that it isn't just talking heads: each episode features a guest who's at the top of their game in some aspect of business. We've listened to every single episode so far, and every one is full of valuable advice that we can apply to our own work.
So, what do the pair think about some of the biggest topics in marketing? Well:
Joe and Robert on...where marketers should be playing
For Joe, the key part in choosing your platforms and channels requires strategy.
Some enterprises are playing everywhere. But what they end up seeing is a 'jack of all trades, master of none' outcome. It's what Doug Kessler calls a "mountain of meh".
With this spray and pray approach, marketers are unable to build an audience. So, they have to choose. Maybe combine a newsletter and a podcast. A YouTube channel and a Twitch stream.
"Say no to lots of things, say yes – a big yes – and invest in a couple of things really well," advises Joe.
What does Robert think? Well:
"The one place I wouldn't play right now is…organic social, especially Facebook".
He thinks brands should weigh heavily into other areas. Organic building on social platforms has arguably been dead for a while.
"It's not terribly productive, especially for beginning of the journey efforts." He expects to see brands, like Lush has done already, turn off their social media, or at least stop posting, as Facebook continues with its "troubles", as he calls it.
Other than as a commerce play, true organic community building is best served in an organic community. Like building an app.
Joe agrees. "I think we've seen peak web 2.0".
These platforms have risen as high as they can go. Marketers have had the opportunity to own some of these channels, and build communities, but now users are fatigued, especially those who create.
Think the mass exodus of YouTubers to Twitch in recent years. In fact, these creator's homes have not been social platforms in quite some time.
Robert agrees. We've seen creators building their own little communities away from the all-controlling hands of social giants. R hears they've been asking:
"Why are we building their audience, and not ours? People are sick of living in the halo of Facebook's trust."
Joe and Robert on...Web 3.0
Web 1.0. Web 1.0 was all about reading, and getting information. Web 2.0 was all about reading, writing, and creating...Web 3.0 is all about reading, writing and owning.
Joe's differentiation of Web 3.0 to the other iterations involves the focus on digital ownership.
Owning, in this case means tokenisation. Users will be able to own content, rather than just consuming it, providing extra, interactive, engaging value, with the power to earn placed in the hands of their favourite creators. Think NFTs, think Creator Coins.
Robert focuses on rebuking the idea of branding this 'a trend'. He suggests, at the moment, we'll be seeing some sort of Tulip Mania - a term used to describe people investing huge amounts speculatively, because of positive sentiments around that specific thing. People went mad for tulips in the 17th century Netherlands, apparently
But the technology, and the co-creation tech, which gives customers a voice in what's being created is far from this. It might be hosting a fad for now, but the backbone of this tech is what counts.
Robert gives the example of Lego. The toy company understands its community - community, not customers - on board through their ability to co-create products. They can go online to propose, and vote on, what product is bought into the market place.
For Joe, the idea of tokenisation can mean being able to co-own, co-create, or co-experience, through content, products, or loyalty. So, the tech of blockchain, and tokens, will shift and provide for the next level of what opt-in really means.
Joe and Robert on...2022 thoughts and predictions
For Joe: "the metaverse is a thing".
There's a whole movement around digital property. Communities are being built up, and brands are buying out property. It's likely you'll soon have someone on your team focused on tokenisation and web 3, and what experiences your company is going to offer there.
For Robert: it's about one word - de-centralisation.
Everything will become decentralised. Fin-tech, de-fi will disrupt so much of what's going on. Retail, supply chain, marketing all will become decentralised. The question people have to ask is "How are we, as a business, reacting to the disruption of decentralisation?" It's all about what results from the disruption of web 3.0 – and as a result, everything is becoming peer-to-peer.